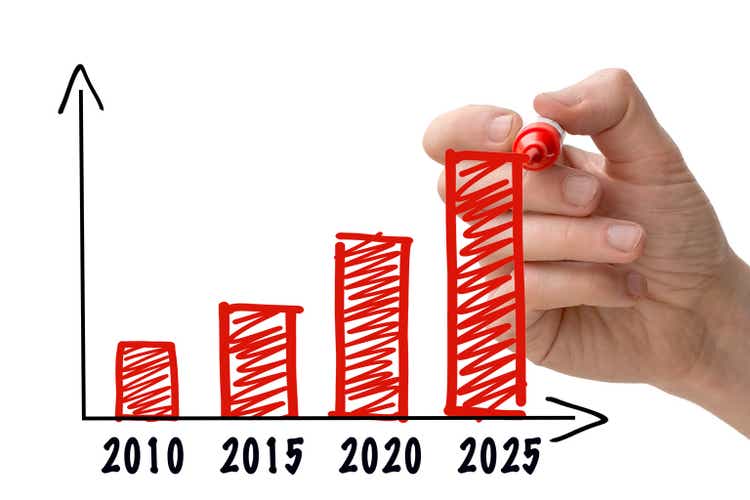 Jazz Pharmaceuticals (NASDAQ:JAZZ) laid out its 2025 vision at the J.P. Morgan Healthcare Conference in early January. The company expects to generate $5 billion in annual revenues and it also expects a five percentage point improvement in the operating margin. The operating margin guidance seems achievable even if revenues fall shy of the estimate, but the revenue assumptions seem at least a bit on the optimistic side and are well above the analyst consensus of $4.4 billion.
In my previous articles, I analyzed Jazz's oxybate franchise and the risks, uncertainties, and opportunities in the following years for this part of the business, and also the GW Pharmaceuticals acquisition and the growth opportunities for Epidiolex and nabiximols. The stock is down 11% since my February 2021 article and down 3% since my October update. Not exactly stellar performance, but Jazz did a lot better than most biotech stocks - IBB and XBI are down 22% and 44%, respectively, since early February 2021.
Source: Ycharts.com
In today's article, I will re-examine the two sides of the business and the oncology side and see how they can tie together to meet the company's goal.
The short version is that I see Jazz falling short of its goal, but still delivering nice gains to shareholders in the following years due to the stock being severely depressed at current levels due to concerns about the oxybate franchise and the high debt burden.
Can the oxybate franchise be a $2 billion business in 2025?
This is the largest difference between Jazz's estimates and my expectations. I analyzed the oxybate franchise in my previous article and will summarize what I wrote:
Xyrem is going generic in 2023.
Jazz has done a great job switching patients from Xyrem to the next-generation product Xywav, but there are no guarantees that Xywav will be sticky and not lose market share to generic Xyrem.
We should see increased competition in the following years, primarily from a more convenient FT218, assuming it gets approved (and I am assuming it does).
Xywav has decent growth potential in idiopathic hypersomnia which I believe can generate $400-500 million in annual net sales.
Overall, I see the oxybate business as a $1 billion+ business by 2025 (up to $1.5 billion), but I am doubtful of it still generating $2 billion in revenues Jazz expects due to the above-mentioned risks.
The major difference could be the idiopathic hypersomnia indication where Xywav could have much higher market penetration than I assumed (20% of what Jazz describes as the patient population seeking healthcare).
This is certainly possible, and CEO Bruce Cozadd seemed very bullish about this indication as he said at the J.P. Morgan Healthcare Conference that this could be a business the size of the narcolepsy business today in the long run. However, I would not make such assumptions until I see the uptake of Xywav in this indication in the next few quarters.
Can Epidiolex and the oncology business generate $2.5 billion in annual revenues in 2025?
Epidiolex will likely exit 2021 with an annualized revenue run rate of approximately $700 million and it still has a long growth runway. The growth has moderated in the last few quarters due to the COVID-19 pandemic, but the long-term outlook remains unchanged, and the product is just getting started in Europe where it takes quite some time to get reimbursement in each country.
I continue to see Epidiolex as a $1.2 billion to $1.5 billion a year product in the three existing indications and it has potential for more if it is successful in other indications. The next opportunity is epilepsy with myoclonic-atonic seizures, or EMAS, for which Jazz expects to initiate a phase 3 trial in the first half of the year. EMAS is another form of rare pediatric-onset epilepsy.
The other side of the $2.5 billion revenue goal is the oncology business.
Based on the latest quarterly numbers, Zepzelca is close to $300 million a year product for Jazz, but its growth prospects are limited based on the current indication – second-line small cell lung cancer. Jazz estimates Zepzelca's market share has already reached 37% which means that even if it gets 100% market share, annual sales will not exceed $800 million, but I do not think it can get there and would estimate Zepzelca's annual sales in 2025 of no more than $400-500 million.
Longer-term, Zepzelca has the potential to be a $1 billion+ product for Jazz but that is unlikely to happen in 2025. Jazz is initiating a phase 3 trial of Zepzelca in combination with Roche's Tecentriq (atezolizumab) in first-line small cell lung cancer patients and a phase 2 solid tumor basket trial is expected to start in the first half of the year. These trials will not complete in time to meaningfully affect Zepzelca's 2025 net sales.
Rylaze is the recently approved product that replaced Erwinaze which suffered from supply issues before it was discontinued. Prior to supply constraints, Erwinaze generated $177 million in revenues in 2019. Rylaze can probably be a $250-300 million a year product for Jazz by 2025.
Vyxeos (or JZP351) appears to have reached its potential in the existing indication – approximately $150 million in annual revenues. However, it has additional growth potential based on ongoing trials in acute myeloid leukemia and myelodysplastic syndrome, including in combination with venetoclax (AbbVie's Venclexta). However, I am not sure any of these trials will report in time to have an impact on 2025 revenues, so, I would assume Vyxeos is no more than a $150 million a year product for Jazz in the medium-term.
Defitelio is still delivering some growth and it can probably grow from approximately $210 million in 2021 to closer to $300 million by 2025.
Putting it all together, the oncology business could generate between $1.1 billion and $1.3 billion in revenues in 2025 without assuming expanded labels for Zepzelca and Vyxeos which represent upside to this estimate range.
I believe $2.5 billion is achievable for this side of the business - when I add $1.2 billion to $1.5 billion for Epidiolex to the oncology side, I get a $2.3 billion to $2.8 billion range, the mid-point of which is just slightly above the company's goal of $2.5 billion and with upside potential based on label expansion for Epidiolex, Zepzelca, and Vyxeos.
The remaining $0.5 billion to come from the existing product portfolio, pipeline, and business development
This is the harder part since we do not know what this part of the business will actually look like since it depends on pipeline success and Jazz adding products or late-stage clinical candidates through business development, but this is actually the part where I can see Jazz delivering more than it promised.
I believe Sunosi counts here as it is not part of the oxybate franchise, and it could be a $150-200 million a year product for Jazz by 2025 (it has generated $20 million in net sales in Q3 2021, up 111% compared to the same quarter in 2020).
The second potential product is nabiximols. Results from the phase 3 trial in patients with multiple sclerosis spasticity are expected this year and, if successful, nabiximols alone could be close to a half a billion a year product for Jazz. And it is reasonably likely to be successful in the phase 3 trial due to its success in prior studies thanks to which it was approved in Europe. The results from prior studies were not enough to convince the FDA, and the agency wanted additional data which Jazz is seeking to generate through the ongoing phase 3 trial. Prior to being acquired by Jazz, GW Pharma guided for nabiximols peak sales of approximately $450 million in multiple sclerosis spasticity.
In addition to this indication, Jazz is pursuing a broader spasticity label and plans to initiate a phase 3 trial in spinal cord injury spasticity, an indication where GW previously expected $350 million in annual peak net sales.
Jazz has other mid-stage clinical candidates such as suvecaltamide (JZP385), which is in a phase 2 trial for the treatment of essential tremor, and JZP150 in a phase 2 trial for post-traumatic stress disorder ('PTSD'), and additional cannabinoids for the treatment of autism spectrum disorder and schizophrenia, but these candidates are not expected to reach the market by 2025 and will not contribute to the $0.5 billion revenue goal.
The unknown part is also business development and there is no way to estimate whether and how much it would contribute to the company's goal, but I think it is reasonably likely that Jazz will add products or late-stage clinical candidates that can add to its 2025 revenues.
So, I believe this goal is achievable with Sunosi and nabiximols generating $600 million to $650 million by 2025 and that it can also be exceeded with the company acquiring or in-licensing products or late-stage product candidates that can reach the market before 2025.
Concluding thoughts and upside potential
Jazz's 2025 vision seems a bit too optimistic based on the current circumstances. My 2025 revenue estimates are:
$1 billion to $1.5 billion for the oxybate franchise. Xywav exceeding expectations in idiopathic hypersomnia represents upside to this range and higher than expected erosion of Xywav and Xyrem in narcolepsy is the main risk to the estimate range.
$2.3 billion to $2.8 billion for Epidiolex and oncology with longer-term upside based on potential label expansion of Epidiolex, Zepzelca, and Vyxeos (JZP351).
$600 million to $650 million for the existing product portfolio and pipeline with upside from business development.
Taken together, my 2025 revenue estimate would be between $3.9 billion and $4.95 billion, which is short of the company's $5 billion guidance, though I am acknowledging the above-mentioned upside drivers for each part which could actually take 2025 revenues above $5 billion.
However, I would argue that there is upside potential for Jazz shareholders even if 2025 revenues are at just $3.9 billion, the low end of my revenue estimate range because the share price is currently depressed due to investors' concerns over the oxybate franchise and the high debt burden. Jazz's net debt at the end of Q3 2021 was around $6 billion, or about 4.4 times its 12-month trailing adjusted EBITDA.
A combination of net debt reduction through cash generated from operations, increased EBITDA, and continued revenue growth could be a recipe for multiple expansion in the following years. It is not unreasonable for a high-margin company with decent long-term growth prospects like Jazz to trade at 5-6 times EV/sales (which would be roughly equivalent to a P/E ratio of 15 to 18, depending on net margin and debt levels).
If Jazz gets to $3.9 billion in revenues by 2025 and trades at 5 times EV/sales (and assuming net debt is down to $3 billion), it will trade at around $270 per share by early 2026, or a 4-year compound growth rate of 17%. And the bullish case would be the company's $5 billion in revenues and 6 times EV/sales (in which case I think net debt would be down to $1 billion), its share price by early 2026 would exceed $460 or a 4-year CAGR of 34%. Using a 10% discount rate would result in a present value of $180 per share at the low end of the range and $320 per share at the high end.
There are clear risks and not just for the oxybate franchise as other products could also fall short of the company's or even my lower revenue estimates, but I believe Jazz can be a decent compounder in the following years.