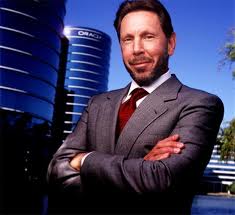 What did I tell you? No, this is not Cameron Kaine being smug again, but this time it is Oracle's (NYSE:ORCL) CEO Larry Ellison posing this question to the company's doubters. In a recent article, I talked about my reasons for buying the stock ahead of its earnings announcement on Tuesday and after I hung up from the conference call, I left with the feeling of vindication.
While listening to the conference call and hearing Oracle's management speak about the company's current status and its future, the exact tone in their voices was that of a confident team - one with a chip on its shoulder. But for Oracle, it seems that it does not know any other way to be. And as a shareholder, I hope this attitude never changes.
No more doubts for Thomas
On Tuesday the company released its Q3 2012 results after market close and if you were paying attention well enough, you would have noticed that it had the words "I told you so" all over the transcript. The reason for this was simple, over the past three months Wall Street insisted on painting the database giant with a cloud of doubt after it missed on earnings for the first time in 10 years - essentially deciding to punish the company for its own success instead of appreciating that perhaps it deserved the benefit of the doubt.
For the quarter ended Feb. 29, the company reported a per-share profit minus items of 62 cents. This was up 15 percent from 54 cents on an annual basis as well as sequentially. Analysts polled by Thomson Reuters had expected 56 cents. Revenue rose 3 percent to $9.1 billion - again topping analysts' estimates of $9 billion. With these numbers having now become a reality, I will have to agree with the company's CFO, Safra Catz, who correctly described its second quarter numbers as "an aberration" while pointing out the remarkable performance by the company from its Q2 to Q3 as being the highest in years sequentially. She also went on to say the following:
Because Q2 and Q3 are usually very, very similar growth, similar quarters that sequentially I think new license was up by 16%. So it really does show that what we told you last quarter and that the quarter itself was truly an aberration. We feel very good about really all our product lines.
This goes back to my previous comments regarding why investors should never underestimate a company that has been as dominant as Oracle and particularly one with the management team that it has to the extent where Wall Street now considers rivals Microsoft (NASDAQ:MSFT), SAP (NYSE:SAP) and Hewlett-Packard (NYSE:HPQ) as the new dominant enterprise solutions and cloud leaders. During the conference call, Oracle's management was quick to say, not so fast. As bullish as I am on the company, I will concede that there are some legitimate threats out there to its business, specifically with the emergence of the cloud - where there are some prominent names such as Salesforce.com (NYSE:CRM) and VMWare (NYSE:VMW).
But to me, no other company has emerged to the extent where it forces me think that Oracle should be concerned about its status. That said, Microsoft is pretty close and one to keep a watchful eye on. Microsoft's cloud initiative called Azure just might be able to provide a dent to Oracle's lead, but I doubt it will be significant considering Oracle's suite of existing enterprise management applications and its ability to offer a total cost-effective solution that can easily be integrated into an existing environment.
Looking ahead
For the current quarter, the company expects EPS excluding items of 76 cents to 81 cents, where analysts were expecting 76 cents. It sees revenue anywhere from a negative 2% to 2% above the year-ago figure, or $10.6 billion to $11 billion. Analysts were expecting $11.1 billion. New software license revenue growth is expected to range from 1% up to 11% up in constant currency. Subtracting the 3 points, you get to negative 2% to 8% in U.S. dollars currently. The company says expects fourth quarter hardware revenues to come in the low end in the range of $100 million to $110 million above Q3's numbers - putting it somewhere between $870 million to as high as $980 million.
Total revenue growth on a non-GAAP basis is expected to range from 1% to 5% in constant currency, subtracting the 3 points, it would be negative 2% to 2% in U.S. dollars. On a GAAP basis, Oracle expects total revenue growth of 1%. On a GAAP basis, it expects total revenue growth to arrive in the same range as non-GAAP. Non-GAAP EPS is expected to be somewhere between $0.78 and $0.83 in constant currency - up from $0.75 annually or $0.76 to $0.81 in reported dollars. GAAP EPS is expected to be $0.65 to $0.70 in constant currency - up from $0.62 from the year ago period.
Summary
The bullish case for Oracle is simple, as businesses continue to strive for growth, the growth process will always place more demand on IT services. And as IT services get more complicated, it will require increased levels of expertise manage the enterprise. There is no other company more capable of delivering these services than Oracle.
I said previously that the stock looks incredibly cheap, and after the company's recent Q3 performance I expect Wall Street to wake up and agree with me. Where I once expected the stock to trade at $35 by the end of the year, I am now raising my target to $40. I told you that Oracle was a buy ahead of earnings and it is even a better buy after.