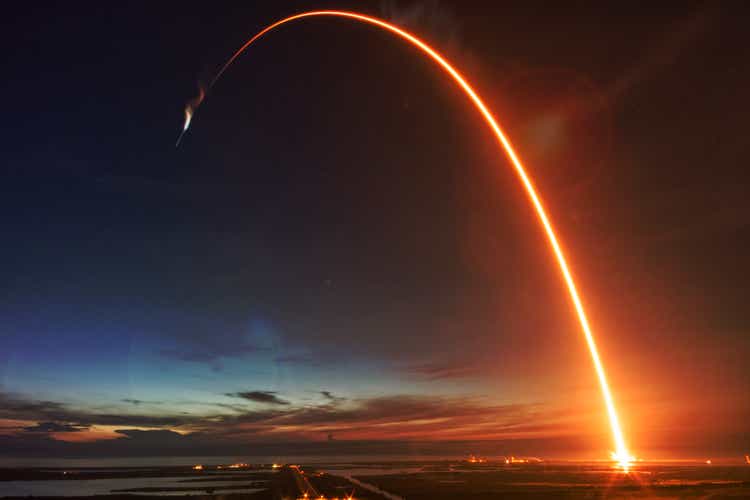 The Company:
Aerojet Rocketdyne Holdings (NYSE:AJRD) is a defense company that specializes in propulsion systems for missiles and rockets.
The Opportunity:
In December 2020, AJRD agreed to a $51/share cash acquisition by Lockheed Martin (LMT). The deal made sense from LMT's perspective as "Aerojet is a critical partner across our portfolio already, and this helps position us for even greater growth hypersonic missile defense and space, which are key elements of the national defense strategy. And equally important, we believe likely Lockheed Martin program management and manufacturing processes will help enhance their jet's ability to excel as a merchant supplier, providing outstanding propulsion products for the entire industry."
The deal was initially supposed to close by December 2021. The stock started dropping when that timeframe came and went. On January 25th, the FTC sued to block the deal citing a resultant higher missile cost. LMT has not officially dropped its bid, but that seems a formality at this point. AJRD plummeted from $45 to around $36.50. I believe much of the selling was arbitrageurs (who bet on the spread between announced mergers and the closing price) sold their stakes. Such selling has nothing to do with fundamentals as those holders did not invest on the company's fundamentals, only the likelihood of an acquisition.
The selloff dropped AJRD about 10% below where the stock stood before the LMT deal was announced in December 2020. While there was a $5 special dividend paid out in March, the company generated about half of that in cash in 2021, a period where earnings grew about 20%. Additionally, Lockheed Martin will have to pay AJRD a $150 million break up fee if they abandon the deal.
The net effect is that in the 14 months since the LMT deal was announced, AJRD is now badly trailing the defense sector and trading near its lowest PE of the past seven years.
Aerojet Rocketdyne Stock Performance Versus Large Defense Co's
Aerojet Rocketdyne Earnings Multiple Over Time
Controversy With The Chairman:
Since the FTC's lawsuit against the deal, Warren Lichtenstein, AJRD's Chairman and Chairman of Steel Partners Holdings LP (SPLP), which holds 4.9% of AJRD, nominated seven directors to AJRD's board. Lichtenstein believes that AJRD "needs to focus on ensuring that it is optimally positioned to continue the business as a standalone entity in the event the transaction is not consummated."
It is unclear to me what Lichtenstein thinks the company should do if/when the LMT deal officially breaks. In general, I don't mind a large agitating shareholder. As a side note, the company said it is conducting an internal investigation on Lichtenstein that is "not related to operations or financial reporting".
Valuation:
Valuation is pretty simple here. There is a net cash balance sheet and no weird JV's or minority interests.
| | |
| --- | --- |
| Market Cap (80.5 mm shares @ $38.05) | $3,067 billion |
| Debt | $503 million |
| Cash (excluding $150 mm breakup fee) | $635 million |
| Enterprise Value | $2,935 billion |
| | |
| EV/EBITDA TTM (Using $309 mm) | 9.5x |
| FCF Yield Through Equity (Using $180mm) | ~6% |
| P/E (Using $2/share TTM eps) | ~19x |
These valuation numbers compare very favorably with the larger defense companies such as LMT, General Dynamics (GD) and Raytheon (RTX) despite AJRD's superior revenue and earnings growth.
Risks:
Anytime you're dealing with a company that primarily services the government, you're always at risk of something going wrong with a government contract. I can live with that risk. In this case you also might have to deal with a few more arbitrageurs who are waiting for the deal with LMT to officially die before they dump their shares. That weakness would be temporary in my opinion. Lastly, there is apparently strife between the Chairman and the current board and management. That risk is hard to handicap, but I think it's unlikely Lichtenstein has self-serving intentions regarding the company... at least none that wouldn't benefit other shareholders.
Conclusion:
I played and wrote about the busted merger of Willis Towers Watson (WTW) and Aon (AON) last summer. That trade worked out nicely. I think this opportunity is similar. The balance sheet is clean and underleveraged here. The business is stable, valuation is near recent lows and the deal broke because of antitrust concerns. I think there is a good chance of 30%+ upside with only 10% (and temporary) downside.