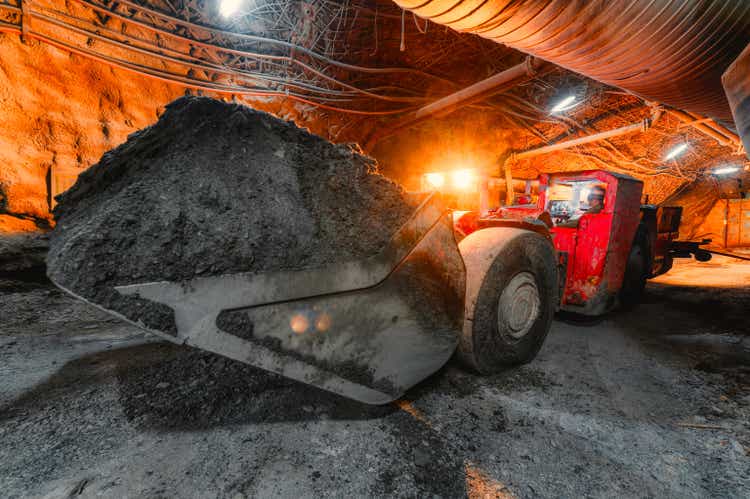 It was a rough H2 2021 for investors in the silver space, with the H1 2021 gains all given up, as the Silver Miners Index (SIL) slid from a 17% return in H1 to a negative 19% return to finish the year. The poor performance can be attributed to most silver producers being insanely overvalued heading into H2 2021. The silver price performance certainly didn't help to justify this overvaluation, with the metal declining 12% from June to year-end. One name that was hit especially hard was Alexco Resource (NYSE:AXU), which fell is down 55% from its highs and now sports a market cap of ~$253 million.
Just recently, the company released an updated mineral resource estimate at its Bermingham deposit and saw meaningful growth across the board, which points to a high probability of a mine life extension at its Keno Hill Silver District Operations. However, this was partially overshadowed by minor share dilution and a warning on possible disruptions to Q1 operations due to COVID-19 related headwinds. With the stock down 55% from its highs and sitting near support, pullbacks below $1.45 should provide low-risk buying opportunities. However, with several other producers also on sale, I remain focused elsewhere for now.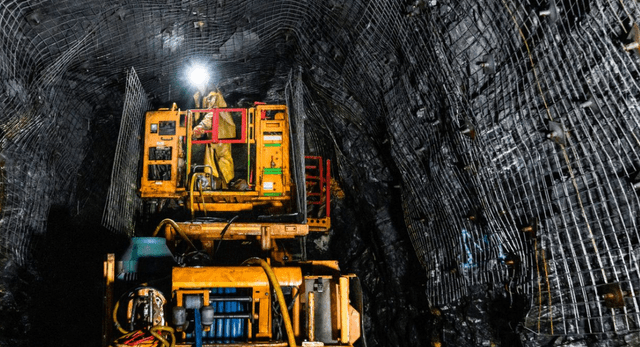 Alexco Resource released an updated mineral resource estimate for its Bermingham deposit last month, reporting a 42% increase in Indicated tonnes (~1.56 million vs. ~1.10 million) and a 66% increase in Inferred tonnes. Notably, these increases in the resource base were coupled with slightly higher grades, with Bermingham's Indicated resource base now sitting at ~47.2 million ounces of silver at 939 grams per tonne silver. Meanwhile, the Inferred silver resource base was up ~70%, with a 66% increase in and a 3% increase in grades (735 grams per tonne silver).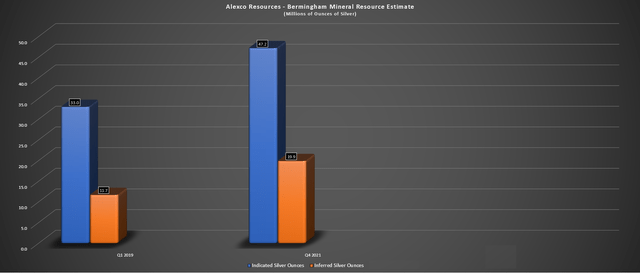 As the chart above shows, this has meaningfully boosted total resources at Bermingham. This deposit now holds a total of ~67.1 million ounces of silver or a resource base that is nearly double that of the global mineral reserve base at KSHD (~37 million ounces). The significant increase at Bermingham can be attributed to the new Northeast Deep discovery, which I have discussed in previous updates, which has a defined strike extent of 500 meters, and an apparent dip extent exceeding 100 meters.
Notably, Bermingham Northeast Deep lies in close proximity (map below) to the area where Alexco is currently mining, as it has now transitioned to long-hole stoping at Bermingham. This is important because it means that there are already underground workings nearby, and this is not a completely new area that requires extensive development to gain access to this new material. Hence, this is the most attractive type of resource growth, given that it's a near-mine expansion of resources and not just a prospective regional target 10+ kilometers from current operations.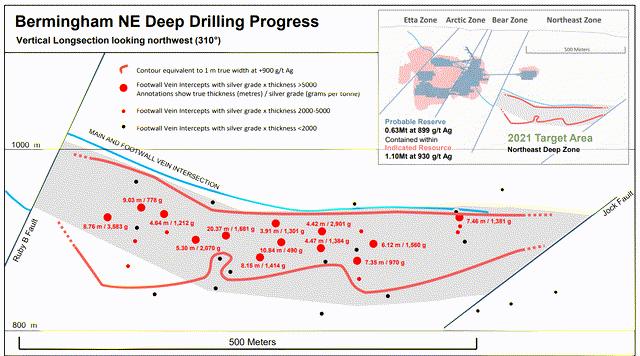 For those unfamiliar, Bermingham is made up of multiple zones, including Arctic, Bear, Etta, Northeast Deep, and Northeast. With the addition of Northeast Deep (~427,000 tonnes at 978 grams per tonne silver), this is now one of the largest Indicated resource bases at Bermingham. As of the November 2021 update, it comes in at 13.4 million ounces of silver, just shy of the largest resource base, Bear, which is home to ~14.4 million tonnes at slightly lower grades. Meanwhile, Northeast Deep is now the largest Inferred resource base, with ~7.4 million ounces of silver at 819 grams per tonne gold.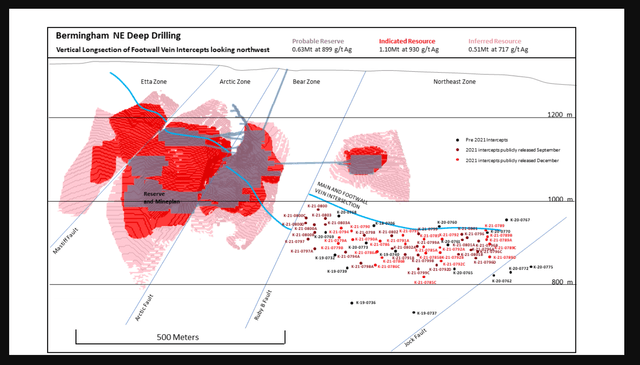 The fact that Alexco has added ~21 million ounces of high-grade silver in a relatively new discovery is quite encouraging, especially considering that it's still open to the southwest to and beyond the Brefalt Fault offset, as well as to the northeast toward the adjacent historical Hector-Calumet Mine. The Hector-Calumet Mine initially operated as separate mines, but merged into a single operation and produced 2.7 million tonnes of ore at an average grade of 1,200+ grams per tonne silver, ~7.5% lead, and ~6.1% zinc. So, I would certainly not rule out further upside at Bermingham as the company continues to follow up on this new high-grade zone.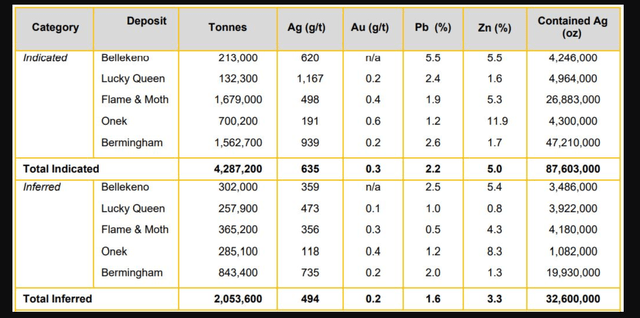 If we look at the table above, we can see that Alexco's total resource base now stands at ~120.2 million ounces of silver, or more than triple the size of its mineral reserve base (~37 million ounces of silver). Obviously, not all tonnes are equal, and the resource base comes in at a much lower grade than reserves, with grades of 635 grams per tonne (Indicated) and 494 grams per tonne (Inferred). Hence, I would not expect all these tonnes to be converted to reserves. Having said that, the recent growth in Bermingham ounces was a high-quality addition, given the grade of this deposit. So, it appears that the current mine plan has massively understated the mine-life potential at KSHD.
As of the most recent study completed at KSHD, Bermingham's reserves came in at ~18.2 million ounces (~630,000 tonnes), and the indicated resource base now sits at ~47.2 million ounces. If we exclude the portion in mineral reserves and assume a 60% conversion rate of indicated ounces, this would point to the possibility of adding ~17 million ounces to mineral reserves down the road. This could extend the mine life by a few years with this new discovery alone, which would certainly be meaningful for an operation that has a relatively short 8-year mine life.
However, this addition to reserves doesn't even contemplate any addition from inferred resources, with significant new ounces. Even if we assume a lower conversion rate of 50% on inferred resources, and focus only on Northeast Deep, we could see nearly four million ounces of silver added to the mine life here as well, and at grades just above the reserve grade (817 grams per tonne silver). Hence, this is a very positive development from Alexco and has certainly met my expectations.
So, was there any bad news?
Before the release of the updated mineral resource estimate, Alexco raised just over ~$7 million at approximately US$1.90 per share (flow-through shares), which translated to just over 2% share dilution. This isn't a huge deal, and the company got a respectable price given the softness in the overall precious metals market. However, the other negative news was that milling rates came in a little lower than I expected in Q2 (~7,200 tonnes), and the company noted that due to a recent surge in COVID-19 cases across Canada, it's possible we could see an impact on operations at Keno Hill in early Q1 2022.
Like any other company, Alexco's primary focus is on the health and safety of its employees and contractors, and it's possible we could see a reduction in mine and mill operations crews and on-site staffing due to isolation and travel protocols. This could make for another softer quarter for operations. This is not a huge deal and certainly not a deal-breaker, but it is one of the downfalls of owning single-asset producers, especially with COVID-19 headwinds still lingering. The reason is that any delays or reduced operations at one mine are magnified when there aren't other operations to pick up the slack. Let's take a look at the valuation below: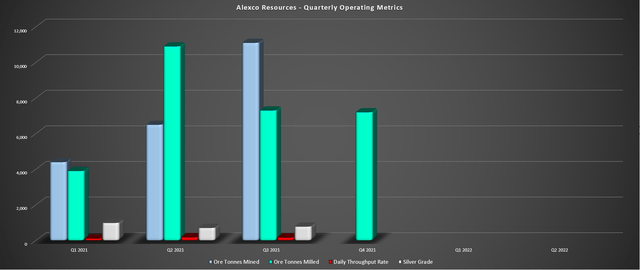 Valuation & Technical Picture
As of the most recent capital raise, Alexco has approximately 1657 million fully diluted shares, translating to a market cap of ~$253 million at a share price of US$1.52. This is a reasonable valuation, with the company's estimated After-Tax NPV (5%) coming in at $154 million in last year's technical report. This is because the estimated metals prices to derive this After-Tax NPV (5%) figure are as follows:
Silver: $22.11/oz
Gold: $1,694/oz
Lead: $0.92/lb
Zinc $1.10/lb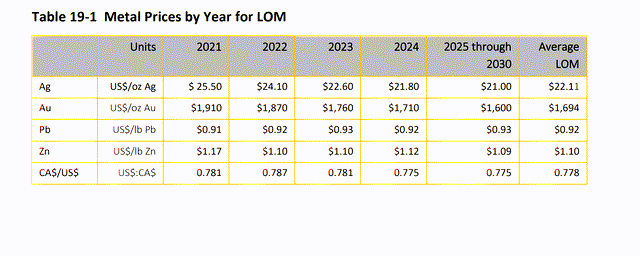 As one can see from inspecting current metals prices, the life of mine metal price assumptions sit well below spot prices, which come in at $23.10/oz, $1,820/oz, $1.00/lb, and $1.65/lb, respectively. Hence, I would argue that the After-Tax NPV (5%) of ~$154 million is conservative, especially considering that the mine plan is based on just 37 million ounces of reserves, as noted earlier. With the possibility to add 3-4 years to the current mine life based on indicated/inferred ounces, I wouldn't rule out an increase to a ~$190+ million After-Tax NPV (5%), with further upside if metals prices can improve.
So, while Alexco trades at 1.64x P/NPV (5%) currently on the dated technical report, its valuation looks closer to ~1.30x P/NPV (5%) if we assume successful conversion of a portion of resources to reserve. Having said all that, while this is a reasonable valuation, the risk to owning single-asset producers cannot be understated, especially when they are in the ramp-up phase. Investors in Pure Gold Mining (OTCPK:LRTNF) learned this the hard way after a terrible 2021. While I do not foresee similar issues with Alexco given that it is in a better financial position, I generally prefer multi-asset producers to single-asset producers. Therefore, while I see the stock as reasonably valued, I am not long the stock currently.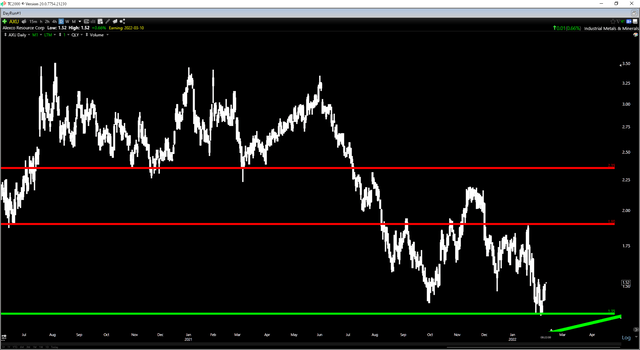 Moving to the technical picture, we can see that AXU has slid more than 55% from last year's highs and is now sitting just above a key support level that dates back to Q2 2019 and Q1 2020. Meanwhile, after multiple rejections at the $1.90 level, the stock now has resistance at $1.90. Given the slight degradation in the technical picture with the previous short-term support level broken and accounting for recent share dilution (~2%), I have revised my low-risk buy point to US$1.45 or lower.

Alexco's recent resource upgrade was a positive development, with a very impressive grade at Bermingham Northeast Deep which sits above the current reserve grade (978 and 819 grams per tonne silver vs. 804 grams per tonne). However, it was partially overshadowed by slight share dilution in Q4 and commentary on Q1 2022, suggesting a reduction in mine and mill operations. Based on this and a new resistance level overhead, I have revised my low-risk buy point to $1.40 or lower. However, given the risk of owning single-asset producers, even in attractive jurisdictions like Canada, I continue to favor other names currently.