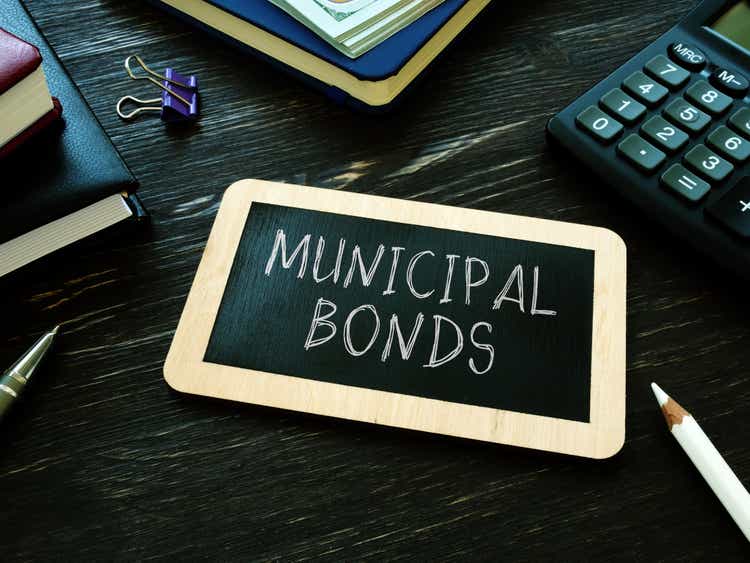 (This report was issued to members of Yield Hunting on Jan 25th. All data herein is from that date or earlier.)
In the bond world, we face two primary risks: Credit risk and interest rate risk. All other risks (including inflation risk) fall within one of those two categories.
Credit risk is the risk that the borrower or bond issuer defaults and you, the bondholder or lender, don't get their principal back. Interest rate risk is the risk that rates rise, which results in newly issued bonds have a higher yield compared to older bonds. All else equal, the older bond will fall in value since investors would rather own the newer, higher-yielding bond.
When we create a portfolio- especially in the bond world- diversification is key. We want to balance or barbell our risks to main an equilibrium. Pairing high-yield corporate bonds and other credit assets with high-quality municipal bonds in a dynamic "barbell" strategy has been a good way to generate income while limiting downside risk.
The reason is that the two pieces tend to be negatively correlated resulting in one end of the barbell rising when the other falls. That could produce a portfolio that tends to not move around a lot and the investor collects their yield or income production.
We like to think of this as a sort of synthetic annuity where investors can produce more generous yields while not seeing much noise in their portfolio values (and also not forking over a big lump sum to the insurance company for an income annuity).
In our portfolios, we attempt to create this balance by having tax-free bond CEFs paired up with taxable bond CEFs. When the stock market is doing fine and interest rates are rising, our munis tend to take it on the chin. Conversely, when the stock market is seeing bouts of volatility and heading lower, our munis are a counterweight to the likely declines being realized on the credit risk side of the equation.
Tax-Free Bond CEFs: Not A Safe Haven
One of the largest issues with muni CEFs is that they tend to be far less liquid than taxable bond CEFs causing exacerbated moves. While the NAVs may be less volatile than on the taxable side, prices can actually experience larger standard deviations and drawdowns than their taxable brethren.
This is because of the lower amount of liquidity with about 20% of the average daily shares traded. So you don't need many more incremental sellers to see a muni CEF go into a freefall. Price volatility on the national muni CEF space is almost 10% (as measured by standard deviation). That's about one point higher than the taxable bond CEFs and only about 25% lower than the S&P 500.
So, you have 75% of the volatility on price of stocks even though you have 64% less volatility (risk?) when you measure on NAVs.
So high quality in relation to muni CEFs means, low credit risk. Not low volatility. This is why muni CEFs fell so hard last week. This can be frequently frustrating for the typical muni investor who is buy-and-hold and believes that they are getting over 4x the yield for 'free.'
Check out the chart below. It shows the VanEck CEF Muni Income ETF (XMPT) which is a portfolio of muni CEFs in an ETF wrapper, and the iShares National Muni Bond ETF (MUB). This is during the March 2020 crash in the markets. The MUB, a proxy for muni bonds, fell just under 10%. But the XMPT ETF, a basket of muni CEFs, fell nearly 25% on price. Recall that the S&P 500 fell by 34%. So the muni CEF space had a beta of 0.75.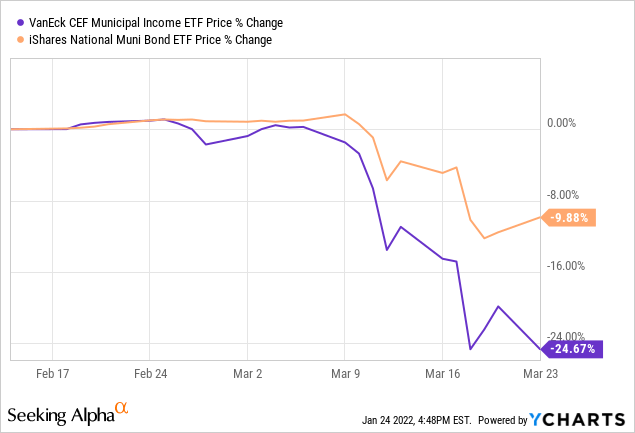 That is the risk in these funds. But if you buy in at nice discounts, and sell and rotate back to open-ends when they are rich, you've got the counter-cyclical approach down pat. Or if you are a buy-and-hold investor, buying at these levels insures some nice downside protection while locking in a higher yield.
Today, muni CEFs are now in the bottom 20% of all observed data points going back 25 years. We are now firmly on the left side of the distribution. With an average discount of -6.3%, we are now in the cheap realm.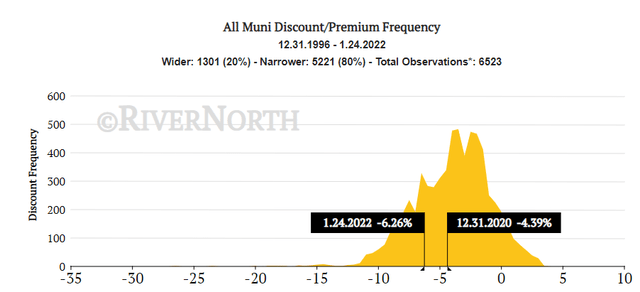 However, we're not absurdly cheap. Discounts are not double digits like they were in 2015 and early 2016 or in 2018 when investors fled duration because of impending Fed rate hikes.
Below is the discount/premium chart of Nuveen AMT-Free Quality Muni (NEA), one of the largest muni CEFs. It has been around since 2003 so it has a long history through multiple business cycles and interest rate regimes. The thing I would like to point out is the wide discounts for most of the 2013-2019 period starting with the Taper Tantrum.
For most of that period, discounts were in double-digits and in many cases well into them hitting -15% on occasion. That show just how out-of-favor these investments can get in an environment when interest rates are expected to be rising.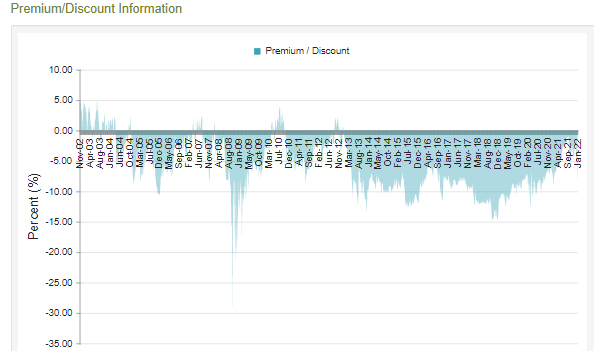 The takeaway is that while muni CEFs are cheap for the last two years, they're not cheap for the last decade. That said, for most of the last decade, muni CEFs traded in the bottom 15% of all observations - and its important to realize just how long that setting lasted.
It's entirely possible that we see a similar environment for the next few years as investors expect interest rates to rise over the next two years. I do think the more apt comparison would be late 2017 to late 2018 and do think we are in the same sort of setup here.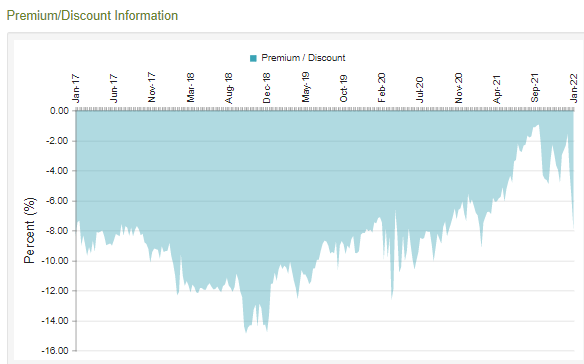 I would expect to see a similar discount chart as this over the next year or two. We're essentially where we were in Jan 2017 on this fund at -8%. Over the next two years, NEA saw its discount widen by -6%. Obviously, that doesn't 100% mean that the same thing will happen again. In fact, I place a low probability we get that wide.
Of course, there is no way to know.
Discounts are now eclipsing their three-year and five-year averages that include a lot of the above data points. And long term, we know that muni CEFs tend to average a discount of -2.5%. So buying at discounts of -8% or -9% is still well below the longer-term average.
I encourage long-term holdings of these funds so, in my mind, I'm buying today for three years and selling when they reach a premium - if they do. But we typically buy muni CEFs for the income, with only secondary consideration for the capital appreciation.
Takeaways
I'm starting to nibble but that's all right now. The discounts are juicy and the yields up but there is a lot of interest rate risk in the markets. And there is no indication that the panic selling is done.
I have entered several stink bids on the falling funds at prices/discounts that I wouldn't mind being 'executed' at. The funds I am buying or attempting to buy near these discounts or wider are the following:
(1) BlackRock Long-Term Muni Adv (BTA), yield 5.22%, discount -4.8%
(2) Eaton Vance Municipal Income (EVN), yield 4.56%, discount -9.25%
(3) Nuveen Muni Credit Opps (NMCO), yield 5.05%, discount -4.3%
(4) BNY Mellon Muni Bond (NYSE:DMB), yield 4.81%, discount -7.3%
(5) BNY Mellon Strategic Muni (LEO), yield 4.61%, discount -8.3%
(6) BlackRock MuniYield Quality III (MYI), yield 4.58%, discount -9.4%