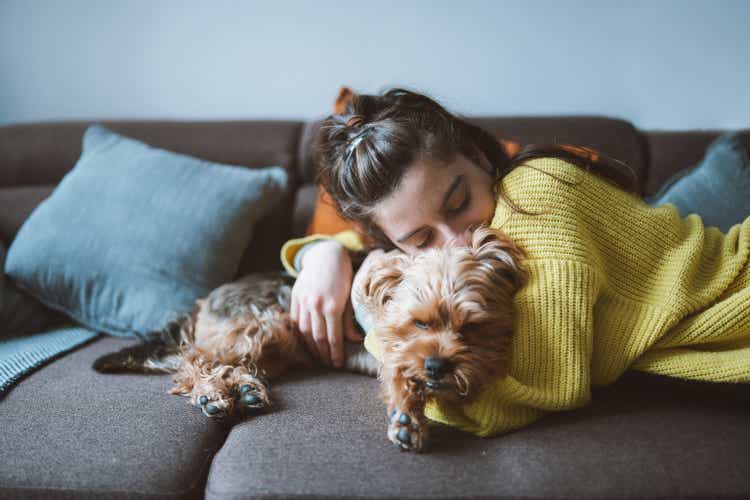 2021 was a decent year for investors in most mid-cap stocks, with the Russell Mid-Cap Growth Fund (IWP) gaining 12% for the year, despite the sharp Q4 correction. Unfortunately, for Freshpet (NASDAQ:FRPT) investors, the stock was not the ideal place to be in 2021. This is because the stock massively underperformed its benchmark, sliding 33% in 2021, with underperformance related to inflationary pressures and supply chain/operational inefficiencies.
Fortunately, these issues appear to be in the rear-view mirror, with Freshpet investing in its team, manufacturing upgrades, and automation. Meanwhile, pricing increases are expected to help combat inflationary pressures, helping to claw back some margin losses. With Freshpet trading at ~7.2x FY2022 sales, I don't see enough of a margin of safety just yet. However, the valuation is finally improving, so I believe it's a name worth keeping on one's watchlist.
Freshpet is a mid-cap name in the packaged foods industry group that has re-invented pet food with its products out-classing the competition, boasting superior macronutrient profiles than traditional dry food. Not surprisingly, this translates to healthier pets, with a visible health difference in energy levels, skin, muscle tone, weight, and a shinier coat. With a trend towards more owners treating pets as actual family members, spending has increased, which certainly bodes well for a company like Freshpet that is disrupting the pet food industry.
While some surveys may be small in sample size and appear to be anecdotal, it is clear that there's steady growth in the fresh pet food category, with the segment growing nearly 20% in 2020. More recent estimates project that the US fresh pet food market could grow at a 23% CAGR from 2020 to 2025. This growth rate is exceptional and provides a nice tailwind for companies with meaningful market share in the space. Based on Freshpet's ~$445 million in net sales in FY2021, it is certainly one of the companies which stands to benefit, and its revenue continues to grow like a weed. That growth is evidenced by a ~33% growth rate last year, accelerating ~30% in FY2020.
So, why has the stock done so poorly over the past 12 months?
Unfortunately, while sales were up sharply in FY2021, Q3 sales came in shy of estimates, with just 28% growth year-over-year ($107.6 million vs. $84.2 million). Meanwhile, the company guided for $445 million in annual sales guidance, down from greater than $445 million previously. The softer numbers and guidance were related to production capacity constraints, with supply chain challenges that impacted equipment suppliers and, in turn, constrained Q4 capacity.
Meanwhile, the company lost more than a month of production in September/October on its second Line at Kitchen South due to delays getting equipment through the ports. Finally, margins took a beating, sliding more than 500 basis points year-over-year to 44%. This was attributed to inflationary pressures in proteins and wages, with Freshpet having to invest in its team while also having to pay up to ensure it could fill its orders. It also had to tap into secondary suppliers in areas where it faced a material shortage.
The inflationary pressures would not have impacted margins as much if Freshpet had taken price in the quarter. However, the company chose to delay increasing prices until it could return to a more acceptable level of customer service (higher-order fill rates). So, we saw lower customer satisfaction due to lower fill rates (40-50%), a bite out of margins due to inflationary pressures that couldn't be offset by pricing, and weaker sales than expected. Given this ugly combination, it's no surprise that Freshpet has found itself more than 40% from its Q2 2021 highs.
Fortunately, the company took a long-term view even if it did lead to some disappointing short-term financial results, and it has taken price in November and will take additional price in February. This should help to claw back most of the margin losses. Meanwhile, investments in automation, manufacturing upgrades, wages, and overdue maintenance will improve quality and supply reliability. The company's estimated capacity will support $780 million in net sales, supporting meaningful sales growth in 2022.
To summarize, this does not look like a case of demand falling off, but instead not enough capacity to meet the demand, with additional headwinds forcing consumers to go elsewhere temporarily if products weren't available. However, with incremental capacity, better-trained team members, and what should be better retention/hiring rates to support growth following the wage increases, this should be a much better year ahead for the company. Let's take a look at FRPT's earnings trend below:
If we look at the chart above, we can see that Freshpet has posted several years in a row of net losses per share, which isn't surprising given that the company has been investing heavily in growth, and that has certainly paid off. However, if we look ahead to FY2022 net losses per share are projected to narrow considerably ($0.17 vs. $0.55), and the company is forecasted to finally have positive earnings in FY2023. This is great news for the company and investors, given that some growth funds wait until positive earnings are on the table to invest.
Based on current FY2023 annual EPS estimates, Freshpet is expected to earn just $0.41, which leaves the stock at over 200x FY2023 earnings estimates. However, annual EPS is projected to nearly double in FY2024 ($0.62), with further growth to $1.40 in FY2025. So, while investors are paying a high price for future growth, the premium multiple appears somewhat justified given the strong earnings growth rates. Let's look at the stock's valuation below to see if it's improved after this decline.
Valuation and technical picture
As shown in the chart below, Freshpet has historically traded at ~6.2x sales, and after its recent decline, the stock still trades at over 9x sales. However, with revenue expected to increase meaningfully in FY2022 ($566 million vs. $445 million), Freshpet trades at approximately ~7.2x FY2022 sales, which is a more reasonable valuation, and closer to its historical multiple. In fact, if we compare this to its 5-year average revenue multiple, this would represent a discount, given that FRPT's 5-year average price-to-sales ratio sits at 8.1.
However, even if this figure is below its 5-year average and slightly above its longer-term average (assuming FRPT meets FY2022 sales estimates), the goal is to buy at a deep discount to fair value to bake in a margin of safety. I do not see enough of a margin of safety at current levels, given that I prefer to buy at a minimum 20% discount to fair value. If we assume a fair revenue multiple of 6.5 for Freshpet and sales of ~$566 million, fair value comes in at ~$3.68 billion. By applying a 20% discount, Freshpet would need to decline to ~$2.95 billion or $68.00 per share. Hence, the valuation here at $95.70 is still not overly attractive.
Moving to the technical picture below, we can see that Freshpet has seen a significant decline from its highs, sliding more than 45% from its highs reached in Q2 2021. This decline abruptly stopped just 10% above a major support level for the stock ($74.50), extending back to its multi-month breakout in Q2 2020. However, given that the decline has been sharp with minimal resistance levels built on the way down, the next strong resistance level for the stock doesn't come in until $128.30. This has succeeded in resetting last year's long-term overbought readings.
With FRPT currently trading at $95.70, it has $21.20 in downside to support and $32.60 in upside to resistance, translating to a reward/risk ratio of 1.54 to 1.0. Generally, I prefer at least a 5.5 to 1 reward/risk ratio for entering new positions in names without positive earnings per share. Hence, while the decline has improved the reward/risk ratio, I don't see a low-risk buying opportunity just yet. However, if FRPT were to pull back to $78.20, where it would sit within 5% of major support, this would represent an attractive entry point.
It's important to note that if Freshpet were to dip below $78.20, it would still not meet my low-risk buy zone from a valuation standpoint of $68.00 per share or lower. Hence, a dip below $78.20 would present a swing-trading opportunity, but I would not get interested in the stock from an investment standpoint unless we saw a correction closer to the $68.00 level.
Freshpet has had a tough past year, but the company seems to have learned from its mistakes and should have a much better 2022, assuming it can execute. With significant growth expected in this category (estimated 23% CAGR), this certainly bodes well for an industry leader like Freshpet, emboldening the investment thesis. However, the key is buying growth at a reasonable price, and at current levels, I don't see enough of a margin of safety just yet. So, while I think Freshpet is a name worth keeping an eye on after its ~45% decline, I have no plans to start a position unless the stock dips below $78.20.