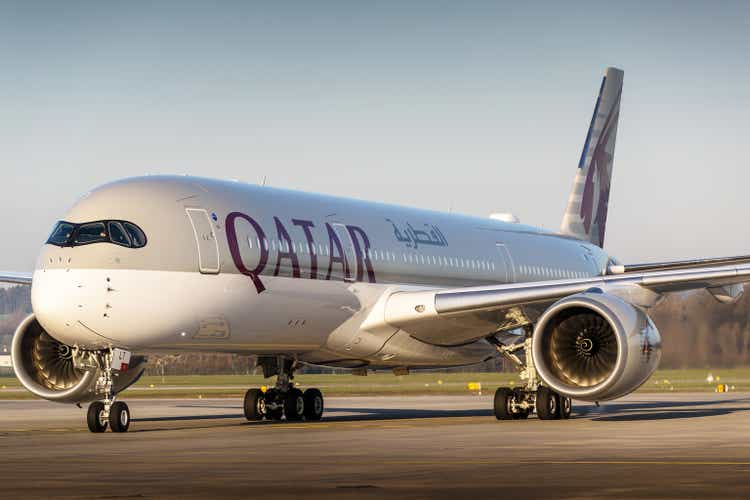 Jet maker Airbus (OTCPK:EADSY) provided its orders and delivery numbers for January recently and as expected it was a bit of a slow start of the year with a major role for Qatar Airways. In this report, I will have a look at the order and delivery numbers for Airbus and I will do that on a monthly basis while also considering year-to-date numbers as well as year-over-year figures to get a complete image of how things are developing for the jet maker. For this analysis, data and images from the TAF Airbus Orders and Deliveries Interactive Infographic and associated monitors have been used.
Qatar Airways dominates Airbus cancellations
During the month, Airbus received a total of 36 orders. All of these orders were for the single aisle aircraft portfolio:
An undisclosed customer ordered six Airbus A320neos and two Airbus A321neos.
Lessor Azorra Aviation ordered two Airbus A220-100s and 20 Airbus A220-300s.
An undisclosed customer ordered six Airbus A321neos.
There were no order surprises in January, but I would note that the Airbus A220 had a good month and there were no orders for the wide body line up.
During the month the following changes were made to the order book:
BOCCOM Leasing was identified as the customer for two Airbus A320neos.
Qingdao Airlines was identified as the customer for one Airbus A320neo.
China Southern Airlines was identified as the customer for one Airbus A320neo.
Qingdao Airlines was identified as the customer for one Airbus A321neo.
An order from Qatar Airways for 50 Airbus A321neos and 2 Airbus A350-1000s was cancelled.
So, during the month Airbus logged 36 gross orders valued $1.6 billion, but the jet maker decided to remove 52 orders from Qatar Airways valued $3.3 billion bringing the net order count to -16 and the net order value to negative $1.6 billion. I reported earlier on the order cancellation and while Airbus can likely easily sell the slots to other customers, it's a big step from a jet maker to unilaterally cancel an order and it has cleared the road for Boeing (BA) to potentially sell the Boeing 737 MAX 10 to Qatar Airways. To some extent, it shows how displeased Airbus is with Qatar Airways, but while it is less likely Qatar Airways could also be positioning itself strategically to pit Boeing and Airbus against each other once again.
A year ago, Airbus booked no orders or cancellations, and as odd as it may sound while the company booked 36 gross orders this year the start of the year is worse than last year and that is due to the cancellation of some orders for Qatar Airways.
Airbus deliveries grow year-over-year
After pushing out 93 aircraft to customers in December, Airbus started the year with 30 deliveries which is not completely unexpected. The European jet maker delivered 30 aircraft valued $2 billion consisting of 26 single aisle aircraft and four wide body aircraft:
Airbus delivered 2 Airbus A220s.
A total of 24 Airbus A320neo family were delivered consisting of 13 Airbus A320neos and 11 Airbus A321neos.
No Airbus A330 deliveries occurred.
Four Airbus A350s, all -9 variants, were delivered.
Naturally, we see jet makers started the year slow as quarter and year-end usually are times when aircraft are being pushed out to customers in a final sprint. So, the sequential decrease in deliveries is unsurprising. Maybe more interesting to note is that the delivery volume increased by nine units year-over-year and by $0.8 billion in terms of dollar value.
The book-to-bill ratio for the month was 1.2 and 0.8 in terms of value, which are nice numbers but those are just numbers from one month and we will have to see how those numbers change as the delivery volumes tick up. Ideally, we would like to see the order numbers tick up accordingly. Also, important to note is that the book-to-bill ratio is measured against gross orders while Airbus actually booked negative net orders and value. On a net basis, the book-to-bill ratio would be -0.53 in terms of units and -0.8 in terms of value. So, it is always important to look at ratios and KPIs in a certain context being aware of what those indicators might be capturing or not.
Conclusion
I always end my reports with a conclusion, but based on one month you cannot draw firm conclusions or make an informed investment decision. Over the course of the year, we will be able to see where things are heading for Airbus. When it comes to sales, Airbus is in a good position with a well-filled order book and what I would like to see is for that to translate into a further increase in the delivery volumes. The deliveries in January already showed a year-over-year increase and I believe that given the planned production rate increases for 2022, there is reason enough to assume that delivery volumes will grow further in 2022. So, if you already did like Airbus before… in 2022 there should be even more reason to like the stock.