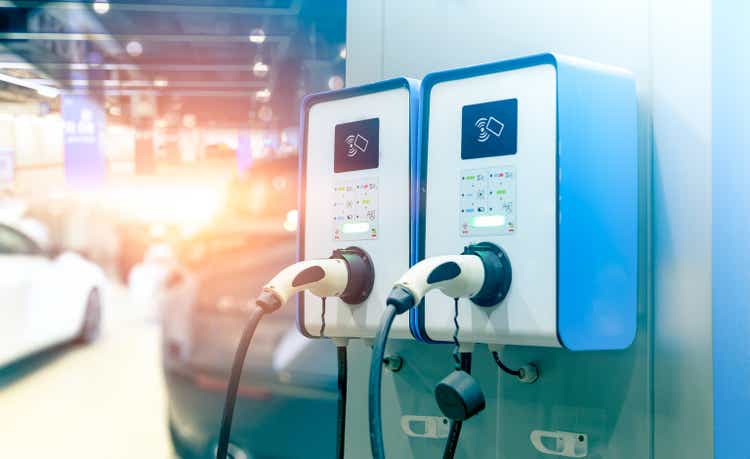 Tritium DCFC Limited (NASDAQ:DCFC) had some big news out this week regarding its EV charging station business or at least big in terms of its impact on market price.
After reviewing the news, I think this price movement is not grounded in reality and the stock is now a clear short sell candidate.
The Short Thesis
I think DCFC will fall materially for a myriad of reasons:
The move on this news implies over a billion dollars of value was created, which I think is an impossible hurdle given the nature of the news.
The business itself is negative margin and too small to warrant anywhere near the valuation.
Competition is rampant, which makes a pathway to profitability look unlikely.
SPAC destroyed a massive amount of shareholder value.
Let's dig in.
An Impossible hurdle
On Tuesday, February 8th, DCFC was trading at $6.85 per share until it announced that it would be building a manufacturing plant in Tennessee to build charging stations. The stock rocketed up on Tuesday and again on Wednesday to get to the $19.16 price at the time of this writing.
I firmly believe that this massive price movement is not a result of any of the content of the announcement but rather a result of the way in which it was announced. Jane Hunter of DCFC made the announcement at the Whitehouse alongside the President.
That is a massive amount of press for such a small company. It put the stock on the radar of millions of investors who were previously not aware of its existence. Even if 99% of investors who looked at it as a result of the announcement thought it was an overvalued and risky stock, just 1% of them becoming buyers would be a huge buyer interest for such a small company.
That, I believe is what sent the stock nearly tripling over a couple days.
This causality for the price rise is further backed up by the financial math behind the announcement. It is virtually impossible for such an announcement to actually create over $1B of incremental value. The increase to market cap as a result of the announcement doesn't suggest that the new factory will have a value of over $1B, it requires it to have a net present value (NPV) of > $1B.
Keep in mind that the default NPV of a new project is $0. This price action assumes it will return > $1b to shareholders above and beyond a normal economic return.
Quite simply, there were not enough details released to even go about making an assessment of the NPV. They are building a medium sized factory in Tennessee. That seems totally fine to me, but it also strikes me as normal course of business for a company trying to ramp up production.
I see little reason to believe this will be anything particularly good or bad. Therefore, the base case assumption is that the project would deliver a normal economic return which equals an NPV of $0.
Negative margin business
Despite being a fresh SPAC in the public market, this company has been around for a while and has an operating history. So far, the results are not encouraging in terms of profitability with negative net income.
It is fairly common for start-ups to have negative net income, so this in itself is not a warning sign. There are 2 common causes of negative income in small, growing companies.
Sub-scale
R&D expense
The idea with the sub-scale is that the overhead is too much for a small business to overcome, but as the sales volume grows, it can overcome the overhead and become profitable.
Unfortunately for DCFC, the net income has gotten even more negative as sales have grown.
The other common innocuous cause of negative earnings is R&D spend. While this hurts near-term profitability, it is at least in theory an investment in the future.
DCFC does indeed have some R&D spend, but that is not the cause of its negative earnings. The gross margins on its sales are negative with the $58 million of COGS greater than the revenues of $56.1million in 2021.
There was also a troubling revenue miss as the company's May 2021 presentation called for $84 million 2021 revenue.
Rampant competition
I've looked at the presentations of a variety of charging station providers and they all seem to have some claim of superiority of their product. In DCFC's case, they boast about theirs being DC current and having liquid cooling.
That's pretty cool. The competitors' products are quite neat as well.
I'm not an engineer, so I cannot really say which products are better, but it does seem to me that there is nothing all that special about any particular one. Charging, generally speaking, is fairly simple technology that has been around for a long time which in my eyes makes it a commodity product.
There are already plenty of competitors ramping up production and my biggest concern here is that the industry seems to be ramping up for a future in which EVs take a dominant share of the road in just a few years.
That is about as bullish a scenario as possible and it is being modeled into future production as the base case. I suspect charging stations are already going to be oversupplied before demand even hits.
SPAC Dilution
SPACs or special purpose acquisition companies are just about the worst way to raise capital.
Loans can be had for just a few percentage points and traditional IPOs cost a bit in underwriting fees, but neither is anywhere near the expense of a SPAC.
A SPAC is functionally an equity issuance with a 20% fee tacked on in the form of additional equity issued for free to the sponsor. The paying investors are diluted by 20% right out of the gate.
From DCFC's proxy statement, we know the following:
On December 8, 2020, DCRN issued an aggregate of 5,750,000 DCRN Founder Shares to DCRN Sponsor for a capital contribution of $25,000, or approximately $0.004 per share. In January 2021, DCRN effected a stock dividend with respect to DCRN Class B Common Stock of 4,312,500 shares thereof, resulting in DCRN Sponsor holding an aggregate of 10,062,500 DCRN
That is over 10 million shares to the SPAC sponsor at a cost of a fraction of a penny per share.
The same document notes:
... the Founder Shares represented 20.0% of the Company's issued and outstanding shares after the Initial Public Offering.
These founder shares eventually convert into regular common shares.
SPACs were popular for a while because they were so incredibly lucrative for the sponsors. They have since died down in popularity because people stopped investing in them due to the terrible return performance.
It just isn't a good vehicle.
Summarized short thesis
Tritium strikes me as an obvious short as the business looks to be struggling with profitability. Its market price has gotten unreasonably high due to the amount of attention it has received recently relative to its tiny float. The valuation is made even more dangerous by the SPAC dilution.
Risks to shorting
Beyond the normal asymmetric risk profile that comes with shorting, there are a couple of risks specific to this stock.
Liquidity is low which can make it hard to obtain shares, which can create a cost to borrow. I have attempted to short it at 2 separate custodians but could not locate shares to borrow.
Small float makes squeezes and other anomalous pricing events such as the meteoric rise from 2/8/22-2/9/22 possible.
As such, make sure to keep position size appropriate.