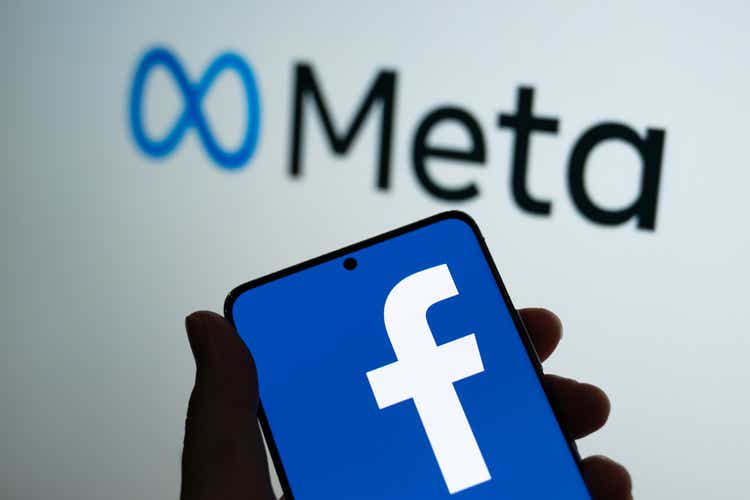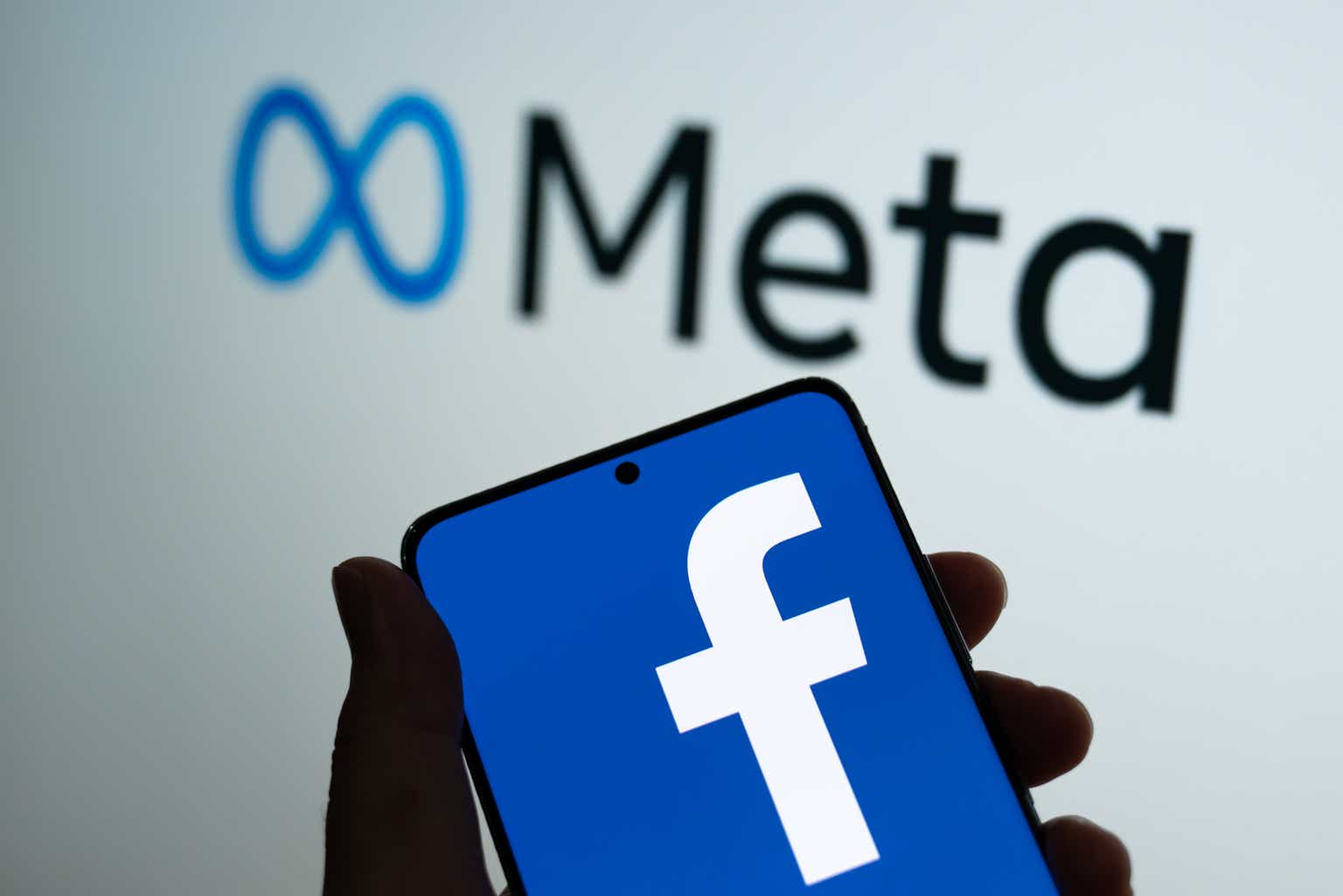 Meta Platforms (FB) had the worst performance in stock market history when FB shares lost over 25% of their value and erased over $250 billion in market cap within the blink of an eye.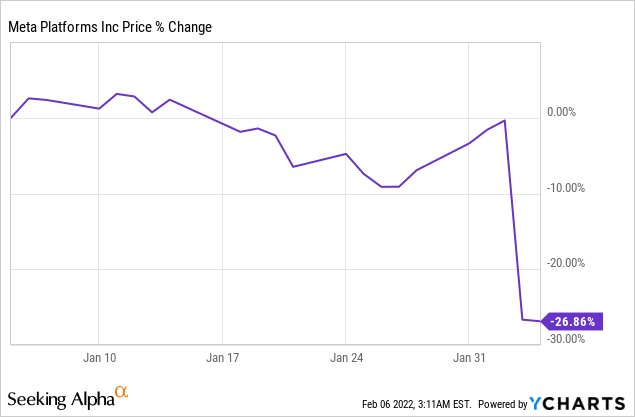 The undisputed king of social media saw a decrease in monthly active users (MAUs) on its core Facebook platform for the first time in the company's 18-year history.
Meta CEO Mark Zuckerberg felt the worst of the total collapse and saw over $31 billion of his personal fortune evaporate into thin air due to his 13% personal stake in Meta Platforms.
While the mainstream media and other authors here on Seeking Alpha point towards Apple privacy changes and increased competition from TikTok as the cause for the recent fall, I believe Donald Trump's Truth Social network is the real reason behind the massive shift in market sentiment.
In this article, I'll discuss why Trump's social network is a major problem for Meta Platforms moving forward and why the only thing that can save the company is its aggressive bet on the Web 3.0 metaverse.
Peak Facebook Has Arrived
In 2005, I was one of the original users of Facebook during my freshman year at Dartmouth College. Back then, social networks were a completely new concept and you needed a college email address to access the website.
Facebook was the beginning of the Web 2.0 era where people interact online in a social format by uploading content, sharing ideas, leaving comments, and making friends online.
Web 2.0 began in 2004 with the rise of Facebook but we are now approaching the Web 3.0 era with the rise of the metaverse.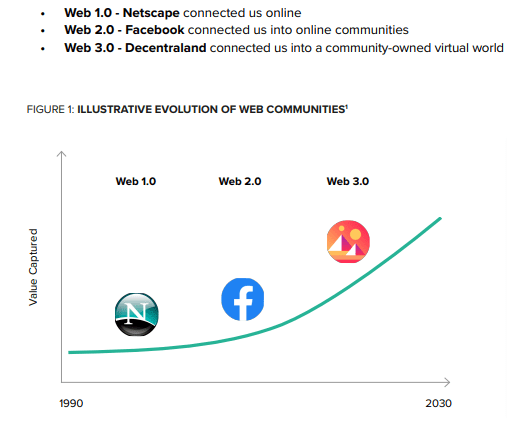 Of course, Facebook echoed this fact with its first decrease in daily active users in the company's history.
Facebook dominated the social media industry for nearly 20 years but new competitors like TikTok have grown faster as of late due to changing consumer tastes.
Video is all the rage and the younger generations are flocking to social media apps like TikTok, Snapchat (SNAP), and YouTube (GOOG, GOOGL).
TikTok was by far the most downloaded app worldwide in 2021 and shows no signs of slowing down in 2022.
Total growth across Meta's basket of apps suggests that competition has really hurt future growth potential.
The market responded the correct way by reducing its exposure to Meta Platforms shares while investors figure out what's the main cause behind the demise of Meta.
The Launch of Trump's Truth Social Network
In June 2021, Facebook suspended Donald Trump's FB account for 2 years citing "his praise for violence" as the main reason behind the ban.
While Meta decided to take a short-term action against Donald Trump, Trump responded by "going his own way" and planned the launch of a 100% free speech social network as a direct competitor to Facebook.
Trump took the SPAC route to go public and caused a massive frenzy in share price for Digital World Acquisition Corp (DWAC), which soared from $10 to as high as $175 during the peak.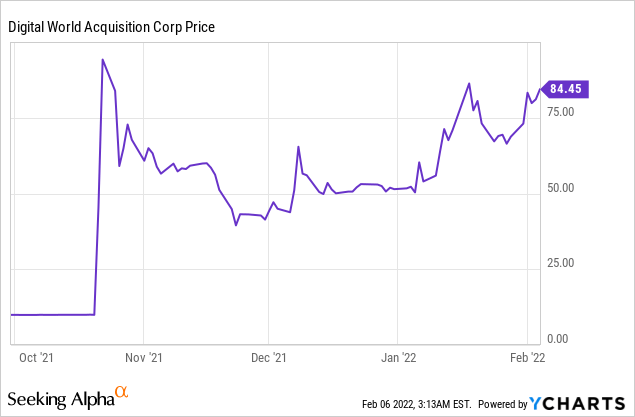 Former U.S. President Donald Trump is a polarizing figure who commands a ridiculous amount of attention throughout worldwide media outlets.
Prior to Trump's industry-wide social media ostracism, Trump had over 146 million followers across Facebook, Twitter, and Instagram.
Truth Social will launch in the Apple iOS store by the end of Q1 2022 and I expect millions of users to defect from Facebook to Truth Social for several key reasons:
Facebook's search feature makes it impossible to find users and you'll find the search results riddled with duplicate accounts, fake accounts, and spam accounts.
Getting locked out of your Facebook account is a huge problem and I've personally lost several FB accounts over the years. If you lose access to your cell phone number, then kiss your Facebook account goodbye.
Facebook's decision to ban Donald Trump upset his core audience who rely on his antics for daily entertainment, wisdom, and motivation. Once Truth Social launches, I expect many of these same Facebook users to flee and never return.
Millions of conservative voters lack a safe space to be themselves and speak their minds freely. Truth Social solves this problem.
According to Truth Social's Investor Presentation, the company expects to hit 16 million users in 2022 during the initial launch.
Truth Social projects a 50% CAGR in users to peak at around 81 million by 2026.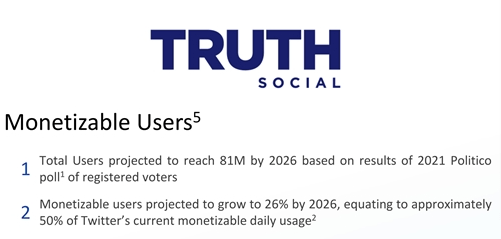 Added competition for eyeballs is the last thing Meta needs at the moment and Truth Social could cause 100+ million users to defect in the United States alone over the next few years.
If Truth Social is a massive success, then Meta could lose hundreds of millions of users globally as conservative and right-wing voters choose Truth Social over Facebook.
Donald Trump's Response to the Decline in Facebook Usage
According to Insider, Trump made a direct response to the drop in Facebook daily active users and suggested millions of people are eagerly awaiting Truth social.
This means people are tired of Fake News and abuse and especially tired of their political shenanigans. (Source: Insider)

"It could also be that people are waiting for TRUTH — the highly sophisticated platform that we look forward to opening in the not too distant future. Time to straighten out what is happening in our Country!" (Source: Insider)
Truth Social is a direct competitor to Facebook and will compete for Facebook's older core audience.
Meanwhile, the younger generation continues flocking to TikTok over Instagram.
It's hard to tell whether Truth Social will be a success, but I wouldn't bet against Trump's passionate following.
The Metaverse is the Only Thing That Can Save Meta Platforms
Web 3.0 is the future of the internet and I commend Mark Zuckerberg for thinking long-term and driving the company towards the inevitable future of digital entertainment and commerce.
The problem is that Metaverse will take time to develop and Meta could lose a lot of market share and advertising revenue over the short term.
Meta Reality Labs lost $10.19 billion in 2021 alone and management expects losses to increase in 2022 and beyond.
Operating margins have decreased 24% YoY as Meta's metaverse investment puts more pressure on the company's bottom line.
The average consumer cannot access the Metaverse due to cost constraints and lack of high-speed internet. Meta's Oculus Virtual Reality headsets cost over $300 and that isn't affordable to the average global consumer.
It will take years of research and development to bring down the cost of Metaverse tech gadgets while other competitors will enter the market too.
The good news is Meta Reality Labs revenue nearly doubled YoY in 2021 to $2.7 billion but we don't know how long it will take Meta to reach a break-even point.
The Metaverse will be huge over the next 20 years, but expect heavy losses in the short run as Meta invests in Web 3.0 technology.
Risk Factors: Decline in Daily Active Users and Ad Spend
Meta Platforms must address the possibility of a bigger decline in daily active users after the launch of Truth Social. The problem with Meta's business model is that advertisers will follow consumers wherever they go.
If Truth Social causes a massive drop in Facebook usage, then advertisers will go elsewhere and create a negative feedback loop.
Fewer ad revenue will put pressure on revenue and net income, which will cause investors to dump the stock and look elsewhere for growth.
TikTok will most likely lead the world in social media app downloads in 2022 and will continue attracting advertisers to their platform.
Holding Meta Platforms stock right now is too risky in my opinion and I expect more losses moving forward after the initial launch of Truth Social network takes effect.
Conclusion
There's an old saying: "What goes up must come down."
Meta Platforms enjoyed a substantial lead in the Web 2.0 revolution for nearly 2 decades but their reign as social media king has come to an end.
The company failed to diversify from its advertising revenue model and that could really hurt topline growth as Truth Social gains traction.
Otherwise, Meta Platforms will experience more competition and slowing revenue growth, which could cause more selling pressure.
I wouldn't consider buying FB stock over $200 because there is too much downside risk at these current levels.
Mark Zuckerberg knows more about social media than anyone else in the world, so if there is one person that can turn around Meta Platforms, he is the man for the job.