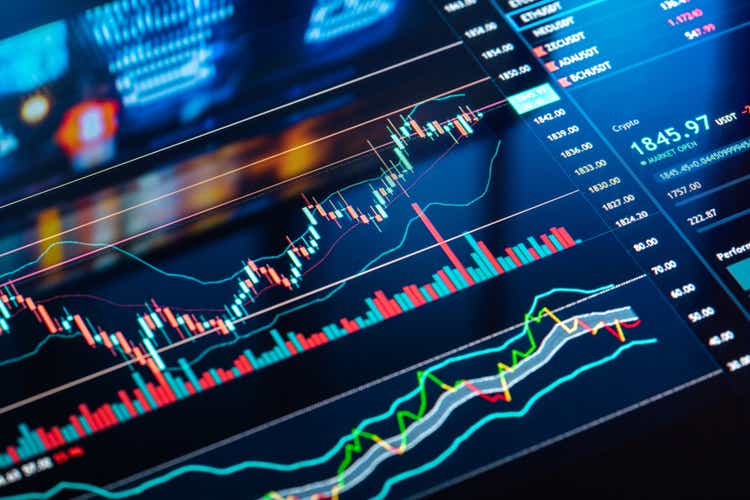 Written by Nick Ackerman, co-produced by Stanford Chemist
The Gabelli Convertible & Income Securities Fund (NYSE:GCV) is another convertible fund offering from the Gabelli family. This one is a bit different as it was always under the Gabelli roof. Ellsworth Fund (ECF) and Bancroft Fund (BCV) were separate at one point. All three funds have the Dinsmore duo, James and Thomas managing the funds. It also has the main man himself, Mario Gabelli, listed this time.
As we previously explored, BCV holds the heaviest allocation to convertible investments at 76.9% in convertible bonds and 13.2% in convertible preferred. The rest is in U.S. Treasury Bills at 8.4% and equities at 1.5%. ECF had held 68% in convertible bonds and 11% in mandatory convertible securities with a 16.8% allocation to common equities.
For GCV, they also go heavier in the convertible space. 75.4% is listed as convertible corporate bonds, 0.9% in convertible preferred stocks and 11.5% in mandatory convertible securities. Although common stocks also make up 9%, U.S. Treasury Bills came in at 3.2% in their last Semi-Annual Report.
The other notable difference for GCV is the funds premium. Currently, the fund is trading at 6.4% above the NAV per share. At the same time, ECF and BCV are trading at deep and attractive discounts. It seems to be a no-brainer; one would want to pick ECF or BCV over GCV at this time.
However, what might be alluring investors over into GCV is the higher regular distributions. All three of these funds pay quarterly. BCV and ECF pay a generally smaller quarterly distribution. They then top off at the year-end to hit their 5% minimum annual distribution policy. GCV, on the other hand, just pays a larger quarterly but doesn't often have a year-end special.
The Basics
1-Year Z-score: 1.75
Premium 6.4%
Distribution Yield: 7.8%
Expense Ratio: 2.17%
Leverage: 22.22%
Managed Assets: $153 million
Structure: Perpetual
GCV's investment objective is to "seek a high level of total return on its assets." They will attempt to achieve that objective by a "disciplined approach to investing in convertible securities and other debt or equity securities that are periodically expected to accrue or generate income." They also mention that their "goal is to generate consistently positive inflation-adjusted returns."
The fund is relatively small, similar to its peers, with just $158 million in total managed assets. GCV utilizes leverage, and currently, that comes to roughly 22.22%. The leverage comes in the form of a preferred offering that is pretty typical with Gabelli's funds. It is a 4% Series E Cumulative Preferred offering.
This is an expensive form of leverage but also comes with some greater flexibility and a fixed rate, which means that this fund's expenses won't rise when higher rates come through this year.
The fund's expense ratio is higher at 2.17%; it comes to 2.74% when including interest expenses.
Performance - Underperforms Peers
Over the longer run, GCV might have provided some respectable returns. However, over the normal time frames of 1, 3, 5 and 10 year total return periods - GCV had underperformed in everyone except the 1-year. Below are the last 10-year total returns on a share price and NAV basis.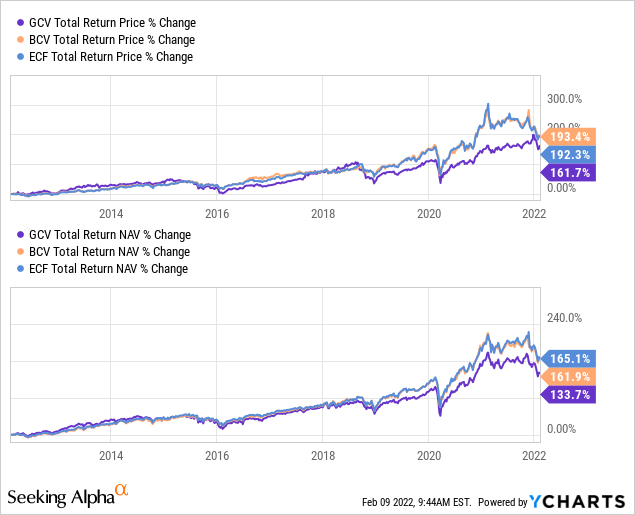 It would appear that most of the outperformance can be seen around 2019 when BCV and ECF started to pull away. That makes GCV an imperfect swap partner over the longer run, but potentially over shorter times, it could be appropriate. BCV and ECF otherwise are great examples of swap partners. And if historical performance is any indication, they are the stronger funds to consider investing in.
Combine that with the fund's overvaluation at this time, and it makes it seem like a clear choice would be investing in BCV or ECF - whichever has the largest discount at the moment. GCV has traded at premiums previously in the last 10 years. However, it is well above its average at this time. This tends to happen in closed-end funds, and there isn't always an apparent reason why. Though what has caused it is the price has been outperforming the NAV lately. Both have been declining due to the rocky start to 2022 and the rough ending for tech in 2021.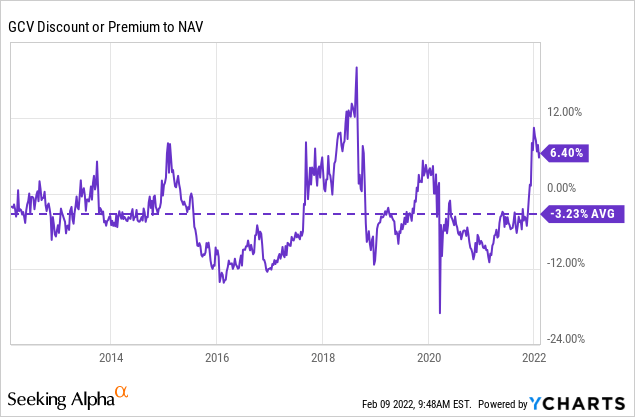 Distribution - Attractive Convertible Distribution Yield
As mentioned above, GCV pays a higher regular distribution compared to the BCV and ECF combo. That is one metric that makes this fund more appealing, but I don't believe it outweighs the difference in valuation.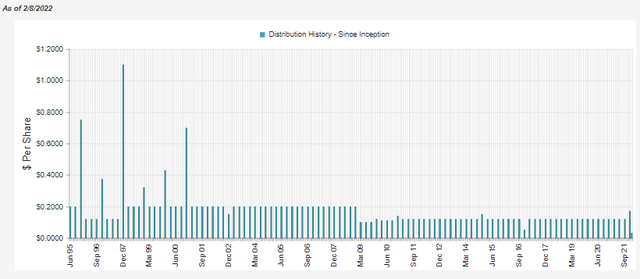 They pay a regular $0.12 distribution per quarter, which was recently announced for the next quarter. That puts the distribution yield around 7.8%, coming out to 8.3% on a NAV basis.
Unlike BCV and ECF, the preferred that GCV has is included in the expenses. That means it comes out of the total income before seeing net investment income. What happens then is we see a negative figure for NII. The coverage isn't very different from the other funds in that capital gains are the primary or entire source of covering the payout to common shareholders.
That is despite the funds holding convertible bonds that should carry some yields. The problem is that yields are too low at this time to contribute meaningfully to the income basket.
In that regard, it just is a difference in where the preferred interest is accounted for. As we can see, both in the last six months being reported and prior year, NII coverage was 0%. The capital gains and unrealized gains in fiscal 2020 were more than enough to cover the distribution.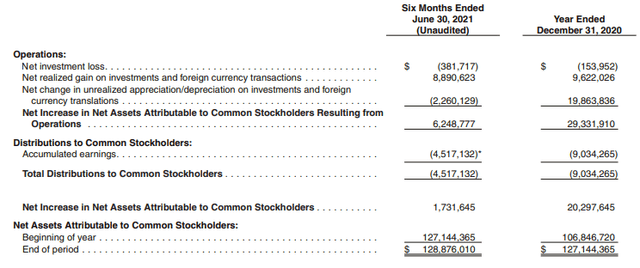 Even in 2021's 6-month reporting period, realized gains were enough to offset the NII loss and unrealized losses.
However, one could say that the distribution still wasn't covered for the year. The reason for this is because the NAV for 2021 declined from $6.76 to $6.32. A declining NAV would indicate that later in the year, unrealized gains picked up, which we can see from the charts decline.
The bulk of their distributions was classified as long-term capital gains in 2020. However, some are characterized as NII despite the negative figure, which is always interesting. They also classified 42.73% of the ordinary income being classified as qualified dividends. That means a reduced tax obligation for shareholders.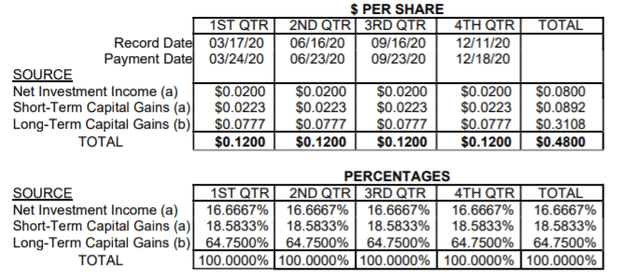 GCV's Portfolio
The fund can be fairly active when buying and selling positions. The fund last reported a 20% portfolio turnover in the last 6-month period. In the previous fiscal year, turnover was reported at 44%.
At the same time, it seems that the portfolio stays relatively similar. The largest exposure for the fund comes as "computer software and services," as they call it. Essentially, that is just the tech sector, and this was as of December 31st, 2021. This is also consistent across BCV and ECF.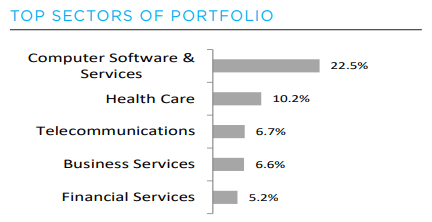 When looking at the top ten holdings, we are once again met with some familiar names. These are some of the names we also saw in BCV and GCV.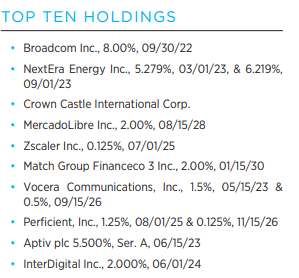 That includes some of the more interesting names of Perficient (PRFT) and MercadoLibre (MELI) that appear in all three funds. These are the type of positions that have been getting hammered. These stocks are off from their highs significantly. PRFT had declined 30.6%, and MELI is off 46.4%. These names are the ones that have done some of the heavy lifting to bring GCV down recently. For GCV, MELI was the largest holding previously when we last covered the fund.
I believe this is further evidence that one should be motivated to make a swap. You are getting an overlap of sector exposure due to overlap in positions and a much better valuation from the other two funds. I think that the valuation here trumps out the difference in the way that these portfolios operate their distribution policies.
Conclusion
GCV might be an interesting convertible fund, but I believe that it is too expensive at this time. This is especially true when BCV and ECF are peers at deep and attractive discounts. Over the long run, BCV and ECF have outperformed on a total NAV and share price return basis. Going forward, we will see much of the same in the share price. The NAV could start performing better, but the share price still has to work against its overvaluation relative to the undervaluation in BCV and ECF.