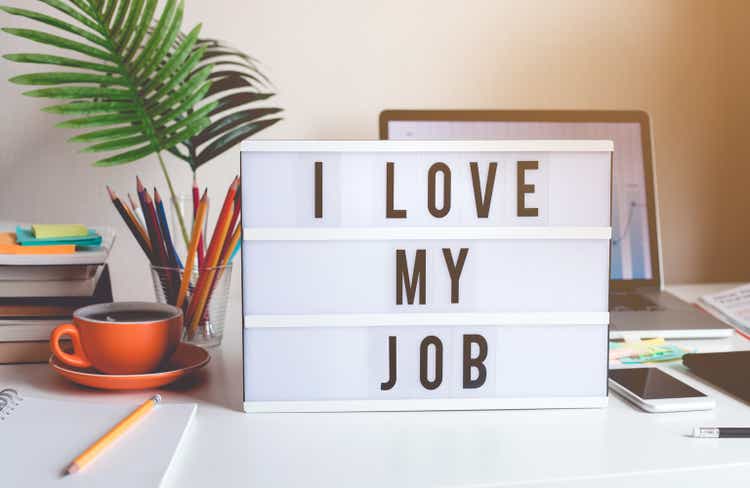 Merger arbs keep tack of deal spreads daily. Sure thing mergers with no regulatory or other risks offer little value in terms of IRR while deals with high risk have juicy spreads but usually are more of a gamble than an arbitrage.
One current deal I like is somewhere between the above scenarios. Chinese human resources company 51job (NASDAQ:JOBS) is in the process of deciding to accept an offer to be acquired by a consortium comprised of DCP Capital Partners, Ocean Link Partners, and 51job CEO Rick Yan for $57.25 per share in cash.
The Merger Timeline
September 17, 2020 JOBS received a preliminary non-binding cash proposal for $79.05 from DCP Capital Partners.
May 4, 2021 DCP submits an updated proposal with the same $79.05 consideration
June 21,2021 JOBS signs a definitive

agreement with the consortium for $79.05. (Often with Chinese ADR's the initial proposal and the definitive agreement wind up being the same price).

November 8, 2021 Consortium in talks with regulators on recent regulatory changes that may impact the transaction. Price declines more than 20%.
January 12, 2022 Consortium proposes a 28% price cut from $79.05 to $57.25 per share. They reportedly made changes to the structure of its offer to help gain China regulatory approval.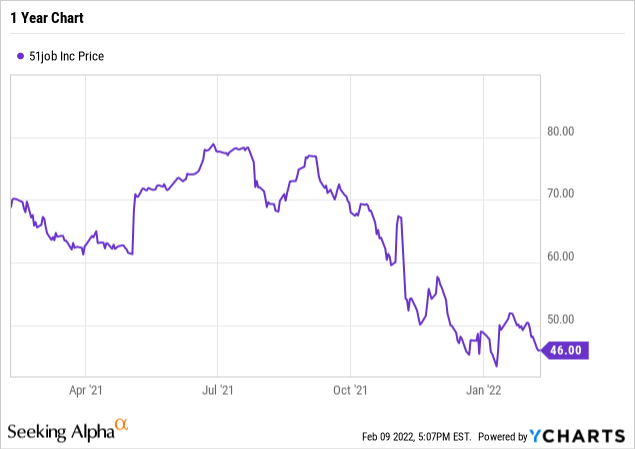 Where are we now?
We have a stock trading at a 24.1% spread. Ordinarily that would signify a deal that would likely bust. But Chinese ADR's in the midst of deals frequently trade at much wider spreads than US ones. Here's a Chinese ADR merger playbook I have seen many times: Merger announced, time passes, more time passes without an update, some holders sell, others see price declining with no news and also sell. And just like that a wide spread.
Upside/Downside Ratio
When buying a merger stock I look at the upside versus downside and then the percentage of deal completion. In this case, how does one predict the downside? A few weeks ago the stock closed at a 4 1/2 year low. So can one assume no downside if the deal fails? Not with the current Chinese stock environment. There is fear surrounding them. Here are some recent headlines:
China proposes stricter rules for overseas listings
DiDi Global to delist in the US
China looking to block companies from going public overseas.
Now none of that directly effects the JOBS merger but it all further worries investors and arb traders who already know that Chinese deals that get cut once can be cut twice or even abandoned.
The Trade
So we have a wide spread but an unclear downside. How about we craft a trade that captures a good chunk of the upside while insulating much of the downside.
Buy JOBS stock at $46.11 (closing price on Feb 9)
Buy JOBS December 50 Put for $5.60
Sell JOBS December 60 Call for .60
TOTAL COST
Upside if deal completes

Downside if deal busts

(worst case)

46.11 +5.60-.6=

$51.11

57.25-51.11=

$6.14

51.11-50=

($1.11)
What can happen next
51job agrees to accept the price cut and the deal closes (12% gain)
51job negotiates a less severe price cut which is accepted (between a 12% and a 19% gain)
51job doesn't accept the price cut and the deal is terminated (worst case a 2% loss)
51job agrees to the $57.25 price but the deal never closes because of regulatory or market conditions (worst case a 2% loss)
More Thoughts
Even if the deal fails the trade could end up being a winner. How so? The stock could trade higher than $51.11 (our cost) anytime before December expiration. We are protected by the long 50 Put so in essence long common would act like a call option. In addition, depending on where the stock would trade after deal failure, the December 50 Put could/would have some premium attached to it, perhaps a significant amount.
Conclusion
JOBS is a merger arb which has already seen its price cut by almost 30%. And still there is a 24% spread. It is a Chinese ADR, so while the possible returns look amazing it is hard to put so much faith in this completing. But by buying the equity paired with a protective put it is possible to create a trade with fantastic upside/downside in other words risk/reward. I have done the above trade and have almost all the open interest in the December 50 puts (very modest). Is it easy to get a fill on those puts? Well they aren't that liquid but I got filled.