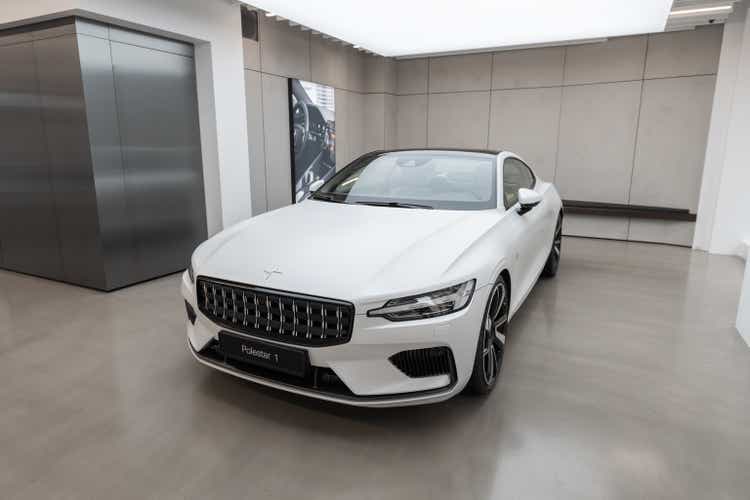 I have purchased a substantial call option position in Gores Guggenheim , Inc. (GGPI) in expectation of a rise beyond $20 within the next four months. After a couple of weeks sitting quietly in the $10.50 range, there has been a sudden uptick in interest the last couple of trading days. The stock closed Thursday at $11.20. Given the sudden surge in buying that has come out of nowhere and appears to be immune to market forces, I think this is the market signaling that it expects imminent progress towards an announcement of a merger voting date, requisite SEC filings and an eventual date where GGPI delists in favor of Polestar (NASDAQ:PSNY). Now is the ideal time to open a long position on speculation that these events will lead to a substantial rise in the stock price.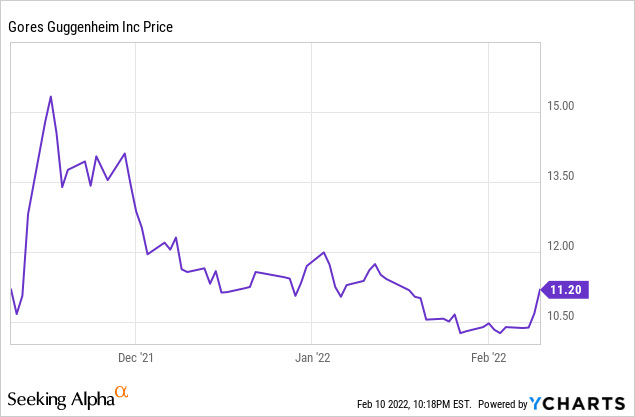 Lucid acts as a blueprint for Polestar
Polestar has stated in the past that it expects to complete the merger in the first half of 2022. That would mean the listing could be as much as four months away. While the first instinct some traders or investors may have is that it will be dead money for a while and they can buy it later, following the pattern on Lucid (LCID) suggests that now may be the bottom.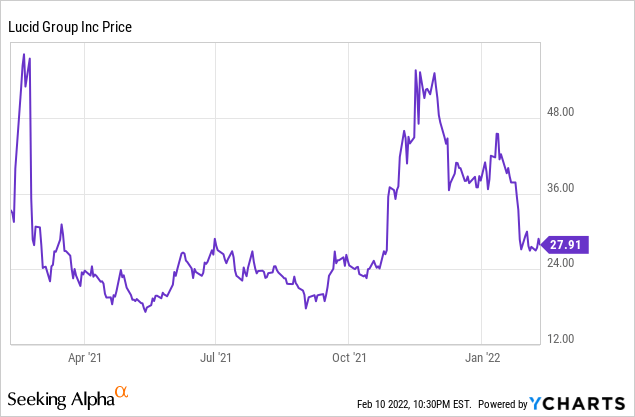 On the initial hype of the news, LCID's pre-merger SPAC shell (CCIV) ran to over $60 in mid-February 2021. It sunk to below $20 in mid-April and stayed range-bound there for most of May. As progress was being made towards the eventual July 23, 2021 listing date for LCID, the stock began moving back up. It broke through the $20 mark and hit $27 in a week's worth of trading in June and challenged the $30 mark by the end of the month. After listing, LCID actually dropped back down to the teens before taking off to $50 once again in the fall.
GGPI hasn't seen and is unlikely to see that type of volatility. The SPAC listing currently has 80 million shares outstanding but PSNY post-merger will have over 2.1 billion shares outstanding compared to LCID which has over 1.6 billion shares outstanding. We are also in a less favorable market environment for stocks running hard on speculation and hype than we were a year ago.
GGPI topped out at over $16 in its initial run in mid-November. Three months later and it looks awfully similar to LCID's bottom last spring. GGPI has spent a couple of weeks bottoming out in the $10.50 range while the last few days looks like the start of a similar run that occurred on LCID in early June.
No news regarding the vote and merger date has been announced, but the uptick in trading suggests it might be coming soon.
Fundamentally, Polestar is worth at least $20
If one was to take the Lucid blueprint as gospel, they could estimate that GGPI would top out in the low-to-mid teens leading up to the PSNY listing. A nice return, but not one you bet the farm on. However, there are fundamental factors that make me believe that GGPI will diverge from that aspect of the Lucid blueprint and actually surpass $20 by the time PSNY trades.
Lucid, Rivian (RIVN) and other electric vehicle startups all have minimal to no revenue. This isn't the case for Polestar. It hit its sales target of 29,000 vehicles in 2021. According to its investor presentation, this figure leads to $1.6 billion in revenue. The company projects to make $3.2 billion in 2022 and $17.8 billion by 2025 with over $2 billion in EBITDA based on delivery of 290,000 vehicles.
This is light years ahead of where LCID and RIVN are today and more than double where LCID expects to be in 2025. An excellent article by SMB Insights provides a comparison chart between these three companies and Tesla (TSLA). Frankly, the existence of this article covers a lot of the fundamental and competitive analysis inherent in my bullish thesis on GGPI, and saves me from writing it all up myself. I'm thankful for this article and strongly suggest anyone interested in investing in GGPI to read it as well.
LCID closed Thursday at a $46 billion market cap. RIVN finished the day at a $57 billion market cap. Assuming a post-merger tally of approximately 2.15 billion shares, a stock price of $20 on GGPI equates to a $43 billion market cap. At $11.20 it's $24 billion. Right now investors are paying half as much to get double the electric vehicle company of LCID or RIVN when they buy GGPI at these prices.
What about Geely and its relationship to China? Shouldn't Polestar be valued more like NIO?
One of the questions I often see is Polestar's connection to China because of Geely's (OTCPK:GELYF) ownership stake in the company. Then people bring up NIO (NIO) which has a $40 billion market cap on $5 billion of trailing 12-month revenue. In that context, Polestar doesn't appear so undervalued.
However, NIO and many other Chinese-based listings in the United States are subject to lower valuations right now due to the fears over variable-interest entity structures. Just like how Amazon (AMZN) has a P/E ratio that is three times that of Alibaba (BABA), electric vehicle companies with an international presence should see a substantial premium to Chinese companies. Taking a look at a three way comparison of the one-year price chart among NIO, BABA and LCID, it's quite clear that NIO is much more highly correlated to BABA than it is to LCID.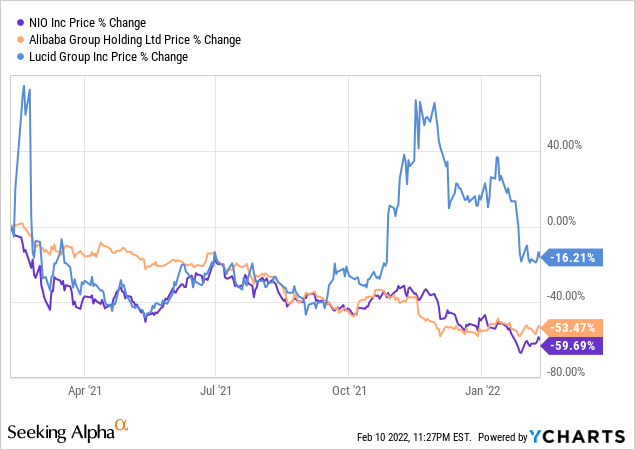 Polestar will be leveraging its connections and manufacturing capacity in China, but its roots are in Sweden and will not be structured as a variable interest entity. While NIO is achieving decent revenue figures, it's doing so almost exclusively in China. It has only just begun expanding its operations outside of the country.
Contrast that to Polestar, which has global reach in terms of manufacturing location and sales. The company has made this fact very clear in its investor presentation, grouping itself with Tesla (TSLA) as the only true global player.
Investors need to think of Polestar as a mini-Tesla rather than a mini-NIO. If Polestar can make good on its growth projections, it would closely mirror that of TSLA back in 2015 through 2018. Buying Polestar now could be like buying Tesla back in 2015 at a sub-$50 billion valuation.
Conclusion: GGPI/PSNY will trade above $20 within four months
I have bought a series of $10 call options expiring between February and July in the expectation that the bottom has been hit and GGPI will head back up. Although I don't expect the deal to be completed by the third week of February or April, I do expect the stock to move up in anticipation of the imminent nature of this deal and close within the first half of the year as promised. I personally would only suggest $10 strike call options for those expiries before July while higher strikes make decent lottery ticket trades for expiries in July or later as the merger should be complete by then.
I think $20 represents a fairly conservative floor valuation for GGPI/PSNY post-merger. This still puts the valuation below that of LCID and RIVN, two companies which Polestar clearly has the superior financial, operating, and performance metrics as well as manufacturing capacity both right now and over the next several years. Keep in mind that both of these listings pulled back substantially in the recent bear market for speculative stocks and had valuations closing in on or exceeding $100 billion not too long ago. Should they return to such lofty valuations, a $50 target could be justified on GGPI/PSNY. The only way I don't see Polestar rising in the near term is if there is a substantial market crash that weighs the entire electric vehicle industry down.