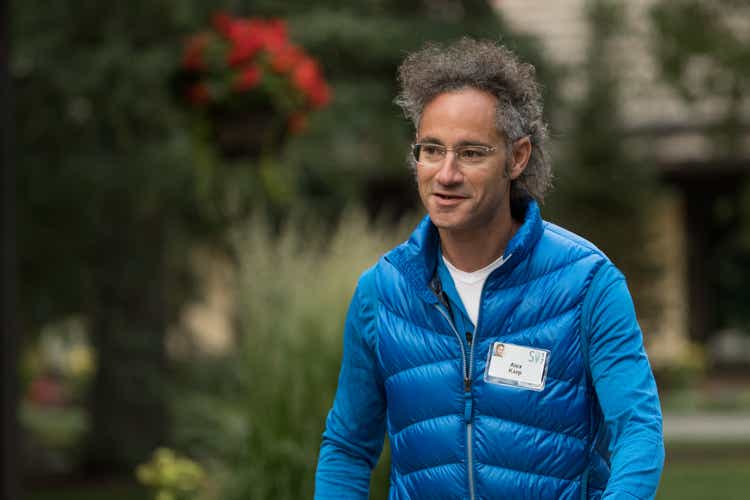 It has been a turbulent start to the year for Palantir's stock (NYSE:PLTR). While there have not been any material changes to its operating environment nor growth trajectory, the stock has continued on a landslide decline of as much as 38% this year and 57% from its November peak of $27.11. The stock's latest declines have been largely influenced by the broader market sell-off that has pushed major benchmark indexes like the S&P 500 and tech-heavy Nasdaq 100 into correction territory.
High valuation, high growth tech stocks like Palantir have not boded well with the latest macroeconomic backdrop. With inflation still running its hottest course in 40 years, the Federal Reserve has become increasingly urgent with swapping pandemic-era stimulus for tightening monetary policy tools like the impending rate hikes. While the timing and magnitude of the upcoming interest rate increases remain uncertain, the majority of traders are expecting up to five quarter-point increases this year, with some even predicting a half-point increase for the first time since 2000. This has further fuelled investors' angst on the outlook of high-growth tech stocks, as rising interest rates would "put a steeper discount on future earnings".
But if there is one thing to be learned from the latest earnings season, it would be that investors are especially focused on companies' growth outlook this time in addition to upbeat financial results from past quarters. While the increasingly hawkish Federal Reserve has unleashed a wave of anxiety that has whipsawed assets in recent months, steep rebounds observed on big tech stocks like Amazon (AMZN) and Google (GOOG / GOOGL) which have reassured their growth prospects prove that the upcoming tightening of central bank policy alone is not enough to "overwhelm the countervailing force of rising profits".
In Palantir's case, management had previously guided fourth quarter revenues at about $418 million, which means full year 2021 sales growth has likely reached 40% year-over-year. And looking ahead, the company expects a minimum of 30% year-over-year growth per year for the next four years. Considering Palantir's operating environment remains largely unchanged since the previous quarter's earnings call, with continued announcements of new partnerships forged across both the public and private sectors, the company is expected to deliver a stronger-than-expected earnings report next week. Paired with the understanding that Palantir is already operating cash flow positive, its upcoming earnings call would likely help differentiate the stock from others that might "lose momentum once the massive pandemic-related stimulus comes to an end". Although the road ahead may remain turbulent in the near-term as markets adjust to new central bank policies, Palantir remains an attractive long-term investment at current price levels.
Why is Palantir Stock Dropping?
As mentioned in the earlier section, nothing has materially changed with regards to Palantir's operating environment nor its growth trajectory. The first wave of Palantir's latest declines came after the release of weaker-than-expected third quarter earnings results in early November, which unfortunately coincided with the omicron coronavirus variant outbreak that led to a broad-based market sell-off on concerns of an economic recovery slowdown. The stock plummeted by as much as 18% the week of November 8, from its peak of $27.11 to a low of $22.12 at the time, after its third quarter government segment revenues showed signs of slowing growth. It then proceeded to fall to the sub-$20 level when Omicron cases began to flare up worldwide, which added to investors' concerns over equity market's outlook under increasing economic uncertainty.
The stock was dealt a second major blow within the span of three months after the Federal Reserve took a hawkish turn in December and decided to hasten tapering on the $120 billion monthly bond repurchasing program that was put into place during the onset of the pandemic. The Federal Reserve had originally began dialling back on the program at a pace of $15 billion per month which began in November, then decided to up it to $30 billion per month after the December policy meeting. The new strategy would effectively conclude the pandemic-era stimulus in March instead of July as originally planned, and prepares for a lift-off in interest rates soon after to rein in runaway inflation.
As mentioned in earlier sections, the prospect of aggressive rate hikes is negative news for high growth tech stocks as it would increase their costs of capital and erode the value of their future earnings. The January release of U.S. CPI data for December which showed price increases of 7% – a level not seen in 40 years – further stoked investors' fear over the potential of more aggressive central bank policies ahead, stirring increased market volatility as they mull on how to price the upcoming rate hike impacts into asset valuations. The latest Federal Reserve meeting in late January has only made things worse. Federal Reserve Chair Jerome Powell acknowledged that inflation remains stubbornly higher than where it needs to be, and that the Federal Open Market Committee is ready to raise interest rates beginning March at a faster pace than the "once-a-quarter hikes that were the norm last cycle" given the current economy and labour market is comparatively stronger.
Paired with the recent release of stronger-than-expected U.S. jobs data and inflation remaining at a 40-year high of 7.5% throughout January, traders are now expecting anywhere between four to seven quarter-point increases this year, with some even preparing for increases at 50-bp-increments early on in the cycle for the first time in more than two decades beginning in March. Specifically, Fed funds futures are now pricing in a "more than 50% chance the central bank will boost rates by a half-percentage point next month for the first time since 2000". This has accordingly left benchmark indexes like the S&P 500 and the tech-heavy Nasdaq 100 in the red at the time of writing (February 10th), with 10-year Treasury yield breaking 2% for the first time since 2019. As increasing bond yields "pave the way for improved returns on very little risk", while growth stocks prepare for steeper discounts on future earnings ahead of higher-than-expected rate hikes ahead, the current macroeconomic backdrop makes a recipe for further market volatility in the near-term.
Yet, Palantir's stock has remained resilient during Thursday's session following the release of U.S. CPI data. The strength likely rides on momentum from the three-day rally that began earlier this week following upbeat reports and growth forecasts from tech peers like Amazon, Snap (SNAP), Pinterest (PINS) and Uber (UBER). Recall that Palantir opened 3% lower on February 3rd, and posted further intraday declines of 7% which marked its latest dip following Meta Platforms' (FB) release of weaker-than-expected results. This further corroborates the fact that Palantir's stock remains heavily influenced by broad-based market activity, especially those within the tech sector, while also underscoring a potential rebound in response to the release of its own fourth quarter results next week.
Is Palantir a Good Long-Term Stock?
As discussed in one of our recent coverages on the stock, Palantir's commercial segment revenues have continued to show robust growth momentum in recent quarters. And the healthy pipeline of new partnerships forged in recent months, including those during the fourth quarter with Dewpoint Therapeutics, Merck (OTCPK:MKGAF / OTCPK:MKGAY), Kinder Morgan (KMI) and MSP Recovery, further underscore the likelihood of another upbeat earnings report next week. Meanwhile, the latest partnerships forged with Hyundai Heavy and Satellogic (SATL) further corroborate expectations for a strong growth forecast in the current period that would bolster management's commitment to another year of +30% revenue growth:
Hyundai Heavy: Palantir has rung in the new year with a notable partnership forged with Hyundai Heavy Industries. The $25 million multi-year deal is a symbol of Palantir's growing presence across the West's APAC allies, and represents an extension of Palantir's success in growing its commercial segment over the past year. Under the arrangement, Hyundai Heavy will leverage Palantir's commercial software, likely Foundry, to create tools for breaking down the siloed data fields across its affiliate groups, which range from shipbuilding to industrial machinery processes, and facilitate better-integrated operations. The two companies intend to create a joint venture to commercialize the new tools built on Palantir's platform, which will create greater exposure for Palantir's technological capabilities to the global commercial sector, and further fortify the company's growth prospects.
Satellogic: Palantir has entered into a five-year partnership with Satellogic earlier this month. The latest development builds on proven success from a previous collaboration last year on the deployment of Palantir's Edge AI platform on Satellogic's "NewSat" satellites. Satellogic, which recently went public through a SPAC merger with CF Acquisition Corp. V, is "the first vertically integrated geospatial company" that engages in real-time mapping and collection of earth data to infer "planetary-scale insights" that can help solve complex challenges ranging from climate change to energy supply and food security. The two companies will join hands and leverage one another's expertise to drive operational synergies. On one hand, Satellogic will use Palantir's Foundry platform to consolidate its disparate data sources into a "single repository for constellation optimization" to enable "accelerated business processes, rapid image product delivery, AI model training, and enterprise-wide data integration". On the other hand, Palantir will gain access to Satellogic's "Aleph Platform". The Aleph Platform will further Palantir's "MetaConstellation" and "Edge AI" capabilities by granting its existing U.S. government customers access to Satellogic's profile of "high-resolution satellite imagery [that can drive] analytical insights across a range of mission-oriented use cases". MetaConstellation is a new software born out of Palantir's collaboration with NORAD and USNORTHCOM in the ongoing series of Global Information Dominance Experiments ("GIDE"). The software links over 230 satellites operated by various space companies, and leverages Palantir's existing Apollo delivery system and Edge AI platform to compile data and generate real-time insights to be sent back to decision-makers on earth. While revenues generated from the Satellogic deal would fall into Palantir's commercial segment, the extended availability of data coming out of this partnership is expected to further bolster its government opportunities in the long-run as well, which reinforces its growth outlook ahead.
Ferrari: The world class maker of supercars (RACE) has extended an existing partnership with Palantir that began in 2016 for another year. Under the arrangement, Palantir will continue to deploy Foundry to enable "data driven performance decisions" across the Power Unit of Ferrari's "Scuderia Ferrari" Formula 1 race team. Scuderia Ferrari will also begin featuring the Palantir brand on its Formula 1 race cars and on driver race-suits going forward, bringing the next-generation software developer's name onto the world stage for greater commercial opportunities ahead.
The latest developments continue to bring validation to Foundry's competency across all use cases ranging from industrials to car racing analytics. Recent deals also continue to underscore the success of Palantir's "acquire, expand and scale" business model. Specifically, the company begins with landing its partnerships and bearing the initial costs of expanding related opportunities, then recoups the investment once they start to scale. For instance, its recent partnership with Hyundai would be categorized as the "acquire" phase, while the related commercial software development can be identified as the "expand" phase with future deployment being the "scaling" phase. Meanwhile, the recent extension of its partnerships with Satellogic and Ferrari would mark the "opportunity scaling" phase, meaning positive margins ahead.
Palantir's growing presence within the commercial segment, especially with further expansion into new geographic regions like South Korea and EMEA with the recent appointment of Phillippe Mathieu as President of Palantir EMEA, also comes at an opportune time. The rapid acceleration of global digitization trends continues to drive a build-up of massive troves of data. And more than 80% of said data sources are expected to be "unstructured" over the next five years. To date, only 4% of companies claim to have a "highly sophisticated approach to leveraging data". This leaves a sizable addressable market within the private sector in which Palantir could penetrate.
In addition to large-scale commercial partnerships like those discussed above, the company has already deployed various strategic offerings to ensure adequate capitalization of opportunities stemming from small- and medium-enterprises ("SMEs") while also addressing needs of emerging sectors like cryptocurrency in coming years. As discussed in our previous coverage, the recent introduction of Foundry for Builders under a subscription-based model is expected to encourage mass market adoption of the software from both multinational corporations with complex data compilations and small Day One start-ups. The recent introduction of modular offerings like "Carbon Emissions Management" and "Anti-Money Laundering / Know Your Client" solutions will also appeal to the emerging crypto sector, exposing Palantir's commercial offerings to a broader market that is expected to grow into a $67 billion opportunity by 2026.
On the government front, Palantir's latest public sector contract wins may be more than enough to reverse the dampened sentiment over the segment's growth outlook following its third quarter earnings call. Recall that government segment revenues during the third quarter grew by only 34% compared to the same period in 2020. While the growth rate is still impressive, it remains a farcry from the average 74% year-over-year growth observed in the three preceding quarters.
But a turnaround is likely in order, considering the volume of new contracts and renewals acquired during the fourth quarter based on public information available. In addition to contract extensions from the Army Vantage Program and the Space System Command ("SSC") valued at a combined total of about $160 million, Palantir has also scored new wins with the U.S. Army's Capability Drop 2 Program ("CD-2") valued at $823 million and with the National Institutes of Health ("NIH") valued at $60 million. According to public data on U.S. government spending, Palantir has been awarded with deal obligations valued at more than $228 million in 2021, with more than $114 million acquired in the fourth quarter alone. Not only does the information further support stronger fourth quarter government results ahead of its earnings call next week, but it also underscores Palantir's continued prowess within the public sector in coming years.
Is Palantir Stock Undervalued and Can the Stock Go Back Up?
Considering Palantir's growth outlook remains intact for both the near- and longer-term despite mounting macro headwinds, we are maintaining our 12-month price target for the stock at $25.45. Consistent with our previous analysis on potentially better-than-expected FY 2021 financial performance and the foregoing analysis on continued growth momentum expected across both its commercial and government segments in coming quarters, the upcoming earnings call will likely be a catalyst to jumpstarting the stock from its recent declines and bolster investors' confidence on Palantir's valuation prospects ahead of the upcoming rate hikes.
Yet, the climb to $25 and beyond will likely be a turbulent ordeal in the near-term. The broader market remains sensitive to earnings based on recent observations, while investors continue to mull on how to price in the upcoming impact of tightening monetary policy on asset valuations as the process continues to unfold. As mentioned in earlier sections, Palantir's stock remains a "sucker" to broad-based market movements, but the expectation of a strong showing next week on its fourth quarter earnings call will likely give it a boost until it can emerge further with strength when there is greater clarity on the timing and magnitude of the Fed's upcoming policy agenda later this year.
Is Palantir Stock a Buy, Sell or Hold?
With global digitization being a key trend of the current decade and beyond, data will remain "the pillar" of decision-making processes across both public and private sectors. And this will accordingly drive accelerated demand for data management and analytics software like Foundry and Gotham over the longer-term, which makes strong tailwinds for Palantir. While Palantir continues to prioritize government contracts as part of its mission to become "the U.S. government's central operating system", its exposure to commercial opportunities is also on a rapid rise. The stock remains an attractive long-term investment pick at the recently lowered price levels considering its advanced technological competency and growing market opportunities ahead. And with the stock's upside momentum expected to resume next week following its fourth quarter earnings call, the recent price pullback makes a reasonable entry point.
Editor's Note: This article discusses one or more securities that do not trade on a major U.S. exchange. Please be aware of the risks associated with these stocks.