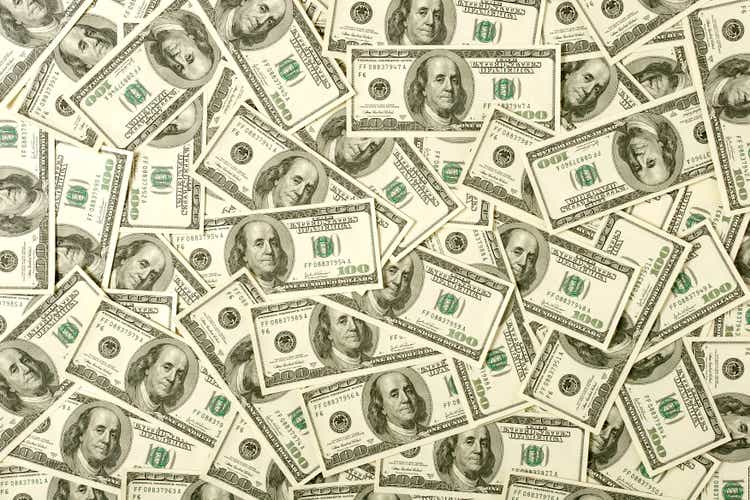 With the S&P 500 down 8% year-to-date, it's fair to say that volatility has ramped up in recent weeks. I would argue that it is easier for investors to withstand this volatility with a diversified portfolio of dividend growth stocks.
One great dividend growth stock in my portfolio is Prudential Financial (NYSE:PRU). For the first time since last December, I'll discuss the reasons to buy Prudential and the risks that investors should know before buying the stock.
A High-Yield That's Well-Covered
My aim as a dividend growth investor is to pick stocks that have a track record of dividend increases, which appear likely to continue.
One way to gauge whether a stock's payout is safe is to compare its dividend yield to that of the average for its industry. Prudential's 4.00% dividend yield is only a bit elevated against the insurance - life industry average of 3.37%. This leads me to believe that the dividend is relatively safe, which explains why the board of directors was confident enough to increase the quarterly dividend by 4.3% recently.
And based on Prudential's dividend payout ratios, the dividend appears to be viable.
Prudential generated $14.58 in adjusted operating income per share in 2021 against $4.60 in dividends per share paid during that time. This equates to a 31.6% adjusted operating income per share payout ratio.
Analysts anticipate Prudential will report $11.95 in adjusted operating income per share this year. Compared to the $4.80 in dividends per share that the stock will pay this year, this works out to a payout ratio of 40.2%.
Given that analysts are forecasting 6% annual earnings growth over the next five years and Prudential's payout ratio has room to grow, I am maintaining my 5.75% annual dividend growth rate for the long run.
Prudential's Fundamentals Remain Robust
Prudential recently reported results for the fourth quarter of what turned out to be a great 2021 for the company.
Prudential's PGIM, U.S. Businesses, and International Businesses segments each generated double-digit adjusted operating income growth over 2020. This led to after-tax adjusted operating income moving 47.5% higher year-over-year to $5.77 billion in 2021 (all data sourced from page 7 of 11 of Prudential's Q4 2021 earnings press release).
Paired with a 1.9% reduction in the average diluted share count to 390.1 million during the year, this helped adjusted operating income per share go even higher (figures according to page 8 of 11 of Prudential's Q4 2021 earnings press release).
Prudential's adjusted operating income per share of $14.58 for 2021 was 50% higher than the $9.72 reported in the year-ago period (details per page 8 of 11 of Prudential's Q4 2021 earnings press release). And even considering the $11.24 in adjusted operating income per share reported in the pre-pandemic year of 2019, Prudential's bottom line grew by 29.7% (data sourced from page 8 of Prudential's Q4 2021 earnings press release and page 7 of 10 of Prudential's Q4 2020 earnings press release).
And with St. Louis Federal Reserve President James Bullard wanting to see a 100 basis point hike in interest rates by this July, Prudential's investment income stands to greatly increase in the quarters ahead.
Prudential's operating fundamentals appear to be promising based on its results for 2021 and the upcoming interest rate hikes. But yet another advantage for the company lies in the stability of its balance sheet.
Prudential maintained $3.6 billion in liquid assets at the end of last year, which is within its target range of $3 billion to $5 billion. The company also has access to billions more in off-balance-sheet resources (all figures according to slide 10 of Prudential's 4Q21 Investor Update Presentation shown above). If the economy were to encounter a downturn, Prudential appears to be more than ready.
It should then come as no surprise to learn that Prudential boasts A, A3, and A- investment-grade credit ratings from S&P, Moody's, and Fitch.
For these reasons, I believe Prudential could be a wonderful long-term investment if shares are scooped up at or below fair value.
Risks To Consider:
Prudential faces its share of risks that shareholders should occasionally monitor to ensure that the investment thesis is holding up. Thus, I'll go over several key risks associated with the stock as outlined in the most recent 10-K.
Prudential faces equity risk, which is the risk of loss stemming from a decline in the market value of equity or alternative assets (page 40 of Prudential's recent 10-K). A prolonged decline in financial markets could result in lower than expected dividend income and capital gains. This could be harmful to Prudential's product pricing assumptions and lead to adverse operating and financial results for the company.
Insurance risk is another risk to Prudential, which is the possibility that the company's experience is radically different from its assumptions (page 41 of Prudential's recent 10-K). Natural or man-made disasters, military conflict, or pandemics could result in higher than anticipated mortality rates in a given year. Prudential could have to pay out more in claims to its policyholders than the premiums collected, which would lead to negative financial results.
If an event were to be severe enough, Prudential could also face liquidity risk (pages 45-46 of Prudential's recent 10-K). This is the risk that the company will be unable to meet its near-term obligations as they come due.
One final risk to Prudential is from an operational perspective, which is the potential that the company isn't able to properly maintain the security of its information (page 47 of Prudential's recent 10-K).
While Prudential takes steps to reduce the probability of such an event, there are no guarantees that it won't ever happen on a major scale. If significant enough, the sensitive information of Prudential's customers could be compromised. This could lead to lawsuits and regulatory action, which would have a detrimental near-term impact. The greater fallout could be potentially irreparable damage to Prudential's reputation, which could be enough to shatter the investment thesis.
Although I have discussed a few major risks facing Prudential, it's worth pointing out that this wasn't a complete discussion of the company's risk profile. For a more exhaustive discussion of Prudential's risks, I would encourage readers to visit pages 39-52 of its recent 10-K, as well as my past articles on the stock.
A High-Quality Stock At A Discount
Prudential is the type of dividend stock that arguably belongs in every income investor's portfolio. But investors need to figure out what shares of the stock are worth to avoid significantly overpaying and having their investment underperform.
That's why I'll use two valuation models to estimate the fair value of shares of Prudential.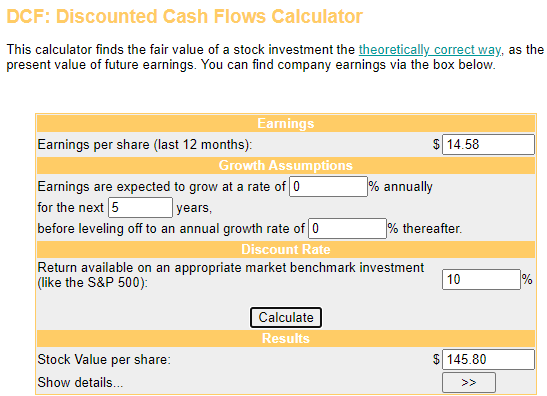 The first valuation model that I will utilize to approximate the fair value for Prudential's shares is the discounted cash flows model, which contains three inputs.
The first input into the DCF model is trailing twelve months of adjusted operating income per share. That amount is $14.58 for Prudential.
The next input for the DCF model is growth assumptions. If an investor overestimates growth potential, the fair value output will skew too high. On the other hand, underestimating growth potential produces a low fair value and could make an otherwise attractively valued stock seem expensive.
Erring on the side of caution, I will assume absolutely no earnings growth from Prudential's base of $14.58 in adjusted operating income per share for 2021. This is far below the 7% annual earnings growth that the company generated over the last five years.
The final input into the DCF model is the discount rate, which is the required annual total return rate. I'll use my personal preference of 10% because I think that's a fair return for my efforts.
Factoring these inputs for the DCF model, I come out to a fair value output of $145.80 a share. This indicates that shares of Prudential are trading at a 17.8% discount to fair value and provide a 21.6% upside from the current price of $119.90 a share (as of February 11, 2022).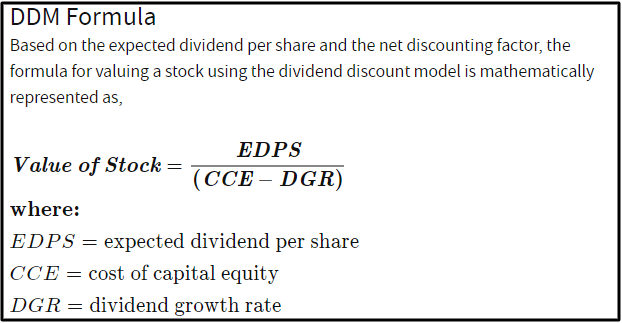 The other valuation model that I'll employ to guess the fair value of Prudential's shares is the dividend discount model, which includes three inputs.
The first input for the DDM is the expected dividend per share, which is another way of stating a stock's annualized dividend per share. Following the recent dividend increase, Prudential's current annualized dividend per share is $4.80.
The second input into the DDM is the cost of capital equity, which refers to the annual total return rate that an investor requires. I'll use 10% as my input once again.
The third input for the DDM is the annual dividend growth rate or DGR over the long haul.
Unlike the first two inputs into the DDM that require minimal effort, accurately forecasting the long-term DGR requires an investor to think about countless factors: These include a stock's dividend payout ratios (and whether those payout ratios are poised to expand, contract, or remain the same going forward), annual earnings growth in the future, industry fundamentals, and the strength of a stock's balance sheet.
As I noted earlier, I'll be sticking with my 5.75% annual dividend growth rate as a long-term assumption.
Using these inputs for the DDM, I am left with a fair value output of $112.94 a share. This means that shares of Prudential are priced at a 6.2% premium to fair value and pose 5.8% capital depreciation from the current share price.
When I average these two fair values together, I compute a fair value of $129.37 a share. This suggests that Prudential's shares are trading at a 7.3% discount to fair value and offer a 7.9% upside from the current share price.
Summary: There's A Lot To Like About Prudential
Prudential has raised its dividend every year since the Great Recession, which brings its dividend increase streak to 14 years straight. And since the company's payout ratio is going to be around 40% this year, it appears as though it's just getting started with dividend raises.
This is especially true when considering that Prudential's adjusted operating income per share is climbing higher with each passing year. Add in the company's financial strength and you have a business with tremendous fundamentals.
Finally, my inputs into two valuation models show that Prudential is trading at a 7% discount to fair value. Prudential's market-beating 4% dividend yield, decent dividend growth, and appealing valuation are precisely why I'm reiterating my buy rating on the stock.