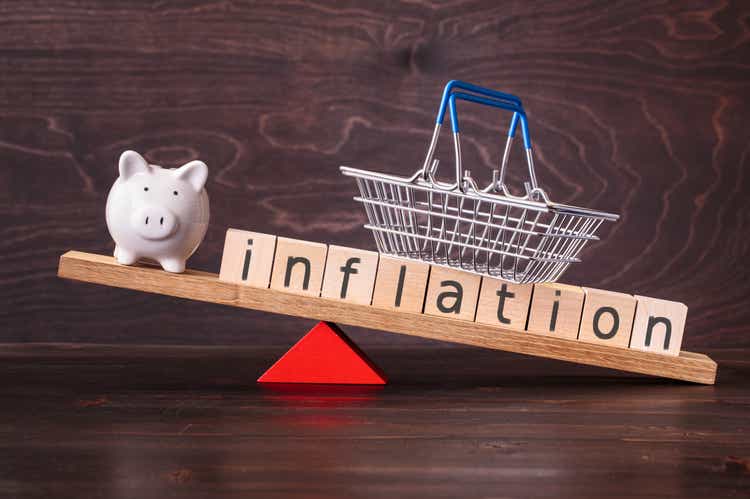 Real Estate Weekly Outlook
U.S. equity markets declined on another volatile week as red-hot inflation and reports of amplified tensions on the Russia/Ukraine border reversed early-week gains while data showed consumer confidence dipping to decade-lows. While strong corporate earnings temporarily eased investor concerns last week, the hotter-than-expected CPI inflation data again injected anxiety into financial markets and likely accelerated the Federal Reserve's plans for monetary tightening with investors pricing in nearly 50% probability of a 50 basis point "double rate hike" at the next FOMC meeting in March.
Ending the week with a volatile two-day skid, the S&P 500 (SPY) finished lower by 1.8% on the week while the tech-heavy Nasdaq 100 (QQQ) slid back into "correction territory" with declines of more than 3%. The Mid-Cap 400 actually managed to climb out of correction territory with gains of 0.9% on the week while the Small-Cap 600 gained 1.4%. The rotation from growth to value was on full display in the real estate sector as well as pro-cyclical sectors including hotel, timber, and office REITs led the way while technology REITs continued their slump. The Equity REIT Index finished lower by 1.7% on the week while Mortgage REITs declined 1.1%.
After powering through the 2.0% level for the first time since late 2019 after the red-hot inflation report on Thursday, the 10-Year Treasury Yield closed the week at 1.96%, pressured by consumer sentiment data showing recessionary levels of economic confidence amid frustration with inflation and government policy. Eight of the eleven GICS equity sectors finished lower on the week, but the Energy (XLE) sector stayed red-hot as oil prices climbed closer to $100 per barrel. Meanwhile, strong earnings reports from Taylor Morrison (TMHC) and Zillow (Z) - along with inflation data showing the highest rate of shelter inflation in 30 years - were highlights of a relatively strong week across the Hoya Capital Housing Index ahead of a busy slate of housing data and earnings reports in the week ahead.
Real Estate Economic Data
Below, we recap the most important macroeconomic data points over this past week affecting the residential and commercial real estate marketplace.
The BLS reported this week that consumer prices surged at the fastest pace in nearly four decades in January as inflation has so far proven to be less "transitory" than many economists projected. The Consumer Price Index rose 7.5% year-over-year - hotter than consensus estimates - and the highest annual increase since February 1982. Core Consumer Prices - which excludes food and energy - rose 6.0% from last year - also hotter than expected. Prices for food, rent, and gasoline were once again the largest contributors to inflation as the energy index rose 27.0% and the food index increased 7.0%.
As we've discussed for the last year, we continue to see persistent near-term pressure on inflation metrics due to the delayed impact of soaring rents and home values, which are just beginning to filter in the data. The cost of shelter gained 0.3% in January, while the annual gain rose to 4.4%, the highest in more than 14 years. Private market rent data has shown that national rent inflation has been in the 10-15% range over the past quarter while home values have risen by 15-20%. The Dallas Fed published a report highlighting the data issues at the BLS, finding a 16-month lag between the BLS inflation series and real-time market pricing of home prices and rents which will add an estimated 0.6-1.2% to the Core CPI index in 2022 and 2023.
Ongoing concerns over inflation have weighed on consumer confidence in recent months, sending the University of Michigan's consumer sentiment index tumbling back to 10-year lows in February while expectations for one-year inflation rates increased to 5.0% - the highest level since the summer of 2008. Earlier in the week, the IBD/TIPP Economic Optimism Index showed a similar slump across all of their monthly metrics, particularly their measure of approval of Federal policies. The poll showed that only 27% of Americans believe the economy is improving, and the pollster commented, "people view a lack of trust in our politicians and government structures as one of the biggest issues we face as a nation."
Equity REIT Week In Review
REIT earnings season kicked into high gear this week and results were impressive, highlighted by seven dividend hikes. A trio of shopping center REITs hiked their payouts: Kite Realty (KRG) raised its dividend by 5%, Site Centers (SITC) raised its payout by 8%, and RPT Realty (RPT) by 8%. Elsewhere, a pair of industrial REITs hiked their dividend: Rexford (REXR) raised its payout by 31% and First Industrial (FR) by 10%. Elsewhere, timber REIT Weyerhauser (WY) - which declared a sizable special dividend last month - raised its regular quarterly dividend by 6%. Finally, Community Healthcare (CHCT) raised its payout by 1%, bringing the full-year total to 17 hikes across the REIT sector.
Shopping Centers: We heard results from six shopping center REITs this week and we continue to be impressed by the resilience - and even outright strength - on display across the sector as all six REITs reported FFO and NOI results ahead of their prior guidance. Brixmor Property (BRX) gained 1% on the week after reporting impressive 14.5% growth in releasing spreads and a continued uptick in occupancy. Regency Centers (REG) reported strong results highlighted by its highest releasing spread in more than four years at 12.9%. REG recorded 36% full-year 2021 FFO growth which was 3% above its pre-pandemic level from 2019 - becoming the first shopping center REIT to report a full recovery in Funds from Operations.
Results from Site Centers (SITC), Kimco (KIM), Federal Realty (FRT), and Phillips Edison (PECO) followed a similar trajectory of accelerating rent spreads and improving occupancy rates, indicating that the strip center big-box format remains a clear source of strength within the retail landscape. Unlike their mall REIT peers, shopping center REITs are seeing significantly better fundamentals in the post-pandemic period as big-box retailers have double-down on using their brick and mortar properties as hybrid "distribution centers" in a decentralized last-mile delivery network.
Malls: Speaking of mall REITs, Simon Property (SPG) slumped 2% on the week after reporting mixed results as a strong back-half to 2021 was offset by disappointing guidance for 2022. SPG ended the year with full-year FFO growth of 31% - bringing its FFO back within 1% of its pre-pandemic level from 2019. Occupancy and rents appear to have stabilized - albeit at lower-levels than before the pandemic. Macerich (MAC) advanced 4% after reporting that foot traffic during the holiday season reached 95% of pre-pandemic levels while occupancy increased for the third-straight quarter. Leasing spreads were also decent at +5%, its first positive quarter in two years but its guidance was soft as its FFO remains 40% below 2019-levels.
Net Lease: WP Carey (WPC) gained 1% on the week after reporting better-than-expected results and providing a solid outlook for 2022. WPC recorded full-year FFO growth of 6.2% in 2021 - above its prior guidance range - and sees growth of 4.2% in 2022 driven by nearly $2B in expected acquisition volume. Alpine Income (PINE) also gained 1% after finishing 2021 with AFFO growth of over 50% as the small-cap REIT continues to punch above its weight on the external growth front. National Retail (NNN) declined 1% despite reporting strong results in which it beat its 2021 guidance and raised its full-year outlook for 2022. NNN recorded FFO growth of 10.4% in 2021 - fully recovering its pandemic declines - and now sees 3.7% growth in 2022.
Industrial: A trio of industrial REITs recorded impressive results this week, but the rotation from growth into value put downside pressure on the sector. Rexford (REXR) - which focuses exclusively on the Southern California region - reported cash releasing spreads of 21.5%, driving same-store NOI growth of 12.3% in 2021 and it sees another 6.5% NOI growth in 2022. First Industrial (FR) recorded full-year FFO growth of 7.1% in 2021 - well above its prior guidance - and sees FFO growth of 8.6% in 2022. Consistent with the reports from the other five industrial REITs, rents continue to soar as FR saw cash rental rates rise 16.2% in 2021, its highest annual increase in company history. Perhaps most impressive, FR recorded same-store NOI growth of 12.3% in 2021 and expects further growth of 5.75% at the midpoint of its guidance range - both of which were the highest in the industrial sector.
Apartment: Apartment Income (AIRC) - which completed its first full year after spinning off from Aimco (AIV) - reported impressive results, continuing the trend of stellar earnings reports from apartment REITs. AIRC recorded sector-leading FFO growth of 23% in 2021 and expects another 12.1% growth in 2022 at the midpoint of its guidance range. UDR (UDR) declined 3% despite reporting similarly solid results with blended leasing spread of 11.7% in Q4, which accelerated to 13.1% in January. Preferred Apartments (APTS) rallied more than 25% on the week after Bloomberg reported that it's evaluating a full or partial sale of its portfolio after getting takeover interest.
Homebuilders: Sticking in the housing sector, Taylor Morrison (TMHC) was flat on the week after reporting strong results highlighted by a continued improvement in margins and a strong outlook for 2022. TMHC recorded full-year revenue growth of 22% in 2021 and sees another strong year of 21% revenue growth in 2022 as it works through its historically large backlog of home orders. Despite rising construction costs and ongoing supply chain headwinds, homebuilders have reported a nearly 4 percentage-point increase in operating margins this quarter to the highest overall average on record.
Healthcare: HealthPeak (PEAK) slipped 2% on the week after reporting mixed results as it ended 2021 with an FFO decline of 2% but it sees 7.5% FFO growth in 2022 at the midpoint of its range. For full-year 2021, it recorded 7.2% same-store NOI growth in its life sciences segment and expects 4.5% growth this year. Its medical office segment saw 3.1% NOI growth last year and is expecting 2.3% growth in 2022. While a small part of its portfolio, PEAK's senior housing segment saw signs of stabilization in Q4 and PEAK expects to see 10% same-store NOI growth in its CCRC senior housing portfolio in 2022, a positive read-through for senior housing REITs Welltower (WELL) and Ventas (VTR), which were each outperformers on the week.
Last week, we published REIT Earnings Preview: Dividend Hikes And 2022 Outlook. Highlights of next week's busy earnings slate include Spirit Realty (SRC) and Kite Realty (KRG) on Monday, Invitation Homes (INVH) and Welltower (WELL) on Tuesday, Independence Realty (IRT) and STAG Industrial (STAG) on Wednesday, and Tanger Outlets (SKT), Digital Realty (DLR.PK), and Ventas (VTR) on Thursday. We'll continue to provide real-time coverage with our Earnings QuickTake posts for Hoya Capital Income Builder members and will publish follow-up articles summarizing our thoughts and analysis throughout earnings season.
Mortgage REIT Week in Review
Mortgage REITs were lower on a busy week of earnings reports as commercial mREITs declined 0.9% while residential mREITs slipped 1.2%. New Residential (NRZ) gained more than 3% after reporting that its book value gained 1% from last quarter and commented that it believes its "extremely well-positioned to benefit from the current rate environment" given its large portfolio of mortgage servicing rights (MSRs). Elsewhere, Blackstone Mortgage (BXMT) was also among the leaders after reporting a 1.1% increase in Book Value Per Share ("BVPS"). Annaly Capital (NLY) slipped 2.6% on the week despite reporting solid results as it continues to shift from a pure-play agency lender into more of a hybrid agency/credit lender, a theme seen in the earnings report from Two Harbors (TWO) as well.
Ladder Capital (LADR) and KKR Real Estate (KREF) were flat on the week after reporting modest increases in their BVPS. On the downside this past week, Redwood Trust (RWT) - which soared 60% last year - slumped despite reporting solid results with its BVPS gaining 0.5% during the quarter. Apollo Commercial (ARI) was also a laggard on the week after reporting that its BVPS declined by 2.3% in Q4. Highlights of next week's earnings calendar include Ares Commercial (ACRE) on Tuesday, Hannon Armstrong (HASI), NexPoint Real Estate (NREF), and Chimera (CIM) on Thursday, and Arbor Realty (ABR) on Friday.
REIT Preferreds & Capital Raising
REIT Preferred stocks slumped 2.3% this week, on average, after ending 2021 with price returns of roughly 8.0% and total returns of roughly 14%. There are now 168 REIT-issued exchange-listed preferred securities and 12 REIT-issued exchange-listed debt securities with an average current yield of 6.72%. Manufactured housing REIT UMH Properties (UMH) announced that it completed an offering in Israel of $102.7M of 4.72% Series A Bonds due 2027 and intends to use the proceeds to redeem its 6.75% Series C Cumulative Redeemable Preferred Stock (UMH.PC) which is callable beginning in July. UMH also began trading under a dual-listing on the Tel Aviv Stock Exchange.
Economic Calendar In The Week Ahead
The jam-packed week of earnings reports and economic data kicks off on Tuesday with the Producer Price Index for January, which is expected to finally show some deceleration in inflation after reaching the highest rate on record in December. On Tuesday, we'll see Retail Sales data which is expected to show an uptick in January after a disappointing December. The busy slate of housing data kicks off on Wednesday with the Homebuilder Sentiment. On Thursday, we'll see Housing Starts and Building Permits and on Friday we'll see Existing Home Sales data which are expected to show continued momentum behind the housing industry.
For an in-depth analysis of all real estate sectors, be sure to check out all of our quarterly reports: Apartments, Homebuilders, Manufactured Housing, Student Housing, Single-Family Rentals, Cell Towers, Casinos, Industrial, Data Center, Malls, Healthcare, Net Lease, Shopping Centers, Hotels, Billboards, Office, Storage, Timber, Prisons, and Cannabis.
Disclosure: Hoya Capital Real Estate advises two Exchange-Traded Funds listed on the NYSE. In addition to any long positions listed below, Hoya Capital is long all components in the Hoya Capital Housing 100 Index and in the Hoya Capital High Dividend Yield Index. Index definitions and a complete list of holdings are available on our website.