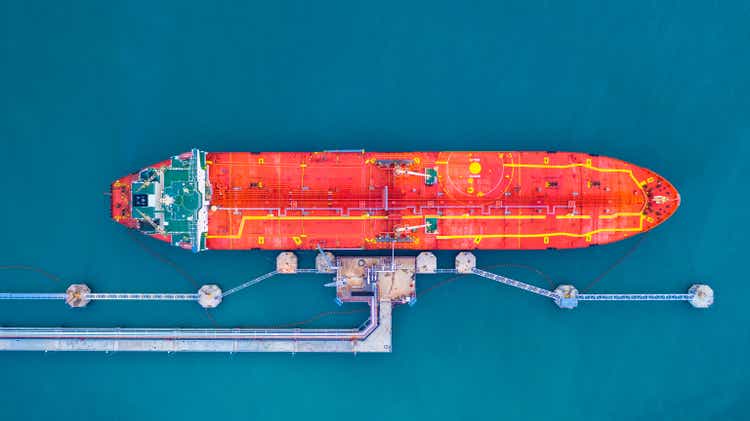 Investment thesis
Recently I wrote an article on Frontline Ltd (FRO) titled "How Long Will The Pain Last?", which outlines the market condition in their business and also company specifics.
There is another company that is, in my opinion, in a better position than FRO and that is DHT Holdings (NYSE:DHT).
The reason for that is that it does have a much better balance sheet after the company has aggressively reduced its debt.
DHT just announced their fourth quarter 2021 results. Let us examine why it is a better choice.
Latest financials - 4Q 2021
Fourth-quarter results produced a net loss of USD 2.9 million. The loss would have been USD 12 million if it was not for the non-operational item of a cash distribution of equity of USD 4.6 million from the Mutual War Risk club and a non-cash gain in fair value related to interest rate derivatives of USD 4.5 million.
In the fourth quarter of 2021, they achieved average time charter earnings of USD 21,500 per day, with an average OpEx for the year of USD 7,900 per day per vessel.
The most positive thing about their financials is their solid balance sheet.
DHT ended Q4 with USD 60.7 million of cash. They also have access to a revolving credit facility of USD 178.7 million, putting their total liquidity at USD 239 million.
Their long-term debt stands at USD 512.5 million, with total assets at a book value of USD 1,600 million.
With a leverage of about 30% based on vessels market values for the vessels, this translates to a net debt per vessel of only USD 17.8 million. This is below current scrap values.
The last report I have of a VLCC being scrapped was from 18 December 2021.
It was the vessel "Sea Latitude" which is a vessel built in Japan in 2001. It fetched USD 570 per lightweight ton. The weight of the vessel is 43,705 tons. This equals a price of USD 24.9 million based on "as is, where is" delivery in Batam, Indonesia. In other words, considerably more than the debt per vessel at current prices for demolition.
As such, when we look at their cash flow, under normal circumstances I would not want to take out depreciation and amortization, as it is absolutely necessary under normal circumstances. However, when their debt is less than what you can get to scrap the vessels, it would be fair to exclude such expenses.
In light of that, their net cash flow from operation was USD 18.9 million in Q4.
That is not bad in view of the depressed spot market environment they are facing.
Their dividend is presently USD 0.02 per share which gives you a yield of 2.39%
The yield is not much bearing in mind the risk involved in the prospects.
But at least, if you as their management do believe that the recovery will come, at least you do get paid something while you are waiting for it to happen. The risk is how long time will it take.
Apart from the dividend, more importantly, DHT is using opportune times to buy back shares when they consider the price level to be attractive. During 2021 it has bought back shares to the tune of USD 32 million in addition to paying out USD 17 million in cash dividends.
The total number of shares outstanding as of 31st December was 166.6 million shares.
Fleet review
Another positive aspect of DHT is that they have a fleet of 26 modern scrubber-fitted vessels.
Six of these vessels are on period time charters with four of them expiring within this year.
It is important to have a modern fleet, as it is of no help to wait for a recovery in the market if your fleet is outdated by the time the recovery occurs.
In this aspect, DHT is well-positioned.
Market development
In my article on FRO, I have covered supply and demand as it stands right now. You can read this. The link is above.
It gives a rather grim view of current spot earnings. The reason for this is that as the World Scale is hovering around WS 30 for a trip from the Middle East to Asia, and with a big increase in the cost of bunker fuels, this turns out to be a negative time charter per day for most vessels on a round voyage basis. Bear in mind, they have to ballast back to load the next cargo.
However, things are not so grim for DHT, as they had coverage which also is going into 2022 as they have some coverage protecting against the downside with plenty of vessels to take advantage of any market improvements.
In addition, they have also done some spot bookings which covers Q1 which means that 59% of available days for this quarter are booked at over $12,600 a day. This is USD 1,700 over their cash neutral rate of USD 10,900 a day.
Conclusion
If you are interested in getting exposure to the transportation of crude oil, DHT is a good bet in my opinion.
It is probably the best house in a bad neighborhood.
There is significant upside potential as pointed out in their Q4 presentation slide.
As for me, I do prefer to invest in the maritime shipping sector through companies such as SFL Corp. (SFL).
The reason is that it has a diversified fleet, although containerships are now dangerously high in their fleet composition as it constitutes 61%. But SFL does not have to rely much on spot earnings. Most of their charters are multi-years.
DHT does seem to be in a good spot and I may initiate a position in DHT, as such I do give it a buy.
It will be small knowing that the recovery might take longer than many expect and the recovery could also be fairly short-lived. Hence, if I do buy it, it will not be for long-term keep like my other positions.