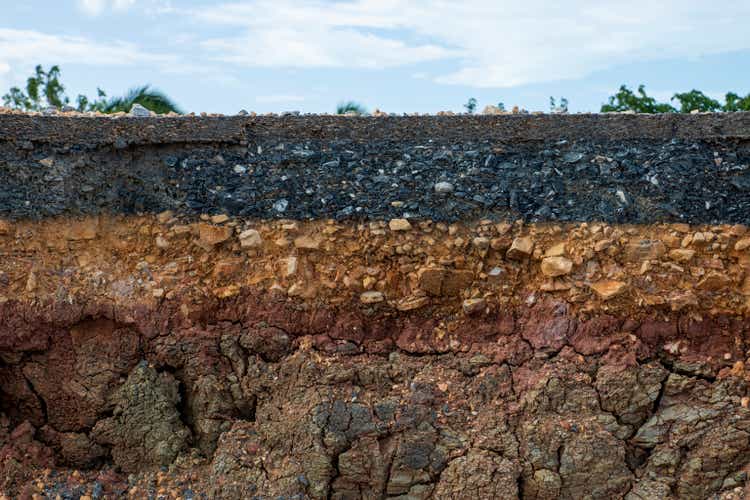 Eagle Point Credit Company (NYSE:ECC) is a CLO focused closed end fund with a dividend yield of 10.6%. ECC has benefitted from a strong recovery out of the pandemic as liquidity supported the CLO market. As the fund grows, it becomes important to clarify just what ECC offers.
Introduction
Last year, we covered ECC with an initial introduction to the fund. In the article, we covered the fundamentals of CLO investing and understanding how ECC operates in this complex marketplace. If you are new to ECC, we would recommend reading the initial article as well as our follow up coverage to have a better understanding of the fund. Today, we are going to provide an update to ECC's business and dive into some misconceptions around the fund's expenses and structure.
Eagle Point Credit Company is a closed end fund that invests in tranches of collateralized loan obligations. Collateralized loan obligations, or CLOs, are securitized portfolios of secured loans. Many of these loans are considered too risky to stand on their own, but when assembled as a portfolio can provide an attractive risk profile. The kicker is that the portfolio is not structured as you may expect. This single security is sectioned out into layers or "tranches." These pieces do not receive an equal portion of the pie, but instead are sectioned based on their claim to the portfolio's cash flow.
Source: Guggenheim Investments
There are two categories of tranches, debt tranches and equity tranches. As with a traditional capital stack, debt has a prioritized claim to cash flow. Higher rated tranches at the top receive the first claim to cash flow and so on down the line. All debt tranche obligations must be filled completely before money can be sent to the equity tranche. So where does Eagle Point fit into this picture?
ECC invests in the equity tranche of CLOs. The fund targets the riskiest equity tranche which essentially receives the icing on the CLO layer cake. Today, approximately 83% of ECC's portfolio is equity tranche investments. The remainder is split between CLO debt investments, loan accumulation facilities, and cash.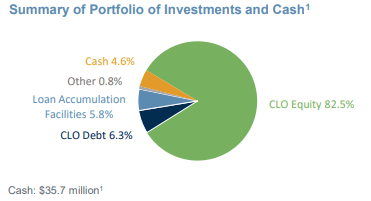 Fortunately, CLOs are structurally sound investments. These securities must pass a complex and extensive series of coverage tests to ensure that debt investors are paid. This ties into the rating system employed to cover the debt tranches. This system was fortified following the Great Financial Crisis for obvious reasons. Even prior to the crisis, the structural integrity of CLOs is impressive. For securities issued prior to 2010, there were 38 defaults out of 4322 rated tranches. For the post crisis era, there have been no defaults out of 6,572 tranches through the beginning of 2020.
Source: Guggenheim Investments
This means ECC is able to take a risk managed approach, knowing the ecosystem of CLOs is reliable. CLOs have provided shareholders with positive returns consistently even digging down into the equity tranches. According to ECC, only 4% of CLO equity tranches produce negative returns. The results have been undeniably successful as ECC powers strong shareholder returns with its double digit distribution.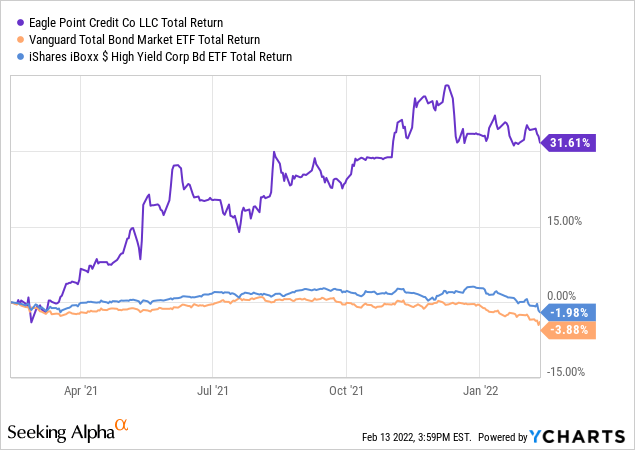 Business Update
As we mentioned, the CLO market has been powered by tailwinds across the board. Low interest rates and generous liquidity have paired with a healthy economy to produce a strong borrowing market. Borrowers of all credit worthiness have taken advantage of the accommodative environment with hungry demand for loans. As a player in the CLO sphere, ECC plays an important role in this process. High rated debt tranches are auctioned off to large money managers who have a need to stable, dependable returns. The demand for high quality tranches is consistently stronger, meaning there is generally a surplus of lower rated tranches available for purchase. While the thinner market means there is more vulnerability, an experienced and capable manager like ECC has an opportunity to capitalize on the situation.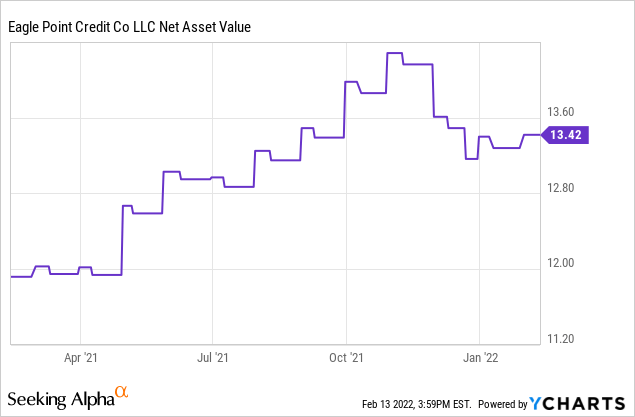 ECC has taken full advantage of this, shifting largely into growth mode over the past twelve months as NAV climbed. Since the beginning of the year, Eagle Point has continued by recapitalizing, pricing $87 million of notes that mature in 2029. Eagle Point was able to price the notes at 5.375%, which is surprisingly low for a company of ECC's size and credit profile. These notes have an early redemption in 2025, leaving ECC the option to refinance early. Excitingly, ECC recently announced that the deal's underwriters have exercised their option to purchase an additional $6.1 million worth of the notes.
ECC also announced the redemption of three preferred shares. ECC announced it will redeem all of the outstanding 7.75% Series B Term Shares (ECCB), 6.75% notes (ECCY), and half of the outstanding 6.875% notes due 2028 (ECCX). As of the last quarter, there were $53.9 million in ECCB shares outstanding, $28.9 million in ECCY shares outstanding, and $64.8 million in ECCX shares outstanding. This redemption makes sense as the fund receives an immediate cost of capital improvement when considered with the recently issued notes. As rates are set to rise, management decided to lock in a sizeable amount of capital at a strong fixed rate. As the floating rate loans inside of CLOs begin to pay out more capital, ECC's interest expense will remain level.
ECC is also trading at an attractive price relative to its most recently reported NAV range of $13.42. At a current share price of $13.71 per share, the fund is trading at a modest premium to the underlying assets. As share prices decline since the beginning of the year, it has opened up a more attractive opportunity assuming the equity positions continue to perform. The decline has also led to a bump to ECC's dividend yield which remains above 10%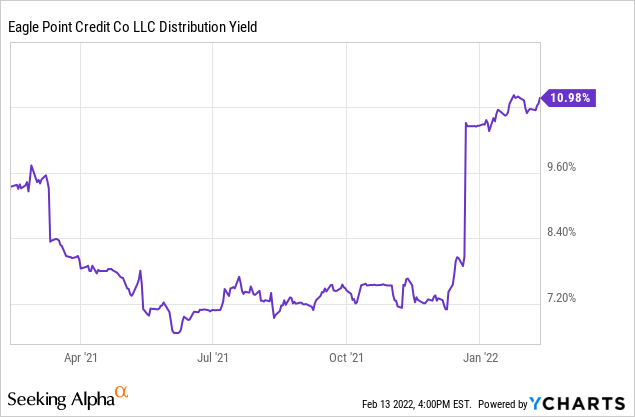 The state of the union appears strong. ECC's management team continues to navigate the dynamic interest rate situation reasonably, improving cost of capital along the way. ECC appears poised to continue to perform well.
Expenses and Structure
As we mentioned in the introduction, ECC is structured as a closed end fund. This seems reasonable given the managed distribution, share independence from NAV, and pass through taxation. However, it does not paint the whole picture. One of the most common questions or misconceptions around ECC is the company's expense ratio. Just looking at Seeking Alpha's home page for ECC gives some investors a heart attack.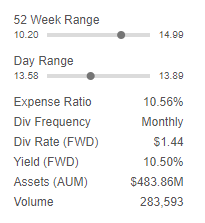 Does the fund actually charge a 10.56% expense ratio? This is where it becomes important to understand that ECC is more than just a closed end fund. On ECC's website, there is description of Eagle Point's three operating entities. We are going to leave out the new member of the family, Eagle Point Income Company (EIC), for the time being. We have provided a summary description of each below.
Eagle Point Credit Company Inc. - Eagle Point Credit Company Inc. is a non-diversified, closed-end management investment company. The Company is externally managed and advised by Eagle Point Credit Management Inc. Shares of the Company's common stock are listed on the New York Stock Exchange ("NYSE") under the symbol ECC.
Eagle Point Credit Management Inc. - Eagle Point Credit Management Inc. (the "Adviser") is the investment adviser of the Company and manages the investments of the Company subject to the supervision of the Company's Board of Directors. The Adviser is registered as an investment adviser with the U.S. Securities and Exchange Commission under the Investment Advisers Act of 1940, as amended.
Eagle Point Administration Inc. - Eagle Point Administration Inc. (the "Administrator"), a wholly-owned subsidiary of the Adviser, is the administrator of the Company. Pursuant to the Administration Agreement between the Administrator and the Company, the Administrator furnishes the Company with office facilities and equipment, and clerical, bookkeeping and recordkeeping services. Under the Administration Agreement, the Administrator also performs, or arranges for the performance of, required administrative services, including accounting services, assistance in determining the Company's net asset value, the preparation of financial statements, oversight of the preparation and filing of tax returns and the printing and dissemination of reports to the Company's stockholders, general oversight of the payment of Company expenses…
As these descriptions show, ECC is essentially a company that calls itself a closed end fund. The fund has an office located in Greenwich, CT and is managed by staff. The rent expense alone is likely considerable. Accordingly, these expenses amount to a premium expense ratio when combined with other factors such as interest expense. The advisor assists with bookkeeping, financial reporting, marketing, management, etc. While most CEFs charge an expense ratio while they are integrated as part of a broader fund family, ECC charges expenses based on operating the company. The complexities of managing CLOs demands more extensive requirements than other asset classes. It may be helpful to draw comparisons to other investments. For example, real estate investments require property management and other operating expenses which would dramatically exceed 10%.
Even still, the idea that ECC operates as a company instead of a fund rubs some investors the wrong way. Unfortunately, it is part of investing in the CLO market. This segment is often reserved for institutional investors and only recently have funds such as Eagle Point begun to appear. Additionally, there remains only one direct competitor to ECC, Oxford Lane Capital Corporation (OXLC). In fact, their office is literally down the street! Now, investors have one more option to consider. There is a relatively new fund called the XAI Octagon Floating Rate & Alternative Income Term Trust (XFLT), with a slightly more modest 5.28% expense ratio. Even still this is a premium and the fund has underperformed ECC over the past year.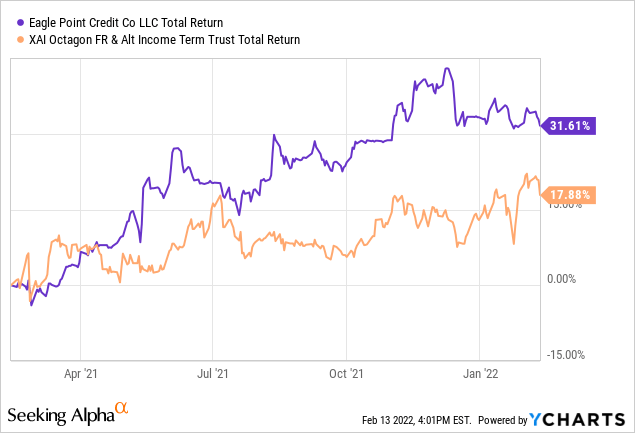 Despite the high expense ratio, investors still receive a premium yield. The dividend comes net of all expenses, and it is worth noting that management has a significant stake in the fund. As of the last quarter, management owned $22.1 million worth of ECC shares meaning they have skin in the game.
Conclusion
Eagle Point Credit is truly a unique fund. As one of the only funds operating in the CLO space, it provides a unique value to investors. It should remain clear that despite strong historical performance, the fund is risky. Nobody is suggesting it replace a fixed income allocation entirely, but with a double digit yield, a little goes a long way. Management has shown they can perform and have continued to make prudent financial decisions as rising rates approach. Should the underlying market remain strong, ECC is poised to perform. Strong cash flow continues to elevate the dividend towards 2019 levels indicating there could even be upside in the monthly income stream. With year end results coming this week, we are on the edge of our seats to hear what management reports.