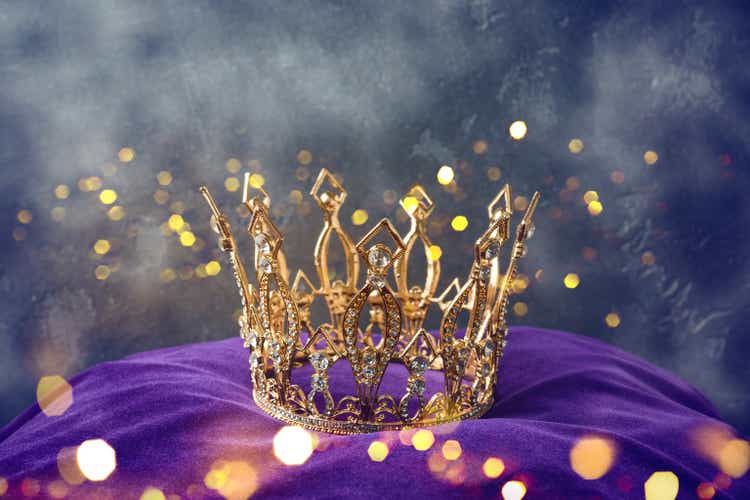 This article was co-produced with Nicholas Ward.
So far, 2022 has been a tough year for many of our favorite real estate investment trusts.
Last year, the real estate space was the second-best performing sector in the entire market. This year, it appears we're looking at a bit of mean reversion here.
So we certainly don't expect to see REITs post 40%-plus growth this time around.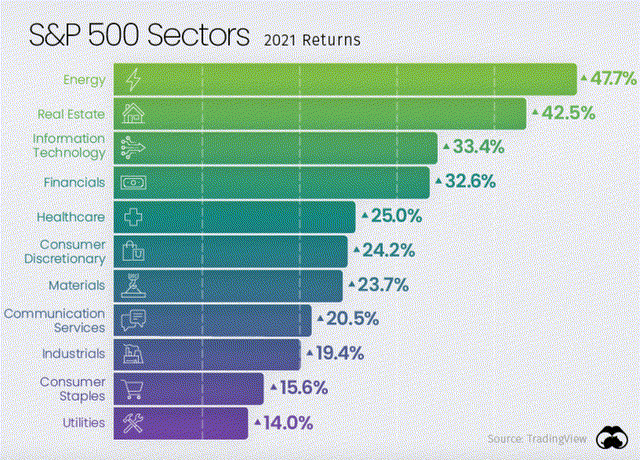 What's more, Fed officials in recent weeks have indicated they'll take a much more hawkish stance than previously expected. This included St. Louis Federal Reserve Bank President James Bullard saying he's become "dramatically" more bullish because of recent inflationary news.
Regarding near-term rate increases, he told Bloomberg News, "I'd like to see 100 basis points in the bag by July 1."
That took the market by surprise, resulting in a selloff. Another one, that is.
Fear of rising rates has been the driving force against the REIT space (and the larger markets) all year.
Yet we continue to maintain our long-term bullish outlook on the real estate sector anyway. Data clearly shows that REITs have performed well throughout historical periods involving rising rates.
We believe it's inaccurate that they're doomed to underperform in such environments. In fact, as you can see below, REITs have performed fairly well throughout a wide variety of economic environments.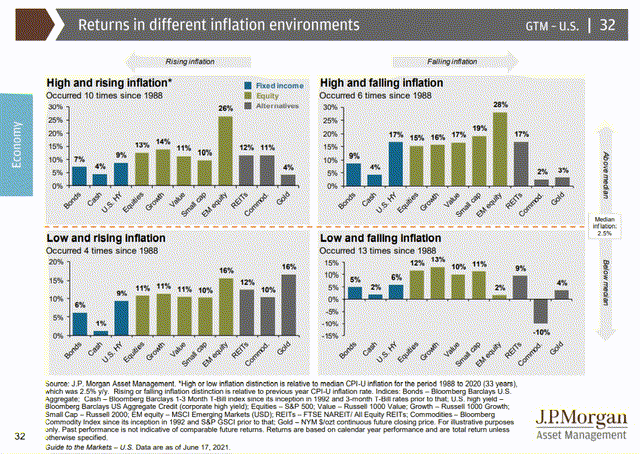 Therefore, we continue to pay special attention to blue-chips that have been beaten down, looking to take advantage of short-term fear by locking in long-term opportunities.
Like Federal Realty Investment Trust (NYSE:FRT).
The Basics...
One such stock is Federal Realty, which is down approximately 9% year-to-date.
This company is a dividend king: An S&P 500-listed stock that boasts more than 50 consecutive years of dividend increases. And it's long been one of our favorite, more defensive holdings.
We're a big fan of FRT's focus on open-air properties in areas known for their high populations of well-to-do households. This has historically allowed it to maintain strong cash flows throughout periods of economic weakness.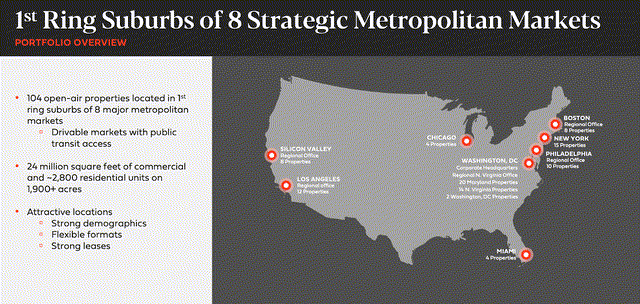 Like most retail-oriented REITs, FRT struggled throughout 2020 because of social-distancing regulations. However, it was a strong performer during 2021 as its operations continued to bounce back from the COVID-19 crash.
And moving forward, we continue to like this stock's growth prospects.
Federal Realty reported its Q4 and full-year results last week. So we wanted to take the time to update you on how it's doing and whether our fair-value estimate has changed.
Is it a Buy? Is it a Sell? Is it a Hold?
Read on to find out.
Federal Realty's Q4 and Full-Year 2021 Results Reviewed
During the fourth quarter, Federal Realty beat analyst expectations on both the top and bottom lines.
It produced revenue of $254.15 million, which was $6.02 million ahead of estimates and represented 15.8% year-over-year growth. And its funds from operations (FFO) came in at $1.47 per share, beating by $0.07 and representing 48.5% year-over-year growth.
For the full year, FRT's FFO totaled $5.57 per share, up 27.2% from 2020's $4.38. And FRT's rent collection came in at approximately 97% during Q4, a slight improvement from Q3's 96%.
It's great to see this trend continue to progress in the right direction.
And, looking at recent acquisition activity, leasing data, and management's updated 2022 guidance, we believe that this recovery story is far from over.
At the end of 2021, FRT had a 91.1% occupancy ratio and a total leased space ratio of 93.6%. Both of these figures were up quarter-over-quarter.
That first figure saw a 90-basis point (bps) sequential improvement during Q4. And the second percentage was an 80-bps bump.
Admittedly, neither are quite up to the pre-pandemic levels yet. At the end of 2019, 92.5% of FRT's portfolio was occupied and 94.2% was leased.
Therefore, as broader economic conditions continue to improve, we expect to see continued growth in both areas. This thesis is supported by the fact that management continues to produce record leasing results.
During Q4, Federal Realty signed 149 leases on nearly 900,000 square feet of physical space. This brought its full-year 2021 leasing data up to a record 573 signed leases on roughly 2.9 million square feet of real estate.
Remarks by FRT CEO Don Wood
During Federal Realty's Q4 conference call, CEO Don Wood mentioned these strong results, saying:
"Consider that over the last 10 years, an average quarter's outlook produced about… 110 commercial leases and 500,000 square feet. That means that, in this quarter, we did 35% more deals or 80% more GLA (gross leasable area) than average.

"This is very strong quarterly volume even in a year where each previous quarter seemed to set some sort of record. And while I don't think that those fourth-quarter levels are regularly repeatable, our leasing pipeline suggests that they will remain above historical averages for the foreseeable future."
Plus, it's clear that FRT's properties maintain strong demand as same-store rent figures continue to rise. It's also becoming clear that FRT's mixed-use development strategy is starting to pay off for the company.
As Wood said during that same call, the average rent per square foot on these newer, mixed-use developments are quite higher than the retail specific leases the company recently signed:
"Of the 149 commercial leases signed, 116 of them or nearly 600,000 square feet were for comparable space, one where a tenant previously operated from. Those leases were written at an average rent of $34.34, 6% higher than the tenants they replaced.

"Another nine leases, or 22,000 square feet, were written for non-comparable space at an average rent per foot of $43.53 at places like Assembly Row Phase 3, CocoWalk, and Camelback Colonnade in Phoenix. But it's the remaining 24 leases, or 277,000 square feet, at net rent of $48.52 that really is a strong positive differentiator to our business plan."
We can't help but agree.
Remarks Continued…
Now that cash flows have normalized, we're pleased to see FRT remain aggressive on the development/acquisition front.
During the Q4 conference call, CFO Dan Guglielmone touched on the company's development pipeline and growth expectations moving forward:
"In terms of redevelopment, we now have roughly $400 million of remaining spend on our $1.5 billion investment pipeline. Much of that pipeline has recently been placed into service. These projects will be a source of significant earnings growth in 2022 through 2025 as we continue to ramp up in POI contribution."
Wood echoed this bullish sentiment, saying:
"On the acquisitions front, we would like to invest several hundred million dollars in 2022 based on our identification from our hit list of targeted properties that feel like they may trade this year. Progress early in the year has been encouraging and soliciting serious conversations. Stay tuned."
As is, FRT maintains a strong balance sheet that should allow it to fund those plans. At the end of 2021, it had $162 million of cash available and total available liquidity of $1.4 billion.
As of Dec. 31, its liquidity involved $162 million in cash with a $1 billion line. It raised $85 million via its at-the-market program. And it expects to issue $300 million to $400 million in 2022.
Plus, it has no debt maturities until 2023.
Right now, its net debt/EBITDA (earnings before interest, taxes, depreciation, and amortization) including forward equity is about 5.8x – a figure that's improving back to Federal Realty's target levels in the low 5x range.
The Forward View: Federal Realty's 2022 Guidance
Naturally, FRT provided full-year 2022 guidance during the Q4 report. It's calling for FFO to arrive in the $5.75-$5.95 range, a $0.10/share improvement above prior guidance estimates.
Guglielmone broke down the rationale behind it, saying:
"This represents 5% growth at the midpoint, 7% at the high end. And this was driven by occupancy levels expecting to increase from 91% at year-end up into the mid- to upper-92% range by the end of 2022. An increased forecast for current period collections, up from an average of 95% in '21 to an average 98% over the course of '22."
As for longer-term growth, he highlighted the company's expectations for 2023 and 2024 saying,
"We continue to believe that 5%-10% compounded growth from our upwardly revised 2022 FFO range is achievable. Timing in terms of the lease-up at One Santana West will have a big influence on where we end up within that range. Now while we are not providing color on specific timing, $7 per share of FFO is a realistic target in the coming years."
In our opinion, there's upside to that guidance. FRT noted it still expects 5%-10% FFO growth per year in 2023 and 2024 buoyed by developments.
Now Onto FRT's Valuation
We're pleased to see management so confident in its ability to compound its bottom line over the medium term. However, that's all in line with our growth expectations from before.
Therefore, we're not updating our "Buy Below" target for FRT.
Simply put, its strong share price rally during 2021 has pushed its p/FFO multiple up above its longer-term average.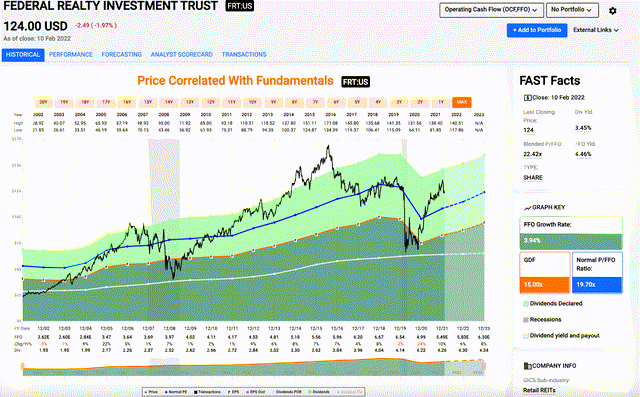 Even over shorter periods of time, its current valuation of 22.4x is above historical averages. FRT's trailing five-year p/FFO average is 20.66x. And its trailing three-year average is 19.82x.
So the market has already priced in a great deal of its future growth prospects, leaving no real room for margin of safety.
That is, as of Monday's open. We originally published this piece on iREIT on Alpha on Feb. 11. But as I look it over on Valentine's Day…
It could end the trading session below our fair value estimate of $120. If it does, we'll change this stock to a Buy.
Otherwise – despite the 13% pullback it had recorded last week from its 52-week high (set in late December) – we would still rate FRT as a Hold.
With one caveat that is probably already clear. Federal Realty is certainly a blue-chip stock investors should keep on their radar as negative volatility continues to play out.
In Conclusion…
This is definitely a stock we feel comfortable accumulating at fair value because of its immense quality. When thinking about a Dividend King like FRT, I'll point us to that famous Warren Buffett quote: "It's far better to buy a wonderful company at a fair price than a fair company at a wonderful price."
Generally speaking, the long-term reliable growth that blue-chips like Federal Realty generate produce steady growth and immense wealth over time.
We believe FRT is likely to continue improving its FFO and adjusted FFO (AFFO) growth. In which case, it's well situated to continue generating solid returns over the long term.
We purchased FRT shares in the Durable Income Portfolio in 2014, 2016, 2018, and 2019. Then in 2020, we "backed up the truck" and bought at $69.54.
Last April, we sold our position at $109.90, helping the larger portfolio to reach annual returns in excess of ~22% annually since 2013.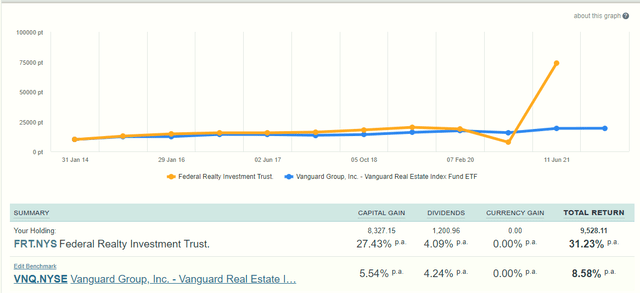 Author's Note: Brad Thomas is a Wall Street writer, which means he's not always right with his predictions or recommendations. Since that also applies to his grammar, please excuse any typos you may find. Also, this article is free: written and distributed only to assist in research while providing a forum for second-level thinking.