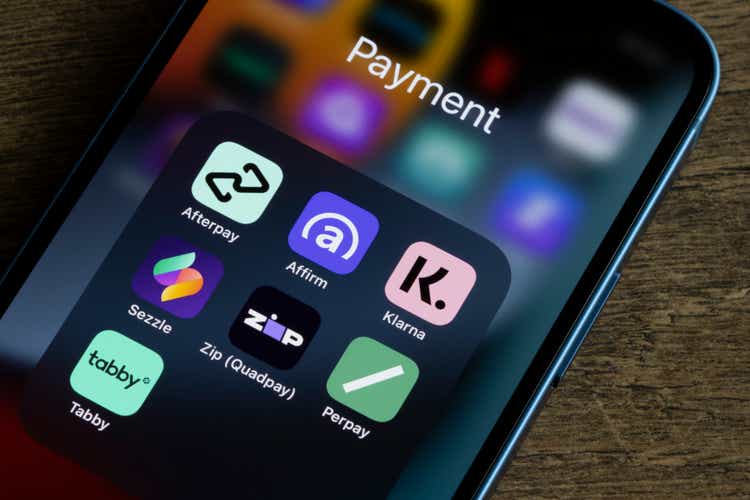 Before I start, I want to say thank you for finding me and taking the time to read (or at least glance over) my work. I have been writing for Seeking Alpha for over one and a half years now, where I write short, somewhat biased, analyses of individual stocks. Moving forward, however, I will focus my work on writing unbiased deep dives on innovative companies.
Without further ado, let's begin with my first deep dive: Affirm (NASDAQ:AFRM).
1 Investment Thesis
Affirm is attempting to disrupt the credit card industry by creating a two-sided transaction network, built to enhance consumer experience as well as merchant performance. This is achieved through its flagship product: buy now pay later, or BNPL. While the market opportunity is huge for Affirm, it is faced with tough competition from the likes of Afterpay (OTCPK:AFTPF) (OTCPK:AFTPY) and Klarna (KLAR). However, in the US, Affirm has durable competitive moats — brand, technology, and network — that should solidify its leadership position in the largest economy in the world. As Affirm continues to attract more consumers and merchants into its ecosystem, Affirm has the opportunity to offer additional products and services beyond BNPL, forming a SuperApp, which is the ultimate bull thesis for the fintech company.
2 Value Proposition
Affirm was founded in 2012 with the sole mission of building honest financial products that improve lives. The company pioneers BNPL in the US in an attempt to build a two-sided payment network for consumers and merchants, bypassing traditional credit card networks like Mastercard (MA) and Visa (V). Legacy banks, credit card networks, and other pay-over-time options are notorious for their ever-mounting fees such as hidden fees, late fees, overdraft fees, interchange fees, interests, commissions, ATM fees, and so on.
As for Affirm, they do business with the following principles in mind: simplicity, transparency, and putting people first. As you will discover soon, Affirm does live by these principles. In this section, we'll go through Affirm's value proposition for their "two-sided network", starting with consumers first.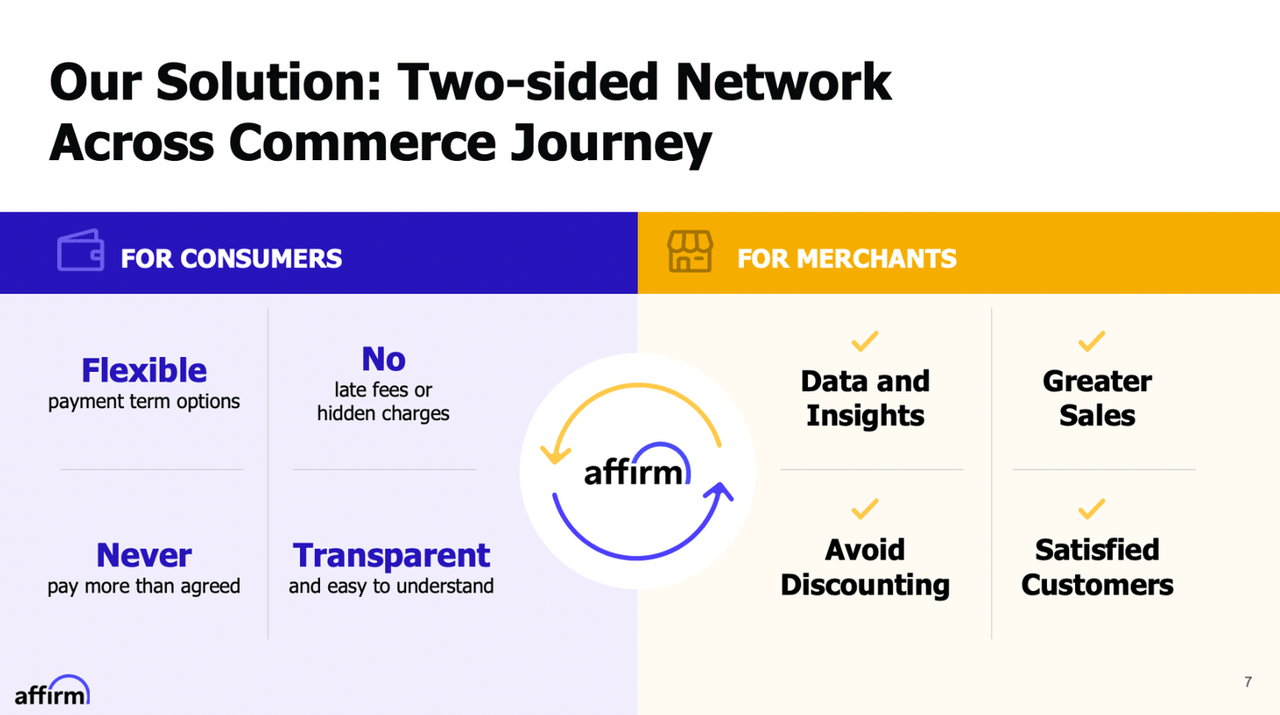 Value Proposition: Consumers
Checkout
Affirm's main product offering for consumers is BNPL checkout which gives consumers payment flexibility, affordability, and purchasing power. At checkout, consumers can choose Affirm as a payment method and have the option to pay over time, with or without interests, depending on the terms set by Affirm and the merchant. When consumers choose Affirm, the company's proprietary technology runs a quick background check on the consumer and consequently provides them with different payment options with varying term lengths and interests (if applicable), based on the consumer's and merchant's profile.
Affirm's BNPL offerings can be broken down into three categories:
Split pay — consumers pay bi-weekly with term lengths of about 6 to 8 weeks. AOV (Average Order Value) ranges from $100 to $250 and consumers do not pay interest with this option.

0% APR installment loans — similar to split pay, consumers pay overtime with zero interest if they choose this option. Consumers pay monthly for 3 to 12 months or quarterly for 13 to 60 months. AOV is around $500 to $1,200 for this option.
Interest-bearing installment loans — As the name implies, consumers pay over time including interests accrued. Consumers pay monthly for 3 to 60 months, depending on the recommendations offered by Affirm's AI. While consumers bear the extra costs incurred from interest expenses, merchants benefit from a lower MDR (Merchant Discount Rate), or transaction fee.
Depending on merchants' preferences and Affirm's risk modeling, these options will be available for consumers upon checkout. Obviously, interest-bearing installment loans are less attractive than 0% APR installment loans, so customer conversion rates are lower for this option. As such, merchants are more likely to offer 0% APR loans as well to lock in as many customers as possible.
As you can see, BNPL offers both consumers a lot of flexibility and affordability to get the things that they want. Unlike credit cards, Affirm consumers get a preview of what they will pay upfront — no hidden fees, no compounding interests.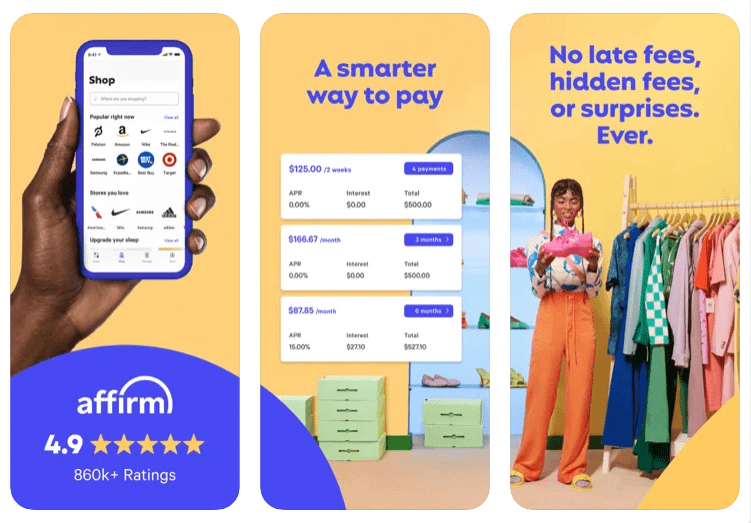 When consumers shop in non-Affirm merchant stores, they can still use Affirm's BNPL feature. To do so, consumers would have to apply for a loan at the company's website or app. Once approved, consumers will receive a single-use virtual card that they can use online or in-store as long as the merchant accepts Visa cards. After their purchase, consumers will then have to pay back what they owe to Affirm. This gives consumers the added flexibility to pay overtime at merchants that are not yet fully integrated with Affirm. Marqeta (MQ) powers Affirm's checkout and single-use virtual card, and the diagram below shows how the process is executed when a consumer applies and uses the virtual card at a retail store.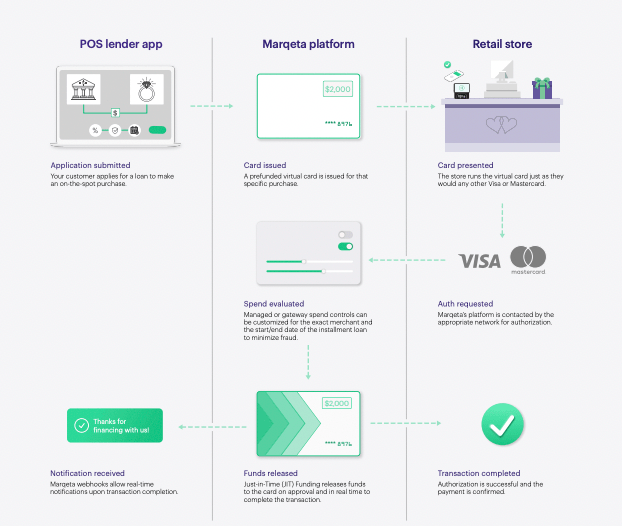 Affirm SuperApp
With the launch of the SuperApp, consumers can view their Affirm account dashboards, shop exclusive offers, manage their Affirm payments, and earn through a high-yield savings account. In addition, consumers can pay in full upfront at participating merchants while earning rewards through Affirm's recently launched Cash Back and Rewards — this is similar to the cashback rewards program that we are accustomed to seeing from legacy banks and credit card providers. Finally, consumers can shop online through the Affirm App and marketplace, which includes an ecosystem of 102,000+ merchants. In FY2021, 30% of transactions occurred on the Affirm marketplace.
The SuperApp is still in its early stages, but it is a major first step for the company to extend beyond its core BNPL offering. I expect more financial products and services to be introduced in the SuperApp itself.
Value Proposition: Merchants
Omnichannel BNPL Solution
Similar to consumers, merchants also benefit from the BNPL checkout feature — merchants have the option to choose which BNPL payment option works best for their businesses while offering consumers payment flexibility. At the same time, this BNPL feature is available online, in-store, and telesales, encapsulating the whole omnichannel experience. In addition, merchants can offer these BNPL options without taking any credit default risks. At the same time, merchants get paid in full by Affirm immediately, without having to wait for the customer to pay over time. As such, merchants get immediate cash flow where they can invest elsewhere.
If a customer defaults, Affirm will take full responsibility. Merchants will still get paid no matter what. However, consumers' privileges of using BNPL might be revoked.
As a result of offering Affirm's BNPL feature, merchants benefit from 85%+ higher AOV as consumers have the higher purchasing power to upgrade and bundle. Furthermore, merchants enjoy 20% more repeat purchases. Not only that but merchants also experience lower cart abandonment rates and higher conversion rates, thus facilitating more transactions for their businesses. The BNPL feature also enables merchants to reach a broader audience, especially the lower-to-middle income group.
With that in mind, merchants are willing to pay high MDR rates for all the benefits associated with using a BNPL solution like Affirm. As more shoppers use Affirm, this statement becomes even more true.
Data Analytics
As a result of being Affirm-integrated, merchants gain access to SKU-level data that legacy credit card networks (Mastercard and Visa) are unable to provide. Affirm bypasses the consumer issuing bank, merchant acquiring bank, and card payment network, which leaves just the consumer, merchant, and Affirm. This simplified network allows Affirm to attain and retain SKU-level data that merchants can leverage.
Additionally, merchants have access to Affirm's merchant dashboard and data analytics tools to understand product performance, trends, and customer shopping habits. At the same time, merchants can use Affirm's marketing tools to help them better market their products — by sending exclusive offers and discounts, for instance — and therefore, increase customer conversion.
Affirm App
Merchants can also leverage Affirm's user-friendly mobile app to reach a larger audience. Pair that with Affirm's SKU-level data, merchants can further increase conversion through Affirm's marketplace.
Returnly
Affirm acquired Returnly back in May 2021. Returnly helps merchants process returns and exchanges easily. Consumers who use Returnly will receive an instant merchant credit upon initiating a product return, which enables them to immediately use that available credit to order a new or replacement item without having to wait a few days or weeks for the return to be completed.
This is a highly strategic acquisition as it enables merchants to focus more on driving sales and less on returns. Furthermore, consumers are more inclined to make repurchases if the funds are immediately available to them.
According to Retail Touchpoints, total retail sales in 2021 in the US reached $4.6 trillion. Of that amount, 16.6%, or $761 billion in merchandise, will be returned. In other words, approximately 1 in 5 products that merchants sell will be returned. Thus, having Returnly integrated into Affirm will allow merchants to avoid this headache.
Value Proposition Summary
In summary, Affirm's value proposition is predicated on its BNPL point-of-sale solution which enables merchants to offer consumers the ability to pay over time. The SuperApp allows consumers to shop, pay, earn, and save all within one app. For merchants, the app and marketplace are brilliant destinations for brand awareness, customer engagement, and sales conversion. Ancillary services such as data analytic tools and Returnly make it an even more pleasant experience for consumers and merchants.
The more consumers use Affirm, the more merchants will join the platform. As such, the ecosystem grows, enabling Affirm to generate more GMV (Gross Merchandise Volume) through its BNPL offering. Over time, Affirm will offer more products beyond BNPL, which drives even more stickiness to the ecosystem, solidifying its ambitions to fulfill the SuperApp status.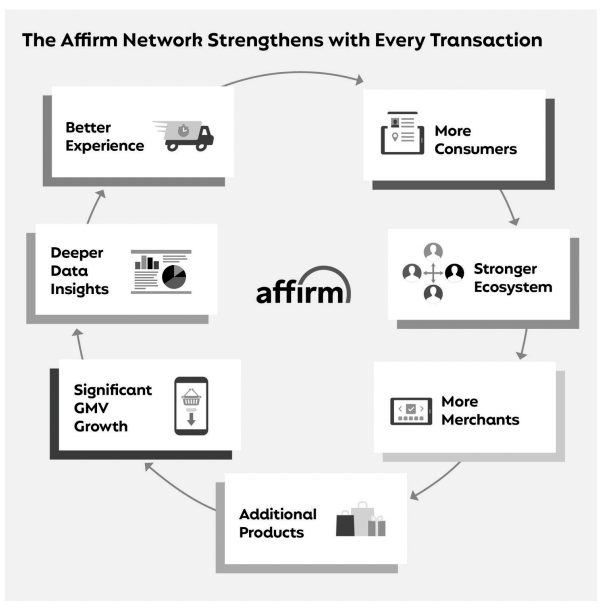 3 Market Opportunity
BNPL has the potential to disrupt traditional credit cards networks. As shown in the diagram below, BNPL providers bypass traditional credit card networks and remove both the acquiring and issuing banks from the equation. This resulted in a simple two-sided network with the BNPL provider being the "middleman" of each transaction. Consumers are not charged a single fee (only simple interest) while merchants are charged higher merchant service fees in exchange for credit services offered by the BNPL providers as well as other benefits such as increased online sales, conversion rates, and new customers.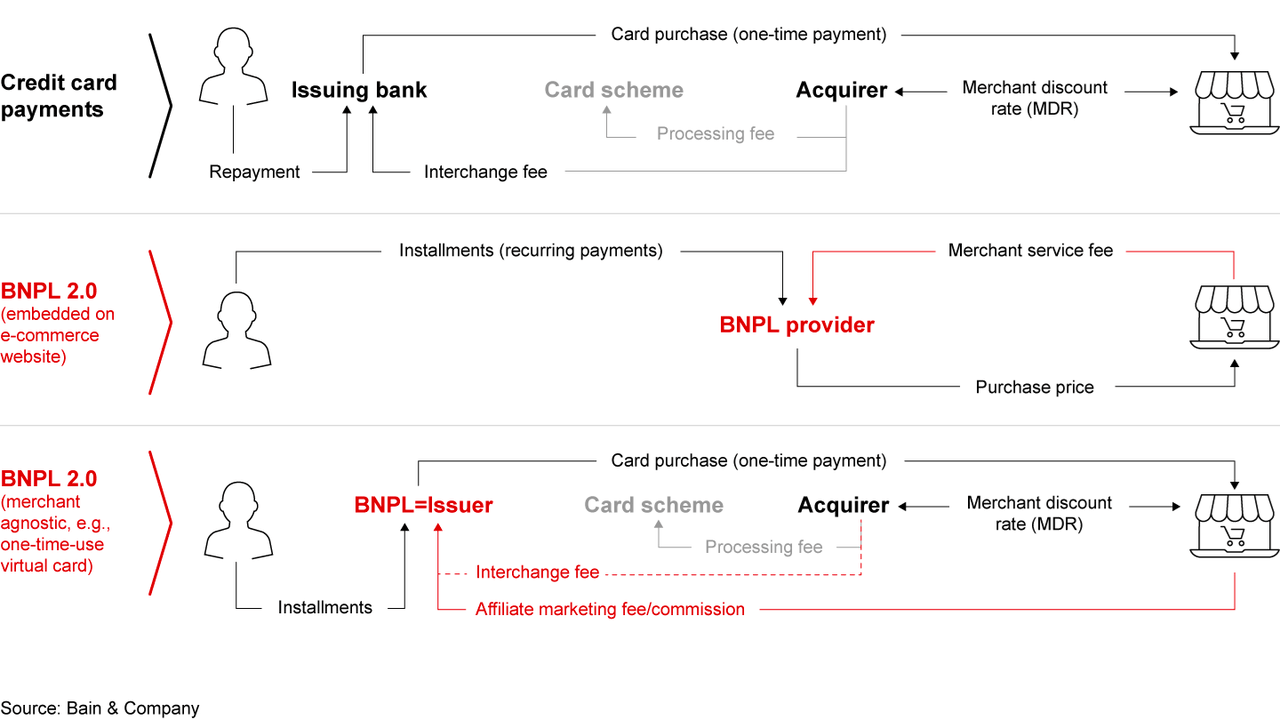 Furthermore, credit card networks have a bad rep of charging unnecessary fees. Only until the bill arrives will then consumers know what they owe to their banks. On the other hand, Affirm's offerings are simple, fair, and transparent, with no hidden fees and late fees for that matter. This gives consumers a higher incentive to switch. As a matter of fact, credit cards in circulation have been declining over the last few years.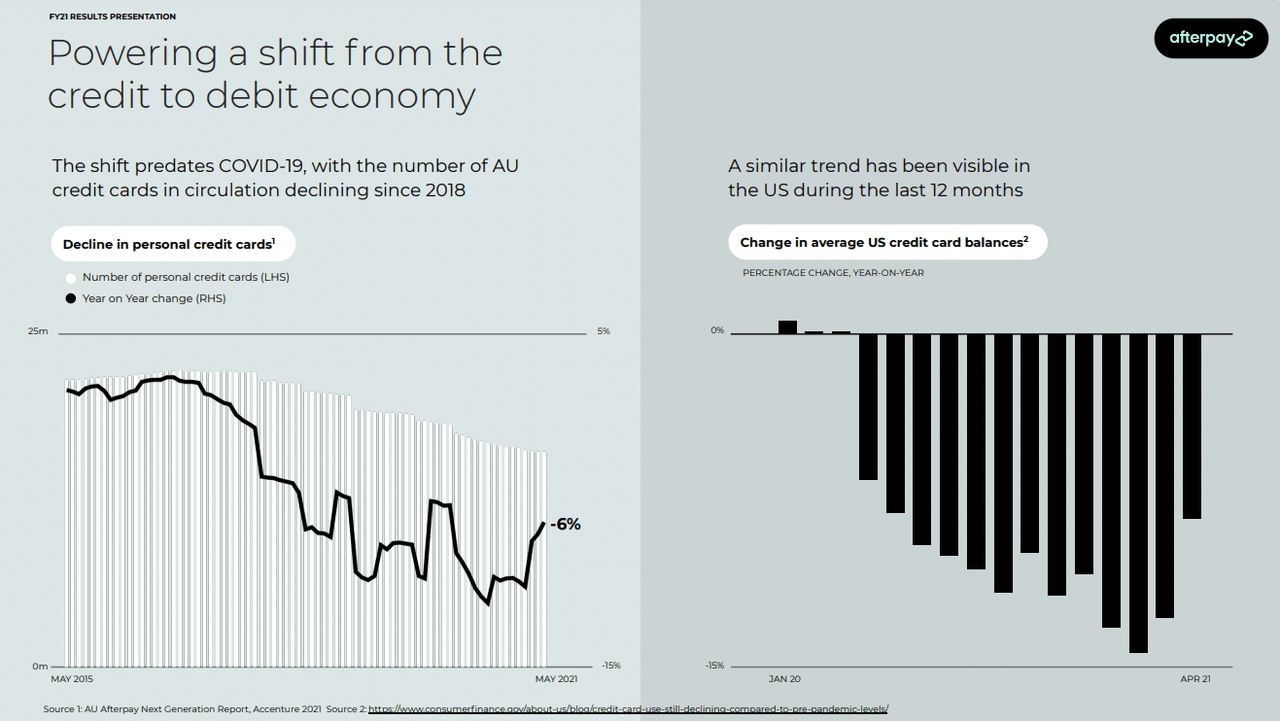 According to Bloomberg, BNPL could increase to $181 billion by the end of 2022, which is double from 2020 levels. BNPL penetration could rise to 4% of e-commerce sales, which accounts for more than 19% of global retail sales. The opportunity in the US is even more attractive. US BNPL penetration was only 1% of e-commerce sales in 2020. For context, Sweden's BNPL penetration was 24%. As such, Affirm still has a long growth runway ahead as BNPL continues to gain market adoption in the US.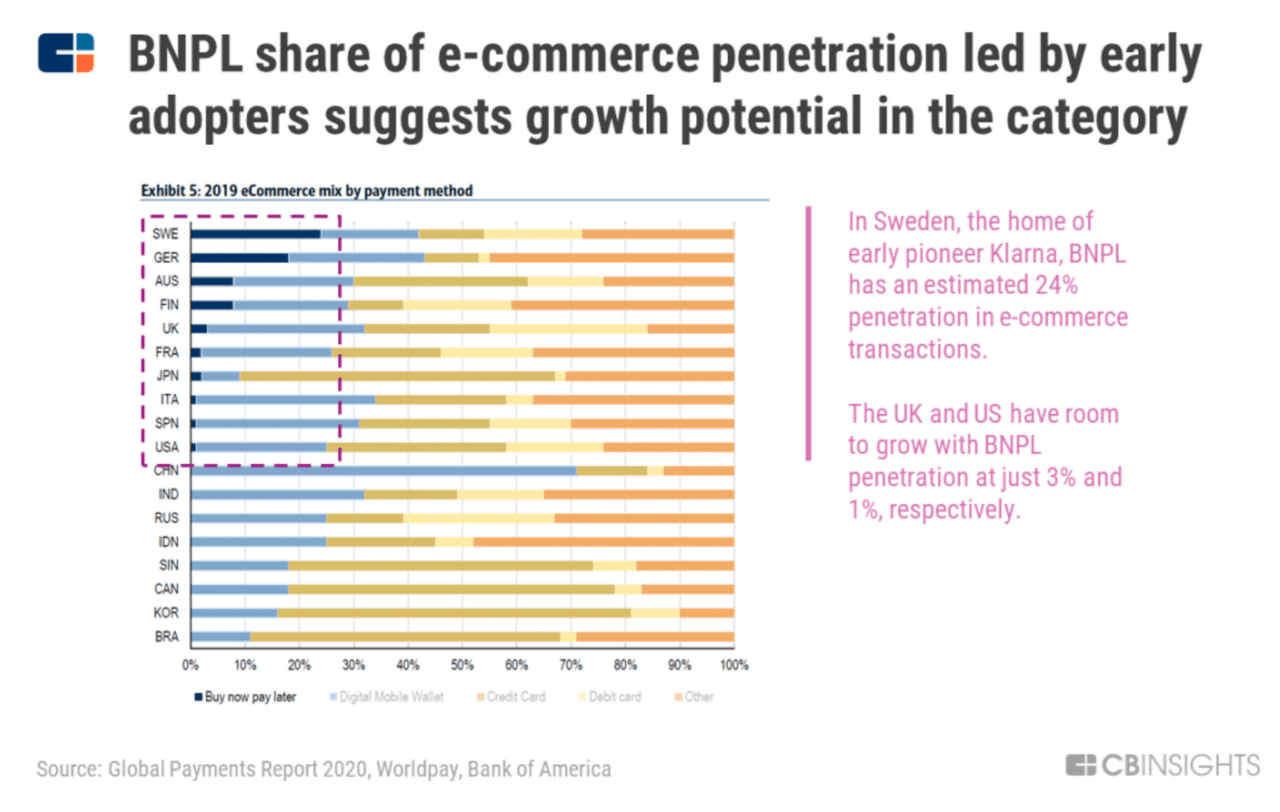 Considering that more than 80% of commerce still happens in-person, Affirm has substantial growth opportunities in offline transactions. The Debit+ card and its recent partnerships with Verifone and Adient will accelerate BNPL adoption at the physical point-of-sale.
Furthermore, Affirm is expanding to other offerings beyond BNPL as evident from its SuperApp launch, which further expands its market opportunity. As more consumers and merchants migrate to Affirm, I start to see the core BNPL offering as an effective customer acquisition strategy as Affirm extends its offerings beyond just BNPL. That said, the ultimate bull thesis for Affirm is understanding that the fintech company is not just a BNPL provider, but a one-stop-shop for all things personal finance.
4 Revenue Model
Now that we understand the value proposition that Affirm offers, let's take a look at how the company makes money as a whole.
In a nutshell, Affirm splits its business model into 5 revenue segments: Merchant Network Revenue, Virtual Card Network Revenue, Interest Income, Gains on Sales of Loans, and Servicing Income.
Merchant Network Revenue
Affirm charges merchants a fee for each transaction processed through the Affirm platform. This is called the Merchant Discount Rate, or MDR. The fee schedule is shown below, and it varies depending on the terms set by the merchant and Affirm. Longer-term lengths usually have higher MDRs.

During FY2022 Q2, management also released a breakdown of the MDRs by payment type.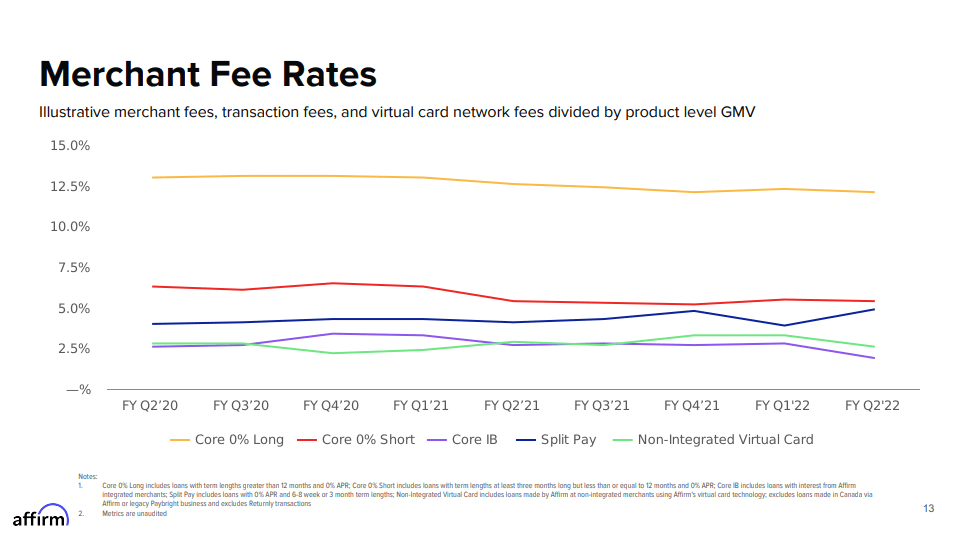 Virtual Card Network Revenue
Consumers can use a one-time virtual debit card through Affirm's app to make purchases at a non-integrated merchant. Affirm partners with established card networks like Visa to issue these virtual debit cards. When a consumer makes a transaction with these cards, the non-integrated merchants are charged interchange fees, and the issuer processor shares a portion of the fee with Affirm.
Interest Income
When a consumer chooses interest-bearing installment loans as its checkout preference, Affirm earns interest income charged to consumers. Interest rates are calculated using Affirm's proprietary risk model. Higher-order values, longer terms, and riskier individuals typically have higher interest fees.
Gains on Sales of Loans
When a consumer makes a transaction using Affirm — whether through Affirm's BNPL checkout or its virtual debit card — Affirm underwrites a loan which will then be funded and issued by its originating bank partners, Cross River Bank and Celtic Bank. Affirm then purchases the loans originated by its partners, which is the sum of the principal balance of the loan, an origination fee, and any accrued interest.
Affirm also originate loans directly under its licenses in Canada and several US states, but the majority of the loans are still originated through its originating bank partners.
To finance these loans, Affirm sells a portion of the loans in hand to third-party investors, and the company recognizes a gain or loss on the sale of these loans, which is the difference between the proceeds received and the carrying value of the loan.
Servicing Income
For all loans originated directly or purchased from partners, Affirm acts as the servicer of the loans as the company wants to control the end-to-end customer experience. In addition to gaining income from the sales of loans, Affirm also earns a servicing fee on all loans it sells to its funding sources.
Revenue Model Summary
From the revenue segments, as described above, you can see that Affirm does not charge customers any other fees aside from interest. It is transparent, fair, and simple, and consumers will not be bombarded by overdraft fees, late fees, hidden fees, and so on. That is why customers choose Affirm rather than traditional credit card providers.
Instead, Affirm derives most of its revenue from MDR fees and loans. Given Affirm's appeal for consumers, merchants are willing to pay these fees as BNPL has shown to increase AOV, reduce cart abandonment rates, and increase repeat purchases.
The question is: why don't consumers just use their credit cards? According to McKinsey:
Of the consumers who take these loans, about 80 percent already have a credit card with enough credit availability to fund the purchase. These consumers choose to take a financing product [BNPL] because it offers cheaper credit or easier payment terms.
5 Income Statement
GMV has been growing rapidly over the last few quarters, posting high double-digit growth as BNPL continues to gain steam in a lowly penetrated US market. Trailing twelve-month GMV was $11.9 billion and FY2022 Q2 GMV was $4.5 billion, a 115% increase from last year. This number would have been more impressive if not for Peloton's (PTON) recent lackluster performance — Peloton is one of Affirm's largest merchants. Excluding Peloton, GMV grew by 152%.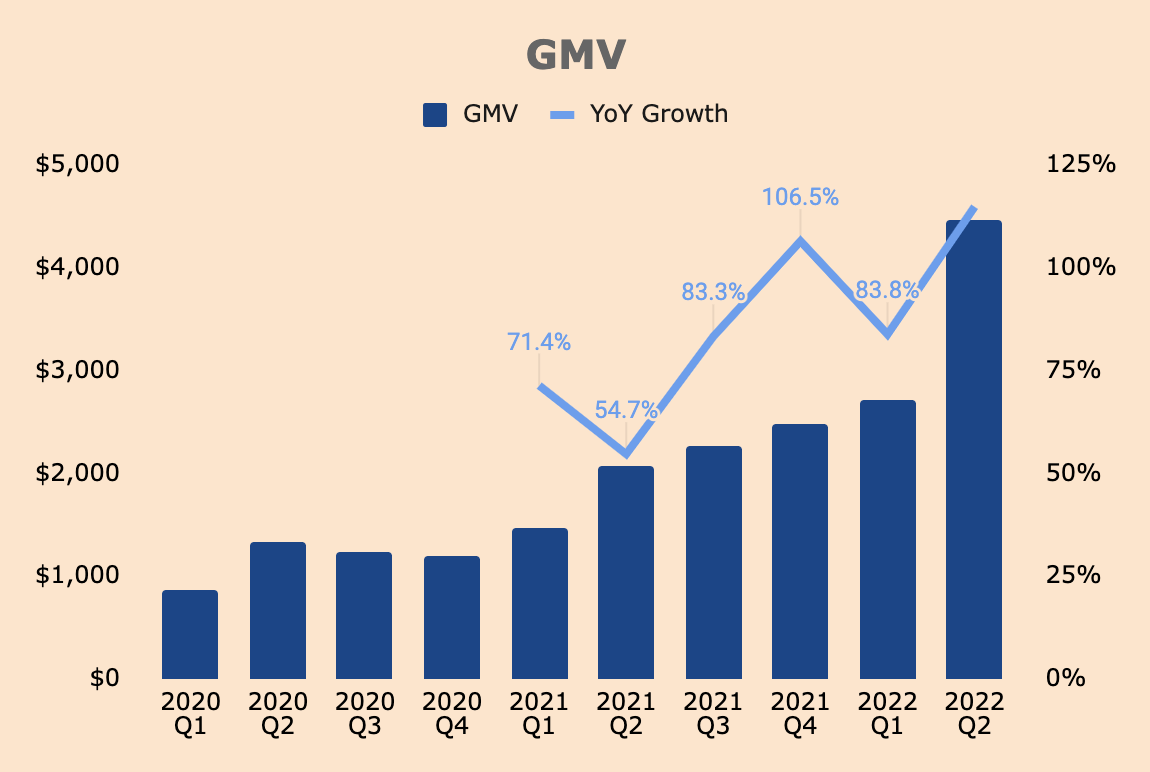 This strong GMV growth was primarily due to the expansion of Affirm's ecosystem. Active Merchants grew from 102k to 168k, quarter-over-quarter, reflecting the rapid adoption of Shop Pay Installments by merchants on Shopify's (SHOP) platform. Shopify's FY2021 Q3 posted $42 billion of GMV, which should contribute meaningfully towards Affirm's GMV moving forward. Active Customers is also growing rapidly, which came in at 11.2 million, a 150% increase from last year.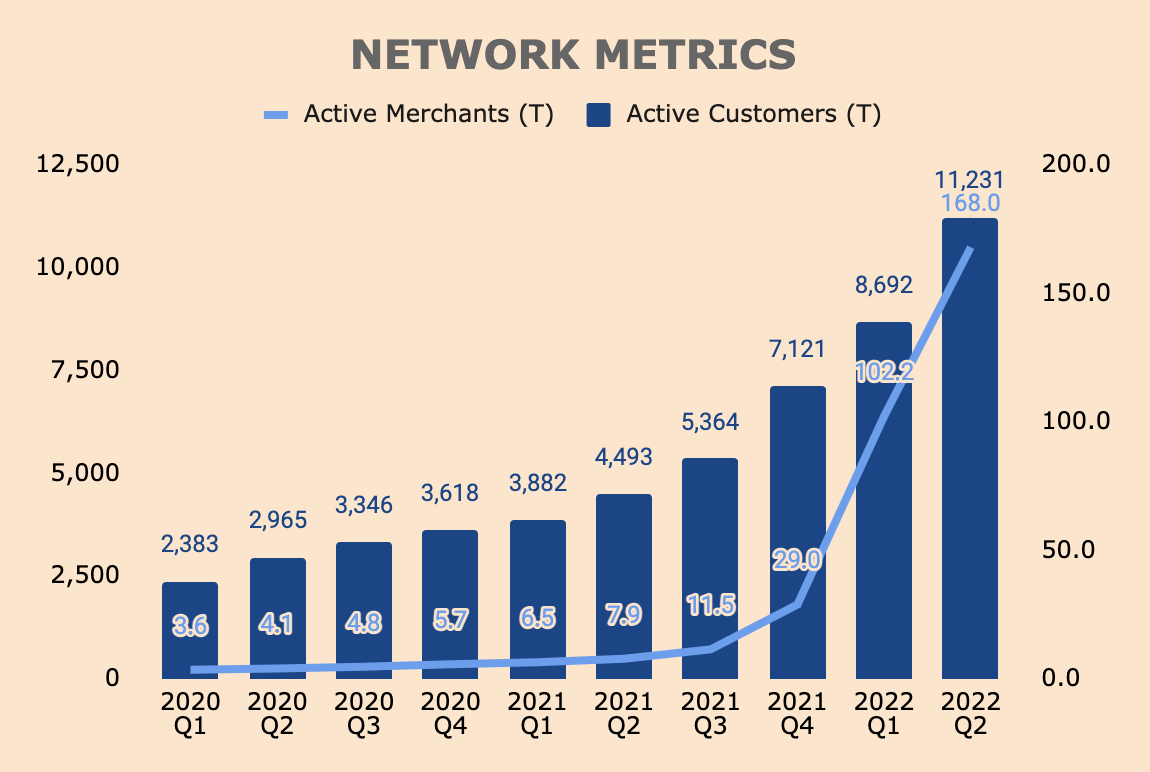 As a result of growing GMV and network, revenue is also showing continued momentum, although to a lesser degree than GMV. Revenue for Q4, grew by 77%, compared to a 115% growth in GMV. Revenue as a % of GMV also dropped to 8% due to a change in product mix where "Split Pay grew over four times year-on-year, and accounted for more than 20% of GMV in the second quarter from just 11% last year." In addition, Peloton's struggle also contributed to this shift as most of Peloton's products are under 0% APR Installment Loans, which has higher MDR rates compared to Interest-bearing Loans.
Here, we can see that Merchant Network Revenue as a % of Total Revenue dropped, while Interest Income took the lion's share of Affirm's revenue. Also of important note, Affirm completed the launch of its interest-bearing program at Amazon (AMZN) in November. Therefore, Interest Income should make up a larger proportion of revenue over time.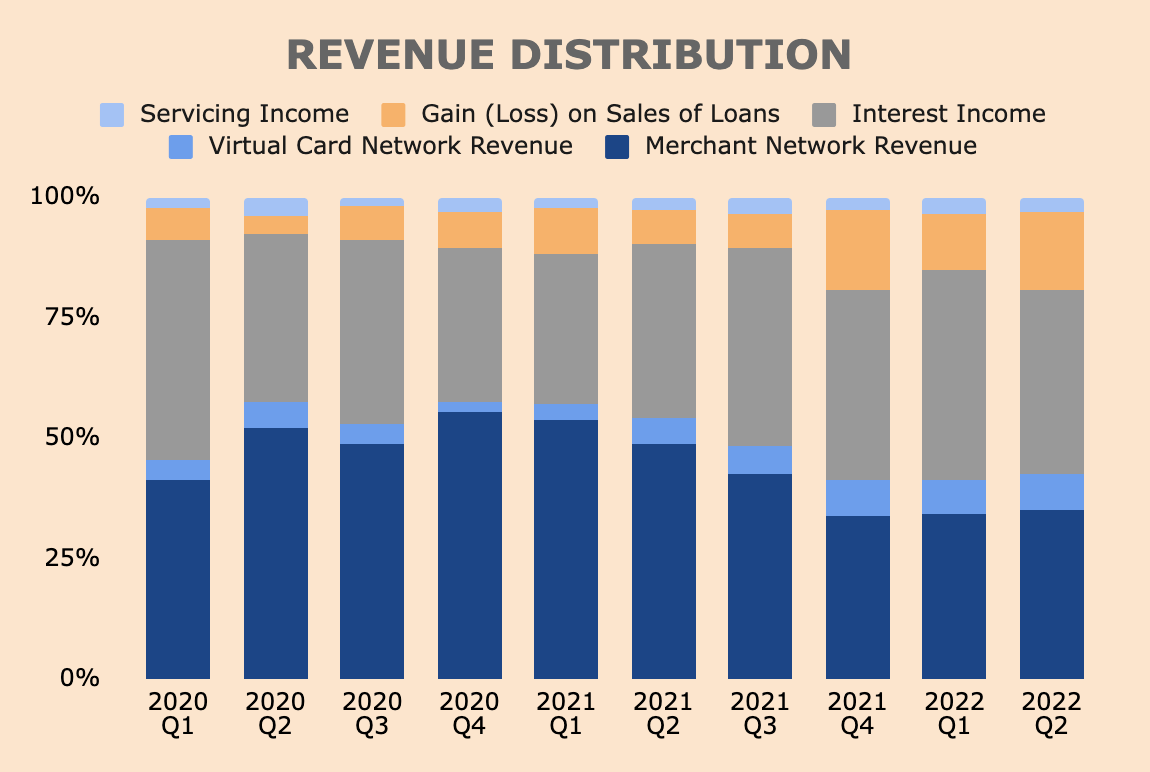 As you can see below, Network Revenue as a % of GMV is in a downtrend, again, due to higher Split Pay transactions because of the Shopify partnership as well as Peloton's struggle. This metric also shows Affirm's "blended" MDR and interchange fee, which is about 3.5%.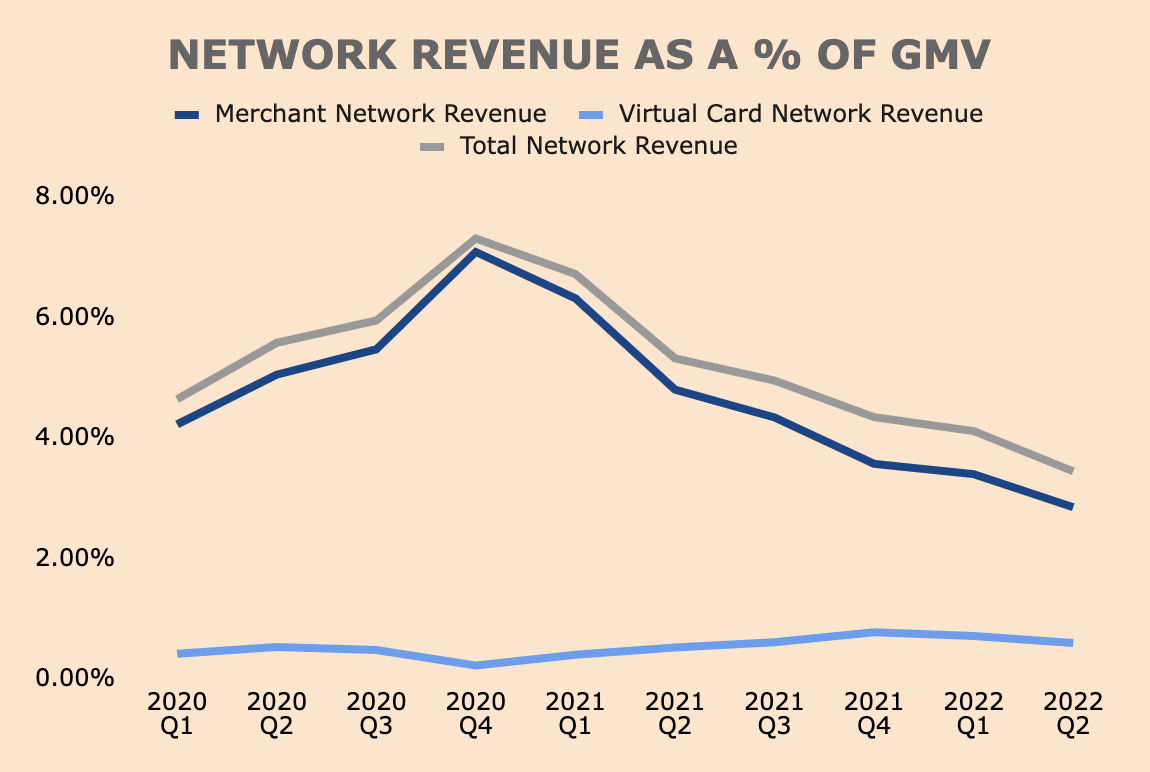 Affirm has a high Gross Profit of about 50% in the last few quarters. The FY2020 fluctuation in Gross Profit Margins is due to the company setting aside Provision for Credit Losses in the wake of the pandemic outbreak as high delinquencies and defaults were largely anticipated. Since then, conditions have improved and therefore, Gross Margins returned to normal levels as well.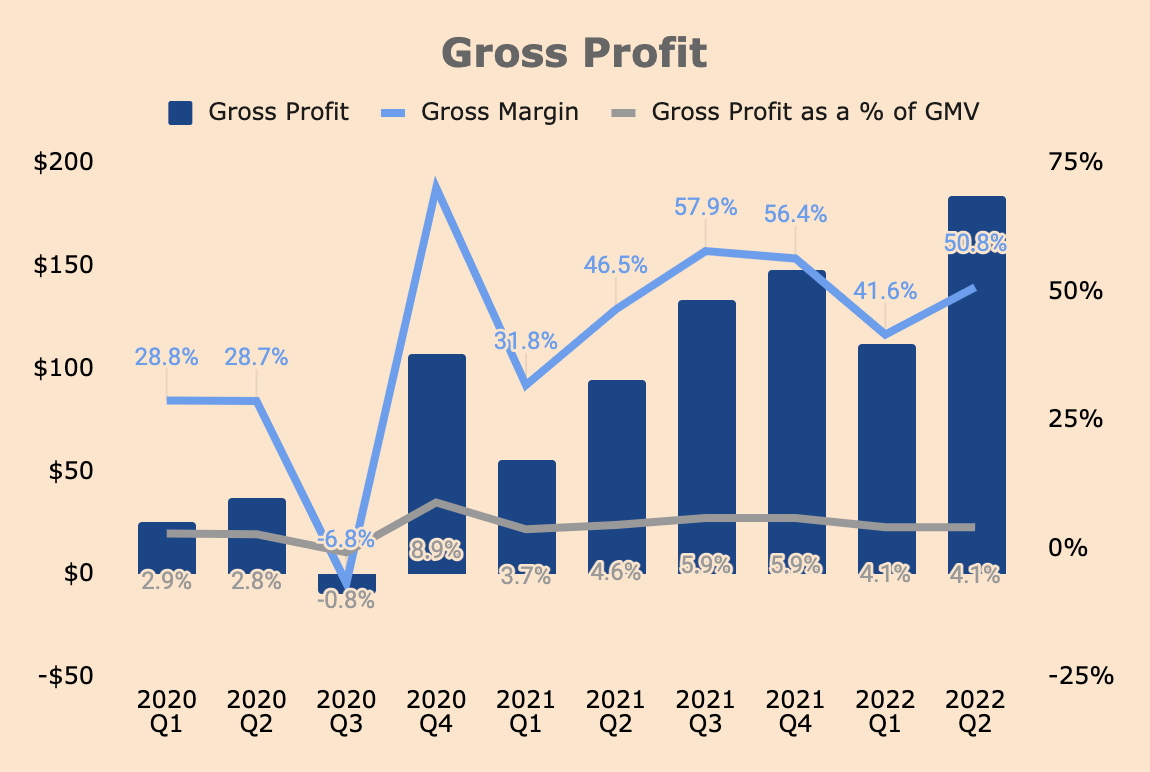 Additionally, delinquencies were lower than expected and the company saw stronger than expected repayment rates, which allows Affirm to release the allowance over time. Not including the outlier FY2021, delinquencies were the lowest ever for the company, which demonstrates Affirm's improving technology.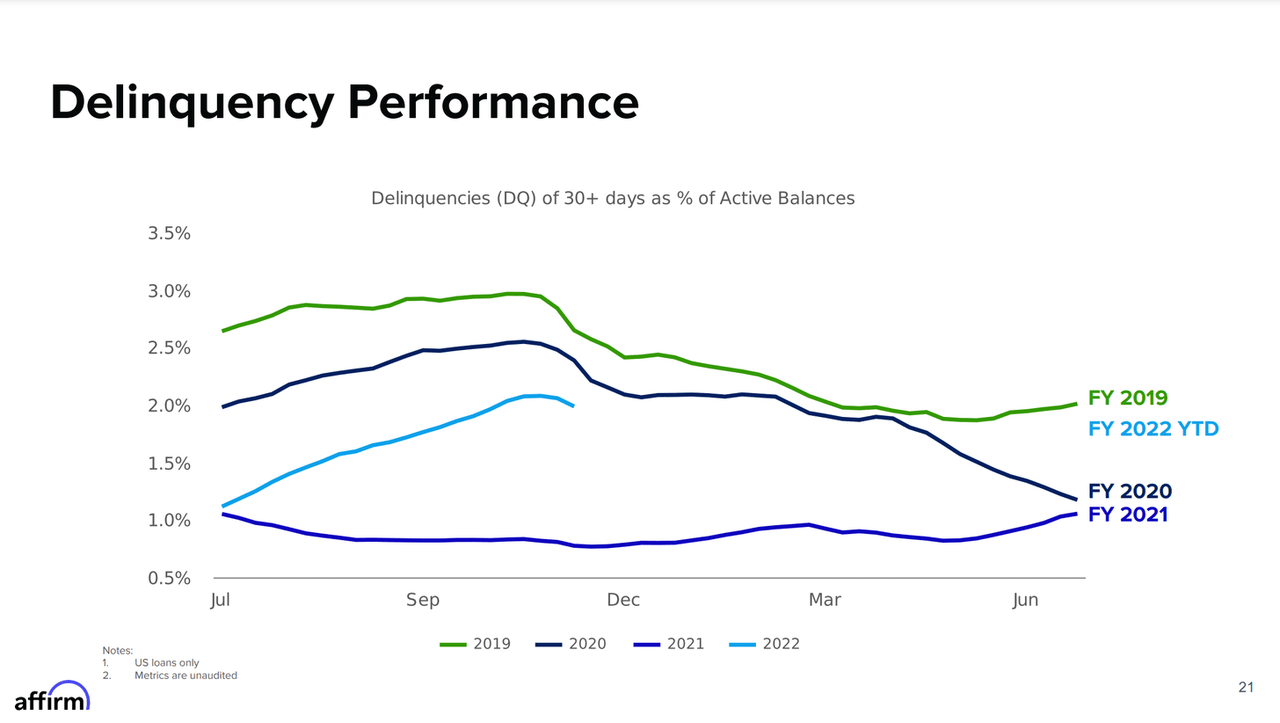 Operating Expenses rose by 200%+ due to high SBC (stock-based compensation) typical of recent IPOs as well as the company ramping up marketing, headcount, and R&D spending to support its hypergrowth phase.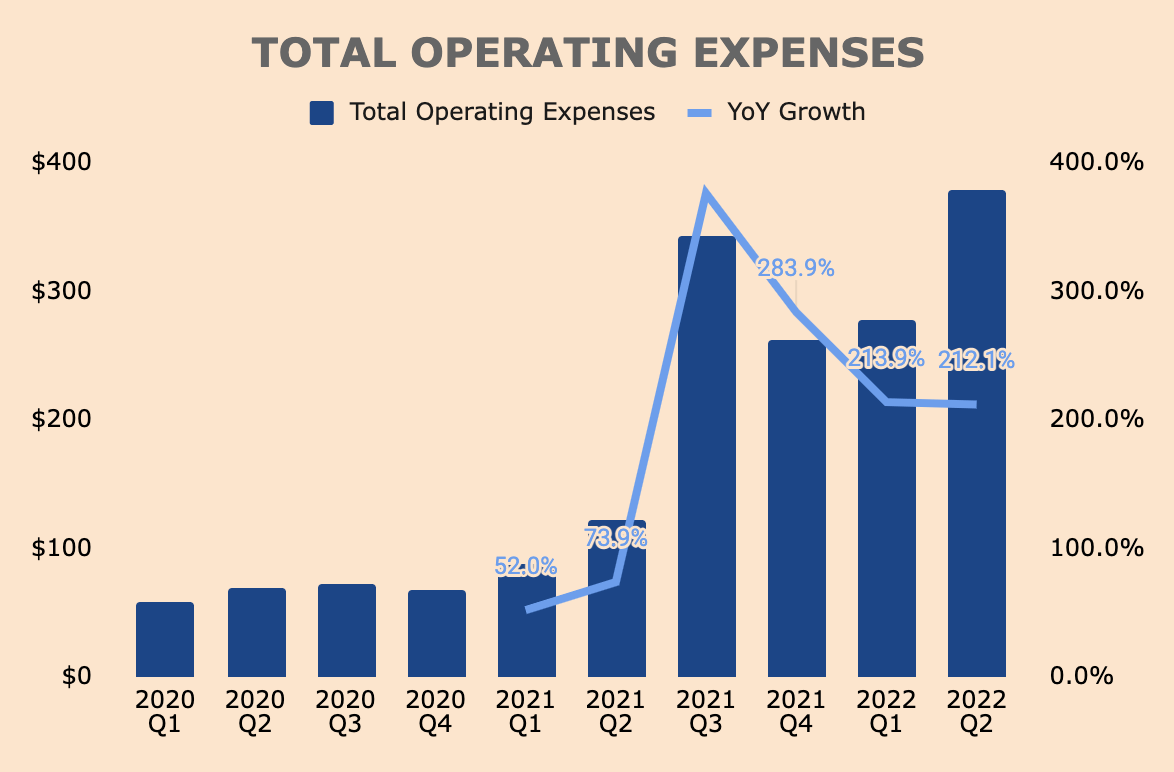 Below, we can see how the different components of Operating Expenses are trending. S&M and G&A need to improve for the company to achieve profitability.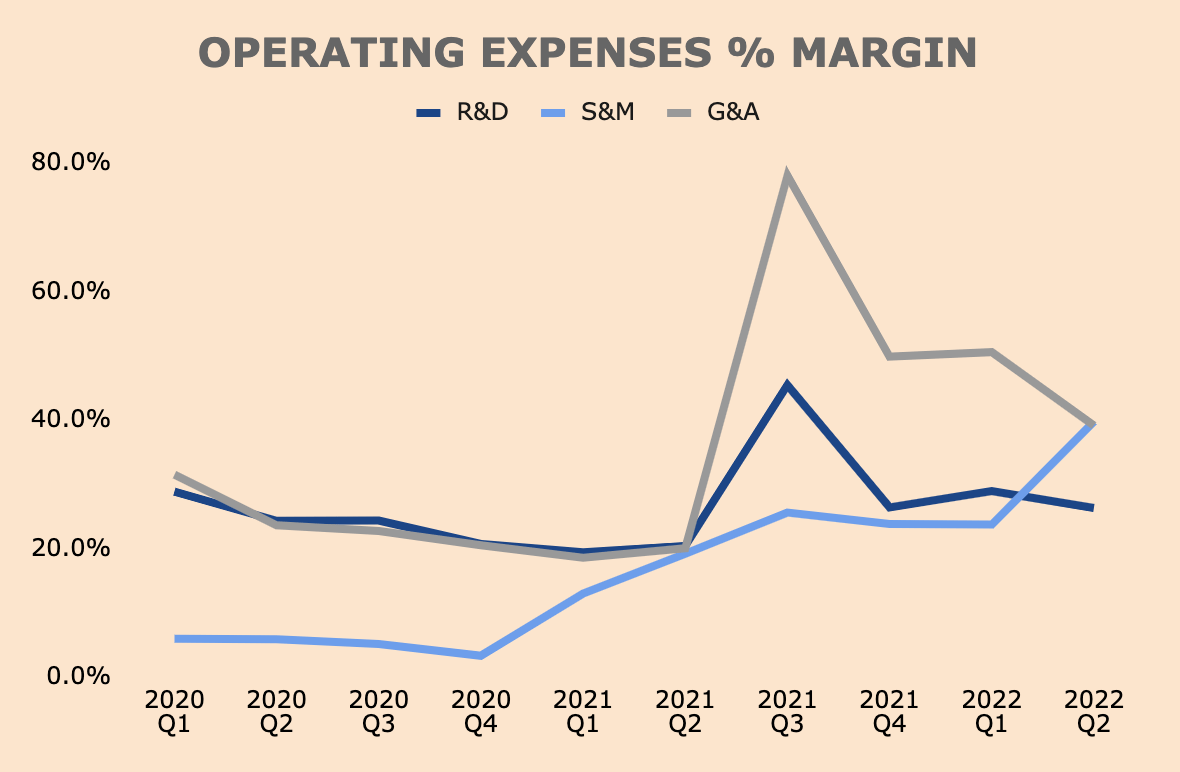 Unsurprisingly, Affirm is not yet profitable. Even after adjusting for non-cash charges and extraordinary items, Affirm has yet to produce sustainable profitability metrics. This is due to the company increasing headcount, marketing, and R&D to support business growth.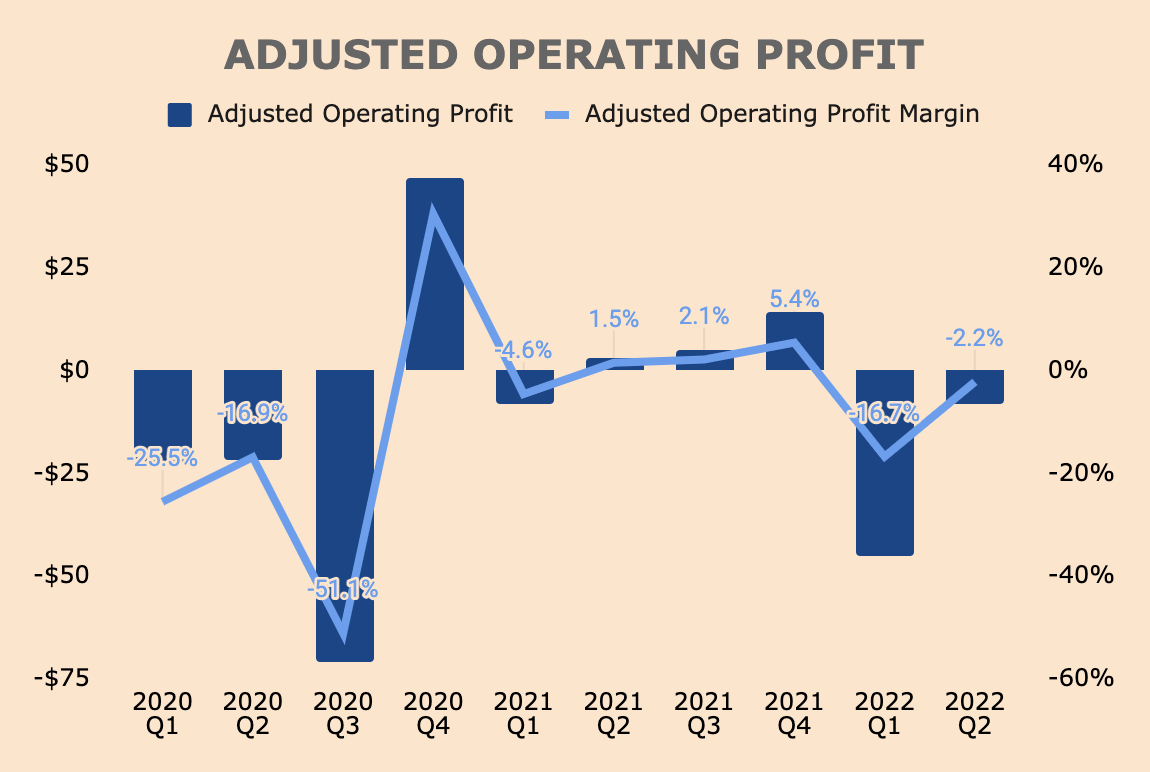 As with most growth stocks, Affirm is growing rapidly while flying unprofitably. However, the company should see material improvement as it gains leverage from economies of scale. The company should also benefit from lower CAC as the network effect starts to kick in from the Shopify and Amazon partnership.
Furthermore, Affirm's technology and AI should continue to improve as it gathers more data from more customers, merchants, and transactions. As such, Affirm has the potential to become profitable in the near future and be self-sufficient as a result. Ultimately, Affirm has the potential to achieve long-term operating margins of 20% to 30% as outlined by management below.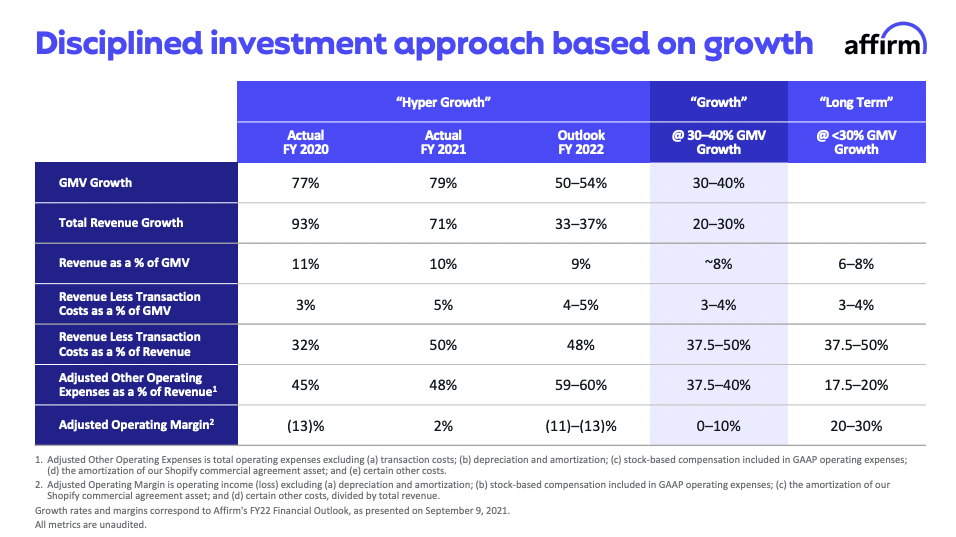 For its near-term outlook, Affirm guided for $3.66 billion and $14.68 billion of GMV in FY2022 Q3 and FY2022, respectively. That is a 62% and 77% increase from last year, respectively. It is also important to note that this guidance does not include potential contributions from its launch of Affirm Debit+ card. Therefore, we should see better performance as compared to the outlook given by management.
6 Balance Sheet
Turning to the balance sheet, Affirm has net debt of $1.4 billion as of Q2. Current ratio is about 6x showing that Affirm has ample liquidity to cover short-term obligations.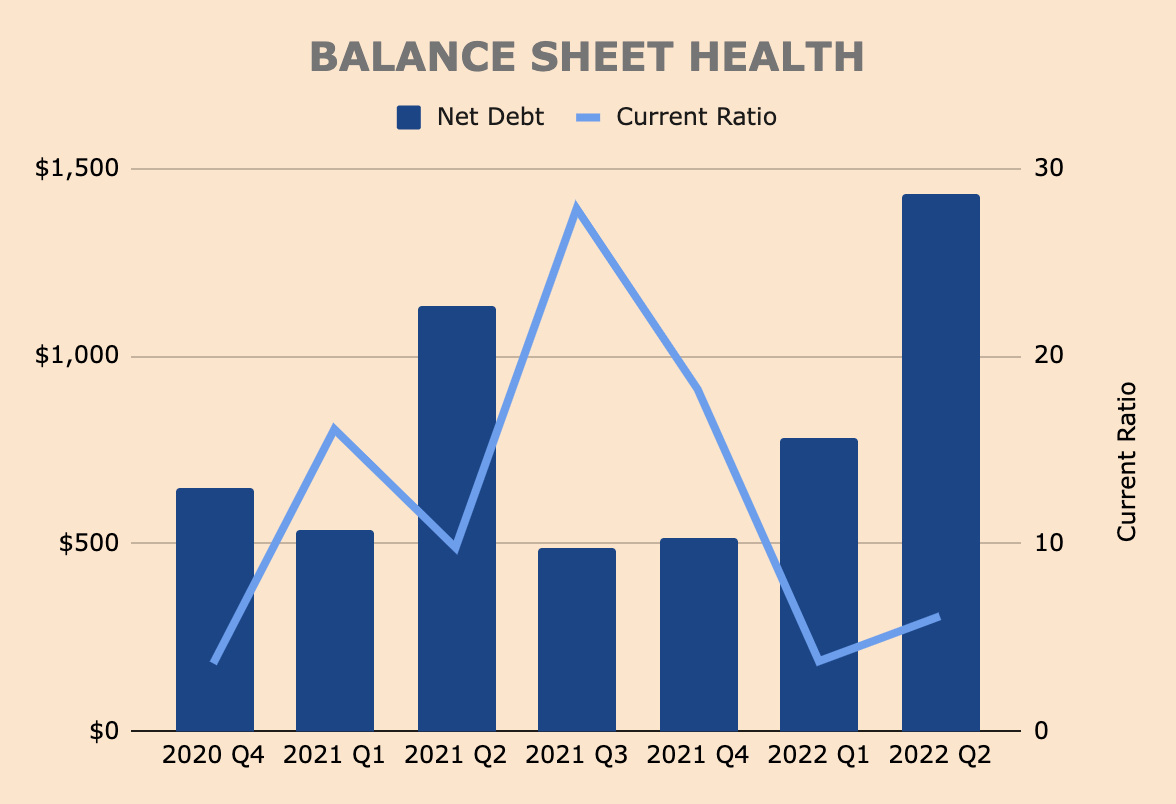 What's more, Total Platform Portfolio, defined as the unpaid principal balance outstanding of all loans facilitated through Affirm's platform, grew to $6.3 billion in Q2, while Equity Capital Required dropped to $230 million. Equity Capital Required as a % of Total Platform Portfolio decreased to just 3.6%, as compared to 7.5% a year ago, as Affirm becomes more capital efficient and has access to more funding debt.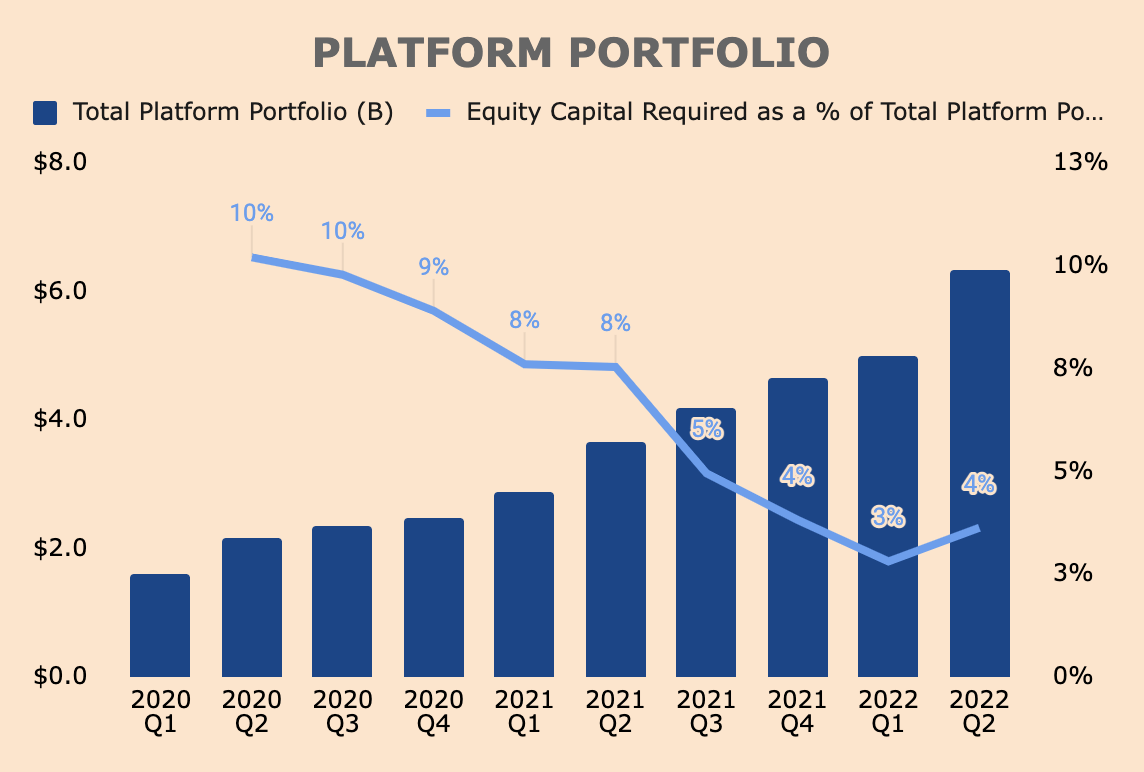 As shown below, Affirm grew funding capacity to $8.8 billion, an increase from $4.7 billion last year. Consequently, Total Platform Portfolio as a % of Funding Capacity remains stable at 72%, as Affirm continues to manage financial leverage in its balance sheet.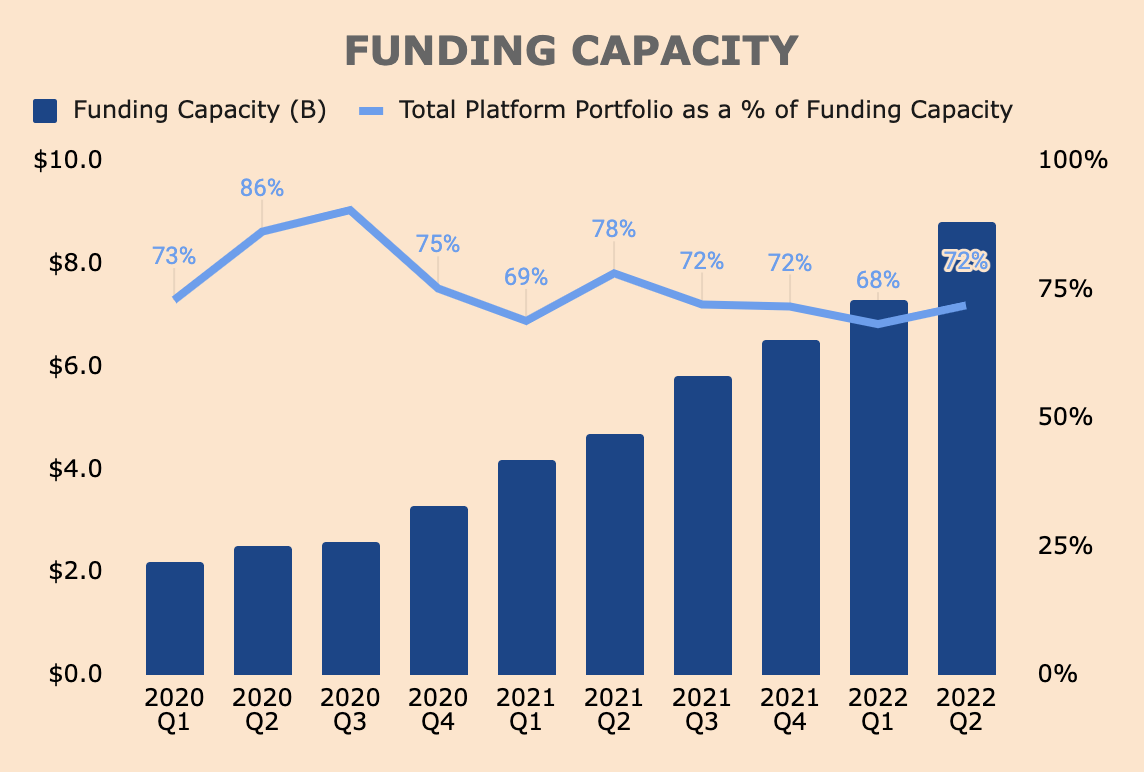 7 Cash Flow Statement
As expected from a recently-IPOed high-growth company, Affirm's cash flow is quite volatile. However, I do want to bring your attention to Affirm's cash flow activities in FY2022 Q1.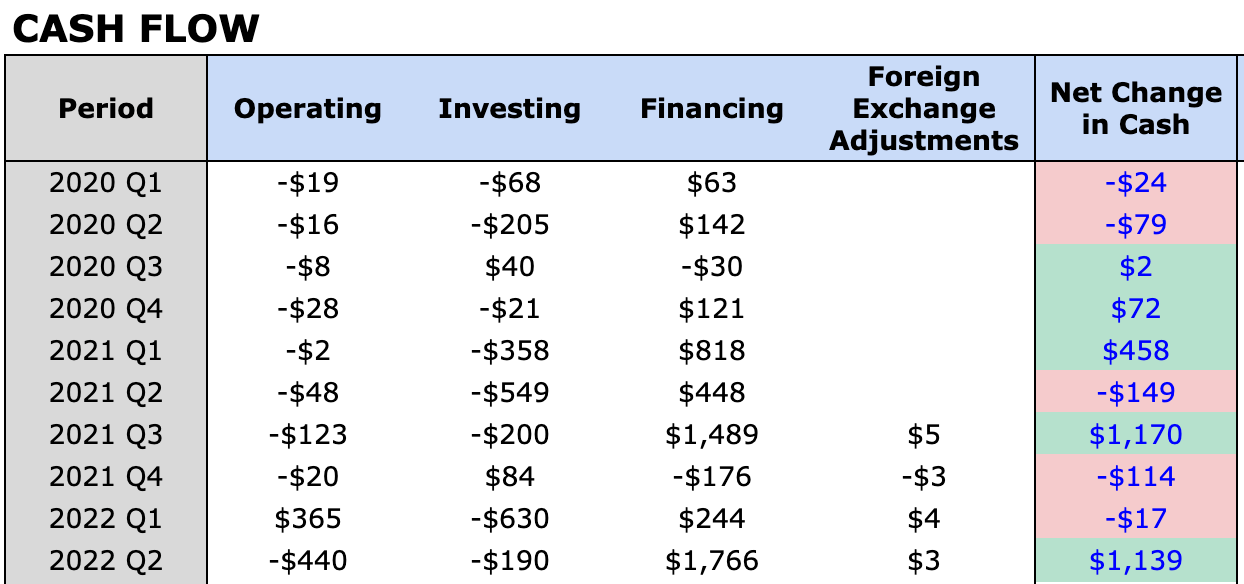 Cash provided in operating activities in FY2022 Q1 turned positive for the first time, which saw an increase of $368 million compared to FY2021 Q1. This change included a net loss of $307 million, adjusted for non-cash charges of $269 million, and net cash inflows of $411 million due to changes in working capital.
Non-cash charges include $93 million of stock-based compensation, as well as losses of $142 million due to the increase in the fair value of its contingent consideration liability, driven by changes in the value of its common stock.
The net cash inflow of $411 million due to changes in working capital was primarily driven by $395 million of employee option exercise taxes payable. This number is extraordinary and should revert to normal levels in future quarters. As such, cash flow from operating activities should normalize as well.
Due to the outburst of cash inflow from operating activities, free cash flow turned positive for the first time as well, with a 130% margin. The following quarter saw a 180-degree turn as FCF margins fell to -128%. We should see FCF margins stabilize in the next few quarters.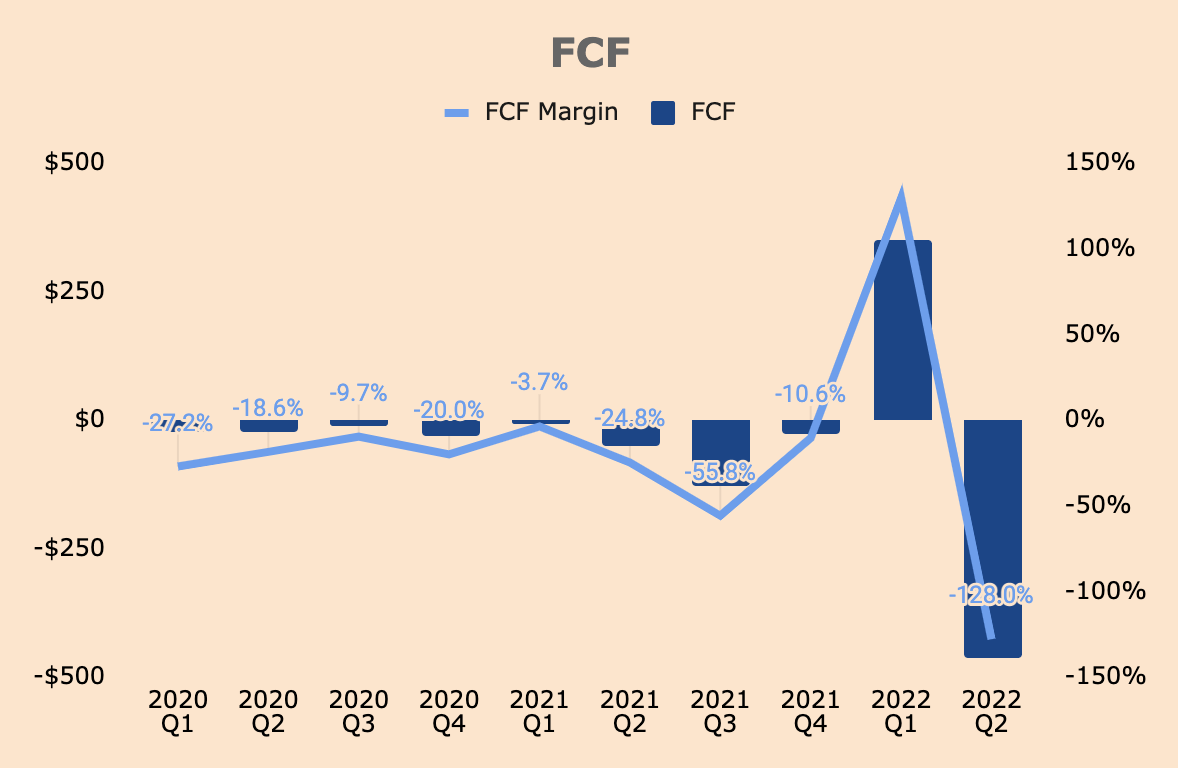 8 Risks
Competition is one of, if not, the biggest risk for Affirm as BNPL in the US brewed the interests of a few international players. In this section, I will briefly cover the two biggest BNPL companies that pose as major threats to Affirm's growth story, starting with Afterpay.
Afterpay: Powering an Economy in which Everyone Wins
I will not go into detail on Afterpay's business model as it is quite similar to Affirm.
Afterpay has gained a lot of financial media attention lately due to its acquisition deal by Block (SQ), as announced at the end of January 2022. Afterpay was founded in 2014 in Australia with the mission "to power an economy in which everyone wins" and the vision to bring "fairness and financial freedom for all." It first started in Australia but has since expanded to other markets, including New Zealand, the US, Canada, the UK, and Europe.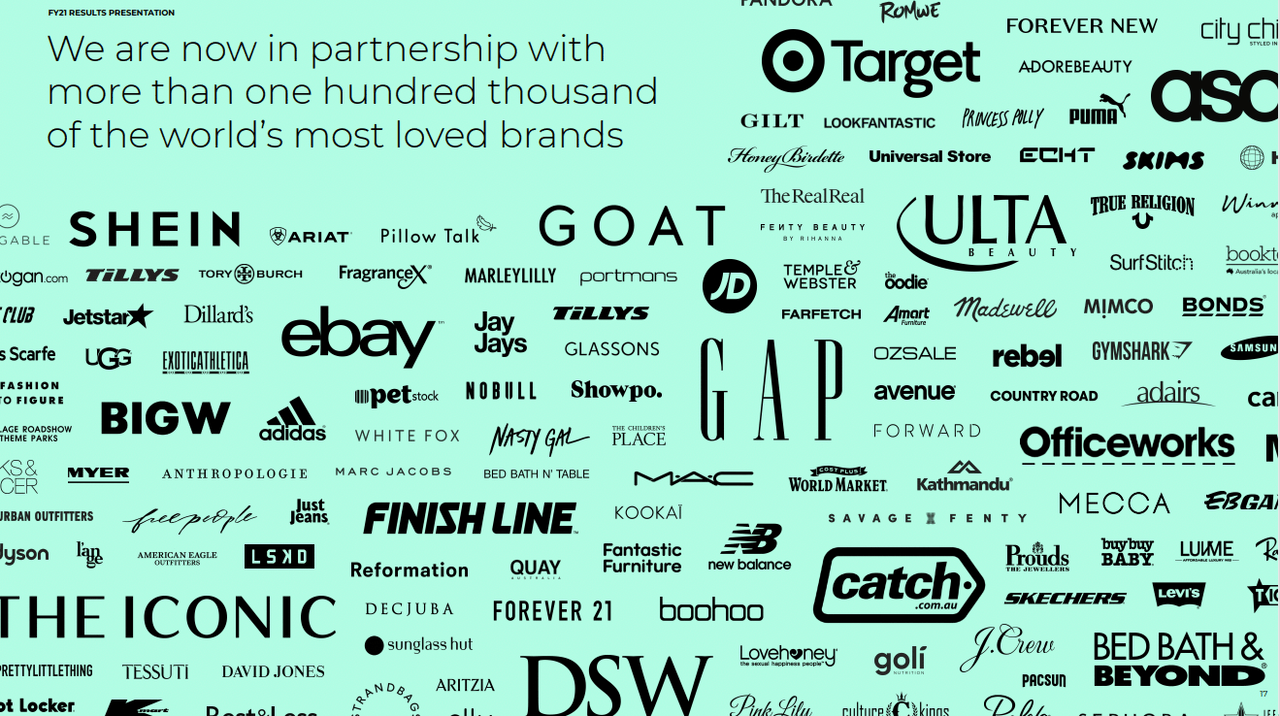 Just like Affirm, Afterpay offers consumers the ability to pay over time. However, Afterpay does not charge interest as the majority of Afterpay's merchants are involved in high-velocity, low-order-value, and less-risky transactions. On the other hand, Afterpay charges late fees for missed payments, and consumers will not be able to use Afterpay unless the payments are up-to-date. These late fees are charged but fixed and capped and do not compound over time.
Afterpay's GMV was AUD $21.1 billion or USD $15.8 billion in FY2021, which was a 90% increase from the previous year. In North America, GMV grew to AUD $9.8 billion, a 146% increase YoY. As such, Afterpay, in North America, is not far behind Affirm. Its other segments, APAC and Clearpay (Europe operations), are also experiencing strong growth, posting 44% and 90% growth, respectively. Since this deep dive is on Affirm, I will focus my analysis on the North American segment.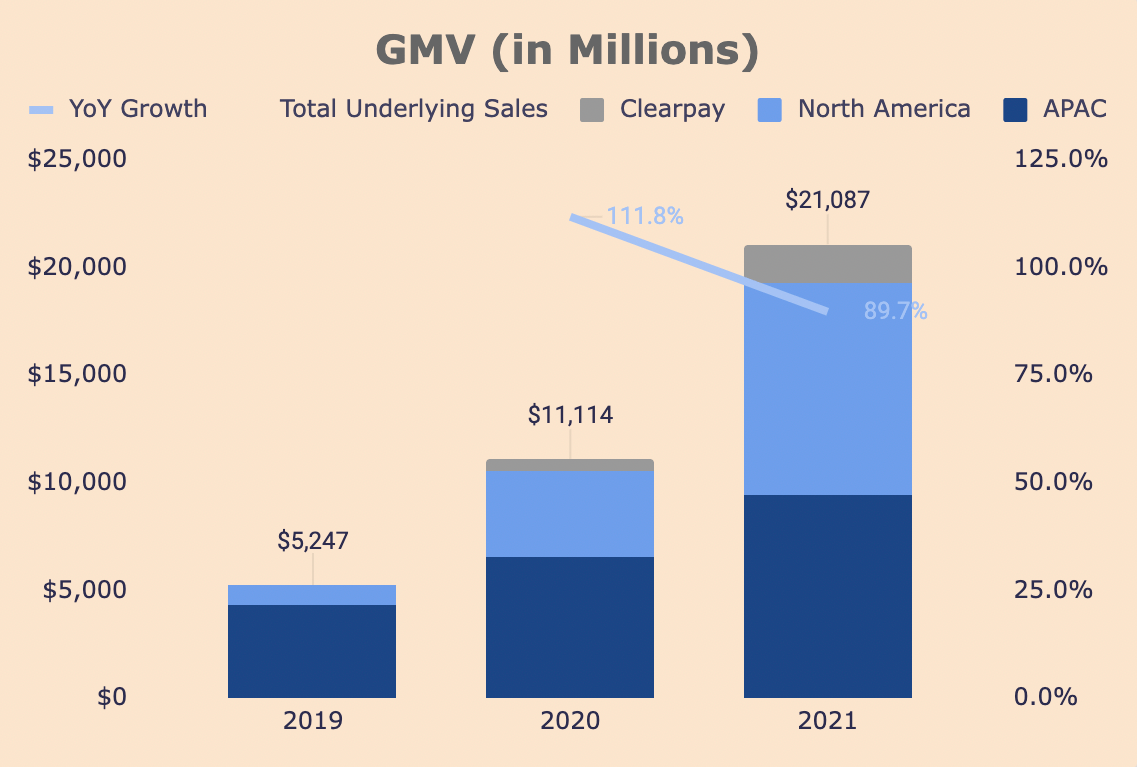 Below, you can see Afterpay's GMV distribution. As shown, revenue share from both North America and Clearpay are growing while the APAC region, decreased due to a more mature market and lower-income demographic in the region.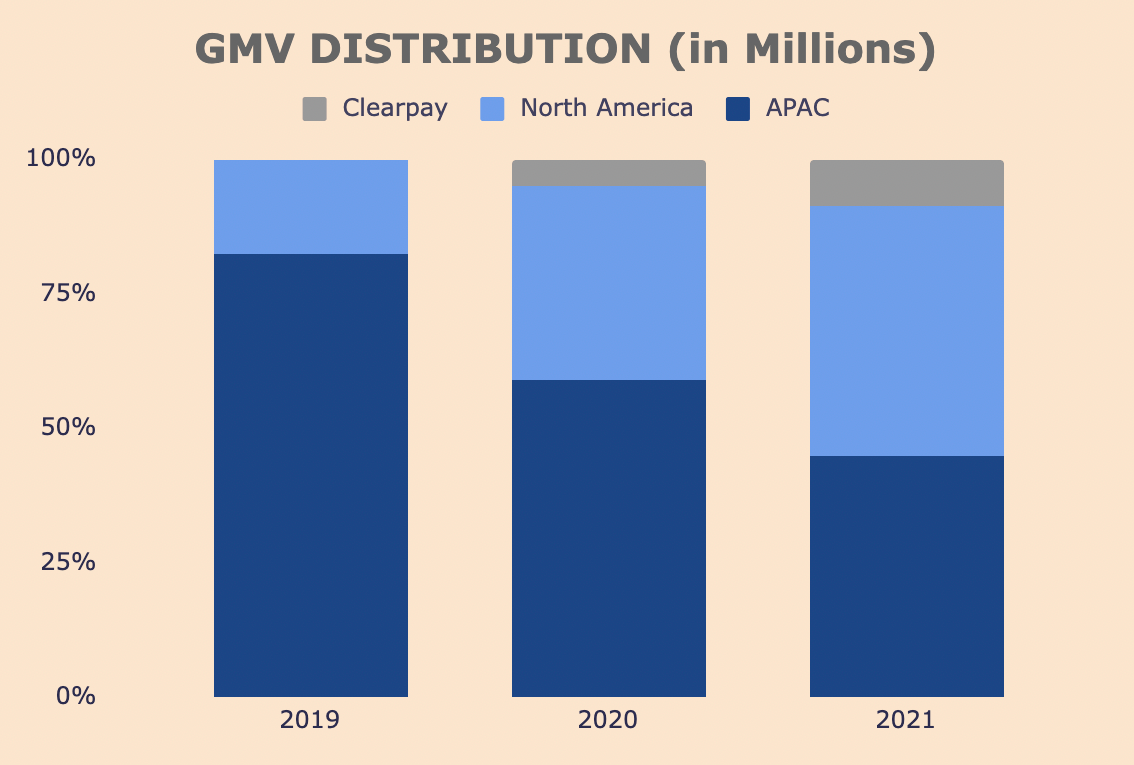 Similar to Affirm, robust GMV growth was primarily due to rapid customer acquisition. Total Active customers grew 63% YoY to 16.2 million. In North America, Active Customers grew by 88% YoY to 10.5 million, which is already higher than Affirm's customer base.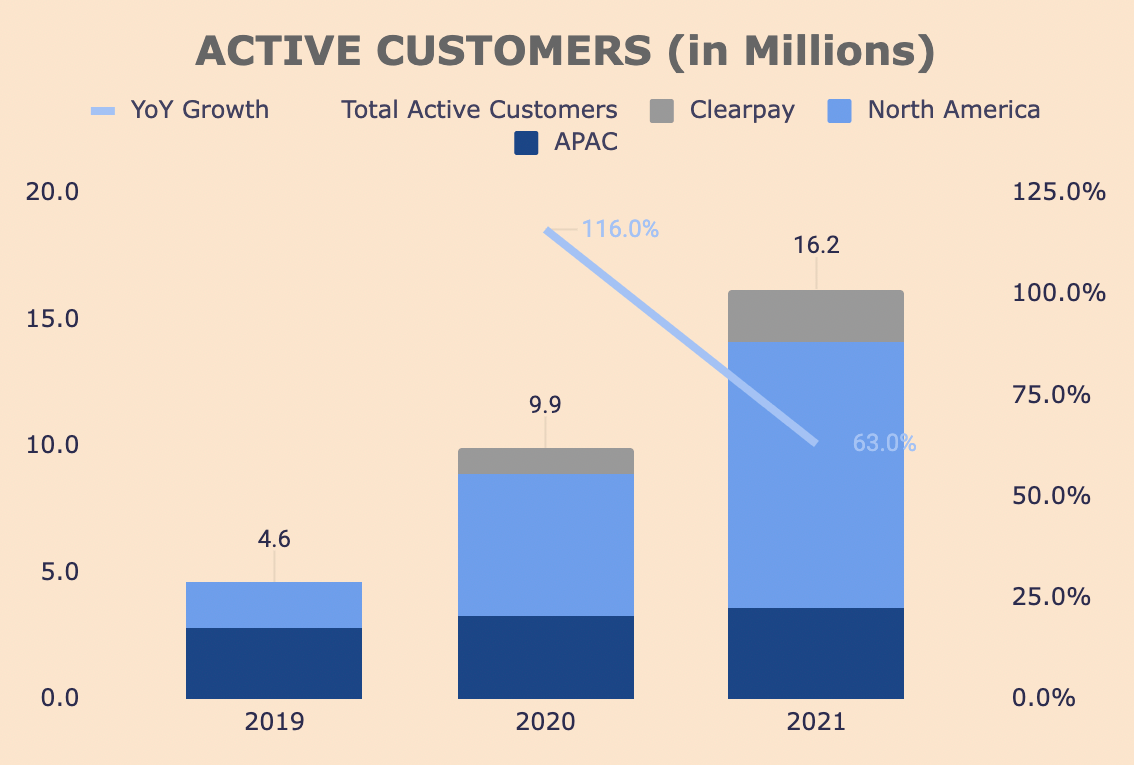 Total Active Merchants was 98.2 million, which saw a 77% growth from the previous year. North America Active Merchants was 28.4 million, a 148% growth YoY.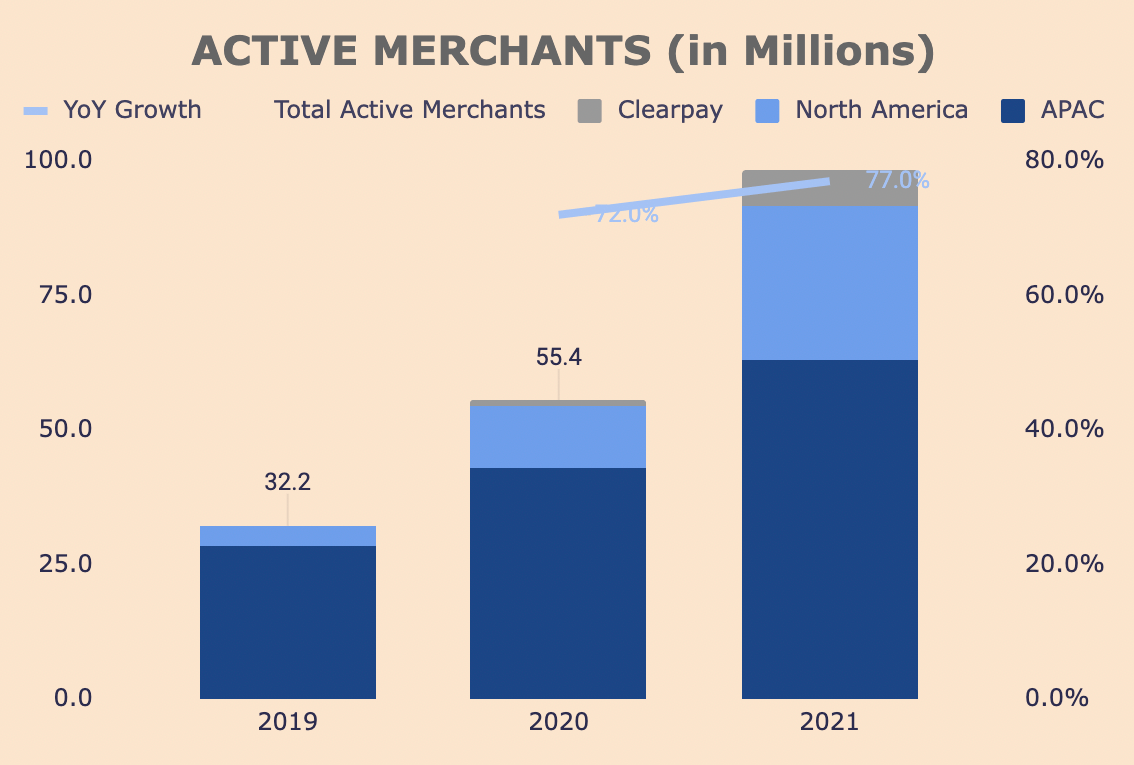 Before we look at Afterpay's revenue, here's a quick definition of Afterpay's revenue metrics:
Afterpay Total Income comprises Afterpay Income (including merchant income, affiliate fees, and interchange earned from the US virtual one-time use card) and Other Income. Other Income is primarily Late Fees, and also includes contributions associated with Money by Afterpay and newly acquired non-core international products that will be discontinued.

Afterpay Net Margin is a non-IFRS measure that is not audited but is a key financial metric used by management to track Afterpay's Gross Profit inclusive of losses and funding costs.
In other words, Total Income is the equivalent of Affirm's Total Revenue while Afterpay Net Margin is similar to Affirm's Gross Profit Margin metrics.
Afterpay Total Income grew to AUD $925 million, a 78% increase YoY, driven by higher GMV as a result of a larger customer and merchant ecosystem.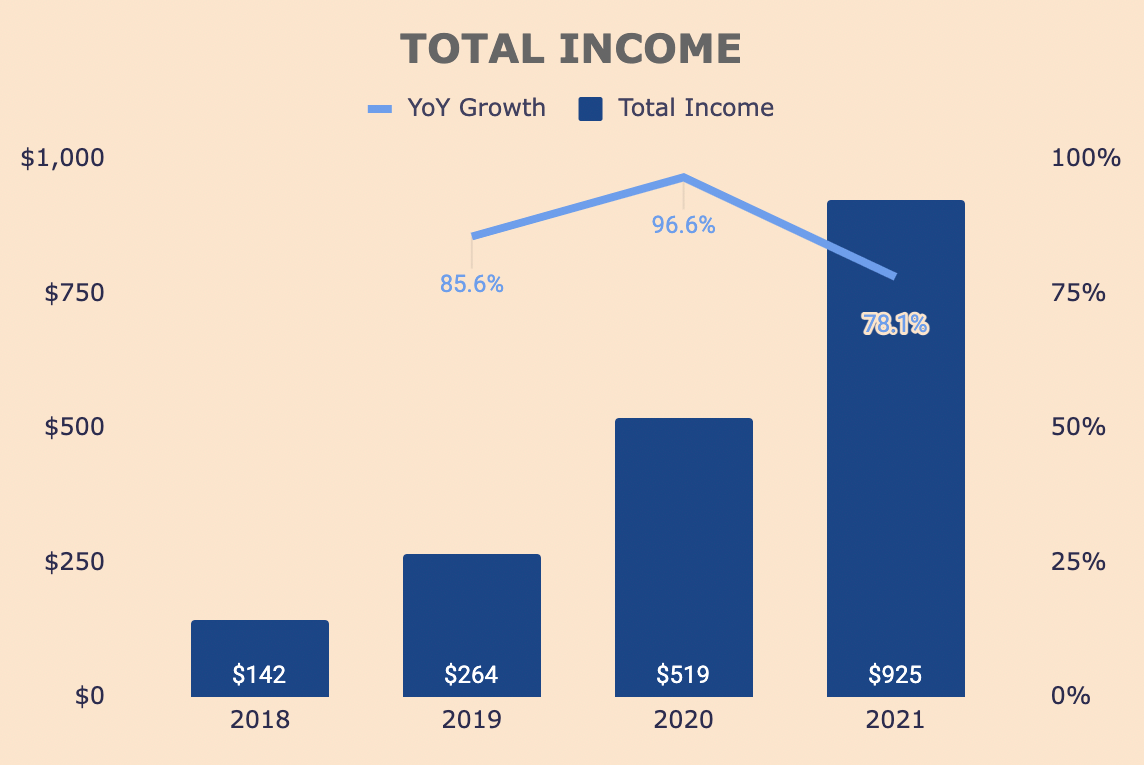 Afterpay Income, which excludes Late fees, was AUD $822 million. Subtracting cost of revenue, losses, and funding costs, Afterpay Net Margin was AUD $434 million. As a % of GMV, Afterpay Net Margin was a mere 2.1%. Recall that Affirm's Gross Profit as a % of GMV was 4.1%, almost double Afterpay's number. This is due to Affirm facilitating higher AOV orders as well as earning Interest Income from customers, which Afterpay does not.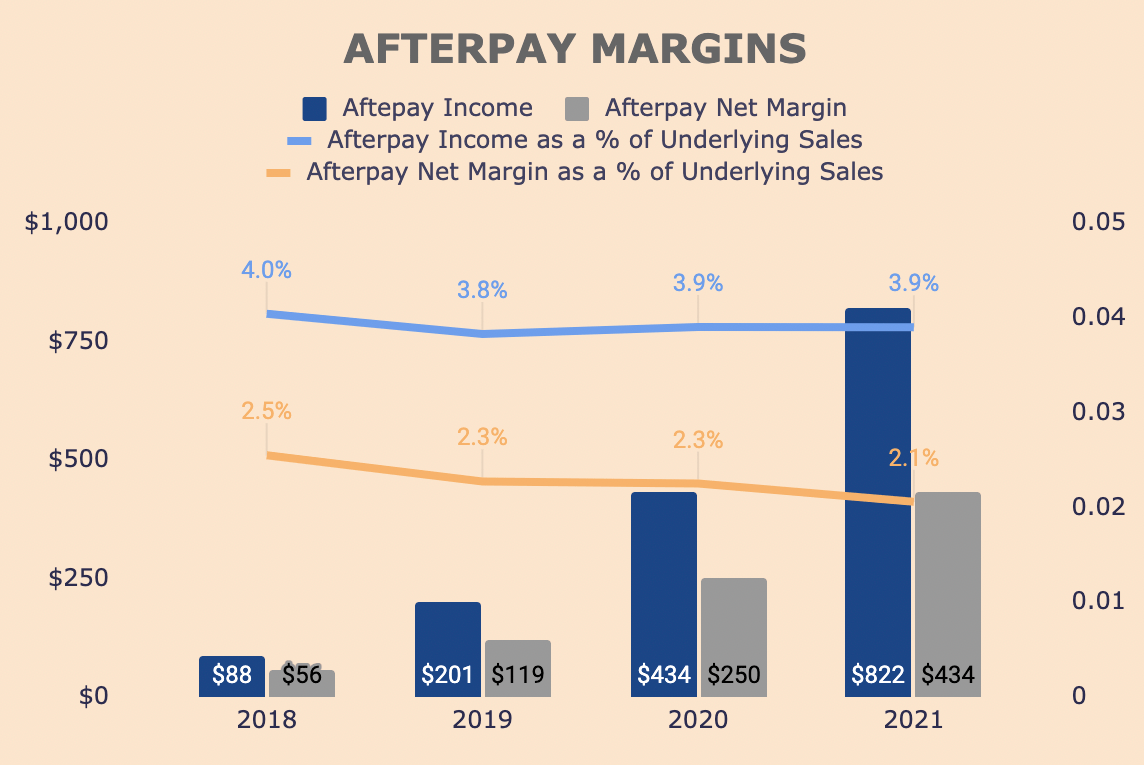 With the acquisition completed, Afterpay is now integrated within Block's products. For Block's Cash App, 70 million Cash App users now have the option to choose BNPL as a payment method. At the same time, Block's Seller ecosystem of "millions of Sellers" can offer consumers BNPL. To put it to context as to how big this acquisition deal is, Block's Gross Purchase Volume was $153 billion in the last twelve months. If just 1% of Block transactions were to be made with BNPL, that would translate to $1.5 billion of GMV for Afterpay.
While still in their early days, the network effect produced as a result of the merger will be powerful as two giants combine their already-large-but-growing consumer and merchant base. Furthermore, both companies have a growing international presence, which should accelerate Block and Afterpay adoption in international markets.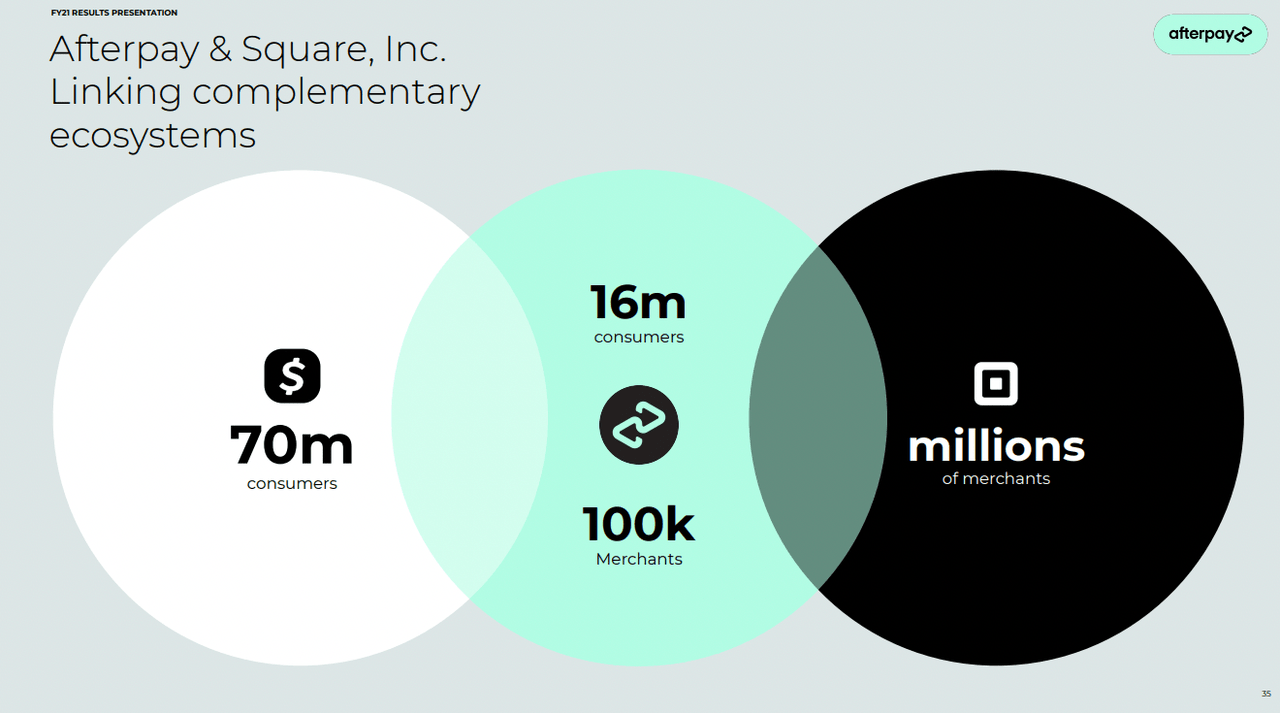 In summary, Afterpay poses a big threat to Affirm as it continues to gain traction in the North American Market. The Block-Afterpay deal will also build a larger and stronger merchant-consumer ecosystem. However, Block and Afterpay primarily cater to small-to-medium enterprises while Affirm partners with merchants of all sizes, including giants like Amazon and Shopify. Nonetheless, Block's and Afterpay's synergistic deal could accelerate the development of their version of a SuperApp as the Cash App has top-of-the-class financial products (e.g. P2P transaction, investing, crypto, etc.) and Afterpay unlocks BNPL for Block's ecosystem, thus, competing directly with Affirm's recently launched SuperApp.
Klarna: The Swedish Behemoth
Affirm's second major threat, competitively, is the Swedish-born behemoth, Klarna. Klarna was founded in 2005 and has been a fully licensed bank since 2017, active in 20 different markets across the globe. Similar to its BNPL peers, Klarna offers BNPL for consumers and merchants alike, with the ambition of building a SuperApp as well.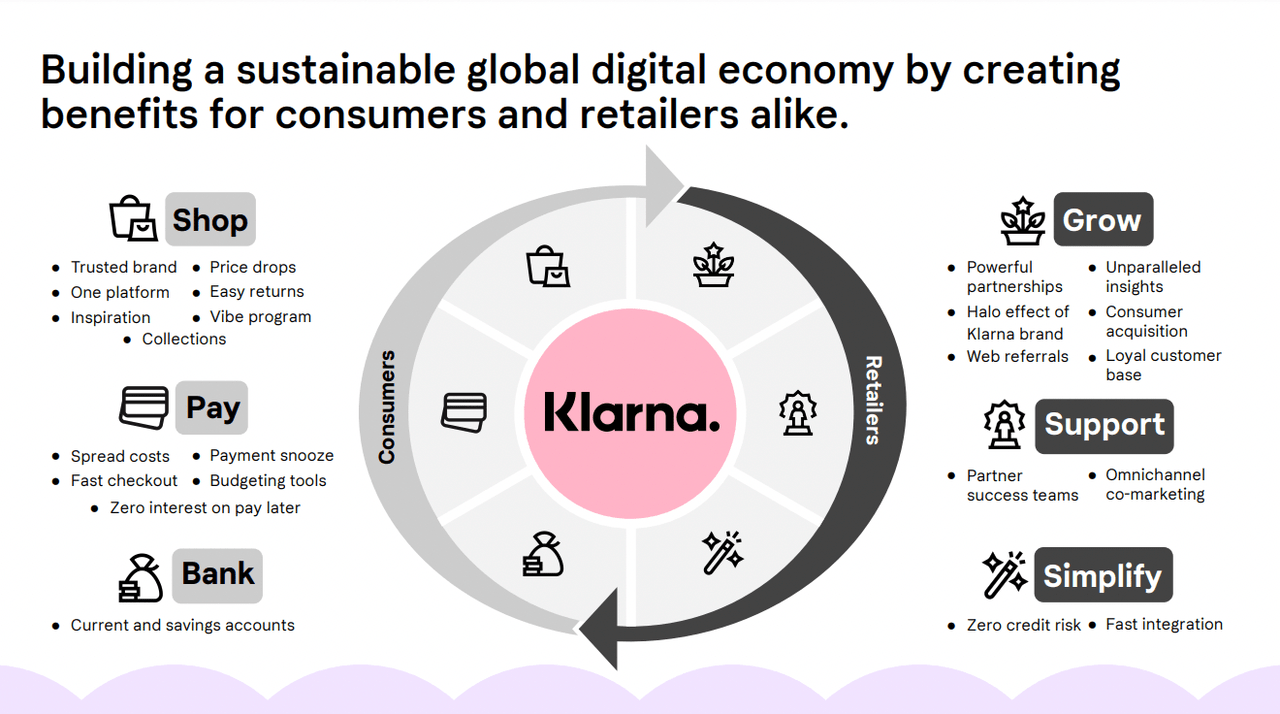 Klarna is not a public company and therefore, financial information is quite limited. In addition, Klarna's reporting is inconsistent (i.e. Klarna uses USD and SEK interchangeably). Therefore, I will not be spending too much time on the financials, but I will highlight the big picture stuff.
Klarna is the largest BNPL provider in the world, dwarfing both Affirm and Afterpay. Klarna's trailing twelve months GMV was a whopping USD $75 billion. Because Klarna is a much larger company, YoY growth lags that of its peers. Nonetheless, Klarna still posted high double-digit growth in terms of GMV. This is due to the company growing their Active Consumer and Merchant base to 90 million+ and 250k+, respectively.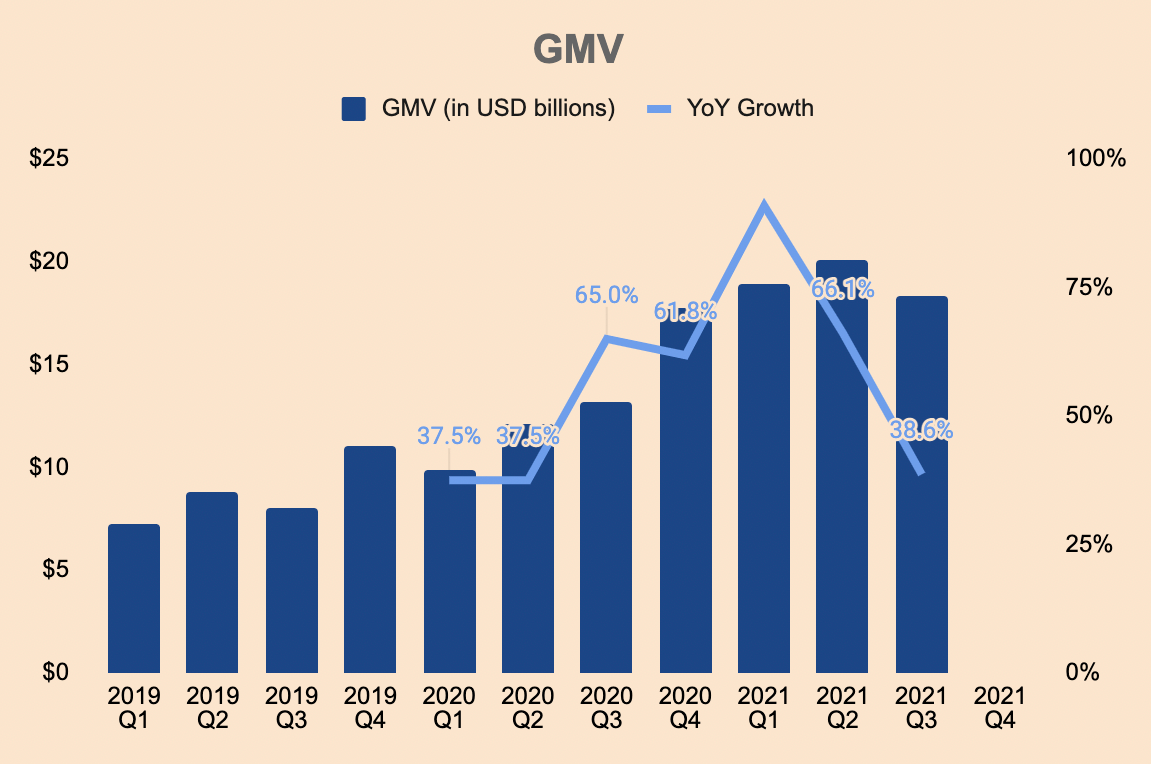 Although the company did not break down its metrics by geography, management did mention that its US segment is its fastest-growing market, which grew GMV by 300%+, driven by 21m+ consumers. Again, Affirm and Afterpay only have 11.2 million and 10.5 million consumers, respectively, in the North American market.
Net Operating Income, which is basically Revenue, net of interest, and commission expenses (does not include credit losses), is also growing consistently.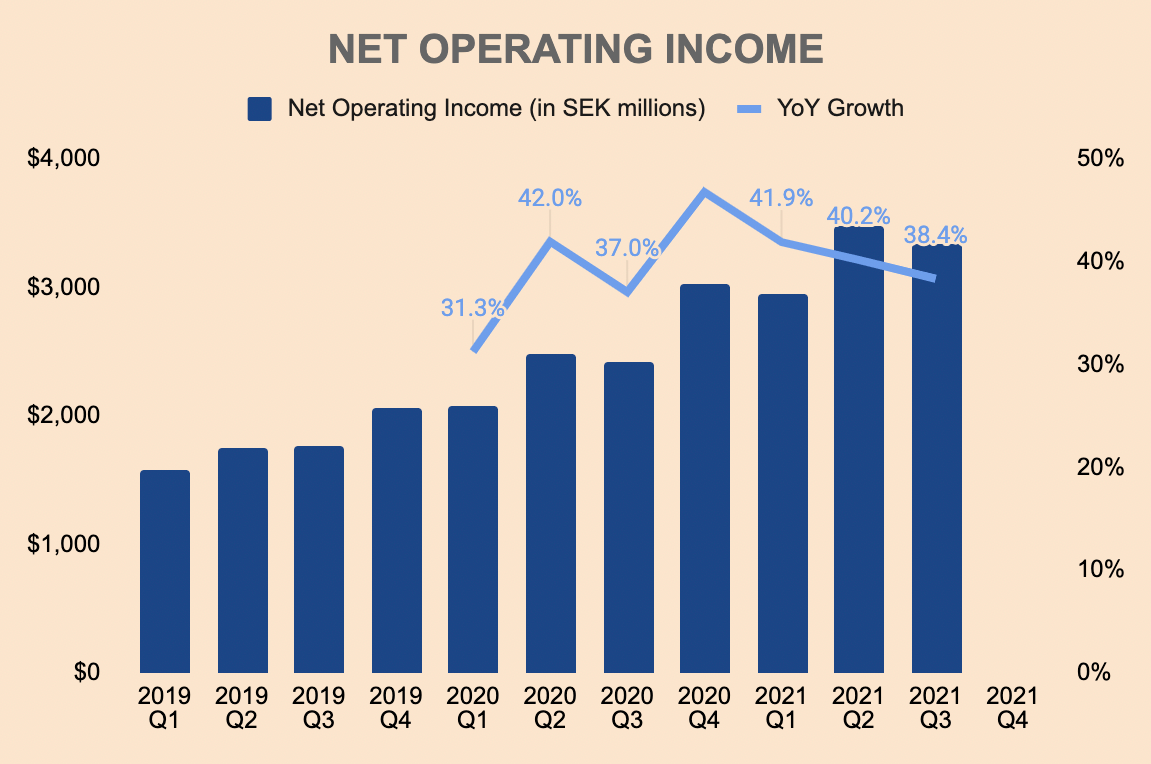 Growth may have been fueled by Klarna's raging acquisition spree. Since 2011, Klarna has acquired a total of 17 companies, with 6 companies acquired in 2021 alone.
Analyzd (2011)

Sofort (2013)

Cookie Labs (2016)

BillPay (2017)

ShopCo (2018)

Close Brothers Retail Finance (2019)

Spring Marketplace (2020)

Moneymour (2020)

Nuji (2020)

Woila (2020)

Search Engine Marketing Sweden (2020)

Toplooks AI (2021)

HERO (2021)

APPRL Fashion (2021)

Stocard (2021)

Inspirock (2021)

PriceRunner (2021)
Klarna's acquisition pattern shows that the company is not only focused on BNPL but the entire e-commerce experience for consumers and merchants. However, such an aggressive acquisition strategy may bring forth unwanted problems, such as cultural conflicts, loss of motivation within the acquired companies, additional silos, complex organizational structure, and less-than-ideal revenue and cost synergies. Furthermore, acquiring companies at such a pace may demonstrate that Klarna lacks the ability to develop proprietary technology internally.
Aside from acquisitions, Klarna has also been geographically expanding aggressively. Klarna has entered 5 new markets in 2021 alone, bringing the total operating markets to 20 countries.
While Klarna has shown strength in growth, the company is dealing with massive losses — Klarna was profitable in the first 14 years of operations, but turned unprofitable in the last two years. Here's a snapshot of Klarna's operating losses.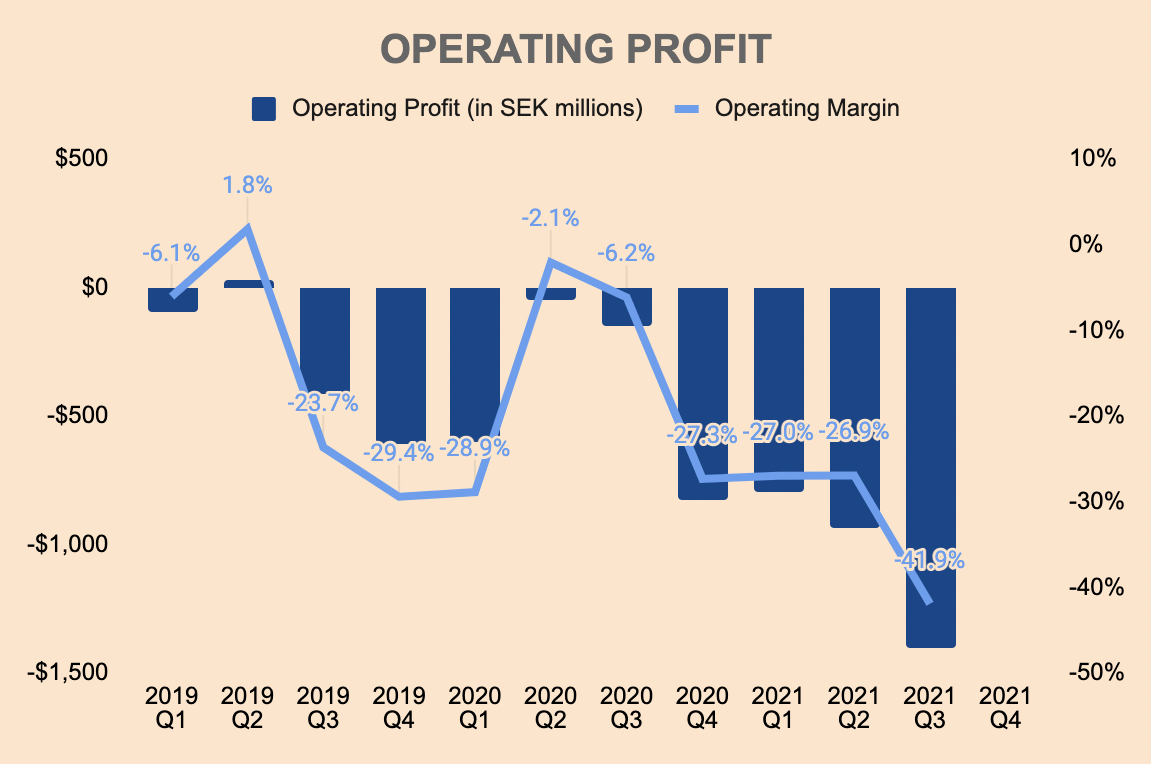 To summarize, Klarna is the biggest BNPL provider in the world, far greater than both Affirm and Afterpay. Based on Klarna's acquisition spree, the company is aggressively reaching SuperApp status. Given Klarna's size and diversity of service offerings, Klarna seemed to be better positioned to be a SuperApp, especially in its core markets of Germany and Sweden. However, its out-of-control acquisitions may be a symptom of an underlying issue: its ability to develop proprietary technology internally. This may put Klarna at a disadvantage against peers.
Other Risks
Aside from competition, another major risk is Affirm losing major partners such as Amazon, Shopify, and Apple (AAPL). Affirm's bull thesis is largely supported by these partnerships, and therefore, a loss of one or several major partners will be a significant blow to the company.
Customer concentration risks may also have a material impact on Affirm's performance. For example, Peloton makes up 20% of revenue in FY2021. As we have discussed above, Peloton's struggle has led to lagging Merchant Network Revenue for Affirm.
Another area to keep in mind is the increasing financial leverage/debt that Affirm is building on its balance sheet. The increasing adoption of BNPL among consumers and merchants pushed Affirm to increase its funding capacity to support customer transactions. A higher debt balance means higher debt servicing costs. Furthermore, Affirm is still unprofitable.
9 Competitive Moats
The table below shows some of the comparable metrics among the three BNPL players discussed over the last few sections.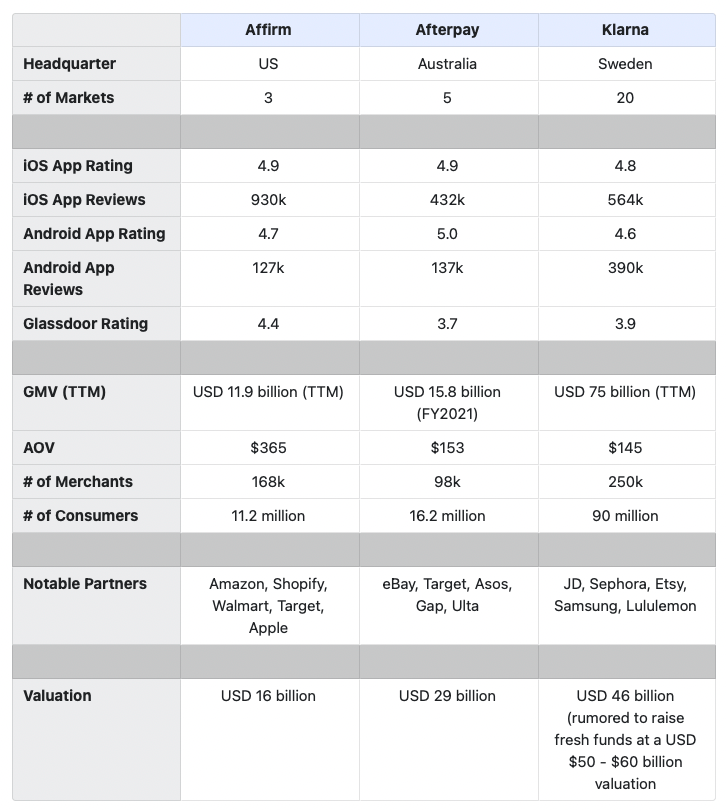 While product offerings are quite similar, there are certain areas in which Affirm dominates (in the context of competing in the US). Below are some of the competitive moats that Affirm has over peers.
Brand
Affirm is the first BNPL player to emerge in the US. The company was established in 2012 and has since become the household brand for BNPL. It also never charges customers hidden fees or late fees, which amplifies its brand position as it conducts business in a fair, transparent, and honest manner, which should consequently win over customers in the long run. While being the smallest of the three, Affirm returned the most number of app reviews with app ratings performing in line with peers. In addition, Affirm has a high Net Promoter Score of 78+, a testament to how much consumers love its products and services. Legacy banks and credit card networks, on the other hand, have not produced Net Promoter Scores of that caliber.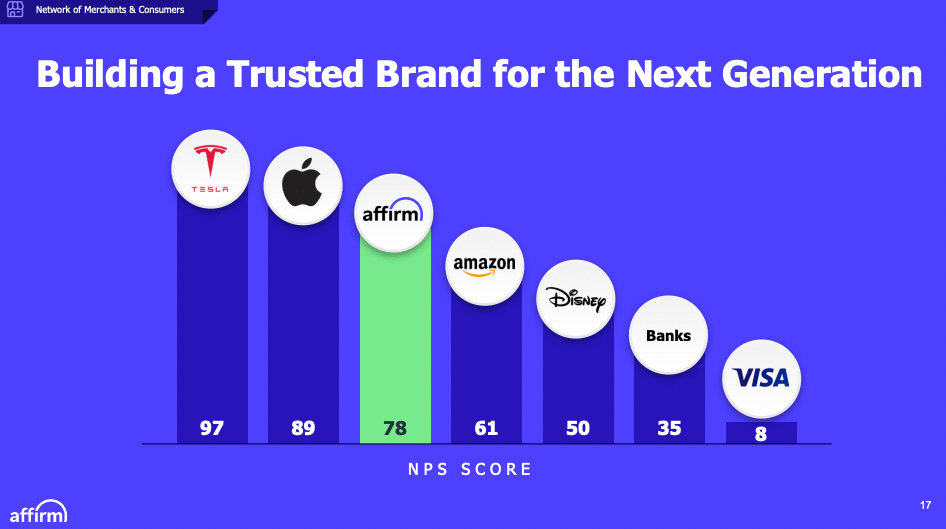 Proprietary Technology
As a result of having first-mover advantage in the US, Affirm has a more powerful AI/ML algorithm and risk modeling technology as the company had a head-start in collecting more transaction data in the US than its competitors. Bears may argue that Klarna and Afterpay are much more "data-rich" given their successes in Europe and APAC. However, Affirm has first-mover advantage in the US, where customer demographics, consumer behaviors, merchant business practices, credit underwriting, and banking systems are much different than that of other nations, which may mean that the strategies that Afterpay and Klarna deployed in their home grounds may not be as successful when applied in the US. Copy and pasting strategies are unlikely a guaranteed success for Afterpay and Klarna.
Affirm CEO Max Levchin also shared a snippet of Affirm's underwriting advantage during its Q2 earnings call (emphasis author's):
Affirm's underwriting advantage begins before any of our models are interrogated for a decision with our product design. Because Affirm is predominantly offered at the point of sale, we have a natural opportunity to explain our value and transparent approach to the consumer. As a result, we avoid much of the adverse selection that often comes with traditional lending. Coupled with the SKU level data we receive from our partners, our models tend to split the risk far better than those used in traditional consumer loans.

Another fundamental structural advantage Affirm has, is its total separability of transactions. Unlike providers of lines of credit, we underwrite transactions individually modeling a consumer's ability to pay us back, as well as their propensity to do so. This notion of separability is also recursive a consequence of our product because repayment schedules are highly predictable our models operate at an individual installment level. This separability is a powerful tool for modeling as well as managing risk. We're able to deliver a reliable forward-looking picture of both consumers and our own cash flow.

Our proprietary network of directly integrated merchants as well as other sources of non-traditional underwriting data offers us a significant raw data advantage into feature engineering. We maintain a library of over 500 features that we select from as we create new models or update existing ones, while continuously looking for and eliminating any potential for disparate impact in our decisioning both at individual variable and model levels. We train our models using academically well-understood and boosting technique with significant proprietary modifications we've invented that help us improve results. Because from the very beginning, we focused equally on consumer and merchant information, we ended up with a large number of models that are specific to our products and merchants who use them. Moreover, as we launch new products with new and existing partners, we acquire new types of data that we incorporate into the models and over time give incremental weight too.

Underwriting models decay over time, as macroeconomic conditions and consumer behaviors change. Even the very best performing ones can lose a few percentage points of their area under the curve every few months. Over the years, we've built special-purpose models that track model decay, the machine learning equivalent of a canary in the coal mine. Our proprietary software and processes allow us to rapidly retrain, retest and redeploy models where the performance has deteriorated in a matter of days.
Unit Economics
Affirm dominates the upmarket characterized by high-AOV transactions. Affirm reported an AOV of $365 while Afterpay and Klarna have AOVs of around $150 each. The whole point of BNPL is to give consumers purchasing power and to forgive merchants any credit risks, and therefore, the higher the AOV, the more likely consumers will use BNPL to finance their purchases, which in turn, translates to higher revenue per transaction for the BNPL provider.
According to McKinsey, industries with higher margins are more likely to subsidize point-of-sale financing solutions. In other words, merchants with high-AOVs are more willing to pay higher MDR fees to help them acquire customers and therefore, generate sales. As such, Affirm is able to generate superior economics per transaction, while Afterpay and Klarna battle over lower-margin, lower-AOV transactions.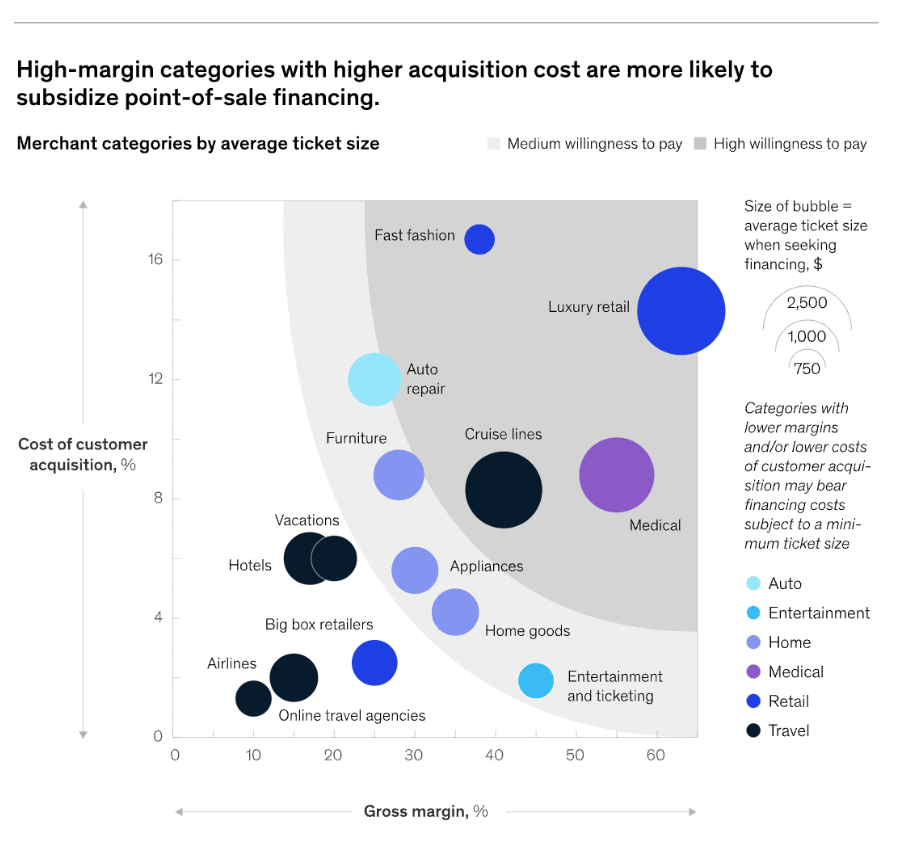 Furthermore, Affirm has the privilege to collect invaluable data on higher-risk, higher-AOV transactions, which enhances the company's AI/ML capabilities and makes its technology smarter as a whole. This gives Affirm the potential to expand to industries with much higher transaction values, well beyond its current $17,500 borrowing limit, such as home loans, student loans, and auto loans.
Network Effects
Affirm's strong brand and proven technology are also the main reasons why giants like Walmart (WMT), Shopify, and Amazon partner with Affirm. These are monopoly-like businesses with an insurmountable amount of financial resources. They could have built their own BNPL offering, but instead, they chose to integrate Affirm into their checkout pages. This further confirms Affirm's technology moat.
As for Affirm, the company is well-positioned to benefit from powerful network effects that will further reinforce its platform. Here are some things to keep in mind:
Amazon — As of FY2022 Q1, Affirm formed a partnership with Amazon by offering Amazon customers the ability to choose BNPL as a payment option for orders of $50 or more. Affirm will also be integrated with Amazon Pay's digital wallet. To put into context how significant the deal is, Amazon has over 200 million Prime members, $500 billion of GMV, and a 40% e-commerce market share.

Shopify — According to Backlinko, Shopify has 870k+ merchants in the US, 2.6 million live stores in the US, and more than 450 million buyers. As of FY 2021 Q3, Shopify generated $400 billion of cumulative GMV.

Apple — Apple is experimenting with BNPL in Canada through its partnership with Affirm's PayBright. If Apple expands its Affirm partnership to the US, Affirm will benefit meaningfully from Apple's cult-like following. In FY2021, Apple generated $366 billion of net revenue.
In terms of Affirm's partnership base as a whole, the company addresses approximately 60% of U.S. e-commerce. Since these partnerships are still in their early stages, continued development in these relationships will serve as a strong catalyst for Affirm as it gains exponential brand awareness, product adoption, and network growth. Partnering with other industry leaders such as Ikea (already experimenting in Indonesia through Kredivo) or Airbnb will further bolster Affirm's growth.
Moats Summary
While Affirm lacks an international presence, it has durable competitive advantages in the US. First, Affirm has a strong brand loved by consumers and merchants. Second, it has proprietary technology years ahead of competitors. Third, Affirm stands to benefit from exclusive network effects from the largest companies in the world. Not to mention, Affirm has a strong culture as demonstrated by its high Glassdoor rating of 4.4, led by the visionary leader Max Levchin.
10 Valuation
Since Affirm is still unprofitable, I will be using EV/Gross Profit multiples as the basis of my valuation analysis. I have also included several peer fintech companies as a comparison. As you can see, Affirm is the most expensive among peers, trading at an EV/Gross Profit multiple of 25x. However, this is quite reasonable given Affirm's accelerating growth metrics and potential.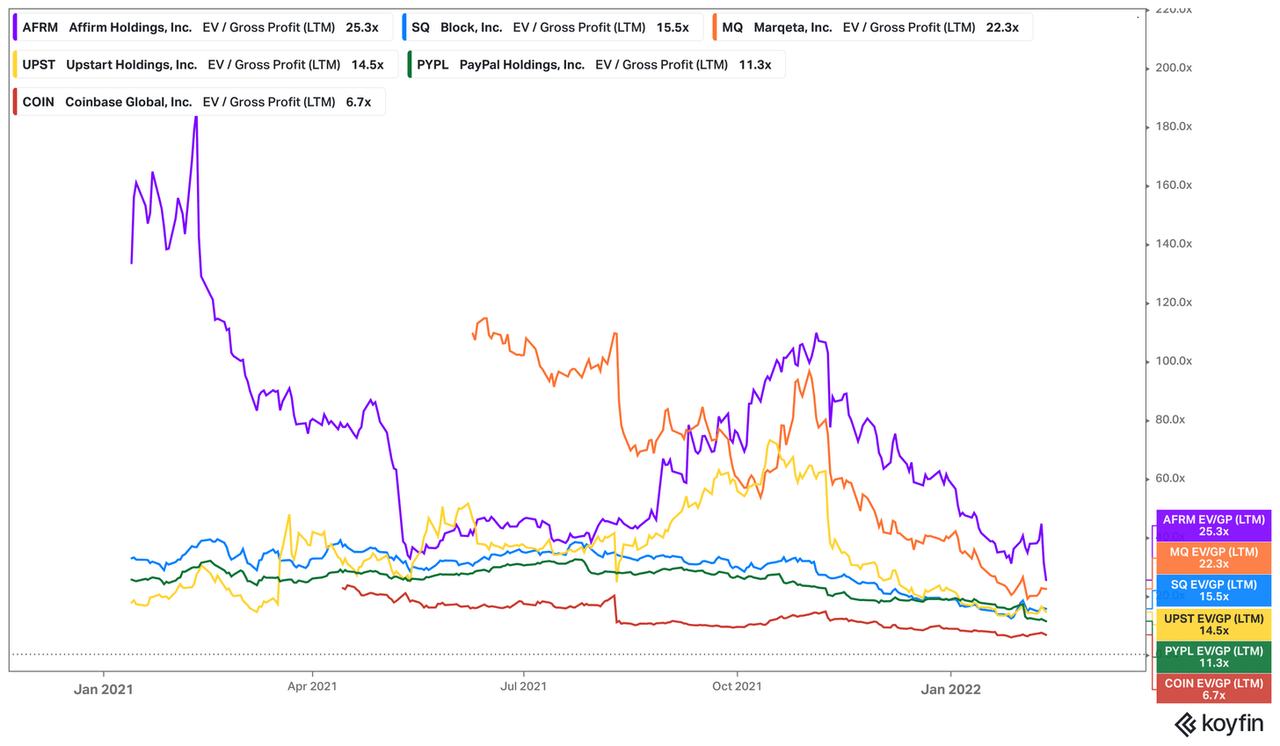 Also of important note, Affirm's price action may be correlated with that of major partners. If partners do poorly or report underwhelming financial performance, Affirm's stock may also be affected.
In terms of EV/Sales, Affirm trades at 13x and 9x on an LTM and NTM basis, respectively. Not cheap by any means, but quite reasonable after the recent sell-off.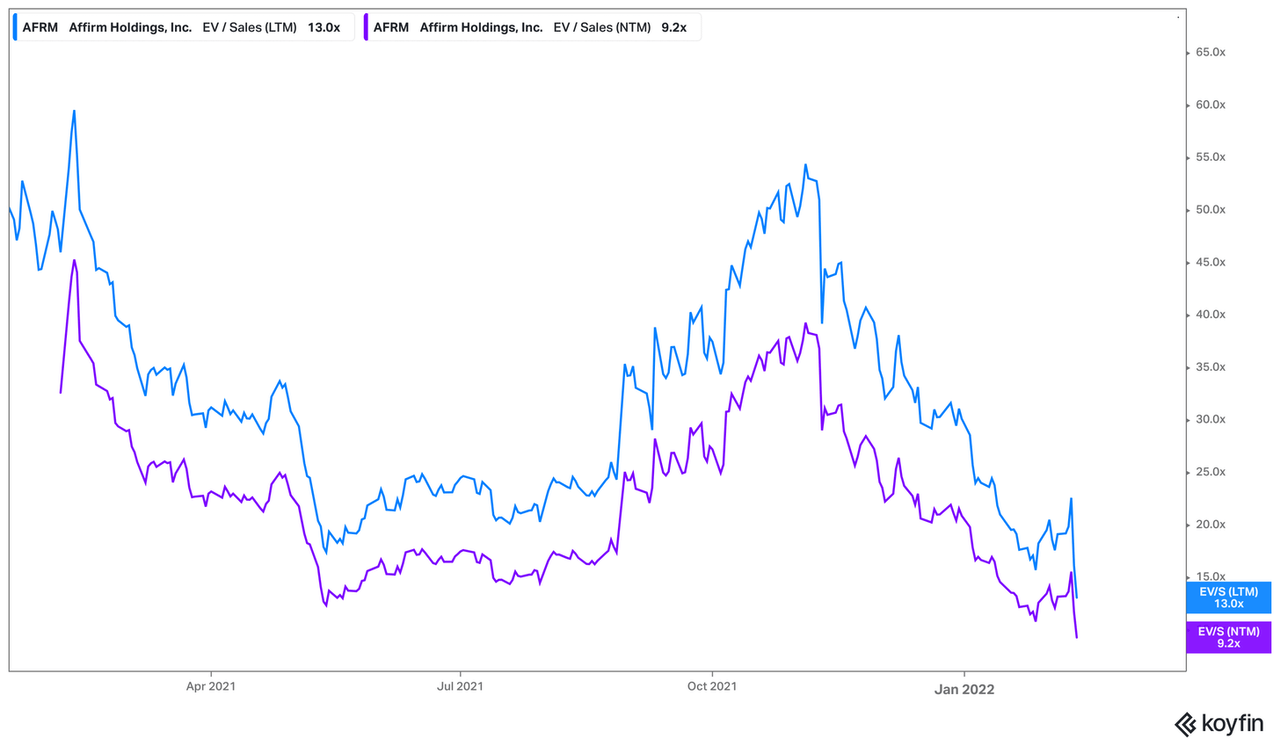 Although it is now trading close to its historical lows, Affirm's valuation remains elevated. This is another risk that investors should consider.
11 Conclusion
BNPL is still in the early stages of adoption, especially in the US. If marketed cleverly, BNPL may also have the potential to disrupt the half-a-century-old credit card industry by creating a two-sided payment network. The appeal for consumers is the ease and simplicity of borrowing money while merchants benefit from increased sales, AOVs, and customers.
While BNPL is Affirm's core product, the company has tons of optionality in the financial space, as seen from the launch of its SuperApp. Crypto investing and the Debit+ card are currently under pilot modes and should attract more transactions and users to Affirm's platform when they are fully rolled out. Other future potential products include stock investing, insurance, healthcare, home loans, auto loans, and more.
At the same time, Affirm has little to no international presence, which gives additional headroom in terms of growth.
Affirm's main risk is competition, namely Afterpay and Klarna. While these two companies dominated in their home grounds, it wouldn't be that easy for them to take the throne from Affirm. Affirm's first-mover advantage has enabled the company to establish a strong brand presence in the US as well as a head-start in building a data and technological advantage in the US. Furthermore, powerful network effects are set to supercharge growth as the company ramps up its partnership with the largest companies in the world.
Thank you for reading my first company deep dive. If you enjoyed the article, please let me know in the comment section down below. If you have any suggestions or feedback, don't hesitate to share your thoughts as well.