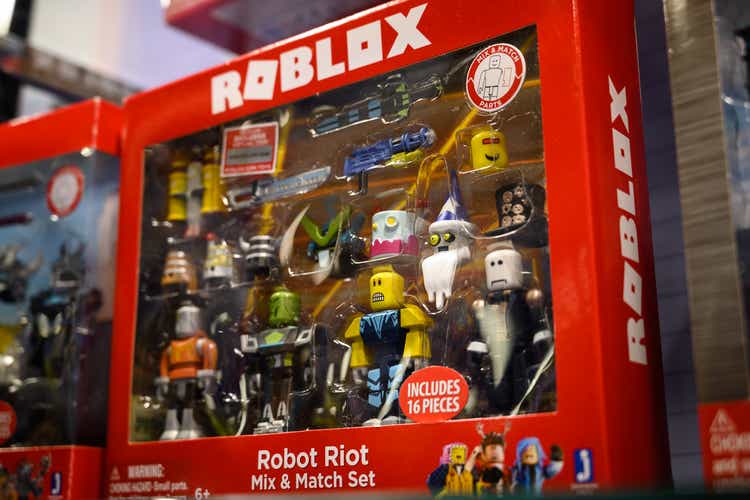 Investment Thesis
Given the current excitement for the Metaverse, Roblox Corporation (NYSE:RBLX) has been one of the most commonly mentioned companies, touted as "a new platform for the digital age" by investment firm Jefferies. RBLX is arguably the leading example of how the Metaverse has already existed in the current Web 2.0 world. As an online platform that allows its users to play games developed by other users, RBLX exemplifies the future of decentralized games and Metaverse. Its popularity has propelled the Daily Active Users (DAU) growth from 10.3M in 2018 to 45.5M in 2021, based on its latest earnings discussion in FQ4'21. RBLX also brought in massive revenues of $1.91B in FY2021, representing an increase of 207% YoY.
The global gaming market is expected to grow from $203.12B in 2020 to $545.98B by 2028, at a CAGR of 13.2%. We expect similar blockbuster growth for RBLX moving forward, as the market leader in the Metaverse gaming industry. In addition, as the Metaverse expands, we expect more to invest in RBLX, such as NIKE (NKE), given that Bernstein estimates a $2T market value for its relevant market and merchandise.
RBLX Reported Record-Breaking Revenues In FY2021
In the past three years, RBLX recorded massive revenue growth at a CAGR of 77.53%. For FY2021, the company reported $1.91B of revenues and $558M of Free Cash Flow, representing impressive increases of 207% and 32.7% YoY, respectively. The massive growth in its revenues can be mainly attributed to the increase in its bookings, from $1.86B in FY2020 to $2.7B in FY2021, representing YoY growth of 45%. In addition, Daily Active Users (DAU) for FY2021 were at 45.5M and Hours Engaged at 41.4B, representing excellent increases of 40% and 35% YoY, respectively. Despite the reopening cadence post-COVID-19 lockdowns, RBLX reported excellent performance for January 2022 with a 66% YoY growth for revenues at $206M, 32% for DAUs at 54.7M, and 26% for hours engaged at 4.2B.
Successfully Aging Up Of Its Younger User Base
In RBLX's recent earnings release for FQ4'21, the company reported that 51.7% of its users are made of those aged 13 and above. It is a definite improvement from FQ2'21, when those younger than 13 years old outnumber the teenagers. In addition, RBLX reported during the previous Investor Day in November 2021, that 30% of its users are at least 17 years old, with more than 14% aged 25 and above. Furthermore, as for FQ3'21, RBLX reported that those aged 17 to 24 were "the fastest-growing age demographic on Roblox," which directly corresponds to the games that RBLX developers curated as well. In FQ3'21, approximately 28% of its developers catered to the mid and late teens age group, compared to only 10% in FQ3'20.
It is evident that those aged 13 and over have started to spend more time in RBLX's platform since FQ2'21. As of FQ4'21, RBLX's older user group accounted for around 52.7% of Hours Engaged, compared to 48.9% in FQ1'21. As a result, it is evident that RBLX has successfully developed together with its maturing user base. It is inherently important that RBLX capture this specific group of late teenagers as the older demographic will likely have more cash to buy Robux than the pre- or mid-teens who had to rely on their parents. In addition, these are the same teens who will also embrace the better-developed Metaverse or maybe the second iteration of Roblox in the future. As a result, capturing this set of audiences is critical to RBLX's relevance and revenue growth moving forward.
In addition, we expect a further expansion of RBLX's older user base given its recent $10M investment in November 2021. The company invested in its own educational games through its Roblox Community Fund (RCF). These will target the middle-school, high-school, and college students, in the range of age 11 to 22. As a result, it is evident that RBLX's strategic move aims to achieve multiple objectives; such as the aging up of its platform to retain its massive younger user base, attracting the older students in college, while also expanding into the new educational segment. The game-based learning market is expected to grow from $11B in 2021 to $29.7B in 2026, at a CAGR of 21.9%. The classroom-based segment represents a massive untapped potential that allows a smooth transition of its existing user base as they grow older.
These new games are slated to be released in 2022, with themes ranging from:
robotics based on RoboCo, with competitive virtual tournaments similar to eSports. It will be developed by the non-profit robotics community FIRST and educational game developer Filament Games.
space exploration, developed by the Museum of Science.
STEM-based learning experiences through computer science, engineering & biomedicine, developed by non-profit Project Lead the Way.
It is evident that RBLX had learned from its experiences in China, where they previously offer similar educational games in its Chinese localized app, LuoBuLeSi:
Computer Coding Skills.
Educational Game Development Training Camp.
STEM Education (Science, Technology, Engineering, and Mathematics).
However, RBLX took down its app from the Chinese app stores in December 2021 and announced new "rebuilding efforts" in January 2022 in order to deliver a "compelling metaverse experience ... in the next version of LuoBuLeSi."
Despite its lackluster performance in China, RBLX seemed highly optimistic in these STEM-focused games for the rest of the world. It marked the first time that the company actually invested in the development of games for its own platform. Through its education-focused non-profit networks, the company also aimed to drive widespread adoption in US schools. According to the Census Bureau in 2020, there are over 30M students between the ages of 11 to 22 in the US, representing almost 3 fold of its existing DAU from the US and Canada region. Assuming robust engagement moving forward, we may expect a massive spillover effect as these users continue to use RBLX's platform beyond the boundaries of their classrooms. As a result, we are confident in RBLX's capabilities in expanding its user age group as the company captures more audiences moving forward.
So, Is RBLX Stock A Buy?
RBLX Projected Bookings
Consensus estimates that RBLX will report bookings of $3.34B for FY2022, representing a remarkable YoY growth of 23.7%. RBLX is also trading attractively at an EV/NTM Revenue of 12.88x, lower than its historical mean of 16.71x. Given its reasonable valuation and future growth, the stock is also rated as a strong buy by consensus estimates. Due to the recent moderation since the spike in November 2021, RBLX is also trading at a fair value of $73.3. As a result, interested investors may use this opportunity to add more to their portfolios.
Concerns have been raised on the safety of the RBLX platform, given the recent news on sexual content and child pornography. However, we are confident of the company's capability in improving its review system with "a combination of human moderation and state-of-the-art automated machine learning technology." Furthermore, these issues are not unique to RBLX, with other users reporting similar experiences in Horizon Worlds, which was created by Meta. Improvements have been made, and we expect RBLX to follow through to ensure widespread and safe adoption of its platform moving forward. After all, its success hinges on it.
As a result, we rate RBLX stock as a Buy.