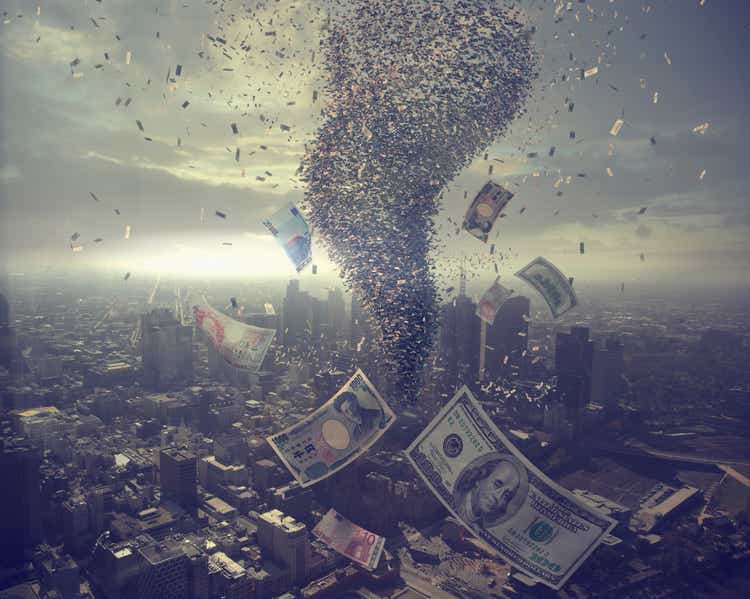 The markets remain in turmoil in 2022. As if waking up from a dream or a trance, investors came back from the new year holidays and finally realized what seemed obvious earlier in 2021: inflation is picking up the pace and the Federal Reserve will have to tighten monetary policy soon. Adding to the wall of worries is the current crisis in Eastern Europe.
Given the uncertainties, some may be tempted to own the ProShares VIX Short-Term Futures ETF (BATS:VIXY), which I upgraded to neutral from bearish in November of last year. Today, I talk about two reasons why investors might want to do so, and counter them with one reason why it could be a bad idea.
VIXY: quick recap
I have talked about VIXY a few times in the past, and I suggest readers go back to those articles for a more in-depth review of the ProShares VIX Short-Term Futures ETF. At a high level, VIXY is a fund that allows traders and investors to be long volatility and is often used as (1) a trading instrument for short-term bets or (2) part of a hedging strategy.
VIXY "does its magic" by going long VIX future contracts at the shorter end of the curve and rolling over the position every few weeks. For example: today, VIXY holds 100% of its assets in cash while being long the February and March 2022 VIX contracts.
On the plus side, VIXY is large and very liquid, and offers plenty of entry and exit opportunities every day. On the other hand, the expense ratio of 85 bps is quite steep for a fund that effectively holds only two positions at a time, in addition to cash. Also, always keep in mind that VIXY is designed to be a long-term money pit due to what is known as negative roll yield (see chart below, in log scale).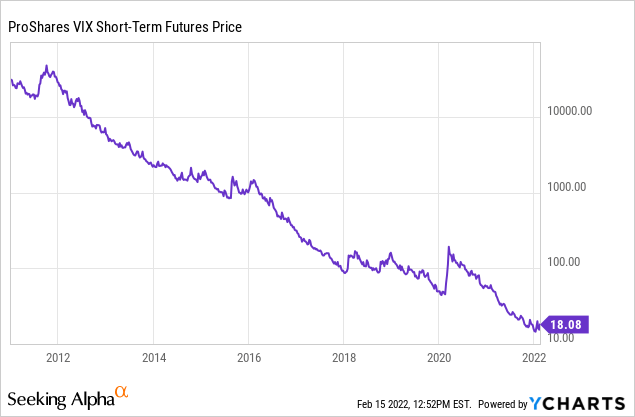 #1. Peace of mind
The first reason to own VIXY today is simple: a better night of sleep. It is true that blending VIXY with an S&P 500 fund (SPY) will likely drag the performance of the portfolio when stocks rise or even move sideways. But otherwise, an investor that owns at least "a splash of VIXY" will likely not feel too bad next time that the S&P 500 takes it on the nose. As a reminder, the equities index has had daily losses of 1% or more ten times this year so far, or 33% of the trading days vs. only 10% historically.
Since VIXY's 2011 inception, setting up a 90/10 portfolio of SPY and the volatility ETF has produced market-beating risk-adjusted returns (more on this below). But even smaller quantities of VIXY in the portfolio, like 95/5, may be enough to smooth out what would otherwise be uncomfortable drawdowns.
The chart below shows a 95/5 portfolio in blue, rebalanced quarterly, and the S&P 500 in red through the past decade or so (log scale). Using month-end price points, notice how the former has endured substantially less-damaging drawdowns during times of market distress. This is what a better night of sleep may look like to many investors.
#2. Better risk-adjusted returns
I hinted at the second reason to own VIXY above. Historically, at least since the inception of the VIX ETF, blending VIXY and SPY together has produced substantially better risk-adjusted returns. This may be surprising to many investors. And the outperformance has not been immaterial, mind you.
The table below shows a 90/10 portfolio of SPY and VIXY, rebalanced quarterly, and compares the performance of the strategy to that of the S&P 500. Notice the difference in Sortino ratio, which is a measure of performance relative to downside volatility: the blended portfolio would have been significantly more efficient at producing gains than the stock benchmark has since 2011.
Yes, the 90/10's annual returns of 9.8% would have also been substantially lower than the S&P 500's 13.9% gains. But growth investors who are sophisticated enough could have still produced better absolute performance by investing in leveraged S&P 500 funds. For instance, the ProShares Ultra S&P500 (SSO) can potentially be used alongside VIXY to produce better (1) absolute returns, (2) better risk-adjusted returns and (3) tamer drawdowns than SPY.
#3. Buy when not needed
If VIXY is so useful in portfolio construction as described above, why not buy it today? The answer: now is probably a couple of months too late to get the most benefit of owning the ETF.
One should think about buying homeowners insurance before the house catches fire. Because VIXY can be thought about very much like an insurance policy against declines in the S&P 500, the same rationale applies here. In fact, buying VIXY when the markets seemed much calmer than normal was a key reason why I upgraded the ETF late in 2021.
The VIX (not VIXY, but the "fear index" itself) currently sits at around 26, after having breached 30 intraday on February 14. Historically, (1) the index's average has been around 18, and (2) the VIX tends to revert to the mean like clockwork. That is to say: going long the fear index when it is above average often produces losses, while doing the opposite offers better odds at producing gains.
In summary
I remain neutral VIXY for two opposing reasons: (1) over time, the value of the ETF tends to decline and cause a drag to a portfolio's returns, more so when shares are bought at above-average VIX values; but (2) methodically using VIXY in portfolio construction has historically produced market-beating performance, once adjusted for risk.
I own VIXY because, in building my investment strategy, I think in terms of many years and even decades. However, with a bit shorter-term time horizon in mind, I recognize that now may not be the ideal time to set up a position.