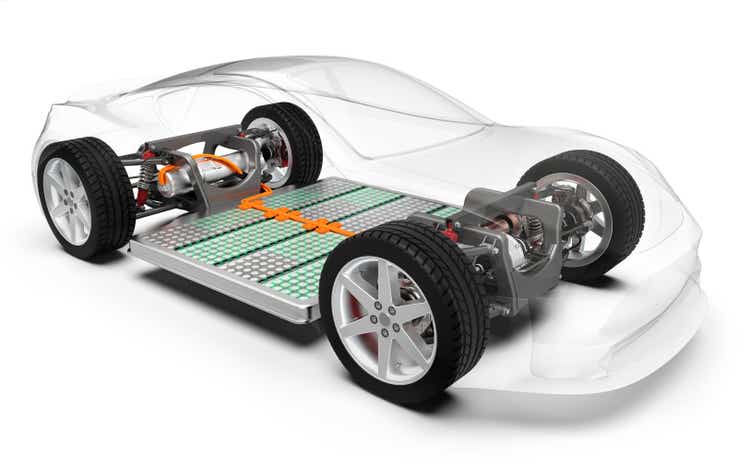 I didn't buy the story then
I had a look at Aqua Metals (NASDAQ: NASDAQ:AQMS) just under a year ago here. My end point was that I just didn't believe the story they were telling.
Recycling lead acid batteries, yes, that works - or can work. Yes, hydrometallurgy rather than pyrometallurgy, that can work. There are specific reasons why it work better for lead than some other metals - the pollution worries. The components of the story were all there. The details of them simply did not convince me.
Aqua Metals is down 82% since then which might be seen as at least something of a vindication of my view. Or maybe I just got lucky, who knows.
So, today?
Well, it's always possible that something that isn't convincing or risk worth at one price becomes so at some other, lower, one. And 82% down certainly reduces the belief we need in the story being told. The question is, well, do I believe the story now? Or at least, is there enough room from this price for the story to work?
What worries me
Looking back over Aqua Metals releases over this past year there are several points which make me think no, I still don't believe. Note that this is very little to do with their numbers. It is, if you prefer, more a taste. A listening to the stories and not quite hearing what I think I should be.
Just for background no, I've never worked in lead nor lithium. I have done some work in recycling and scrap metal. I've done a lot of work with very weird metals. I have had many interesting experiences with claims of this and that about metals.
One thing - lithium
OK, yes, we can see at least a part of this story. Lead batteries, lithium batteries, why not recycle both of them? As I've mentioned before around here you need to have a collection network, both types of batteries will likely be collected by the same network (garages mainly). OK, two processes working on the one site enjoying the double feed of incoming scrap. Yes, we can see that.
Except that's not what Aqua Metals has been telling us. They've not been telling us about their investments in such a collection network at all. Rather, the emphasis has been on the excellence of their lead refining process.
Well, OK, excellence in lead refining. As I said before I didn't really believe that claim of excellence but let's, just here, take them at their word. Excellence in lead refining has nothing - and I do mean nothing, not one iota or scintilla - to do with excellence at lithium battery refining. It's just not the same chemistry, not the same process, excellence at one aids in the other not at all.
Sure, Aqua say they've bought in, alongside Comstock, exactly that wondrous new Li refining technique. But, you know, two - entirely different - world beating refining techniques like that in the same company? Not really encouraging my tastebuds to pass this taste test.
The Second Thing
As I've said above I've a lot of experience with the weirder end of the metals business. This next piece is going to sound entirely trivial. Absurd even. But if someone said this to me in a meeting - a physical one, in the same room - I'd laugh and get up and walk out.
August of 2021, we did complete our third generation Aqualyzer which we're able to rapidly iterate focused on innovation through the past year of 2020, which now triples the throughput over the first generation where we made those 35,000 ingots up to 1296 kilograms per day for Aqualyzer amongst many other improvements that allowed a part to be monitorable with our Pure Metrics software suite as well as additional electrical efficiencies and capabilities of that equipment.
1296 kg? Of lead? Sorry, but that's the wrong unit. Sure, gold we talk about troy ounces. Steel thousands of tonnes (or for Americans, thousands of tons perhaps). Germanium we play with kilos.
Lead? We don't deal with or talk about kilos of lead. It's just not the appropriate unit. But 1,296 sounds like a lot of units, doesn't it? Rather than the correct - to give it a reasonable relative size for the industry we're talking about - a little over a tonne. 1.3 tonnes, or, as we might call it, a tonne.
Lead's about $2,200 a tonne at present. So, here we've got the CEO of the company - yes, I know it's talking, not edited speech but still - telling us of this great news, that they've made $2,500 or so of processed lead. That's product market value. Not gross margin, most certainly not net margin, that's total sales price.
Hey, do this 365/y and there might be as much as $800k revenue!
Nope, sorry, I don't believe; My View
A year back I said that I just didn't believe the story we were being told here. All of the component units of the story could be entirely true but I just didn't think they added up.
Add a year of activity and I believe it all even less I'm afraid. It just doesn't taste right to someone who has been in this metals business. Sorry, but there it is.
The investor view
I'm sure there will be bounces here and there in the Aqua Metals stock price on this or that piece of news. As for the long term I just don't see it going anywhere. Highly opinionated of me but there it is.
I can't see what it is that the company has to offer.