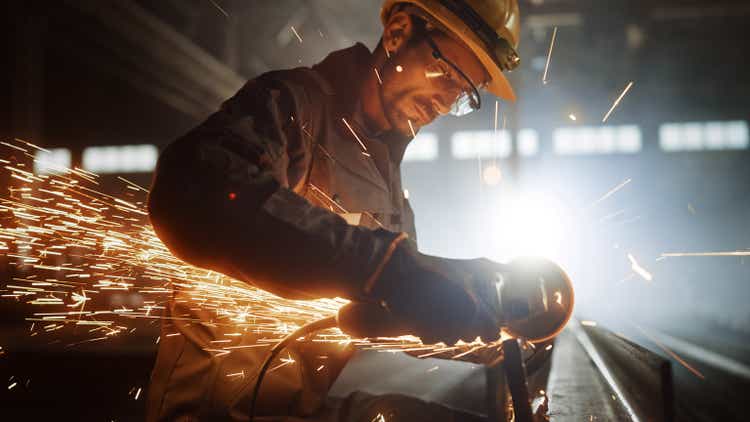 This is a tough time in the cycle for stocks like Kennametal (NYSE:KMT). As I mentioned in my last article on this metalworking tools and components company, these shares are in a group of shorter-cycle industrials (including Gates (GTES), 3M (MMM), and Parker Hannifin (PH)) that tend to underperform when the PMI goes above 60. That happened back in April, and all of these stocks have lagged the broader industrial space since then, with Kennametal being among the weakest of the group.
Still, I wonder if the market has overshot the mark and whether fundamental performance can drive a second look. I am concerned about a slowdown from here in shorter-cycle business, but autos should be recovering from here, aero and energy are just starting their recoveries, and Kennametal's earthworks business should fare well with improving greenfield mining activity and upcoming infrastructure work.
I don't love Kennametal, and I'll discuss why a little later, but the valuation has drifted to a "yes, but …" point where I'm starting to see more opportunities in a stock that the sell-side doesn't like all that much.
Strong Operating Leverage In FQ2, But A Miss Is A Miss
In a quarter where many companies posted surprisingly weak incremental operating leverage (due to supply chain / cost inflation issues), Kennametal was a standout with strong operating leverage. Then again, the company still missed at the operating and net income lines, so that only gets you so far.
Revenue rose about 11% in organic terms, missing by about 2% in a quarter where most industrials have beat. For its quarter, rival Sandvik (OTCPK:SDVKY) posted 12% overall topline growth in its SMS division (the comparable business). Gross margin improved 360bp from the year-ago level (to 31.8%), but did decline about 170bp sequentially. Operating income rose more than 90% on an adjusted basis, but still missed by close to 9%, with weaker results in the Metal Cutting business.
By segment, Metal Cutting revenue rose 7% and Infrastructure rose 18%. Metal Cutting segment income rose 52%, with margin up 270bp to 8.8% (missing by 130bp), while Infrastructure profits rose 172%, with margin up 570bp to 10.1% (a 30bp miss).
Even though results were weaker than expected, I think it's worth calling out the significant margin leverage seen this quarter. On a "core" basis (excluding temporary cost actions), Kennametal posted a 68% incremental margin - 35% to 40% is generally considered good - and I think this speaks at least in part to the efforts and progress management has made in their restructuring/turnaround efforts.
The Near Term Is Messy, But Not All Bad
The simple takeaway from Kennametal's quarter was that it was a miss-and-lower performance. Indeed, management did guide FQ3 revenue down about 5% versus the prior sell-side average estimate, and operating income was guided down about 11% (margin leverage can cut both ways…). That's not good, but I don't think the underlying business conditions are so poor.
General Engineering (a "general industrial" category that is a catch-all of mostly short-cycle end-markets like machine-builders) saw 13% YoY and 2% QoQ growth within Metal Cutting and 17% and 3% growth within Infrastructure. Transport was down 10% YoY and 6% QoQ. Aerospace was up 24% YoY and 6% QoQ, and Earthworks was up 11% YoY and 1% QoQ. Energy was up 7% YoY and 3% QoQ within Metal Cutting and 33% and 1% within Infrastructure. I'll note here that Sandvik reported a "double-digit" decline in its business with auto customers and a 25% improvement in its aerospace business.
Clearly Kennametal is taking a hit from the production challenges at OEM auto and truck builders (the auto market is close to 20% of Kennametal's normalized revenue base), and semiconductor shortages are unlikely to let up in the next quarter, nor let up significantly until later in calendar 2022. Okay. That's a known problem, but I do think we'll see mid-to-high single-digit production growth in calendar 2022 and above-trend growth continuing into 2023 as OEMs catch up.
In Aero and Energy, though, I think the recoveries are just getting started. The bizjet market is healthy now and narrowbody production will start scaling back up later in 2022 and then on into 2023 and 2024 (with widebody production joining in late 2023/2024). Energy is a harder call, particularly with ongoing decarbonization efforts, but there's definitely more activity now as producers look to take advantage of high oil prices here and now. So, I think we're looking at two or three years of better demand here, and these have historically been higher-margin markets for Kennametal.
Earthworks, too, should be looking at some better trends for at least the next 18 months. Greenfield mining activity is picking up (in response to high prices), and the infrastructure bill in the U.S. should drive more demand over the next few years.
That leaves shorter-cycle General Engineering. At 40% this is not a trivial part of the business. I do think we're going to see further slowing, but slowing doesn't mean contraction, and I think demand will still be respectable into/through 2023 relative to pre-pandemic levels.
The Outlook
To be sure, I still have my issues with Kennametal on a longer-term fundamental basis. While the company has been announcing some EV wins and has good leverage to hybrid vehicle production, I'm concerned that the change in materials and tooling needs for EVs will ultimately shrink Kennametal's addressable market (and without much to pick up in areas like batteries). I also have concerns that increased use of near-net forging will reduce tooling demand in the nearish-term (five years), and that additive manufacturing is a longer-term threat.
Still, I'm only looking for low single-digit revenue growth beyond 2026, and overall long-term annualized revenue growth from pre-pandemic levels of less than 1%. I do think the margin improvements can hold, and I'm looking for sustained FCF margins in the low double-digits - more than double what Kennametal has historically managed, and maybe excessively bullish on my part. If they can do it, it will parlay sub-1% revenue growth into double-digit FCF growth.
Running my model assumptions through my valuation process, Kennametal looks priced for a long-term total annualized return in the high single-digits (around 8%), while a forward EBITDA multiple of 11.25x (fair relative to what the market historically pays for similar margins/returns) supports a fair value in the low $40's.
Taking a step back, I also want to consider what I call "quasi-fundamental" factors. Two reliable drivers for stock outperformance are sustained (and sustainable) revenue growth outperformance and margin leverage. Kennametal may have some of the latter now, though I don't know how much future improvement there will be once FCF margins get to double-digits, but I definitely have concerns about the former. So, I do worry that weak long-term core revenue outperformance prospects will limit sentiment.
The Bottom Line
I'll admit being a little flummoxed by Kennametal here. I do still see vulnerability to sentiment on a short-cycle slowdown, and I don't think much of the company's long-term revenue growth prospects. On the other hand, the stock has already been sold down and is screening cheaper. At a minimum, I'd say this is a name worth following more closely now.