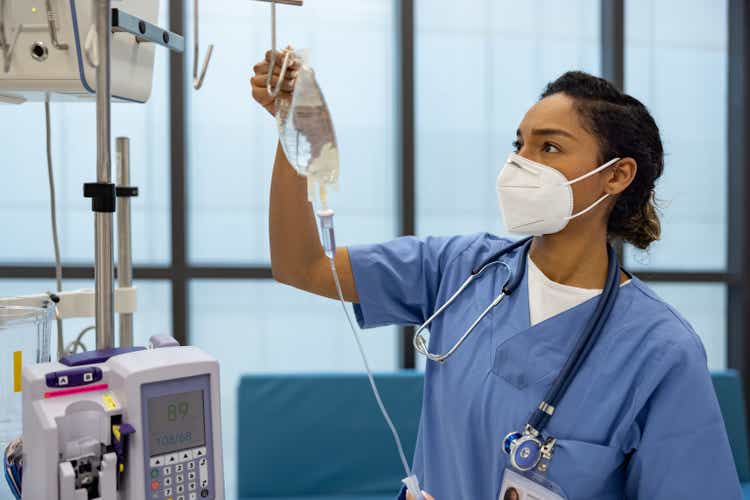 It's been about 40 months since I wrote my bullish piece on Cross Country Healthcare Inc. (NASDAQ:CCRN), and in that time, the shares have returned about 73% against a gain of 61.5% for the S&P 500. It's been a very long time since I've reviewed this name, and I think it deserves some attention. After all, a stock trading at a price of $21.16 is much more risky than the same stock when it's trading at $12.45. I'll decide whether to hang on or not after reviewing the latest financial history here, and after reviewing the stock as a thing distinct from the underlying business. Also, there has been some insider buying activity here that I think is instructive, and might help investors decide what to do.
You're a very busy crowd, dear readers. I imagine you've got experimental aircraft to test fly. You've got symphonies to compose. You've got supermodels to date. You've got sandwiches to eat. Because you're so busy, I fully understand why you wouldn't want to wade through another of my tangled screeds. For that reason, I'm offering a summary of my arguments below in this, the "thesis statement" paragraph. I'm doing this to protect you from the "painishment" that is my writing. You're welcome. I think Cross Country's financial performance was spectacular in 2021. Although I'm not a fan of the dilution, and the increasing debt levels, I really like the way sales and profits grew very nicely during the past three quarters. The problem, as is frequently the case, is the valuation. These shares were trading at a bargain when I bought them, as the young people say "back in the day." They're now trading at a premium price. For that reason, I'm walking away. There is something else here, though. We know that insiders bought at prices ranging from ~$5 to $7 during 2020, and I'd be happy to align myself with them and buy at those prices. Thankfully the options market allows us to sell puts at strike prices that line up approximately with insider buy prices. Understandably, the premia on these deep out of the money puts isn't great, but the trade is the definition of a "win-win" in my view.
Financial Update
I'll focus my analysis on the most recent period, as I think that's far more relevant to investors than revenue growth from 2013 to 2015, for instance. The first nine months of 2021 were excellent in my estimation. Revenue and net income were nicely positive, and a huge improvement over 2020. Specifically, revenue was about 67% higher than the prior period, and net income swung from a loss of about $17.5 million in 2020 to a profit of about $54 million during the first nine months of 2021. Additionally, the performance was much better than the pre-pandemic 2019 also. Revenue was up by ~70%, and net income was about $111 million higher during the first nine months of 2021 as compared to the same period in 2019.
It's not all smiles and sunshine at Cross Country Healthcare, though, dear readers. The share count has increased by 5.4% over the previous period, and the capital structure has deteriorated fairly materially. I'd like to see debt levels decline over the coming years.
None of that disqualifies this investment, obviously, but I think investors would be wise to be aware of the risks inherent in the combination of volatile business, and high debt load. In spite of these problems, I'd be very happy to buy more of the shares at the right price.

The Stock
My regular readers know that we reach the point in the article where I disqualify otherwise interesting companies, because I'm aware of the fact that we don't actually tap into the cash flows of companies directly. We access those cash flows via these things called "stocks", and sometimes stocks seem to be unmoored from anything that's actually happening at the enterprise. Since stocks are governed more by the mood of the crowd, we need to pay attention to them.
I think it's worth noting that a stock can be either a "good" or "bad" investment depending entirely on the price paid for it. I'll use Cross Country as an example to drive this point home. The people who bought this stock in a hungover haze in early January are down about 24% on their investment so far. People who bought three weeks later are up about 17%. It's hopefully not a surprise to you that the company didn't change that much in 21 days, or at least not enough to justify a 41% swing in performance. The delta in returns is nearly entirely a function of the price paid. The investor who bought this stock relatively cheaply did better and that's why I try to avoid overpaying for a stock, and insist on buying cheap.
I measure the cheapness (or not) of a stock in a few ways, ranging from the simple to the more complex. On the simple side, I look at the ratio of price to some measure of economic value like sales, earnings, free cash flow, and the like. Ideally, I want to see a stock trading at a discount to both its own history and the overall market. To refresh your memories, in my previous article, I was very impressed by the fact that Cross Country Health was trading at a price to free cash flow of ~8.5. There's no free cash flow to speak of at the moment, so I'll review the history of price to book. It seems relatively expensive, per the following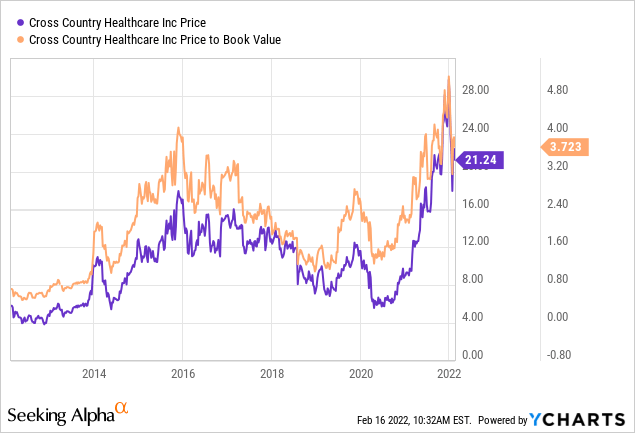 Additionally, price to sales seems to be trading near a 5-year high, per the following: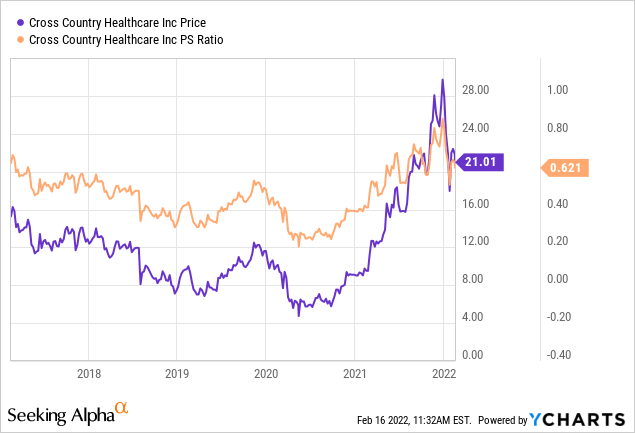 In addition to simple ratios, I want to try to understand what the market is currently "thinking" about Cross Country's future. In order to do this, I turn to the work of Professor Stephen Penman and his tome "Accounting for Value." In this book, Penman walks investors through how they can apply the magic of high school algebra to a standard finance formula in order to work out what the market's "assuming" about a given company's future growth. This involves isolating the "g" (growth) variable in a fairly standard finance formula. Applying this approach to Cross Country at the moment suggests the market is forecasting a 5.75% growth rate for this business going forward. I consider this to be exceedingly optimistic. Based on the above I'll be selling my shares here.
Insider Buy Activity
Since insiders obviously have a greater understanding of the inner workings of a given business than any of the rest of us can hope to have, I think it's prudent to pay attention to what they do. With that in mind, I think it's worth pointing out that insiders put their own capital to work at a fairly massive scale from March to September of 2020, when the shares were trading from ~$4.60 to $7.65. Since insiders were comfortable putting their own capital to work at those prices, I think we'd be wise to follow suit. We now have two choices. We can either wait for the shares to drop in price to levels where insiders bought aggressively (BORING!). Obviously the shares may not drop to these levels again for a very long time. Alternatively, we can make some money by selling put options that line up with these "insider buy prices." That's the path I've chosen.
Options As An Alternative
If you weren't aware of the fact that I'll take almost any opportunity to sell put options, you're about to be. Although I'm selling my shares at current levels, I'm certainly willing to buy back in at the same prices insiders bought at. Put options offer me that potential opportunity. Either the share price remains above my strike price, at which point I simply walk away, having added some more premium to the whiskey acquisition fund. That's very acceptable. Failing that, I'll be obliged to buy at prices that the smart money (i.e. insiders) likes. That's also very acceptable.
In terms of specifics, my preferred short put trade here is the September puts with a strike of $7.5. These are currently bid at $0.10. I know. A yield of 1.3% for seven months isn't that generous. I get it, but consider that the strike price is fully 65% out of the money. Also consider the fact that $7.50 is a great price to pay for this stock, as it's very close to what insiders bought at. I think there's a non-economic value that put options offer that I rarely write about. In the event this stock drops to $7.50 per share, and I wasn't locked in via put options, I'd talk myself out of buying, and would miss out on the great opportunity that bear markets present to us. I've talked myself out of great bargains in the past, and I think short puts help clarify the mind. So, unless the shares plummet 65% over the next seven months, I'll simply add another couple of hundred dollars to the whiskey acquisition fund.
I hope you're now excited about this trade that either generates a bit of money or locks in insider buy prices, because now I want to indulge in my somewhat sadistic tendency to completely foul the mood by writing about risk. The reality is that every investment comes with risk, and short puts are no exception. We do our best to navigate the world by exchanging one pair of risk-reward trade-offs for another. For example, holding cash presents the risk of erosion of purchasing power via inflation and the reward of preserving capital at times of extreme volatility. The risks of share ownership should be obvious to readers on this forum.
I think the risks of put options are very similar to those associated with a long stock position. If the shares drop in price, the stockholder loses money, and the short put writer may be obliged to buy the stock. Thus, both long stock and short put investors typically want to see higher stock prices.
Puts are distinct from stocks in that some put writers don't want to actually buy the stock - they simply want to collect premia. Such investors care more about maximizing their income and will be less discriminating about which stock they sell puts on. These people don't want to own the underlying security. I like my sleep far too much to play short puts in this way. I'm only willing to sell puts on companies I'm willing to buy at prices I'm willing to pay. For that reason, being exercised isn't the hardship for me that it might be for many other put writers. My advice is that if you are considering this strategy yourself, you would be wise to only ever write puts on companies you'd be happy to own.
In my view, put writers take on risk, but they take on less risk (sometimes significantly less risk) than stock buyers in a critical way. Short put writers generate income simply for taking on the obligation to buy a business that they like at a price that they find attractive. This circumstance is objectively better than simply taking the prevailing market price. This is why I consider the risks of selling puts on a given day to be far lower than the risks associated with simply buying the stock on that day.
I'll conclude this long winded discussion of risks by looking again at the specifics of the trade I'm recommending. If Cross Country Healthcare shares remain above $7.50 over the next seven months, the put option will expire worthless, and I'll pocket the premium. If the shares fall massively in price, I'll be obliged to buy at a price ~65% lower than the current market price. In case I haven't mentioned it enough, this price lines up nicely with the price insiders paid during the scary days of 2020. Since both outcomes are very acceptable in my view, this trade is actually the definition of "risk-reducing." It might be unexpected to end a discussion of risk about the risk reducing potential for this trade. I agree. The world gets unexpected sometimes.
Conclusion
I'm happy with the returns I've made on this one, obviously, but all good things come to an end. I think the valuation suggests that there's more downside than upside from current levels, and I'd rather leave the party while I'm still nicely profitable. I may miss out on some upside from current levels, but I'm very much of the view that protecting capital from loss is the single most important rule to follow. Just because I'm selling my shares doesn't mean I'm fully abandoning this name. I think it's possible to make a little bit of money on puts that have strikes similar to what insiders bought for. Either these expire worthless, or I'm buying back in at a very good price. If you're comfortable with put options, I'd recommend this or a similar trade. If you're not, I'd recommend selling before the "price" falls to more closely line up with "value."