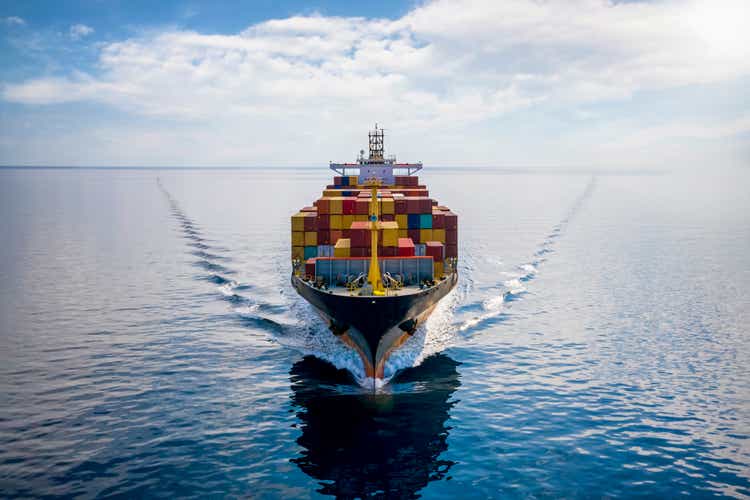 Introduction
SFL Corporation Ltd. (NYSE: NYSE:SFL) released its fourth-quarter and full-year 2021 results on February 16, 2021.
1 - Q4 results snapshot
SFL reported a quarterly income of $0.63 per diluted share compared to a loss of $1.49 per diluted share the same quarter a year ago.
It was a solid quarter. The company's total U.S. GAAP operating revenues on a consolidated basis was $152.061 million in 4Q21, compared to $135.45 million in the previous quarter. This figure is lower than the cash received as it excludes revenues from charter hire, which are not identified as operating revenues under U.S. GAAP.
One crucial element: The company increased its quarterly dividend to $0.20 per share this quarter. The dividend yield is now 8.2%.
Adjusted EBITDA on a consolidated basis was $121.3 million, up from $106.18 million posted the same quarter a year ago.
SFL's business model comprises four distinct segments highlighted in the presentation below. As we can see below, the liners segment (containers and car carriers) is the strongest one.
Its current fleet comprises 74 ships or drilling rigs - wholly or partly owned vessels - with a charter hire in Q4 2021 of 10% on bareboat charter and 90% time charter.
Note: Since 3Q20, the Offshore drilling portion has been withheld. The backlog estimated is above $360 million.
CEO Ole Hjertaker said in the conference call:
Our fixed-rate backlog has increased and stands at approximately $2.8 billion from owned and managed vessels after recent acquisitions and disposals providing continued cash flow visibility going forward. The backlog figure excludes revenues from the vessels traded in the short-term market and also excludes future profit share optionality. In addition, we have excluded charter hire relating to the drilling rigs to be conservative in light of the ongoing financial restructuring in Seadrill.
The company's actual backlog is now $2.8 billion, excluding the offshore drilling segment.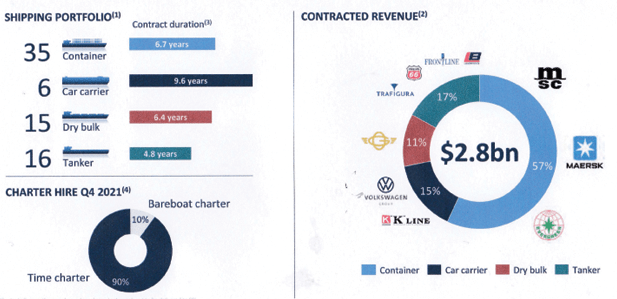 2 - Investment Thesis and stock performance
The shipping industry's outlook is turning increasingly positive with the expectation of a world recovery in 2022. The investment thesis continues to be the same quarter after quarter. I recommend this versatile shipping company as a long-term investment.
This outlook should encourage you to trade the short-term LIFO and accumulate a core position to take advantage of the high dividend, now above 8%.
I compared SFL to two other companies I am following on Seeking Alpha. Teekay Tankers (NYSE:TNK) and Frontline (NYSE:FRO).
The shipping industry did not perform well until early October 2021 but recently turned bullish. SFL jumped significantly today after raising the dividend by 11%. SFL is up 27% on a one-year basis.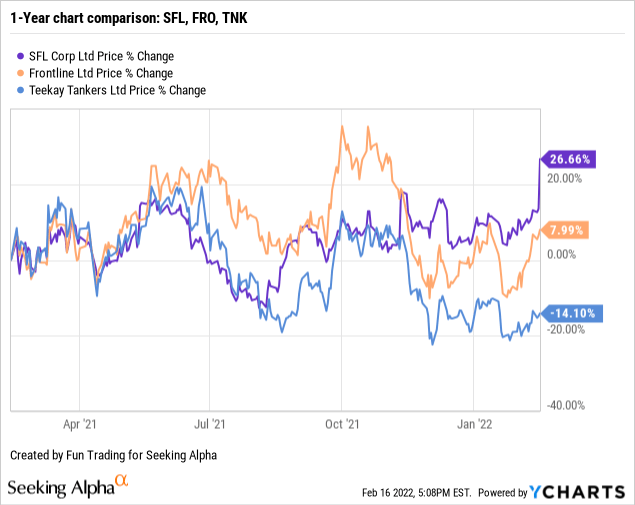 SFL Corp.: The Raw Numbers: Fourth Quarter Of 2021 And Financials History
| | | | | | |
| --- | --- | --- | --- | --- | --- |
| SFL | 4Q20 | 1Q21 | 2Q21 | 3Q21 | 4Q21 |
| Total Revenues in $ Million | 114.91 | 109.13 | 116.76 | 135.45 | 152.06** |
| Net Income in $ Million | -165.23 | 31.48 | 19.53 | 33.21 | 80.12 |
| EBITDA $ Million | -101.62 | 219.51 | 77.47 | 57.88 | 104.42* |
| Adjusted EBITDA in $ Million | 106.18 | 97.72 | 102.72 | 112.26 | 121.30 |
| EPS diluted in $/share | -1.49 | 0.27 | 0.16 | 0.26 | 0.63 |
| Operating cash flow in $ Million | 82.07 | 62.99 | 61.96 | 77.14 | 91.50 |
| CapEx in $ Million | 5.77 | 7.84 | 15.61 | 411.38 | 146.80 |
| Free Cash Flow in $ Million | 76.30 | 55.16 | 46.36 | -334.24 | -55.30* |
| Total cash $ Million | 298.67 | 237.25 | 394.39 | 275.39 | 166.83 |
| Long-term debt in $ Million | 1,649 | 1,624 | 1,682 | 1,600 | 1,989 |
| Dividend per share in $ | 0.15 | 0.15 | 0.15 | 0.18 | 0.20 |
| Shares outstanding (Basic) in Million | 116.04 | 116.34 | 126.26 | 156.06 | 156.06* |
Source: SFL release
* Estimated by Fun Trading
** Gain on sale of assets and termination charter is not included and was $39.349 million in 4Q21.
Analysis: Revenues, Earnings Details, Free Cash Flow, And Backlog Discussion
1 - Operating Revenues were $152.06 million in 4Q21
Operating revenues were a record of $152.06 million compared to $114.91 million in the same quarter a year ago and up 32.3% sequentially.
SFL Corp received a charter hire of approximately $165.8 million in the quarter from the Company's vessels and rigs, including $7.5 million in profit share.
Note: The company indicated that revenues are lower than the cash received. According to U.S. GAAP, it excludes approximately $13.2 million of charter hire, which is not identified as operating revenues.
The company had $80.12 million in income for the fourth quarter of 2021, or $0.63 per diluted share.
Adjusted EBITDA was $121.30 million, up 14.2% from last year. SFL owns two drilling rigs which are chartered out to subsidiaries of Seadrill (SDRLF) on bareboat terms.
The company received a charter hire of approximately $12.3 million in the fourth quarter on the rigs.
1.1 - Highlights during the 4Q21:
In the press release:
SFL entered into an amendment agreement Seadrill relating to the West Hercules in the third quarter. For the West Linus, which is on a sub-charter to an oil major in the North Sea until the end of 2028, SFL continues to have a constructive dialogue with both Seadrill and the end user for the employment of the rig for the period after Seadrill's emergence from Chapter 11, which is anticipated to go effective in the first quarter of 2022.
2 - Free cash flow is a loss estimated at $55.30 million in 4Q21
Note: The fourth quarter indicated above in the chart is a Fun Trading estimate.
Trailing twelve-month free cash flow ("ttm") is a loss of $288.02 million, with a free cash flow loss estimated at $55.30 million in 4Q21.
Recent events: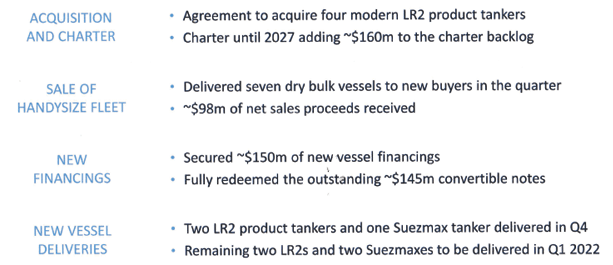 CapEx increased again this quarter, which I view as very positive because the investment translates immediately to cash flow.
3 - Debt analysis: Net debt is estimated at $1.989 billion in 4Q21
SFL's long-term debt (including current) is $1.989 billion, and its total cash is $166.83 million as of December 31, 2021. The company indicated in the press release:
In October, the outstanding debt balance of approximately $145 million on the remaining 5.75% unsecured convertible notes due 2021 was repaid in full by the Company.

In the fourth quarter, the Company drew down $35 million of financing related to a container vessel which was delivered earlier in 2021 and chartered out for a period of seven years, with the loan tenor matching the time charter party.

Furthermore, SFL closed a $107 million bank facility relating to the acquisition of three Suezmax tankers. The loan is for a period of five years, matching the time charters to Trafigura.
4 - Segment analysis
The Offshore segment; Seadrill's ongoing bankruptcy
The debt guaranteed by SFL remaining for the two rigs left is less than $300 million as of the end of December. We will know more when the company gives us the entire scoop.
SFL owns two drilling rigs, of which two are chartered to subsidiaries of Seadrill. The two rigs are employed on bareboat charters of Seadrill and generated approximately $12.3 million in charter hire in the fourth quarter, the same amount as 3Q21.
SFL Dry bulk segment
The Company had 11 dry bulk vessels ranging between 32,000 and 57,000 dwt employed in the spot and short-term market. During the fourth quarter, these vessels generated approximately $21.2 million in net charter hire.
During the quarter, the Company completed the sale of seven smaller 32,000-34,000 dwt, less efficient and older dry bulk vessels to an Asian buyer. The sale generated net proceeds of approximately $98 million, in addition to strong spot earnings during the fourth quarter prior to delivery (press release)
Tankers segment
SFL has 16 crude oil, product, and chemical tankers mainly employed in long-term charters.
The segment generated about $17.5 million in gross charter hire in 4Q21.
Liners segment
SFL owns a liner fleet of 35 wholly or partly owned container vessels and six car carriers. The liner fleet generated about $89.6 million in gross charter hire in 4Q21, including $3.1 million of profit share from fuel savings. Of the total gross charter hire, more than 90% were from vessels on long-term charters, and the remaining were from vessels on short-term charters. In the press release:
During the quarter, the container shipping market remained exceptionally strong and charter rates rose to record high levels. According to industry sources, there is market optimism near term as the global box trade is projected to outgrow the fleet capacity, and disruption from port congestion and logistical issues are likely to continue into 2022.
Technical Analysis (Short Term) and commentary
Note: The graph has been adjusted for the dividend.
SFL forms a bullish ascending wedge pattern with resistance at $9.85 and support at $8.70.
The trading strategy I recommend is trading short-term LIFO about 30%-40% of your total position and keeping your core position for a much higher target while enjoying a substantial dividend now close to 9%.
For the short term, I recommend selling between $9.65 and $10.30 and accumulating again between $8.75-$8.40 (50MA).
Warning: The TA chart must be updated frequently to be relevant. It is what I am doing in my stock tracker. The chart above has a possible validity of about a week. Remember, the TA chart is a tool only to help you adopt the right strategy. It is not a way to foresee the future. No one and nothing can.
Author's note: If you find value in this article and would like to encourage such continued efforts, please click the "Like" button below as a vote of support. Thanks!