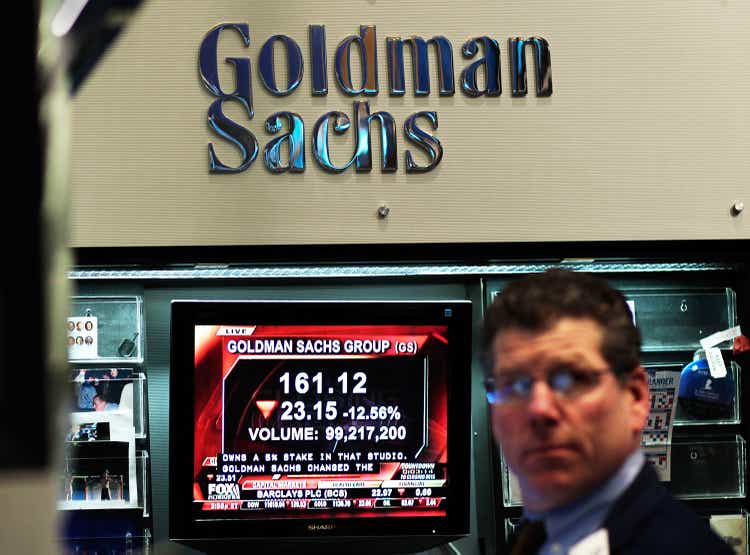 I mentioned Goldman Sachs (NYSE:GS), one of the largest brokerages and banks in America, as a company with a weakening chart pattern last month here. All told, momentum indications continue to lag and deteriorate in February. Another worry for bulls to contemplate, selling or avoiding the name when it has a super-low trailing P/E of 6x like today is often the correct course of action.
A low P/E means market participants do not trust the level of earnings and cash flow of the recent past will continue over the next year or two. Considering the all-time overvaluation setup and bubble mentality in U.S. equities during 2021 (with retail participation through the roof and usually level-headed analysts anticipating a once-in-a-lifetime boom akin to the Roaring 1920s to continue this year), it's not a surprise the Goldman Sachs stock price is actually discounting the opposite for 2022. My view is forward-thinking investors are now pricing in a slowdown or bust on Wall Street.
Low P/E in a Cyclical Industry
Statistically, if you go through the trading history of GS, you will find future returns in fact go down when trailing P/Es are lowest. Conversely, the highest price-to-earnings setups usually occur near cyclical market bottoms, when everyone is bearish just before a new strong bull phase begins.
Below is a 22-year chart of price vs. prevailing P/E ratios in the company's shares traded in New York.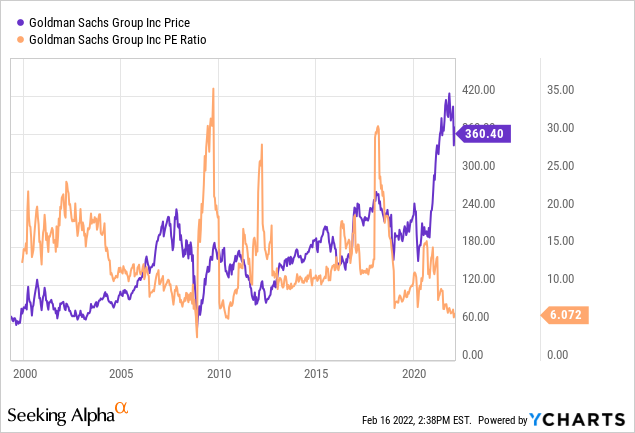 Now, I will zoom in on the periods when P/Es have been under 11x. Those spans include April 2021 to the present, 2019 to early 2020, 2013 to 2015, 2010, and late 2006 to the end of 2008. Statistically, Goldman Sachs has routinely underperformed the SPDR S&P 500 Trust ETF (SPY), if you had purchased when P/Es under 11x appeared and held until P/Es raced above the same multiple (although returns varied widely in each instance). The situation going into the 2008 Great Recession may be the most analogous to today.
2021 - Present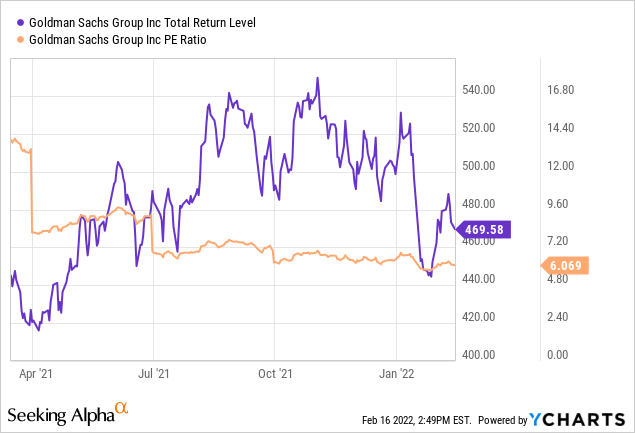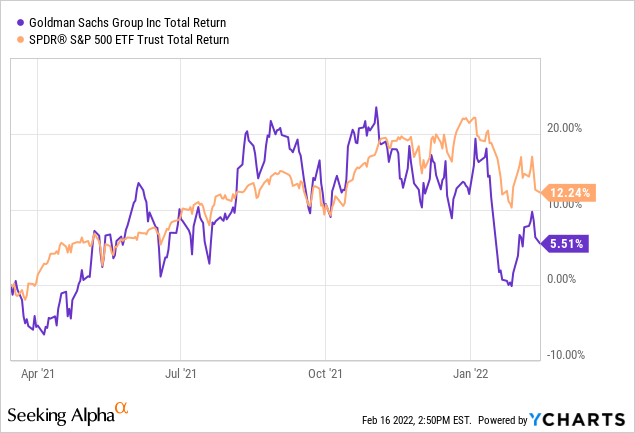 2019 - Early 2020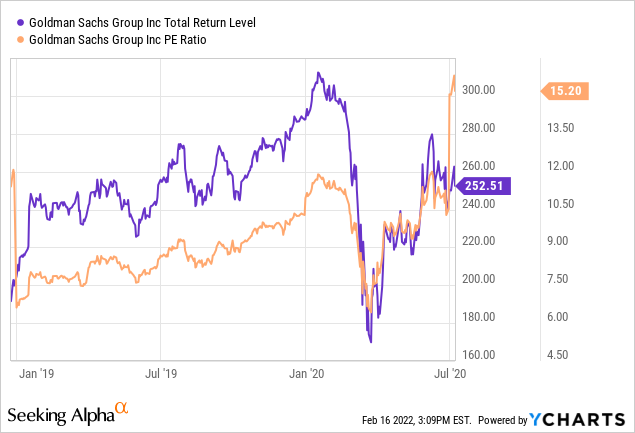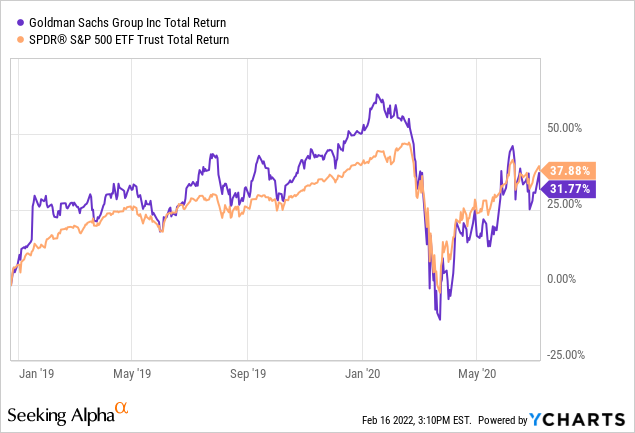 2013 - 2015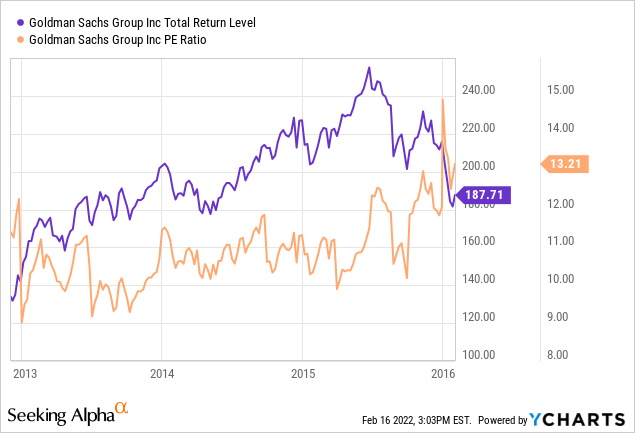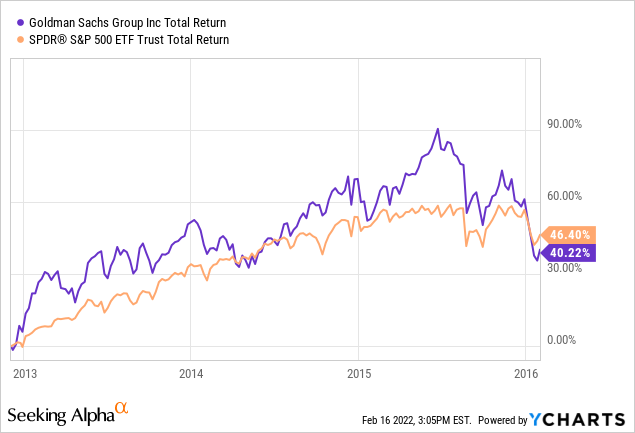 2010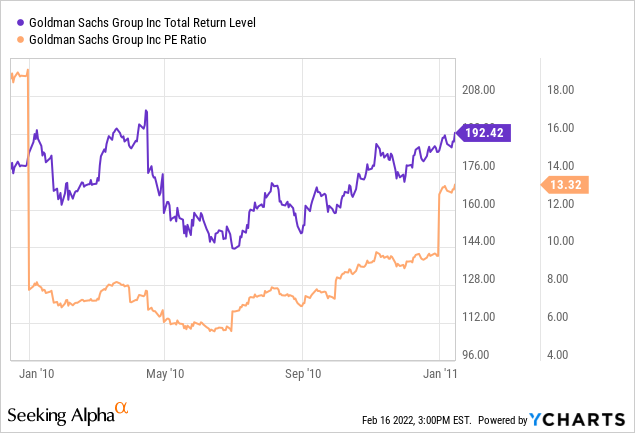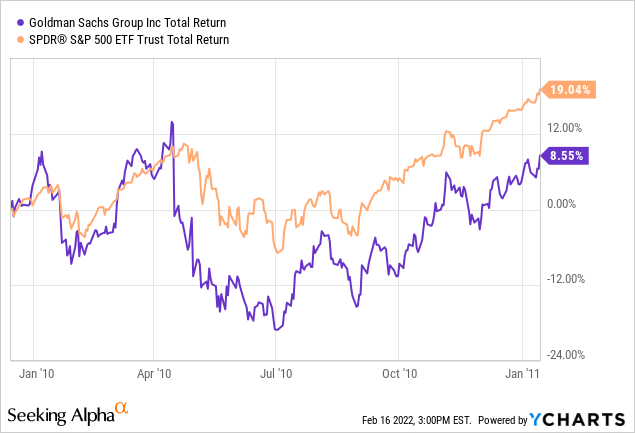 Late 2006 - End of 2008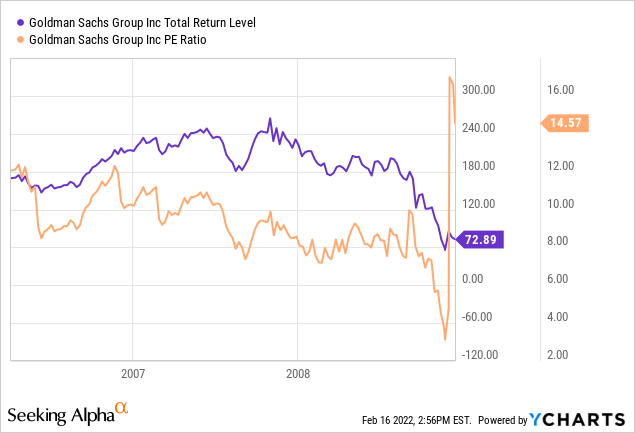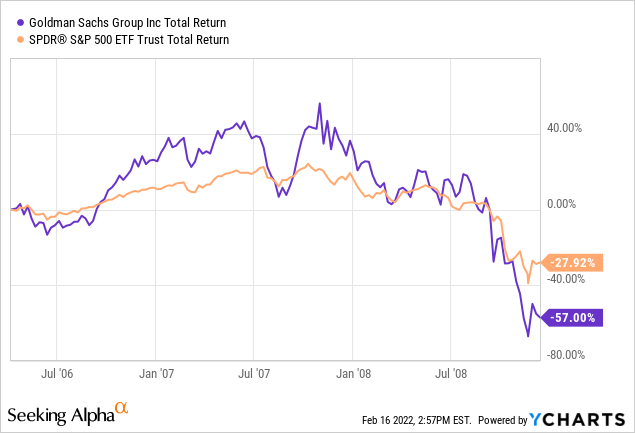 Daily Trading Chart
Most upside momentum indicators peaked between June and August last year for Goldman Sachs. Price drifted to new highs in early November, which represented a clear divergence top. Since November, an expanding number of technical warning signs, including weakening momentum patterns and a sharply falling price have appeared. Today, price is well under both its 50-day and 200-day moving averages.
Below I have drawn an 18-month chart of daily price and volume changes. The overall outlook represented by the chart is not particularly bullish. The abrupt changeover in momentum to the downside is pictured with green circles at tops in the Accumulation/Distribution Line, Negative Volume Index, and On Balance Volume last year. The OBV readings are the weakest in this group of indicators, highlighting significant sell volumes for many months in GS.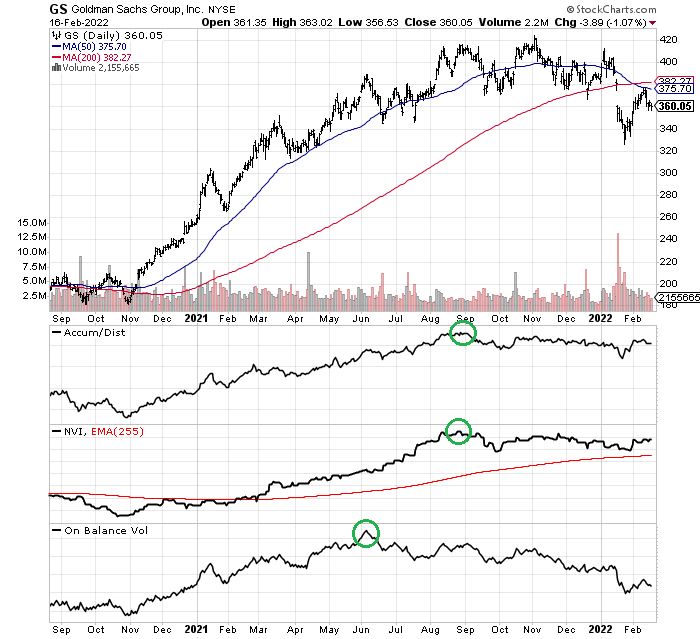 Final Thoughts
I was actually bullish on Goldman Sachs in August of 2020. I explained in a story here prices under $200 would be a smart area to accumulate, when its P/E was much higher and underlying sales and book valuation much lower. Of course, the quote rose to better than $400 in late 2021. That was the time in the credit/bond and stock market cycle to own Goldman Sachs. Now we have fading stock market prices, confused and selling investors on Wall Street, in addition to rising inflation and interest rates as valuation headwinds. That's the exact opposite financial backdrop of late 2020 and most of 2021.
Does a buy approach always work when P/Es are high? Of course not. The early 2000s period and 2018 saw high GS P/Es, followed by flat to lower stock quotes. The opposite idea of selling when the P/E is low likewise doesn't work as a fool-proof method to make your investment decision. In the end, reviewing the price-to-earnings ratio is only one component in making an informed choice for any cyclical financial name. My point is sometimes an investment that appears to be "cheap" at face value on simple P/E calculations actually is not a terrific buy idea. I suggest caution using this basic fundamental ratio by itself, particularly in an industry where fortunes fluctuate wildly year to year, chasing investment flows into stocks and bonds.
Confirming now is the time to avoid buying/owning a stake in Goldman Sachs, the technical picture is rotten today. If the still expensive U.S. stock market succumbs to selling and a bear market, trading income at this leading brokerage house will decline markedly in 2022 vs. last year. This negative fundamental outlook could be the reality a low P/E is discounting and forecasting in the first months of the new year.
It's hard to come up with a concrete target price for Goldman Sachs with so many moving parts like (1) what valuation multiple to use as interest rates rise, (2) what the actual income generation level will be in 6-12 months, and (3) how do we model a severe U.S. bear market will affect investor sentiment and sell volumes in GS. Let's just say Goldman's stock quote gains/losses will exaggerate fluctuations either to the upside or downside in American financial markets.
Can you hold shares in your portfolio? Sure, there are scenarios where GS could rise in price. Using assumptions of a flat to slightly rising equity market, with limited interest rate increases in the credit/bond market, Goldman Sachs has the potential to reclaim $400 a share. Further, if you are sitting on large GS gains in your brokerage account, and can withstand a $100 or $200 price drop inside a well-diversified portfolio, holding may be a decent option.
The good news for GS shareholders is price to sales and book value remain in a normal 10-year historical range, unlike most blue chips in America. A 25% to 50% selloff would likely open another great opportunity to add shares in long-term accounts.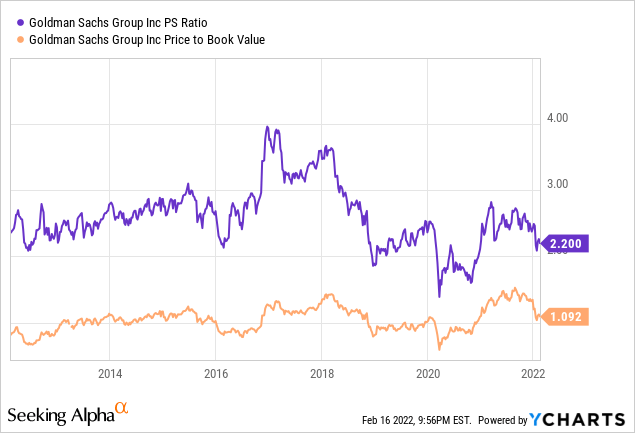 However, I am thinking Goldman Sachs could be destined to "underperform" the S&P 500 over the next 6-12 months, at a minimum. I rate the stock between a Hold and an Avoid right now.
For my money, I will wait for lower GS prices and a bigger drop on Wall Street before committing new investment capital. We are nowhere near the fabled "blood in the streets" point in the investment cycle. Another 15% to 20% decline in the S&P 500 would get us into normal bear market territory, but NOT create an honest "undervaluation" situation based on 20 years or 50 years of historical trading. A whopper 40% to 50% bust in 2022-23 might be necessary to rebalance the stock market's valuation with the new reality of 5% or 6% CPI inflation annually.
Thanks for reading. Please consider this article a first step in your due diligence process. Consulting with a registered and experienced investment advisor is recommended before making any trade.