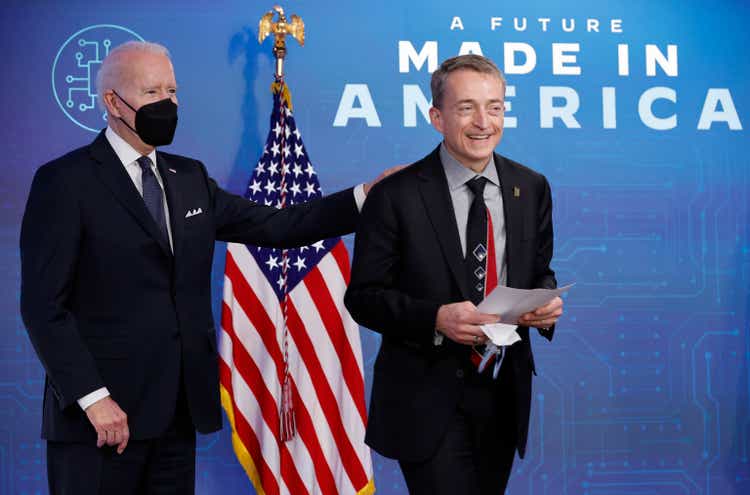 Investment Thesis
Intel Corporation (NASDAQ:INTC) was recently usurped by Samsung (OTCPK:SSNLF) as the world's largest semiconductor company by revenue in 2021, according to Counterpoint Research. Furthermore, it also added that it observed an average of "27% YoY revenue growth among the top 15 vendors, outperforming global semiconductor revenue growth and implying another year of centralized semiconductor industry." In addition, IC Insights reported the semiconductor industry grew 25% YoY to $614B in 2021, which followed 2020's 11% YoY increase.
But, Intel increased its top line by just 1.5% YoY in FY21 to $79B on a GAAP basis and 2% YoY on an adjusted basis. To say that Intel has been significantly impacted seems like an understatement. Moreover, it appears Intel has been left out from two of the industry's recent best years, which grew at a CAGR of 11% from 2016-2021.
Nevertheless, the company is still solidly profitable in operating and free cash flow terms. Therefore, it has given CEO Pat Gelsinger & Team the wherewithal to invest aggressively in its IDM 2.0 strategy to try and regain its mojo. But, we should also emphasize that its keen rivals are not standing still, as they look to further encroach on Intel's dominance and leadership.
We discuss the competitive landscape surrounding Intel in 2022. However, if you don't have exposure, we think it's better to watch Pat Gelsinger & Co. from the sidelines for now.
Intel Crawled While its Keen Rivals Grew Strongly
| | |
| --- | --- |
| Company / Stock | CY21 YoY GAAP Revenue Change % |
| Intel | 1.5% |
| TSMC (TSM) | 18.5% |
| Qualcomm (QCOM) | 42.7% |
| Advanced Micro Devices (AMD) | 68.3% |
| Samsung Electronics | 18.1% |
Intel & peers CY21 YoY revenue change comps. Data source: S&P Capital IQ
Readers can observe that Intel has continued to watch from the sidelines in 2021, given its 1.5% YoY revenue growth. It came while the rest of its closest rivals leveraged the massive opportunities in 2021 as they reported robust revenue growth.
| | |
| --- | --- |
| Company / Stock | CY22 YoY revenue change % consensus estimates |
| Intel | 1.2% |
| TSMC | 26.2% |
| Qualcomm | 26.7% |
| Advanced Micro Devices | 35% |
| Samsung Electronics | 11.6% |
Intel & peers CY22 consensus estimates YoY revenue change comps. Data source: S&P Capital IQ
Notwithstanding, IC Insights expects the industry's growth to moderate to 11% in 2022. However, as seen above, consensus estimates continue to point to robust growth for its rivals. Unsurprisingly, Intel is expected to continue watching from the sidelines with a 1.2% YoY growth estimate. Nevertheless, we should also add that the company's FY21 topline growth outperformed the average consensus of a 4% decline. Therefore, Intel deserves its due credit. But can Intel reasonably outperform estimates again in 2022, even as its rivals continue to thrive? We think the crux of the issue is that it mattered little to its stock price as it continues to flounder below $50, even at its current valuation.
Can Intel Fend Off Its Competition?
So, Intel is not expected to get the needle moving on its topline, despite pretty robust growth estimates for its industry. We think it's clear that the market isn't optimistic about its prospects of defending its market share moving forward.
Furthermore, Citi also weighed in, noting that Intel's strength in Q4 for PC would likely moderate in 2022 even as it gained share in desktop and notebook. Notably, it lost share in the segment where it matters most due to its solid margins in server. Citi emphasized (edited):
Intel's overall market share increased 0.3% in the quarter to 82.9%. Breaking that down further, notebook share rose 0.4% to 79.1%, while desktop share rose 0.1% to 87.5%. However, it lost 0.6% worth of server share to 89.9% due to a lack of competitive server products. We remain worried the PC space will slow down after double-digit growth. We believe PC sales will cool off due to a reversion to the mean after two straight years of double-digit growth and could result in a microprocessor inventory correction. (Seeking Alpha)
Furthermore, Digitimes Research expects overall notebook shipments "to slip 10% sequentially" in Q1'22. It's also likely to fall 5% YoY for FY22. In addition, it also emphasized that global notebook shipments hit the 247M mark in 2021. But, its shipment growth is expected to "plateau," as "shipments in the next few years are expected to be between 230-250 million units annually."
Furthermore, we also explained in a recent AMD article where AMD provided robust guidance for FY22 well above even the most optimistic estimates. Therefore, if the PC segment's growth is expected to drop, AMD must be expecting to make solid gains in the enterprise and hyperscaler business. And, AMD CEO Dr. Lisa Su doesn't usually dish out unrealistic projections. AMD indeed saw considerable opportunities in 2022 to continue gaining share against Intel.
Intel will also need to fend off Qualcomm's strategic TAM expansion, which we also discussed in a recent article. CEO Cristiano Amon & Team is rapidly moving off its handsets and networking prowess. Notably, it is reaching out to a more diversified roadmap targeting edge computing across the consumer, enterprise, and industrial segments. While its Arm-based CPU is still in the early innings, Qualcomm is also going after these markets aggressively. Therefore, Intel will need to contend with a more ambitious Qualcomm under Amon's formidable leadership and execution.
Do we even need to consider TSMC and Samsung? Intel Foundry Services (IFS) is still setting up shop, preparing for its "shells," with fab equipment spending likely only accelerating in 2024. That leaves Samsung and TSMC the prime contenders in the 3nm process market. Samsung is on track with its 3nm GAA architecture launch ahead of TSMC's 3nm process. While Intel is still struggling with optimizing margins on its 10nm node, its leading foundry rivals are making sure they remain the leaders over the next three years, at the very least. Will Intel retake leadership from TSMC by 2025? Unless you have a high conviction that TSMC is spending ahead of itself with its revised CapEx recently, we think TSMC's hint is it's unlikely to lose its grip as the foundry market leader.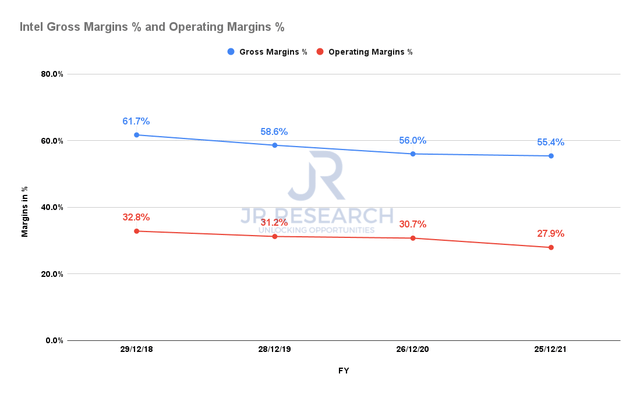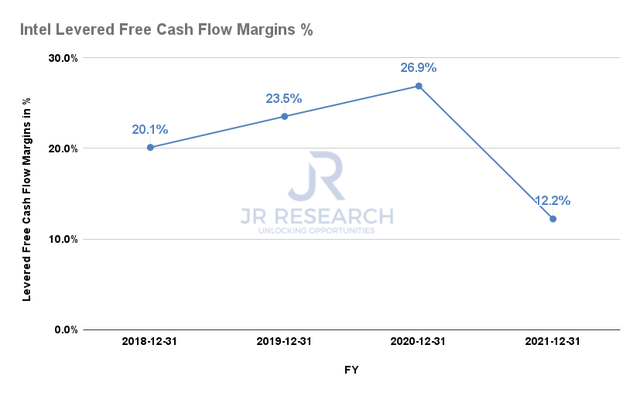 So, Intel is indeed facing tremendous challenges defending its market share and growing its top line. Furthermore, it also has to deal with profit margins dilution due to its heavy investments in its IDM 2.0 roadmap. Moreover, it has also significantly impacted its free cash flow (FCF) margins, as seen above. Therefore, unless you are seriously assuaged with its 5% dividend raise, we think the margins dilutions are a red flag, albeit an expected one.
To make matters worse, Gelsinger even highlighted that the years of 60% gross margins should be a thing of the past. If AMD and TSMC don't compete at those margins, we were surprised how Intel managed to sustain those amazing margins. Gelsinger articulated (edited):
We can improve the operating margins of this business again over time. And we haven't ramped a new node for five years in our data center business. That's an embarrassing thing to say on one hand. And obviously, as a result, we've been in an area where we shouldn't have had operating margins that high in this business. It's just been that we've been running on very mature nodes well past the time that a normal cycle should be. And now we're aggressively ramping 10. We're also starting to ramp the cost of 7 and 4 as well. (Intel's FQ4'21 earnings call)
Watch Intel From the Sidelines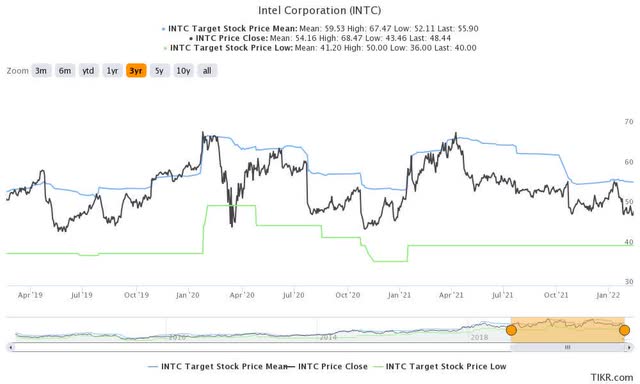 Intel stock has been moving in a predictable consolidation range over the last three years. And we don't see any near or medium-term catalyst that can convince us otherwise. Furthermore, readers can observe that the momentum spike from Gelsinger's appointment as its CEO early last year has almost been completely digested.
Furthermore, Intel stock has proven that its average consensus estimates have served as solid price targets to sell at times. But, for most of 2021, it has moved within its average consensus price targets and its most pessimistic price targets. So, for now, we believe it will continue to stay within that range.
Therefore, we reiterate our Hold rating on Intel stock.