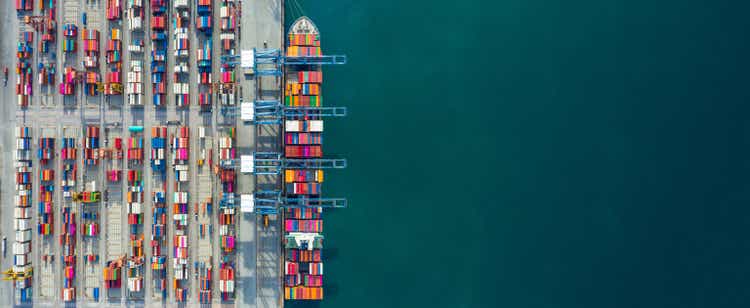 A publicly traded company for a second time, E2open Parent Holdings Inc. (NYSE:ETWO) is potentially sitting on a major growth trend in logistics and supply chain management software. This growth trend is led by the increasing complexity of global trade and visible with the supply chain challenges from COVID. With their recent large acquisition of BluJay and the overall market correction, ETWO is trading over 35% down from their 52-week high. While this could be a low entry point, I am not yet buying as the company has a complex ownership structure, high debt, unproven revenue growth as a public company, and must prove the value of the BluJay acquisition.
How does E2open make money?
Originally founded in 2000 as a joint venture between 8 companies, E2open has become a provider of 100% cloud-based, supply chain management (SCM) software. E2open's network is composed of four parts: Demand, Supply, Logistics, and Global trade. This end-to-end network allows ETWO to support their customers all the way from sourcing materials to manufacturing and finally to retail.
E2open generates revenue from software subscriptions and professional services. In their latest earnings report for Q3 2022, over 78% of their revenue was recurring revenue from subscriptions with a 71% gross margin (GAAP Basis). E2open also serves more than 1,200 customers with their top 100 customers being with them for over 15 years. For investors, high-margin recurring revenue combined with long-term customer relations create the opportunity for massive compounding of growth.
Bullish on supply chain challenges
Supply chain volume and complexity has increased for years. Combined with the challenges from COVID, logistics and supply chain management technology providers like E2open have a strong bullish trend for their product. In a previous article about Descartes (DSGX), another provider of SCM software, I wrote the following:
COVID has driven changes and challenges in supply chains everywhere - consumer shopping behavior has shifted, COVID is closing ports, driver shortages are reducing container movement, and docks are running out of storage space. All these changes have led to shipping delays, higher demand, and increased shipping prices. Companies are having to act.

Home Depot (HD) has leased its own ships. There are rumors that Apple (AAPL) has been chartering more jets to haul cargo. Smaller companies, with less capital to spend, are getting hit hard. For example, Matterport (MTTR), a company I covered previously stated in their Q3 2021 Earnings Call that the global supply chain issues resulted in shipping 15% fewer products.
Today, these challenges remain and could last into 2023. Companies are talking about supply chain more than ever. In October 2021, Bloomberg reported that "Supply Chain" was mentioned 3,000 times in quarterly earnings calls. During Tesla's (TSLA) latest earnings call, Elon Musk said:
In 2022, supply chain will continue to be the fundamental limiter of output across all factories.
For E2open, these challenges should be a short-term bullish trend for growth. Their software allows real-time visuals of supply chains allowing customers to optimize shipping and track issues. While the COVID driven challenges will end, there is a long-term trend in supply chain growth both in volume and complexity, causing a strong need for technology solutions.
Source: Supply Chain Management Software Market Statistics | 2030
In my previous article about Descartes, I also covered supply chain growth trends. The World Trade Organization is expecting world merchandise volume to grow 4.7% in 2022 and reported that intermediate good shipments increased 27% YoY in Q4 of 2021. It is also expected that retail sales will be 25% of e-commerce activity by 2025.
Source: World Trade Organization
These trends and challenges are why I am bullish on logistics and supply chain technology. E2open's software sits right in the middle of this growth opportunity. We now need to see if E2open is capturing this growth.
Insight partners and post-SPAC ownership
Insight Partners is a global private equity and venture capital firm focused on scaling up software companies. They have been involved with over 50 IPOs including recognizable names like twitter, Nextdoor, DocuSign, JD.com, and JFrog. In 2015, Insight took E2open private in a $273MM transaction. Prior to this deal, E2open entered the public market in 2012 with an IPO price of $15 and 24.9MM common shares outstanding giving an initial market cap of $~373MM.
The growth since going private can be seen in the numbers. In October of 2020, ETWO entered into a SPAC deal with CC Neuberger Principal Holdings I (PCPL.U) at a valuation of $2.5B, representing a growth of over 800% compared to the $273 MM valuation in 2015. At the time of this deal they also reported FY2020 Revenue of $305 MM, a growth of 301% compared to the 2015 TTM revenue of $~76MM. During the Q3 2022 Earnings Transcript, Michael Farlekas, CEO, said the following:
Seven years ago, E2open was 7 times smaller, losing money and not growing. In each of the past seven years, our Company became larger, grew faster and became more profitable.
The SPAC deal also brought a multiclass share structure with Class A and Class V shares. The Class A shares give holders economic interest and voting rights. The Class V shares only provide voting rights with ability to convert to Class A shares through different mechanisms. When the SPAC deal closed, Insight Partners controlled 21% of the voting rights through a combination of Class A and Class V shares. The BluJay acquisition discussed later diluted all existing shareholders. The table below from September 2021, post-closing of the acquisition, shows Insight Partners still hold the most voting power with 13.96%.
Source: ETWO Amendment No. 1 to Form S-1 Registration Statement
Who owns and influences a company is extremely important. We all have limited capital and most of us will never own enough shares to influence the direction of a company. We must trust and rely on the big owners and management. I must also make assumptions about the large shareholders' investments goals and how they align with mine. I am looking for companies with solid leadership that I can trust to run and grow the company in a shareholder friendly manner for many years. I do not have the bandwidth to constantly monitor every individual holding, nor do I want surprise announcement that hurts me as a shareholder.
When I see large private equity control, I start to wonder if our goals align. Will they hold shares for many years, or will I experience millions of shares being sold as they liquidate to move their capital to a new investment? We have already seen Elliot Management reduce their holding by nearly 3 million shares and the end of lock-up from the BluJay acquisition is approaching on February 28, 2022. A $100MM stock buyback was also recently announced, which I am still contemplating after the company issued shares and loaded up on debt for the BluJay acquisition.
BluJay acquisition
E2open closed the BluJay acquisition in September of 2021 at an implied value of $1.7B, representing a major acquisitions in terms of cost, customer growth, and product capabilities. BluJay provides a SaaS platform that will extend E2open's software offering with products for Shippers, Logistic Service Providers, and Freight Forwarders. They also bring to E2open 5,700+ customers and increased the TAM by $9B.
Source: July 2021 Investor Presentation
To finance this deal, 72.4 MM Class A shares were issues along with $~760 MM in cash, which was funded in part through $154 MM in cash from the balance sheet, $300 MM from a common equity PIPE, and an Incremental Lien of $380 MM. Existing E2open shareholders were diluted to holding 69% of the combined company. BluJay shareholders received 22% and PIPE Investors received 9% of the combined company. For this deal, BluJay is expected to add $187MM in revenue and $64MM adjusted EBITDA for FY22.
Dilutions for acquisition purposes can be good when the share of the company you own is eventually worth more, but that has not yet happened for ETWO. While the BluJay integration has just begun, the stock is currently trading over 20% down from when this deal closed September 1st, 2021 despite the market cap post-dilution being higher. This is dilution at work and investors need to monitor if it is working in their favor. For investors, the BluJay acquisitions is large and only starting to be integrated but is key to watch in the coming quarters.
Third quarter 2022 earnings
On January 12, 2022, E2open announced their Q3 2022 Financial results. While they missed EPS expectations reporting $-0.19 vs. a consensus of $0.00, they reported a 13.8% YoY revenue growth of $147.4M. The large revenue growth only comes after the large BluJay acquisition, but the good news is guidance was raised for FY22 to $474 - 476MM with the mid-point representing a 44% growth in revenue from FY21.
Source: Q3 2022 Earnings Presentation
In the chart below, we can see FY22 should have solid revenue growth, but the 2020 to 2021 revenue growth was less impressive with only an only 8% growth. Keep in mind that with ETWO's fiscal calendar, the FY2021 numbers represent most of the 2020 calendar year overlapping the start of COVID and the ensuing supply chain issues. We will take a more detailed look at quarterly revenue in the next section.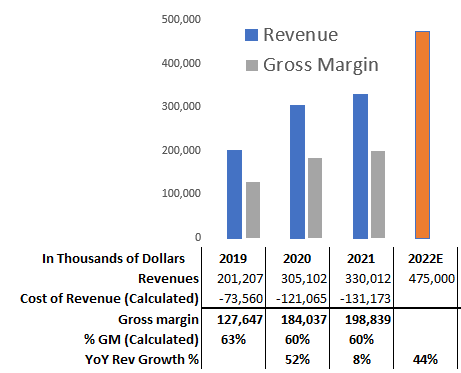 A lot of the revenue growth has been driven by the BluJay acquisition, and investors will want to know if it was worth the debt and dilution. Unfortunately, the integration of the two companies has just started, but the company plans to do this quickly. During the earnings call, Michael Farlekas said:
We fully integrate the businesses we acquire. The acquired products become embedded into our platform quickly. This provides us with more products to sell to more customers. The go-to-market teams are fully integrated, typically in the first quarter or last. And the back-office teams are one team after the integration.
Part of my current hesitancy to invest is how the BluJay integration will unfold. Over the next few quarters, we will hopefully see the numbers improve quickly. With the fast integration, they are expecting to capture 60-70% of the run-rate saving by the end of this fiscal year, a value they report as $25 MM. They also will begin to pull the growth levers summarized in the table below. Some of these growth levers will help leverage the combined teams from the integration of BluJay. They have mentioned many of their customers only purchase 1 SKU representing the potential to expand with existing customers and with BluJay their customer count has expanded. Before I invest I want to see how well this process executes and if we see it in the quarterly numbers.
Growth and valuations
E2open is trying to rapidly grow and integrate a major acquisition while being a newly public company for barely more than a year. New companies potentially sitting on the edge of massive growth can be extremely hard to value as traditional ratios like P/E are meaningless as investors look many years into the future. For E2open this growth could last more than a decade as Michael Farlekas claimed during the Seeking Alpha CEO Interview.
While this long-growth is partially caused by the slow nature of enterprise software sales, it also represents the huge opportunity in their TAM. Previously, E2open presented a TAM of $45B with 85% whitespace and $1B in opportunities with existing customers. They define whitespace as the TAM that is using homegrown or manual solutions for supply chains such as spreadsheets. This whitespace presents a huge opportunity for customers that do not need to be stolen from competitors. They estimated the BluJay acquisition increased their previous TAM by $9B bringing it to $54B. With their recent guidance of $474 - 476 MM in FY22 revenue, it appears they still have a lot of room to grow and are gearing up to pull the needed growth levers. The question now becomes how well are they capturing this revenue?
The above chart shows quarterly revenue back to Q4 2020. I recalculated Cost of Revenue to exclude "Amortization of acquired intangible assets" since it is a non-cash cost and recalculated %GM. The chart is unfortunate in that we see revenue and %GM declining until the BluJay acquisition. During this time, we can also take note of the start of COVID. With the large amount of supply chain challenges, I'm disappointed that they were not able to show strong growth with the widespread supply chain issues.
Looking at P/S, we can see ETWO is trading around 4.26x, which can appear cheap when we look at the closest competitors of DSGX trading at 14x and MANH trading at 12.34x. The different is that these other companies are proven public companies, and both show no long-term debt on the balance sheet. In the case of DSGX, they have grown revenue for many quarters and put millions of cash onto the balance sheet every quarter.
Lastly, we can look at Debt and Adjusted EBITA from the company earnings presentations. I compiled these numbers into the chart below. As noted previously, FY22 guidance was $161 - $163, so I used the mid-point for the calculations. For long-term debt, the Q3 2022 Balance Sheet has Notes Payable of $867MM. Since the company will offer FY23 guidance during the next earnings report, I made some first-pass guesses at FY23 numbers, which could be wildly incorrect. The first estimate is by simply carrying the calculated Q4 number forward 4 times and the second is based on FY22E Adj. EBITDA growing 20% in FY23. These give potential revenue numbers of $213.6 MM and $194.40 MM and result in debt-to-EBITDA ratios of 4.06 to 4.46.
A debt-to-EBITDA ratio above 4 can be considered high for some industries. If you attempt to look at peers, DSGX and MANH do not carry long-term debt on their balance sheet. I would really like to watch how this number progresses as investors will want to see ETWO pulling this ratio down in two ways. First, through the growth levers and synergies from the BluJay acquisition increasing EBITDA. Second, by using the high cash generated as a SaaS company to drawdown the debt.
For deploying my limited capital, the above information does not yet excite me. I can see the product E2open is building but want proof that it is working and they can execute. I want to see sustained revenue growth and debt being paid down. I plan to watch what happens over the next few quarters as the BluJay integration is executed and we can see how management leads the company to grow.
Conclusion
E2open is potentially sitting on the edge of a growth trend that could last over 10 years. The BluJay acquisition expands the company's product and allows them to drive revenue growth. The company also shows a massive TAM with a large whitespace and ability to expand with existing customers. My hesitancy to invest at this point involves many of the issues discussed in this article. I want to see what the current large shareholders do with their shares. I also want to see how management leads the BluJay integration, as this was a huge purchase diluting current shareholders, handing out cash, and taking on debt. Management has also outlined the growth levers they are about to pull and now I want to see the results in the quarterly numbers.
This is not to say there is not a bullish argument for the company. The overall market correction we are experiencing have pulled ETWO's share prices down, potentially allowing a great entry point right as the BluJay acquisition starts to prove itself. For an added bullish sign, Chu Chinh, Director, Peter Hantman, COO, and Michael Farlekas, CEO, have bought over 150,000 shares at the end of 2021. As the saying goes, there are many reasons to sell, but only one reason to buy.