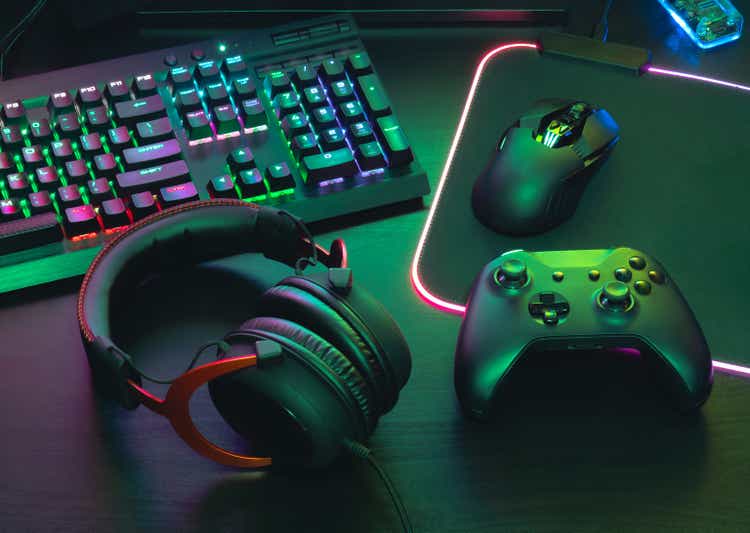 Investment thesis
Corsair's (NASDAQ:CRSR) long-lasting share price decline for over one year has provoked many reactions on the market. The once stellar performer underperformed the NASDAQ for most of the time during the last 12 months. During the decline, many opinions described the sell-off as overdone and multiple investment theses recommended the stock as a buying opportunity. The stock slumped over 65% and this may have happened for a good reason. In my article, I will show you that the company is indeed undervalued if we consider the market expectations and the targets set by the management, but I also want to point to what in my opinion are the main reasons for the actual valuation. Supply-chain bottlenecks may be the short-term risk factor that contributed to a general share price decline in the industry and is particularly pronounced in the case of Corsair since the company totally rely on third-party manufacturers and suppliers, but there are far bigger risks which Corsair will have to mitigate to justify a substantially higher price of its stock.
Company overview
Corsair Gaming, Inc. was incorporated in 1994 and is headquartered in Fremont, California, USA. The company is a leading global developer and manufacturer of gamer and creator peripherals and Personal Computer (PC) components. Its 23 product lines include gaming keyboards, mice, chairs, headsets, controllers, as well as capture cards, stream decks, USB microphones, studio accessories, DRAM modules, storage drives, power supply units, computer cases, cooling solutions, as well as pre-built and custom-built gaming PCs, gaming monitors. It also offers PC gaming software comprising iCUE for gamers and Elgato's streaming suite for content creators. Corsair sells its products worldwide through a network of distributors and retailers, including e-commerce retailers, as well as directly to its customers through its websites. The company employs 2411 employees and is led by its founder and CEO Andrew J. Paul, who still owns 2.84% of the company. EagleTree Capital is the majority shareholder with 57.50% of the share capital and is, therefore, able to control the company in its own interests.
Financial overview
I will keep this section brief, describing only the necessary data and including Corsair's balance sheet of 2021 and 2020 for general consideration, as I want to focus on the more analytical part of my article.
Corsair's business is divided into two segments. In 2021 66% of the revenue came from the Gaming Components and Systems segment, while 34% of the revenue was generated in the Gaming and Creator Peripherals segment. The latest segment grew much faster, averaging 43.10% in the last four years, while the Gaming Components and Systems segment grew only by 22.32% on average.

Gross margins for the two segments are slightly decreasing year-over-year (YoY) down from 35.20% to 34.80% for the Gamer and Creator Peripherals segment and down from 27.30% to 27% for the Gaming Components and Systems segment. Despite this, Corsair's gross margin increased during the years of the Covid-19 pandemic, averaging 21.32% between 2015 and 2019.

The most important geographical market for Corsair is Europe and the Middle East, with about 37% of the sales generated in that area, while the single country with the highest sales is the United States, averaging around 19% of the total sales.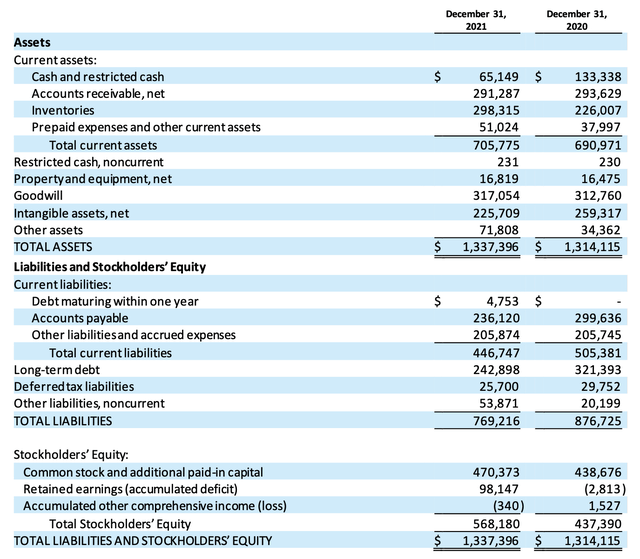 Corsair's balance sheet shows a quite low cash position, down 51.15% YoY, a 32% increase of its inventory, as well as total debt reduced by 24% to $248.8M. Cash from operations was down 88% YoY to $20.19M due to increased stock-based compensation, and substantial changes in the net working capital. In the next section, I will analyze Corsair's financial situation and compare it to some of its peers.
Competitive analysis
Corsair is well established in its industry with strong brand awareness and a loyal customer base. Despite its leading position in the segments of Gaming components and Gaming Memory, Corsair faces strong competition in its industry, and when compared to its main competitors, it shows that the company may not be right now the best option from an investor point of view.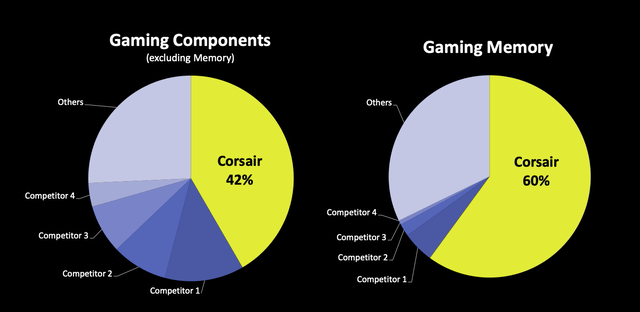 The peers' comparison was made considering Trailing Twelve Months (TTM) data. For Thermaltake Technology Co., Ltd. (TPEX:3540), the values have been converted to USD in order to allow the comparability of absolute data. Other companies are direct competitors of Corsair e.g. Microsoft (NASDAQ:MSFT), ASUSTeK Computer Inc. (TPEX:2357) with its brand Republic of Gamers, HP Inc. (NYSE:HPQ) with its brands Omen and Hyper X, Fractal Gaming Group AB (STO:FRACTL), or Dell Technologies Inc. (NYSE:DELL) with its brand Alienware, but as just part of their businesses is strictly comparable with Corsair's and it's not easy if even possible to extract just the relevant data from publicly available sources, I prefer to focus on more similar peers in order to allow more suitable comparability.
Return on Invested Capital (ROIC) is one of my favorite metrics I consider when comparing a company's performance within its industry or peers because it measures how well a company generates profit relative to the capital it has invested in its business. Logitech International S.A. (NASDAQ:LOGI) has a massive ROIC of 74.35%, followed by Razer Inc. (OTCPK:RAZFF) with 63.20%. Although Razer is indeed a much smaller company compared to the Swiss-based Logitech, it's clearly a leading company in the gaming industry and could even achieve higher profitability if it would allocate its considerably high net cash position by investing accordingly in its business.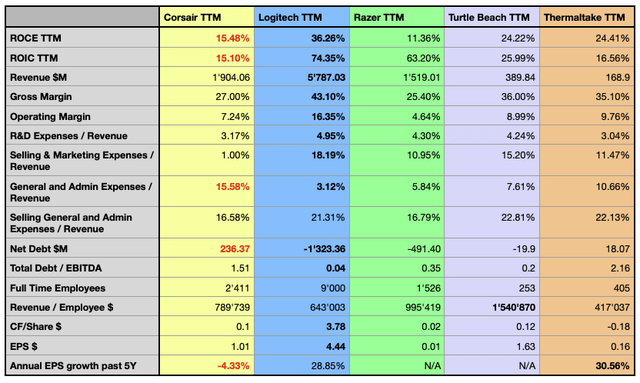 Corsair is highly reliant on debt with $236.37M TTM net debt while e.g. Logitech had a negative net debt in the past 14 years. In my article Logitech Stock: It's Time To Consider After A 45% Sell-Off, I give more detailed insights on this company and its robust financials as well as its very strong competitive positioning in its markets.
In my stock selections, whenever possible, I favor companies that are debt-free or with low leverage, have comparable high margins, high Cash Flow (CF) per share, high Earnings Per Share (EPS), and are investing in research and development (R&D) or in expanding their business or market share. In the peers' comparison, it's evident that Corsair is not standing out in any of those points and is even the company with the lowest ROIC, a relatively low Return on Capital Employed (ROCE), the highest general and administrative expenses, and the highest net debt position. While I am not saying that Corsair is not competitive among its peers, it's evident that other peers, especially Logitech, are way better positioned in the terms of this analysis. It can be noted that Turtle Beach (NASDAQ:HEAR) has by far the highest revenue per employee among the analyzed companies, over $1.5M, a massive level even not reached by a highly productive and profitable company like Microsoft (which reaches $1M per employee). It shows the company's great productivity which is then confirmed in their profitability metrics. Considering also its negative net debt, consistent high margins, and profitability, it's no surprise that Turtle Beach has become an interesting overtake candidate for a competitor or a company that wants to enter the gaming industry.
Valuation
The global peripheral market is estimated to grow at a compound annual growth rate (CAGR) of 10.4% between 2020 and 2025. While the company sees its revenue growth reaching 12-13% per annum, resulting in a revenue of approximately $3.4-3.5B in 2026. To me, this seems very optimistic, but let's assume this target and let's rely on the market's estimations for the coming five years. I, therefore, calculated the stock price potential for Corsair with the following 5-years Discounted Cash Flow (DCF) model.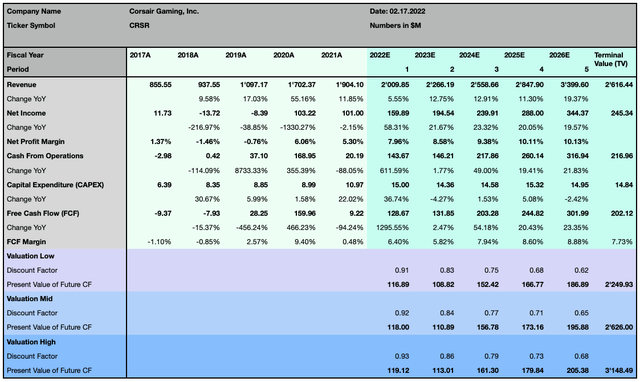 Corsair declared clearly that their priority is to invest in growth through Mergers and Acquisitions (M&A) over further deleveraging their capital structure. This could effectively boost their revenue growth in the coming years at a higher pace than the market growth rate but would imply either a higher dependence on debt or the increase of its share capital because Corsair's ROIC is just too low for leading to consistent value creation at a high growth rate over the next 5 years. Investors should therefore consider that in either way, the target price would be affected negatively. An increase of the net debt by e.g. $500M would reduce the upside potential for the share price by 14% to 18%; while an increase of the share capital can considerably dilute the actual investors.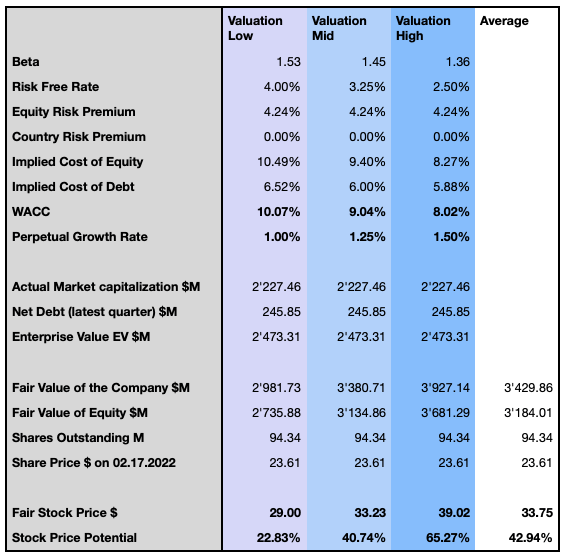 Corsair's share price looks undervalued, based on the projections given by the management and the market expectations. My model shows a minimal target price of $29.00 which translates to an upside potential of 22.83%, and the highest valuation of the share is seen at $39.02, or almost 66% higher. Despite this apparent undervaluation, its short interest, even if decreasing over the last month to the lowest level seen since August 2021, is still around 10% with a short ratio of over 8. Major insider sales were also recorded last year, peaking during June and July 2021 at a share price of around $36. No insider acquisitions have been recorded since then. The long downturn of its share price which lasted over a year may also indicate that the market is possibly valuing more the risks than the opportunities for the company.
Risk Discussion
The market is clearly considering the actual and future risks associated with Corsair's business and as we will see in this section, they can be a considerable threat to the company's own projections in the coming years.
Cloud computing is undeniably a secular trend and is now emphasized even more with the emergence of web 3.0 and the rise of blockchain technology. The global cloud computing market size is expected to grow at a Compound Annual Growth Rate (CAGR) of 16.3% from $445.3B to $947.3B over the next 5 years. The cloud gaming market is already growing very fast and is expected to reach $14.01B by 2027, rising at a stunning CAGR of 64.1%. Cloud gaming is also called gaming-as-a-service, because the game is running on a remote server, and the user streams the whole game on the device with which the cloud is connected to. This means that the gamer needs a fast and reliable internet connection and gaming peripherals to play the game, but he can play it on a low-end device, a so-called "dumb terminal", with lesser specifications and minimal processing power, energy, memory, and storage components to play games with high graphics requirements, since these resources are provided by the cloud server.
As Corsair state in its quarterly filings:
Cloud computing may seriously harm our business.

Cloud computing refers to a computing environment in which software is run on third-party servers and accessed by end-users over the internet. In a cloud computing environment a user's computer may be a so-called "dumb terminal" with minimal processing power and limited need for high-performance components. Through cloud computing, gamers will be able to access and play graphically sophisticated games that they may not be able to otherwise play on a PC that is not fully equipped with the necessary, and often expensive, hardware. If cloud computing is widely accepted, the demand for high-performance computer gaming hardware products such as the PC high-performance memory, prebuilt and custom gaming PCs and laptops, and other PC gaming components we sell, could diminish significantly. As a result, if cloud computing gaming were to become widely adopted, such adoption could seriously harm our business.
The three biggest manufacturers of DRAM chips and modules, Samsung which supplies Corsair with the memory chips and covers 44% of the global DRAM market, SK Hynix, Inc. (OTC:HXSCF), and Micron Technology, Inc. (NASDAQ:MU) respectively 27% and 22% market share, are not seeing cloud computing as a risk to their business, and will most probably take advantage of this industry disruption and adapt to the new market requirements since they will continue to supply modules and chips to memory and storage manufacturers for cloud data centers. It's undeniable that cloud computing is growing fast, especially in the gaming sector. Solutions like Shadow, Playkey, or Boosteroid give you access to a high-end PC in the cloud and allow you to run hardware-demanding video games or applications anywhere on a low-end device. From Alphabet Inc. (NASDAQ:GOOG) with its Google Stadia offer, Advanced Micro Devices, Inc. (NASDAQ:AMD) and its cloud-optimized data center GPUs, NVIDIA Corporation (NASDAQ:NVDA) with its GeForce Now service, to the partnership of Samsung Electronics Co., Ltd. (OTCPK:SSNLF) with Microsoft's Xbox, many leaders in the tech industry are beginning to realize the potential of the technology. With 66-70% of its revenue in the gaming components and systems industry, Corsair is highly exposed to this secular trend. In my opinion, this risk is now reflected in the actual share price, but still underestimated in forecasted valuations.
Other risks worth to be mentioned are Corsair's high dependence on single customers, with sales to its ten major customers accounting for over 50% of its total sales, and most of all Amazon.com, Inc. (NASDAQ:AMZN) which accounts for around 26% of Corsair's net revenue. Also, Corsair is totally dependent on a limited number of third party manufacturers and suppliers, since the company only assembles some of its products, carries a substantial debt on its balance sheet, and its major shareholder, EagleTree Capital has total decision power in the company and a major influence on its share price.
Market timing
From a technical analysis point of view, the stock has now fallen over 65% from its All-Time High (ATH) at $51.37 on the 24th of November 2020, recovering slightly to an actual price of $23.61. The sell-off is quite over-extended and technically the share price will now probably balance this situation out. The stock showed some relative strength compared to the US technology index since the beginning of February 2022. As I always confirm my entry point to a previously, fundamentally analyzed and selected stock, in my opinion, the actual situation can still not be considered a safe entry point for long-term oriented investors. For momentum traders, this price level could instead offer an interesting entry point for a first position, since the stock just broke out of an important resistance level. That said, the potential risk of seeing Corsair's share moving sideways for an extended time or even falling back to a level around $18 is in my opinion still high. If the broad technology market continues its actual correction, Corsair's share price could even fall more, until the low seen on its IPO in 2020.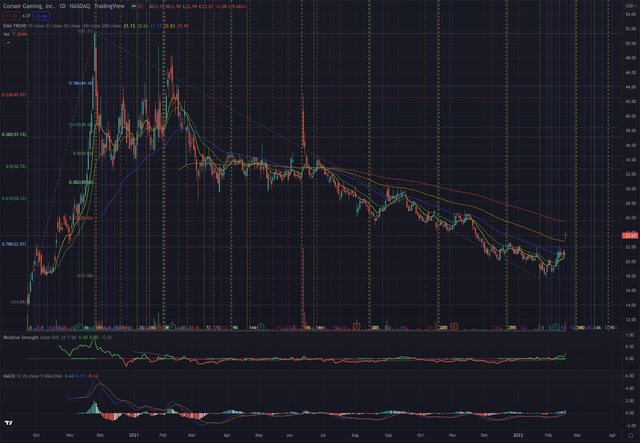 Conclusion
Corsair is facing an industry disruption that is directly affecting the majority of its revenue in its Gaming Components and Systems segment. This segment may still look attractive now, but in the near future, the company will most probably face higher price pressure and a decline in its unit sales, since cloud computing will undeniably make it obsolete to own a powerful gaming device. The company knows about this risk and knows also that very big players are heavily investing in cloud computing. There is always a reason behind an apparent low valuation of a stock or a high short interest. In my opinion, the risks described for Corsair are considerably high and explain the actual share price. Corsair needs to find a way to mitigate those risks, and possibly align its business to take more advantage of cloud computing. DRAM modules will further be necessary of course, but not specifically oriented to high-end consumer gaming devices.
This situation reminds me somehow other situations in which an industry disruption was either underestimated or denied by an established company, e.g. the case of Blockbuster, which once was valued at $3B and filed for bankruptcy in 2010 with almost $1B in debt; Eastman Kodak Company (NYSE:KODK) which filed for bankruptcy in January 2012 and re-emerged from it in 2013 by re-focusing its business; or Polaroid, Toys R US, as well as others. I am not saying that in my opinion Corsair will face the same destiny as those once very successful companies, but from an investor point of view, I would seriously consider if the management will continue to invest against the current or rather begin to invest into the secular trend, maybe the next acquisition, partnership, or collaboration agreement could tell us more about Corsair's awareness and intention to keep the company oriented towards future business opportunities rather than insist on the past success.
Despite the new DRAM generation will probably fuel Corsair's sales for a given time, I personally would not rush into buying the stock if not for speculating on a rebound. For this, I would wait for a proper swing-trade setup, which may be forming right now in an early stage. For long-term oriented investors, you may want to see how the management is handling the major risks to which the company and the majority of its business are exposed, how the financing of the company will be handled, and if the projections are reflecting the real potential of the company. In the meantime, you may want to consider better options among Corsair's peers, with less exposure to those major risks.