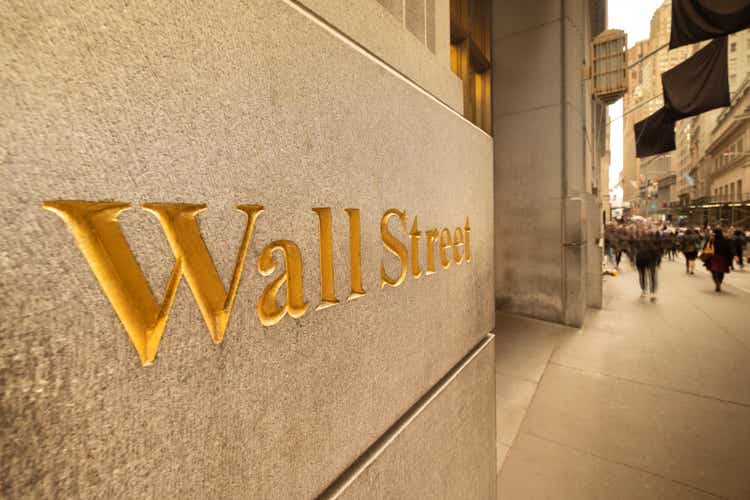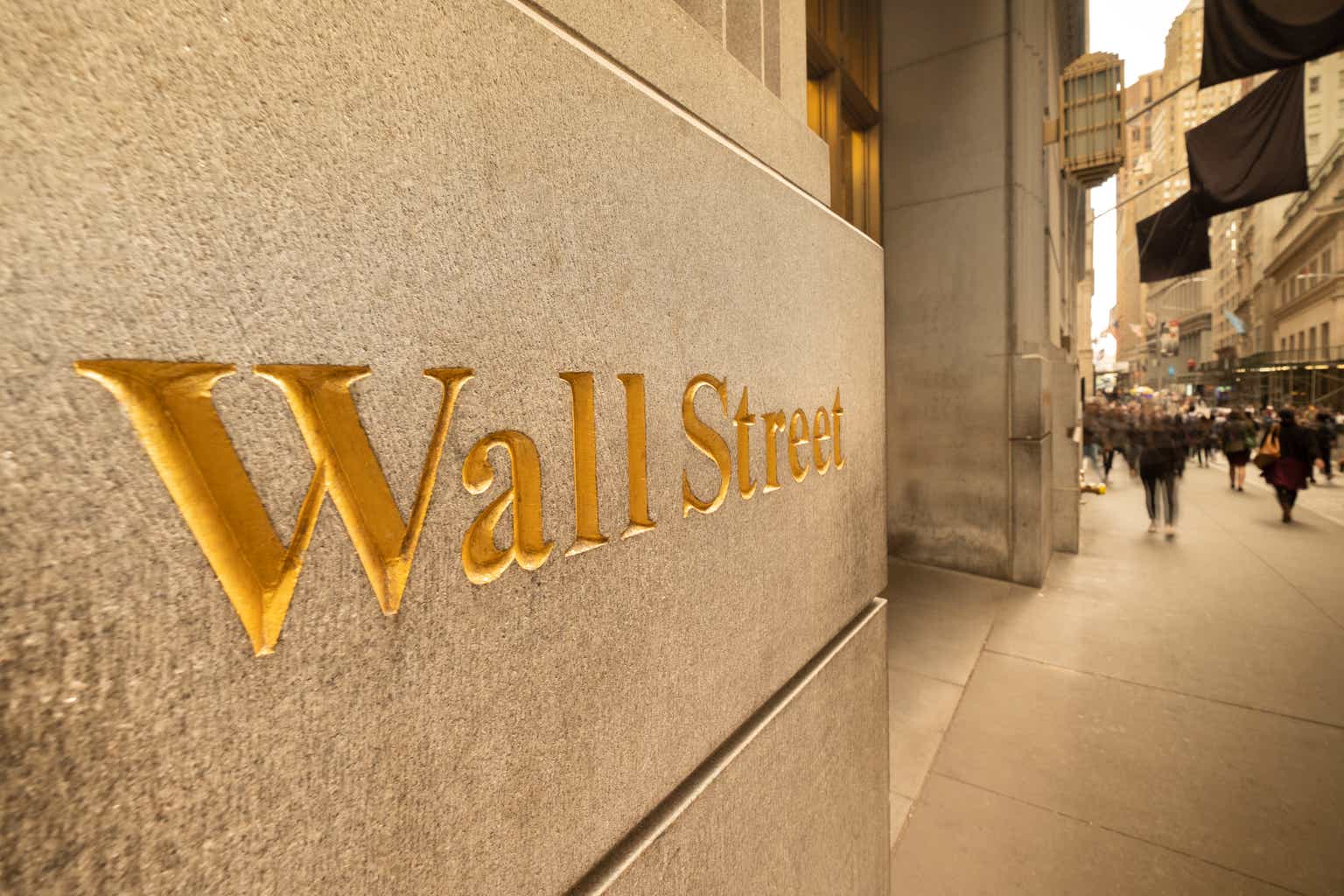 Investment Thesis
Any intelligent stock investment is a bet about what the future holds. It requires a forecast of that future.
The further out in time we probe, the greater is the risk we may turn out to be in error. Time so spent is extremely costly because it cannot be replaced. "Conservative" long-term errors once apparent may become defeaters of major-objective goals.
The truly protective investment strategies are repeatable evaluative shorter-term ones. They can be identified more readily as failing and replaced by pursuits with better odds for desired achievements.
But they take more effort and information inputs, including realistic price target forecasts.
For most investors those inputs and forecasts are better obtained from market professionals making them day by day without biases likely to be counter to the investor's objectives.
We obtain those inputs from direct work experience knowledge of how market-makers must work to provide trading liquidity for major institutions in their management of multi-billion-$ portfolios.
We use Capri Holdings Limited (NYSE:CPRI) here as an illustration in the pursuit of knowledgeable shorter-term investment guidance in selecting wealth-building stocks.
Company Description
"Capri Holdings Limited designs, markets, distributes, and retails branded women's and men's apparel, footwear, and accessories in the United States, Canada, Latin America, Europe, the Middle East, Africa, and Asia. The company was formerly known as Michael Kors Holdings Limited and changed its name to Capri Holdings Limited in December 2018. Capri Holdings Limited was founded in 1981 and is headquartered in London, the United Kingdom."
Source: Yahoo Finance
The above are "street" analyst estimates "guided" by corporate officials designated as investor interfaces. While it should seem that corporate and investor objectives are parallel, there often are times when they are not. Investor judgment error-incurring times, particularly in regard to shares' likely coming market prices.
Long-standing stock market mechanics intensified by advances in information technology require 21st-century equity transactions to be either highly-automated small volume/value trades with/among individual investors or big value/volume trades among "institutional" investors managing Billion-$+ portfolios.
The automated individual small trades are present on a fairly consistent basis, while the larger institutional trades tend to be irregular in their timing and urgency. Knowledge of impending big trades tend to move prices in anticipation, reducing their effectiveness for the trade initiator, so they seek quick, private accomplishment. That is aided by "Market-Maker" [MM] firms like GS, MS and a dozen or so others.
The MMs seek to balance buyer and seller share volumes by, where necessary (usually 90+% of the time) acting as buyers or short sellers of borrowed shares. Their risks thus taken are hedged by "insurance" deals in open public markets for derivative securities.
The costs and structures of the hedges define the price expectations of knowledgeable participants in those markets, often "prop" trade desks of MM firms and other institutions acting for their own accounts.
Here In Figure 1 is what the daily ranges of expected prices have been over the past 6 months for CPRI:
Figure 1
Please do not jump to conclusions about what these pictures show
Figure 1 is NOT a conventional backward-in-time-looking "technical price chart." Instead, it is a recent history of daily forward-looking price range forecasts made by well-informed, experienced market professionals.
Figure 1
(used with permission)
The vertical lines of Figure 1 span the range of price implied to be likely by the actions of Market-Makers [MMs] as they hedge the firm's capital required to be put at risk. Their commitments are needed to balance buyers and sellers when "filling" client block trade orders from big-money-fund portfolio managers.
The implications of these actions have been known to sometimes vary significantly from forecast statements made by the "research" departments of the same firms.
The vertical forecast lines are split into upside and downside prospects by the heavy-dot end-of-day market quote for the issue on the day of the forecast. A measure of the imbalance between up and down implications is the Range Index [RI], which tells what percent of the whole forecast range lies to the downside. Here for CPRI, the RI is 53, indicating about as much upside in prospect as downside.
The "thumbnail" picture at the bottom of Figure 1 displays where today's RI relates to the RI experiences of the subject over the past 5 years. Positions to the left of the distribution's peak are favorable, to the right may be not so.
The row of data between the two pictures of Figure 1 tells of the prior experiences of forecasts like the one seen at this point in time. We use the RI to see how well the MMs' prior forecasts have worked out when a simple, practical portfolio management discipline is uniformly applied to all investment candidates at all times.
The acronym for that Time-Efficient Risk-Management Discipline is TERMD. It sets as a price sell-target the top of a price range forecast held likely to occur within a time horizon that can be credibly forecast. When the target is reached, the position is closed and the realized proceeds are reinvested, in their entirety into the then current best available candidate. For our purposes, the forecasts used come from the MM hedging actions, with position costs of the price at the end of the market day following the forecast. The forecast horizon used is 3 months (91 calendar days or 63 market days), when a still-open position is closed, it is all to be reinvested, regardless of gain or loss.
For CPRI there have been 25 prior instances of RIs at 53 out of the 788 market days in the past 3+ years. Profits were there to be earned in 96% of those experiences. After deducting the loss of the unprofitable 1 position, the return on all 25 was +13.1%.
Since many reached targets before 63 full market days, the average holding period on all 61 was 25 market days, 4 more than in a typical month. That compounds to an annual [CAGR] rate of +240%. There can be no guarantee of a CPRI position taken now producing profit at a +240% CAGR, but the proportion of RI forecasts at an adequate sample size of 25 market days, is impressive.
A look at CPRI's MM price range forecasts week by week over the past two years in Figure 1a provides a longer term perspective for its recent trend history.
Figure 1a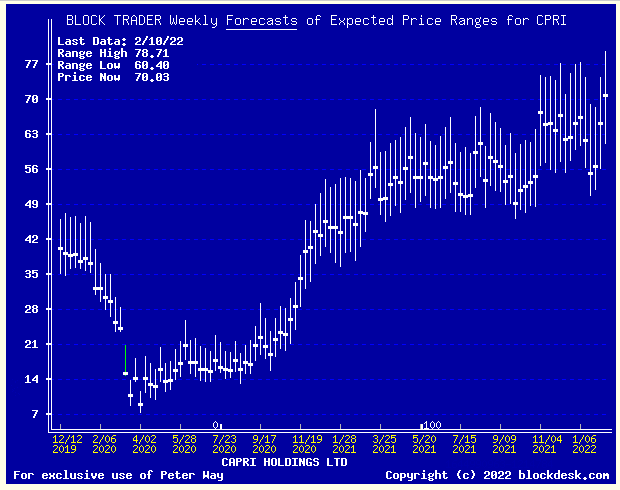 (used with permission)
With CPRI as a guideline, let's look in Figure 2 at how its trade-off between an upside forecast prospect of +12.3% and a typical worst-case price drawdown (from a position entry cost on the day after the forecast) of -5.0% compares with other apparel producers.
Risk-Reward tradeoff comparisons
Figure 2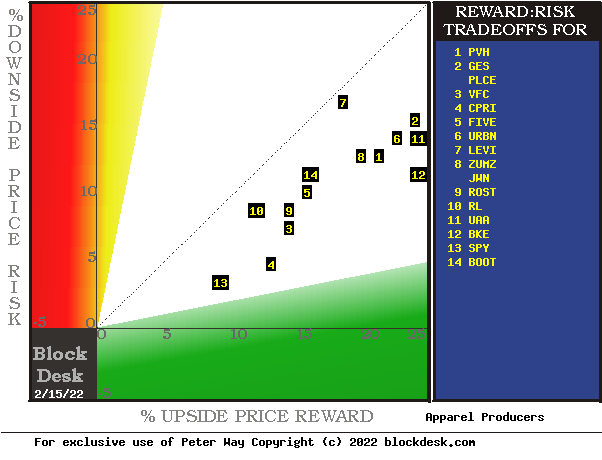 (used with permission)
Upside price rewards are from the behavioral analysis (of what to do right, not of errors) by Market-Makers [MMs] as they protect their at-risk capital from possible damaging future price moves. Their potential reward forecasts are measured by the green horizontal scale.
The risk dimension is of actual price drawdowns at their most extreme point while being held in previous pursuit of upside rewards similar to the ones currently being seen. They are measured on the red vertical scale.
Both scales are of percent change from zero to 25%. Any stock or ETF whose present risk exposure exceeds its reward prospect will be above the dotted diagonal line.
Our principal interest is in CPRI at location [4]. A "market index" norm of reward~risk tradeoffs is offered by SPY at [13].
This map is a good starting point, but it can only cover some of the investment characteristics that often should influence an investor's choice of where to put his/her capital to work. The table in Figure 2 covers the above considerations and several others.
Comparing Alternative Investments
Figure 3
Source: Blockdesk.com (used with permission)
The price-range forecast limits of columns [B] and [C] get defined by MM hedging actions to protect firm capital required to be put at risk of price changes from volume trade orders placed by big-$ "institutional" clients.
[E] measures potential upside risks for MM short positions created to fill such orders, and reward potentials for the buy-side positions so created. Prior forecasts like the present provide a history of relevant price draw-down risks for buyers. The most severe ones actually encountered are in [F], during holding periods in effort to reach [E] gains. Those are where buyers are most likely to accept losses.
[H] tells what proportion of the [L] sample of prior like forecasts have earned gains by either having price reach its [B] target or be above its [D] entry cost at the end of a 3-month max-patience holding period limit. [ I ] gives the net gains-losses of those [L] experiences and [N] suggests how credible [E] may be compared to [ I ].
Further Reward~Risk tradeoffs involve using the [H] odds for gains with the 100 - H loss odds as weights for N-conditioned [E] and for [F], for a combined-return score [Q]. The typical position holding period [J] on [Q] provides a figure of merit [fom] ranking measure [R] useful in portfolio position preferencing. Figure 2 is row-ranked on R among candidate securities, with SPSC in top rank.
Along with the candidate-specific stocks these selection considerations are provided for the averages of over 3500 stocks for which MM price-range forecasts are available today, 20 of the best-ranked (by fom) of those forecasts, and the forecast for S&P500 Index ETF as an equity market proxy.
CPRI's bp/day prospect of 49 when compounded over a 252 market-day year, adds up to the 240% gain in [K] if sustained for a year. But its next 3-month high price target of $142.61 at +12.3% above the forecast-current price of $69.94 leaves the remaining +228% to be compounded from other selected investments able to achieve gains at the same 49 bp/day rate in the remaining 227 market days of the year, if it takes the prior average of 25 days to earn this +12.3%.
All those ifs are what make it easier to keep score by simply adding up the realized bps and the days required to achieve them, then to divide one by the other to derive an average CAGR for your portfolio.
Among the 20 best-ranked of all 3,620 of today's MM price-range forecasts, their higher Win Odds (90 of 100) and shorter holding periods (35 days) boost their average CAGRs to 164%. Here CPRI compares quite favorably at +240% and Win Odds of 96 of 100 for the first part of a measurement year compared to the market index ETF of SPY with a CAGR of 25% and win Odds of 86 of 100.
Conclusion
Considering the significant Reward to Risk advantage and its Odds-Weighted rate of return above all other apparel producers Capri Holdings Limited appears to be a best wealth-building choice for portfolio inclusion at this time.