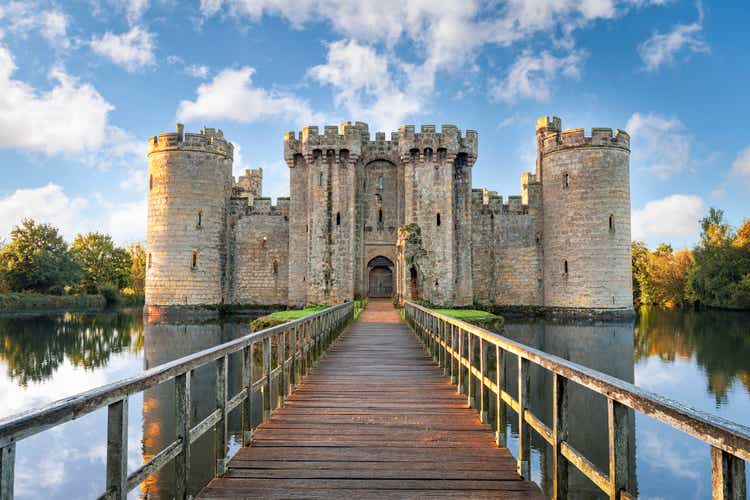 You may recall an article I wrote back in 2020 titled "The Art of the Sale-Leaseback." In it, I provided a textbook lesson on the concept of monetizing real estate utilizing the so-called sale-leaseback structure.
As I explained:
"A sale/leaseback is an arrangement between two parties: 1) One party (the seller/lessee) that owns an asset sells it to a second party (the buyer/lessor) and 2) The seller/lessee leases the asset back from the buyer/lessor."
That was late in July. So we already understood we were dealing with something bigger than "two weeks to slow the spread."
Numerous businesses were folding entirely. And many of those that weren't were desperate for cash to stave off bankruptcy.
Therefore, knowing my way around real estate the way I do, it only seemed logical to predict that:
"... the pandemic could generate a wave of corporate sale-leasebacks, especially for sub-investment-grade companies. For many companies (e.g. Home Depot, Tractor Supply, etc.), the fastest way to grow initially is to own real estate.

"Later though, they're often sitting on a lot of real estate and could easily tap into the sale-leaseback business to generate liquidity. That's one of the reasons we're so bullish with REITs like Realty Income, Store Capital, and W.P. Carey."
Today, it's that last real estate investment trust I want to focus on because Realty Income (NYSE:O) has proven itself to be a force of nature too big to ignore.
Realty Income Isn't Done Expanding
Just a few months ago, I wrote this update on Realty Income:
"Prior to the Great Recession, Realty Income was a SWAN-a-bee: It hadn't yet matured into a blue-chip (fortress-like) dividend machine.

"The company was hoping to become a consolidator - much like Prologis (PLD) in the industrial subsector or Public Storage (PSA) in self-storage. But it had to first earn its stripes by generating stable earnings and dividend growth."
Today, it's a dominating REIT force as well as an S&P 500 company and one of just 65 in the elite S&P 500 Dividend Aristocrats Index. That legacy is how it made its strategic takeover of Vereit.
Some were surprised earlier this week when Realty Income announced it would acquire the Encore Boston Harbor Resort and Casino for $1.7 billion from Wynn Resorts (WYNN) at a 5.9% initial cap rate.
After all, it's never entered the gaming industry before.
Not me though. I think this is right up the monthly dividend company's ever-expanding alley.
The agreement includes an initial lease term of 30 years. Annual rent growth will be 1.75% for the first 10 years and the greater of 1.75% or CPI - capped at 2.5% - over the remaining lease term. Either way, it's greater than the mid-1% average of O's portfolio (unlevered).
Also, there's strong earnings before interest, taxes, depreciation, amortization, and restructuring/rent (EBITDAr) coverage with upside. It's currently 2.1x, with a 2.4x target in the next 3-5 years.
That's because the property is relatively new. Plus, online sports betting should spike its revenue even further once Massachusetts legalizes sports betting.
The transaction should generate immediate earnings accretion, healthy contractual rent growth, and long-term returns at favorable spreads to O's cost of capital (around 4%).
Upon closing, Wynn will likely represent less than 3.5% of Realty Income's annualized contractual rent.
Reading The (Gaming And Leisure) Tea Leaves
As iREIT on Alpha members know, we recently upgraded Gaming and Leisure (GLPI) to a Strong Buy. Then we bought shares for the Real Money Portfolio.
I explained in an exclusive article:
"Although considered a net-lease REIT business model, the gaming REITs have carved out a very nice niche for investors, albeit a more competitive subsector, thanks in part to the private equity participants."
Here's another fact worth repeating: "… gaming REITs are unique because state regulators who issue licenses are tasked to make sure there's no cannibalization."
This means gaming property owners have moat-worthy attributes since "each state government passes legislation that dictates how many licenses for commercial casinos" it wants to grant.
Furthermore, "we consider the business model a competitive moat that prevents private equity platers like Starwood (STWD) or Blackstone (BX) to enter the space."
The new Realty Income asset (to-be) is considered a "superregional" property with an industry-leading operator that faces very minimal supply threat given that Massachusetts has conceded to granting only three gaming licenses.
The next closest casino is 90 minutes away, and the third license isn't yet allocated.
Incidentally, it appears that it will take time for O to obtain the license, hence the estimated Q4-22 closing date. That's also why VICI (VICI) is estimating a Q1-22 close date for the Venetian and a Q2-22 close date for MGM Growth (MGP).
Another interesting factoid is this: The Boston resort comes with a 5.9% cap rate while the comparable Las Vegas Cosmopolitan was sub-5%. Also, there's a right of first refusal on a neighboring Encore asset worth $280 million with a 7% cap rate. That one generates $20 million in annual rent.
As with most sale/leaseback transactions, Wynn wants to reduce its debt.
Relevant Facts About GLPI
As I explained in the GLPI piece on iREIT:
"I find it interesting that GLPI trades at ~300 bps [basis points] below VICI… and I question why owning shares in a regional gaming REIT (like GLPI) is so much cheaper than a 'trophy asset' buyer like VICI.

"I understand that VICI's properties are higher-quality… but I also don't believe GLPI is getting enough credit for its diversified business model (and more diverse now, thanks to the latest news).

"I find it also interesting to see that O and ADC - both owning high-quality properties leased to mostly investment-grade tenants - are trading 400 bps above REITs like NNN and SRC."
Currently, GLPI trades at a mid-7% implied cap rate. And it recently purchased Live! From Cordish for a 6.9% cap rate.
Remember that the Encore Boston Harbor deal is estimated at 5.9%. So applying a 5.9% cap rate for GLPI's net asset value ('NAV') would imply a mid-$50s value versus the current $41.
I also informed iREIT members that GLPI screams "merger and acquisition (M&A) target" for potential suitors such as:
That also begs the question as to whether EPR Properties (EPR) tries gaming again. You may recall that in 2020, it announced:
"… the deferral of its anticipated gaming venue investment and all other uncommitted investment spending due to unfavorable current market conditions… the company entered into a non-binding term sheet with respect to the gaming investment of approximately $1.0 billion."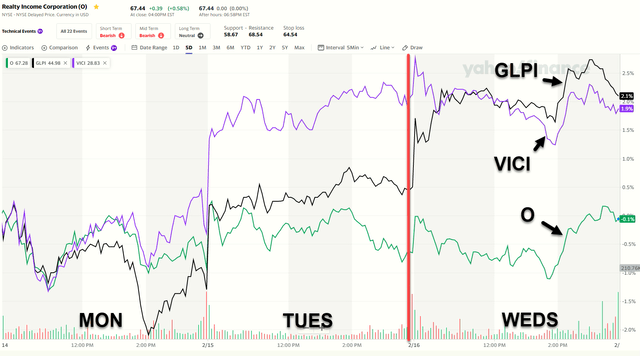 In Conclusion…
As I've said many, many times on Seeking Alpha, Realty Income is a solidly put-together consolidator. It boasts two of the most important wide-moat advantages - scale and cost of capital - that allows it to thrive.
The $3 trillion U.S. net-lease playing field is enormous and highly fragmented. And, as stated before, there's an insatiable demand for income today.
So, the way I see it, the larger landlords will continue to scale and become dominant players in REIT-dom.
Landlords like Realty Income.
Its fortress balance sheet can now be supercharged in Europe with lower debt costs. But even as is, there aren't many REITs that can swoop up a $1.7 billion sale-leaseback portfolio without even blinking an eye...
To me, Realty Income is a no-brainer Buy: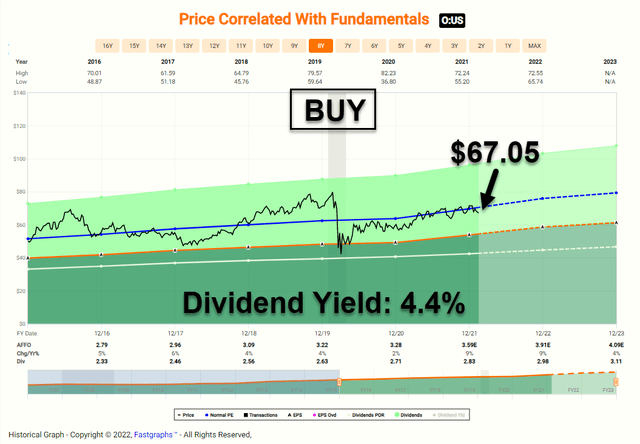 Gaming & Leisure is an even better buy...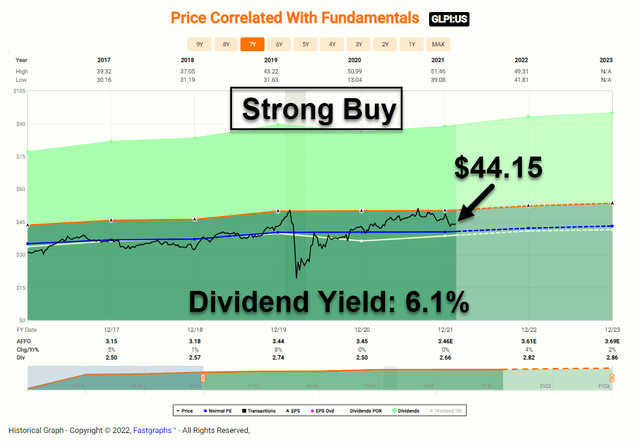 And VICI Properties, for its part, is a Strong Buy: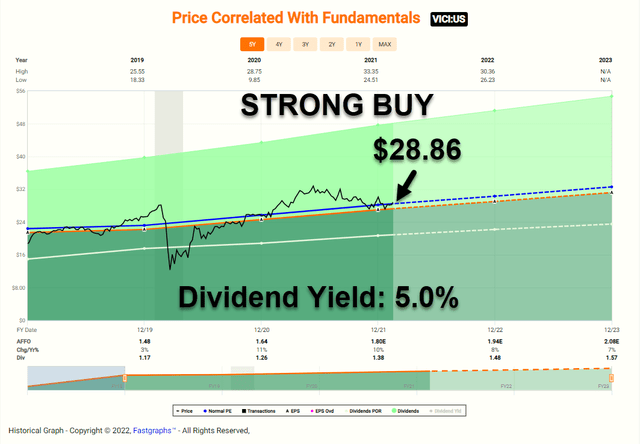 What's Next For Realty Income Especially From Here?
NFL stadiums?
NBA stadiums?
Six Flags?
Railroads?
The sky is the limit.
Realty Income has proven that its wide-moat model can deliver something very special. So, of course, I expect it to make special buys.
That's just par for the course.
I expect it to go on to become one of the largest REITs on the planet - larger than American Tower (AMT) and its $100 billion-plus market cap - with the balance sheet to move mountains.
All, of course, while I'm sleeping well at night!