By Denis Hurley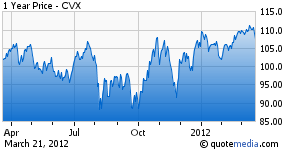 Few companies - especially large, diversified oil companies - can boast both unquestioned stability and significant long-term growth opportunities. In this regard, Chevron (NYSE:CVX) is certainly an exceptional and undervalued outlier. As a whole, the global energy sector is vulnerable to the macroeconomic risk of a decline in energy demand and consumption due to persistent anemic economic growth in developed countries and less buoyant growth in the developing world. Nevertheless, Chevron boasts consistent outperformance of similar companies, enviable fundamentals, and stellar growth forecasts. Markets reacted negatively to fourth quarter earnings missing lofty analyst expectations yet annual earnings and revenues were the best on record. The company offers investors a large and consistent dividend yield combined with an excellent opportunity for long-term capital gains.
Sector Overview
Despite subdued global economic growth relative to the boom years of the early- and mid-2000s, major integrated energy companies reported fairly strong earnings and healthy price performances in 2011. In the immediate future, major oil company earnings are threatened by tepid global economic growth. For the past decade, emerging markets, especially the BRIC countries (Brazil, Russia, India, and China) have been driving energy demand growth. The recent economic recession once seemed only a brief hiccup stalling growth in these four economic juggernauts but worries of slower growth in China in particular (slowing to 8% to 9% - still nothing to scoff at) is weighing on global growth forecasts. IMF and World Bank estimates of 2012 growth have been notably tepid. Exxon Mobil (NYSE:XOM), Royal Dutch Shell (NYSE:RDS.A), Petrobras (NYSE:PBR), Total (NYSE:TOT), ENI (ENI), ConocoPhillips (NYSE:COP), BP (NYSE:BP), and Chevron all achieved record or near record earnings in 2011 on similarly buoyant revenue. The industry-wide sustainability of this trend is questionable given the uncertainty of the political environments in many oil rich regions, the volatility of oil and gas prices, dwindling reserves, and a dearth of new exploration and discoveries. However, relative to its competitors, Chevron's long-term outlook and competitive advantage hold much promise.
Company Overview
Chevron, like all major integrated oil companies, is divided into two broad segments: Upstream operations - exploration and production of oil and natural gas - and downstream operations - refining, production and distribution of oil and petroleum-based products. The company maintains interests in over 80 companies across a diverse range of business interests within these segments, including retail gasoline and natural gas distribution under several brand names, oil and natural gas exploration and production, liquefied natural gas transportation and storage, power generation, petroleum products production, and mining, among many others. It boasts a market capitalization of about $213 billion and revenues topping $200 billion in fiscal 2010 making it one of the top twenty largest companies in the world by either measure.
Financials
Chevron earned $9.48 per share in fiscal 2010, a figure it has already surpassed in the first three quarters of 2011. Fourth quarter earnings will below average analyst expectations yet corporate earnings still topped $13/share in fiscal 2011 - an impressive gain of nearly 40%. (The earnings surprise was mainly the result of weakness in refining operations due to maintenance and lower margins combined with charges related to company oil spill liability in Nigeria and Brazil. Revenue growth over the same period jumped 33.8% from just under $200 billion to nearly $250 billion in 2011. Preliminary analyst estimates predict revenues will grow to nearly $264 billion in 2012, again despite tepid global economic growth forecasts. Net margins increased from 10% in 2010 to 10.6% in 2011; both numbers top the industry average.
With a P/E ratio under 8 - nearly 40% below the industry average - shares are relatively inexpensive. In an uncertain economic environment (given the on-going Euro-crisis, halting economic growth in the United States, and less robust growth in emerging markets), Chevron's beta of .75 combined with a dividend yield of over 3% offer investors a bastion of stability in an uncertain environment. Moreover, the company has demonstrated steadfast commitment to dividend strength through 24 consecutive years of yield increases including two in 2011 amounting to a 12.5% dividend increase over 2010.
Competitors
Chevron's most immediate competitors are the four other so-called "supermajor" oil companies directly descended from the infamous "seven sisters" of the immediate decades following World War II: BP, Total, Royal Dutch Shell, and Exxon Mobil (with ConocoPhillips sometimes included). These firms all compete in a global resource market and have generally similar business models. Compared to these competitors, Chevron has one of the highest yields, one of the lowest debt levels, the second highest return on assets, and the highest net profit margin based on fiscal 2010 numbers. Moreover, relative to competitors, Chevron's average return on equity of 18.7 and return on investment 11.09 trailed only Exxon Mobil in 2010. And Chevron has exhibited stellar improvement in fiscal 2011. Return on capital in fiscal 2011 was 22% and total shareholder return was 20%. The company is at the top of its class by nearly every metric.
Chevron also confronts increasingly robust competition from expanding majority state-owned companies. Among these increasingly global corporations are the three Chinese oil majors: CNOOC (NYSE:CEO), Sinopec (NYSE:SHI), and the China National Petroleum Corporation (CNPC)(parent company of PetroChina) and Petrobras of Brazil. These companies often reap extensive political benefits and national goodwill in their home countries (though the trend has been toward greater operational independence). However, in many foreign countries, these companies face significant political barriers to unilateral expansion without a domestic partner. They also tend to be less transparent financially and more difficult for investors to harness in pursuit capital gains.
Other challengers include smaller integrated rivals, such as Marathon (NYSE:MRO) and Occidental (NYSE:OXY), and non-integrated companies that are often not vertically integrated but concentrated on specific business segments such as Schlumberger (NYSE:SLB) (oil field services), Transocean (NYSE:RIG) (offshore drilling), Overseas Shipholding Group (NYSE:OSG) (tanker transportation), and Valero (NYSE:VLO) (refining and petroleum products). Smaller integrated companies often face greater logistical hurdles due to smaller shipping and distribution networks, less refining capacity, less production flexibility, and weaker ability to weather changes in capital and debt markets. Smaller integrated companies also tend to have higher betas implying less stability and offer lower dividend yields. Compared to Chevron, the latter group of non-integrated companies suffers from a lack of diversified sources of revenue that makes them vulnerable to varying business circumstances in their respective niche segments. These may offer investors great opportunities for capital gains but can be quite volatile and with the exception of the pipeline transportation sector, also cannot claim the dividend growth, stability, and consistency of Chevron.
Integrated rivals Marathon and ConocoPhillips recently decided to spin-off their downstream operations and focus on the upstream segment as a supposed means to increase efficiency and shareholder value. The move was followed by some speculation about the future of other integrated majors but a Chevron spokesman indicated that is has no immediate plans to pursue this strategy and that it was committed to its integrated business model. Whether or not such a spin-off would enhance shareholder value is questionable and beyond the scope of this article. However, Chevron, in its current, vertically integrated structure, is an incredibly successful company that has afforded shareholders unassailable stability, growth, and dividend income despite a less than amenable business climate.
Risks
In the short and medium term, the fortunes of the energy sector as a whole are entirely dependent on global economic growth. Accordingly, the energy sector confronts the risk of a general decline in global growth and its consequent negative effects on income, earnings, and shareholder value. According to Chevron's 2010 annual report, the greatest influence on the profitability of the company is unsurprisingly the prices of oil and natural gas. Gas prices have been extremely depressed by this year's mild winter, denting profitability of gas production. Chevron's natural gas-related businesses are quite large and basement prices for the commodity will drastically damage its gas segments.
Conversely, oil prices have found support around $100/barrel (WTI) despite lackluster growth and demand. Geopolitical events such as Iranian threats to close the strait of Hormuz to oil shipments, the imminent European embargo and drastically reduced Chinese and Japanese purchases of Iranian oil, and Libya's still depressed levels of production have also contributed to general price support.
Several internal concerns may threaten Chevron's future prospects. The corporation has made significant acquisitions in recent years and failure to fully and efficiently integrate these units into the company could drag down efficiency. In addition, Chevron invests heavily in technology, exploration, and other capital expenditures. New projects that underperform estimates or must be delayed will impose significant charges.
In the short term, charges related to a large oil spill in Brazil and a similar incident in Nigeria in which two employees died for which Chevron is liable will certainly dent earnings in the next fiscal year, though the responses by the Brazilian and Nigerian governments will heavily influence how negative the impact will be. Challenges from the increasing use of alternative fuels is unlikely to have any short- or medium-term influence on performance due to global economic dependence on fossil fuels. Their long-term impact on the company is an open question.
Growth Forecasts and Capital Projects
According to Chevron's internal forecasts, daily production in terms of barrels of oil equivalent is expected to grow at a 1% compound annual rate through 2014 and at a 4% to 5% compound annual rate thereafter through 2017, assuming a price of $79 per barrel of oil equivalent (or alternatively an average Brent crude price of $111); a conservative prediction if global growth is rekindled. According to its 3rd quarter earnings report, Chevron is currently developing major upstream projects in Thailand, China, the United Kingdom, Australia, Angola, Canada, and Poland. It is also developing interests in four petrochemical companies while divesting itself of underperforming assets in Europe, Africa and the Caribbean. The company also recently announced that it added the equivalent of 1.67 billion barrels of oil to its reserves in 2011, enough to replace 171% of total 2011 production. In short, the company is actively pursuing new projects, pruning lagging business segments, and growing steadily despite lukewarm global growth forecasts.
So, Is Chevron a Buy?
In uncertain economic environments, equity investors tend to flee for the refuge of large stable companies that have significant yields and are relatively safe investments. As a uniquely flexible, efficient, and growing giant, Chevron offers investors the best of both worlds: stability combined with steady growth. Despite some external risks to corporate profitability and cool market reception to the company's fourth quarter results, Chevron's fundamentals remain enviable and its prospects for the immediate future singularly bright.
Disclosure: I have no positions in any stocks mentioned, and no plans to initiate any positions within the next 72 hours.