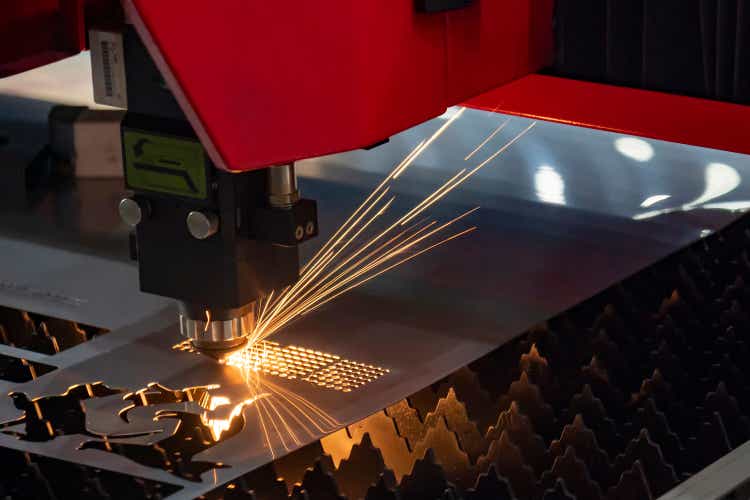 IPG Photonics Corporation (NASDAQ:IPGP) closed out FY2021 with the release of the Q4 report. While there were positives to be found, they were also negatives. The latter seems to have overshadowed the former based on the market response with the stock selling off after the report's release. However, valuations have also dropped, which raises the question whether the time has come to scoop up IPGP now that the price of the stock has been slashed by almost half. While some may answer yes, others may answer no. It may be better to wait. Why will be covered next.
Why the market gave the latest report from IPGP a thumbs down
The table below shows the final numbers for FY2021. FY2021 revenue increased by 21.7% YoY to $1,460.9M, which happens to be a new all-time high, surpassing the old high set in FY2018 ever so slightly. GAAP net income increased by 74% YoY to $278.4M or $5.16 per share. These numbers are nothing to sneeze at, which then begs the question why the market reacted so negatively.
| | | | |
| --- | --- | --- | --- |
| (GAAP) | FY2021 | FY2020 | YoY |
| Revenue | $1,460.9M | $1,200.7M | 21.67% |
| Gross margin | 47.7% | 44.9% | 280bps |
| Operating margin | 25.2% | 16.5% | 870bps |
| Operating income | $367.9M | $198.7M | 85.15% |
| Net income | $278.4M | $159.6M | 74.44% |
| EPS | $5.16 | $2.97 | 73.74% |
Source: IPGP Form 8-K
If the numbers above were all there is to it, the market would likely have reacted differently than it did. However, there were others factors at play. The numbers for the whole year do not tell the whole story. The trend is for the numbers to get worse. For starters, IPGP has encountered strong headwinds in China, its largest market. The news of increasing competition and a slowdown in demand in China triggered a major selloff in the stock IPGP has yet to recover from. A previous article goes into greater detail on this issue.
IPGP has come up with a number of steps to mitigate the impact of weakness in China. For instance, IPGP is introducing new products that will hopefully drive new demand, especially in emerging industries like electrical vehicles or EVs. Moreover, IPGP is counting on other markets to make up for shortfalls in China.
However, the Q4 report suggests the results are a mixed bag at best. While IPGP scored some gains in some areas, they were offset by setbacks elsewhere. While the market in China shrank, IPGP was able to offset this by growing elsewhere. Non-China sales reached 69% of revenue, a multi-year high. Europe increased by 37% YoY, North America by 30% YoY and Japan by 56% YoY, offsetting the decline of 20% YoY in China, worse than in Q3 when it declined by 7%.
This helped the top and the bottom line exceed consensus estimates. Q4 revenue increased by 8.3% YoY to $364.5M and GAAP EPS increased by 31.5% YoY to $1.21. The sequential decline in the numbers can be attributed to China. IPGP is also seeing the impact of cost increases on margins due to inflation. The table below shows the numbers for Q4 FY2021.
However, while the headline numbers look good, a closer look reveals something else. Q4 FY2021 earnings benefited from a foreign exchange gain of $7.1M. In contrast, Q4 FY2020 earnings were negatively impacted by a foreign exchange loss of $5.2M, skewing the quarterly comparisons. If not for foreign exchange fluctuations, the YoY gain in EPS would likely have been in the low single digits.
| | | | | | |
| --- | --- | --- | --- | --- | --- |
| (GAAP) | Q4 FY2021 | Q3 FY2021 | Q4 FY2020 | QoQ | YoY |
| Revenue | $364.467M | $379.150M | $336.630M | (3.87%) | 8.27% |
| Gross margin | 45.5% | 49.0% | 43.6% | (350bps) | 190bps |
| Operating margin | 23.3% | 26.9% | 19.4% | (360bps) | 390bps |
| Operating income | $84.803M | $101.986M | $65.241M | (16.85%) | 29.98% |
| Net income | $65.087M | $75.402M | $49.339M | (13.68%) | 31.92% |
| EPS | $1.21 | $1.40 | $0.92 | (13.57%) | 31.52% |
The outlook sees the numbers getting worse. The top and the bottom line are expected to shrink, both QoQ and YoY. Guidance calls for Q1 FY2022 revenue of $320-350M, a decline of 8.1% QoQ and 3.1% YoY at the midpoint. The forecast expects GAAP EPS of $0.85-1.15, a decline of 17.4% QoQ and 20.6% YoY at the midpoint.
| | | | |
| --- | --- | --- | --- |
| (GAAP) | Q1 FY2022 (guidance) | Q1 FY2021 | YoY (midpoint) |
| Revenue | $320-350M | $345.6M | (3.07%) |
| EPS | $0.85-1.15 | $1.26 | (20.63%) |
Guidance did not extend beyond Q1, but management did have some comments as to what to expect from FY2022. IPGP sees FY2022 revenue increasing YoY, but not by as much as in FY2021 at 3-6%. From the Q4 earnings call:
"We expect continued strong demand in welding and cutting markets in North America, Europe and Japan. Sales in emerging growth products should benefit from continued macro trends such as investments into EV batteries, solar cells, automation and miniaturization. However, this will be a transition year for IPG with growth in focus areas and continued diversification away from highly competitive portion of the high power cutting market in China leading to a more moderate 3% to 6% revenue growth in 2022. With that said, we remain optimistic in our long-term growth opportunities for IPG and continue to expect double-digit revenue growth in the mid to long-term."
A transcript of the Q4 FY2021 earnings call can be found here.
IPGP's fortunes have long been swayed by whatever happens in China. China has at times given IPGP a boost, but it has also caused problems for IPGP as is currently the case. IPGP is trying to reduce its exposure to China to soften the blows from China-induced booms and busts cycles, but it's a work in progress.
The stock being down could be an opportunity
The stock fell big after the release of the Q4 report, bringing YTD losses to 18%. These losses are on top of the 23% the stock lost in 2021, resulting in a stock that is roughly 44% off the high in early 2021. However, the stock did rebound off of the day's lows, which is a positive sign. Valuations have also gone down. The table below shows the multiples for IPGP.
Multiples are lower than they have been on average in the last five years. For instance, IPGP has an enterprise value of $6B, much less than its market cap of $7.5B thanks to $1.5B in cash on its balance sheet, which is about 12 times EBITDA on a forward basis and 13 times on a trailing basis. The 5-year average is closer to 17 and 18 respectively. Some might look at this and argue now is a good time to get in on IPGP after the huge drop in the last twelve months and with multiples where they are.
| | |
| --- | --- |
| | IPGP |
| Market cap | $7.46B |
| Enterprise value | $5.98B |
| Revenue ("ttm") | $1,460.9M |
| EBITDA | $449.1M |
| Trailing P/E | 27.25 |
| Forward P/E | 25.83 |
| PEG | 0.37 |
| P/S | 5.14 |
| P/B | 2.71 |
| EV/sales | 4.09 |
| Trailing EV/EBITDA | 13.31 |
| Fooward EV/EBITDA | 12.31 |
Source: SeekingAlpha
On the other hand, it's worth mentioning that the stock may be in what appears to be a descending channel, which is bounded by a series of lower highs and lower lows. The trend in the chart below seems to be pointing down, the opposite of when the stock rallied from the low in March 2020 to the high in February 2021 when the trend was up. The stock could be heading for around $100 or so, an area of major support and resistance. It would also complete a 100% retracement of the previous uptrend.
Why IPGP could go lower
Some may assume the stock is likely to rally after the big drawdown and the bad news from China being priced in, but that does not have to be the case. While the stock may bounce in the short term, it could have another leg lower. IPGP still faces a number of possible headwinds that could have an impact on the quarterly numbers.
For instance, while the U.S. and Europe have given IPGP a lift, there's no guarantee if or for how long it will continue. The slowdown in China could spread to other regions, especially since both the U.S. and Europe have to reduce stimulus that pushed up GDP growth to 5+% in 2021 and tighten monetary conditions in order to fight spiking inflation, which tends to slow down the economy. Spiking prices for commodities like oil will also weigh on growth.
There's another wildcard out there. IPGP has a lot of exposure to Russia with roughly a third of its workers employed over there and that could become a problem. If tensions in Eastern Europe get out of control, the U.S. could impose sanctions on Russia, which would almost certainly invite counter sanctions from Russia. If either or both of these scenarios play out this way, IPGP may be forced to scale down its outlook for the year to something worse than growth in the low single digits.
Investor Takeaways
IPGP sees the year 2022 as a transition year. IPGP is counting on growth in other markets, the U.S. and Europe principally, to make up for its struggles in China, which may have become structural. Competition in China is rising with local companies climbing the value chain by offering alternative solutions to those from IPGP, often at lower prices.
Q1 FY2022 guidance calls for the top and the bottom line to shrink, but the outlook also expects a better second half if FY2022 revenue is to grow by 3-6% YoY. IPGP is counting on a more diverse revenue stream with sales of new products growing by as much as 57% YoY. But the outlook also assumes demand in China will stabilize and continued growth in demand from places like Europe and the U.S.
However, the latter may be too much to ask. The economies in Europe and the U.S. are very likely to slow down with the Fed forced to reduce stimulus and increase interest rates. The slowdown in China may be a preview of what could happen to other regions. China was after all the first country to normalize and emerge from COVID-19. It's only natural for it to be the first to see its economy slow down. Other are almost certain to follow.
I see IPGP as a hold. It may be tempting to take a shot at IPGP with the stock having lost almost half of its value. Getting in now could pay off in the long run, assuming someone is willing to wait. However, there are a number of wildcards out there that make such a move a risky one in the short run. While the stock could bounce in the short term, it's unlikely to have found the bottom.
The charts suggest there's room for the stock to go lower. The trend can always change, but the current trend is for the stock to move lower and that trend remains firmly in place. In addition, there's a high probability that the macro environment will get worse for IPGP, including in the U.S. Geopolitical tensions could trigger a selloff in the stock, depending on what happens in Russia. The Fed tightening makes it more difficult for tech stocks to do well as compared to when QE ruled the roost. Bottom line, there may come a time to get in on IPGP, but with the way the cards are laid out, now does not appear to be that time.