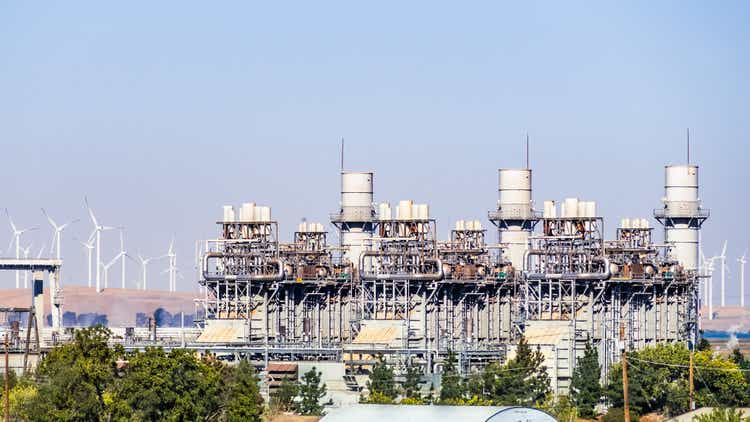 Until recently, one would produce some real-estate-related picture to symbolize Brookfield's business. It does not work this way anymore.
I will skip the introduction assuming my readers are familiar with Brookfield Asset Management (NYSE:BAM) (otherwise, I suggest checking the company's presentation). But in short, the company positions itself and reports consisting of two segments: Invested Capital and Asset Management. Invested Capital makes money as a return on Brookfield's capital and Asset Management generates fees and carry for managing third-party investments.
Results
BAM measures its results in multiple ways: distributable earnings, FFO, net income, plan value, assets under management (AUM), IFRS equity, and various combinations of the above. While none of these metrics is sufficient alone, some of them are better than others.
For a while, we have used operating FFO over multiple reporting periods as the best metric to follow BAM's performance. These results updated for 2021 together with other helpful numbers are presented below.
To better understand the table, please note the following:
All numbers are in millions unless per share
AUM is presented on an "

a share" basis, i.e. only 62% of Oaktree's AUM are accounted for vs. Brookfield's consolidated reporting.

Shares outstanding represent basic shares. The difference between basic and diluted shares may become meaningful in the coming years if Brookfield Reinsurance (BAMR) starts issuing shares that are exchangeable into BAM.
Almost all equity "belongs" to the Invested Capital segment since Asset Management requires negligible capital.
BAM presents Operating FFO without deducting preferred dividends and we kept the same format listing these dividends in the separate column. It is logical to deduct these dividends from Invested Capital FFO to account for the segment.
Operating FFO of Asset Management is also called fee-related earnings (FRE).
Let me explain why we prefer Operating FFO to value BAM as opposed to other options. First, the traditional net income is a poor fit. On the one hand, it includes estimated fair value gains for real estate following IFRS requirements (GAAP does not require it). Without good comps (most of BAM's properties are unique), it uses rather subjective discount and/or cap rates. On the other hand, net income underestimates economical earnings for infrastructure assets since their sustaining capex is much smaller than depreciation charges.
Distributable earnings are useful but can deviate materially from underlying cash flows. For example, former BPY (now BPG - Brookfield Property Group) performed poorly in 2020 but kept paying the same distributions to BAM as if everything had been as usual.
Some people (importantly, including BAM itself) are using FFO for Asset Management and book value (or net capital) for Invested Assets. This opens its own Pandora's Box that I will illustrate by example. BPG contributes $20B to BAM's AUM. We can estimate that it generates 1.25%x$20=$250M in base fees (1.25% is a typical asset management fee for BAM). At 60% margin normal for BAM and 25 multiple, it becomes equal to $250M*60%*25=$3.75B of value. Since charging fees does not change equity (fees are subtracted from returns), the initial $20B of equity miraculously grows to $23.75B of "value". On its last earnings call, BAM suggested using 25-40 multiples for its Asset Management FFO. At 40 multiple, our $20B grows all the way to $26B.
Of $314B in BAM's AUM, $53B represents BAM's own capital. So the error introduced by this double-counting can be material. In addition, BPY had always traded at a meaningful discount to its IFRS equity and BPG should not be valued better.
Using FFO for both Invested Assets and Asset Management eliminates these errors. There is no double-counting since management fees are deducted from Invested Assets FFO. While not ideal, Operating FFO seems the best single number to analyze BAM.
And what about carry that is not included in Operating FFO? In a separate section we will show that it introduces only minor changes.
Based on Operating FFO, the business is remarkably stable. Over the last 5 years, it has been growing at about 12% per year. In 2020, because of the pandemic, the growth was slightly lower, and in 2021, it was slightly higher due to economic recovery.
12% growth is rather high and may deserve 20 multiple but 25 seems too rich. FFO should be similar to GAAP's cash flow from operations net of working capital items. Amazon (AMZN) typically trades close to 25 multiple of CFFO justify it by growing at 28% on average. AAPL is typically trading close to P/FCF of 25 with free cash flow being smaller than CFFO. Historically, BAM has been trading close to the P/FFO of 18.
BAM has been consistently trading at elevated valuations of ~20 multiple or higher since 2019 save for the short-lived bear market of 2020. This timing does not seem accidental. At the end of 2019, Brookfield closed its acquisition of a 62% stake in Oaktree. It made quickly growing Asset Management a more prominent part of Brookfield's business and caused stock rerating. If we assume that 20 multiple is the new normal, it might take the stock some time to grow into its current valuation.
Please note that nothing is wrong with the business and BAM keeps delivering at an enviable pace. But the stock has overrun the business. Further advances in Asset Management and growth in carry may shorten the "catch-up" period. Still, the prospect of the stock being stuck at the current level for some time is too much for creative minds inside BAM.
Buybacks are out of the question as the stock is not cheap. So how to make a moderately expensive stock more expensive? Financial engineering may be the answer.
February 10 Earnings Call
On this call, after the regular upbeat recap, Mr. Bruce Flatt delivered a bombshell. Let me quote from the SA transcript:
In a market environment that seemingly prefer its asset-light managers, it may therefore makes sense to separate part of the manager and offer investors a security that owns our asset manager separate from our capital. For backdrop based on comparable multiples for pure-play asset-light alternative investment managers, our managers should be valued in the range of $70 billion to $100 billion. This is in addition to the $50 billion of net capital that we have invested in our businesses today. If we separate part of the manager, this could increase the simplicity and ease of valuing our asset management business, provide a security for those that wish asset-light and also possibly open up new growth options for the overall business.
In other words, Mr. Flatt proposed segregating the Asset Management into a separate subsidiary and spinning it off. Typically, BAM does it by distributing a minority stake in the new company (called Manager, for convenience) to the existing shareholders. Importantly, Mr. Flatt did not present this spinoff as a firm plan but rather as an option to consider. The stock immediately popped up but over the next few days, reverted to its trading range before the call.
Adding up Manager at $70-100B and Invested Assets at $50B produces $120-150B vs today's market cap of $90B at a small cost of some financial rearrangements. Seems promising but there is nothing new here.
For years, in its Supplementary filings and presentations, BAM has been promoting the so-called "plan value" consisting of something above IFRS equity for Invested Assets (Mr. Flatt mentioned $50B), and 25-40 multiple of FRE plus 10 multiple of target carry for Asset Management. These multiples were confirmed on the last earnings call by the CFO. The market has never accepted these valuations and the stock has been always trading at a significant discount to the plan value. There is no reason to believe that BAM trusts these valuations either. Otherwise, why has it not implemented buybacks at scale?
I can hardly accept that Invested Assets is worth $50B. The segment produced $1,862-$157 = $1,705 of in 2021. $50B in value implies a multiple of $50,000/$1,705 = 29 - higher than Amazon but with 5-6% growth only!
Since BAM in total is trading at 25 multiple, the faster-growing part - Asset Management - may be more expensive. I am using "may be" instead of "should be" because not convinced that BAM in total deserves this historically high 25 multiple. But FRE is really a jewel. From our table, it has grown at ~21% since 2017. This is impressive by itself but only a starting point. FRE represents free cash flow of the highest quality, mostly recurring, and requiring no capex. Moreover, there are reasons to believe that growth in FRE will continue unabated for some time based on secular trends and BAM's new initiatives such as Transition and Insurance.
I am reluctant to pinpoint a particular multiple to value Manager but it can be in line with Big Tech. To substantiate 25-40, BAM hinted at comps on its earnings call but it is not unambiguous: while some comps are expensive, Apollo (APO) is cheaper. Still, using, say, 30 multiple produces only ~$57B for Manager. The rest of the Manager's value should be coming from carry...
Carry
Until recently, I was ignoring carry when valuing BAM for two reasons. First, there was not too much to talk about in terms of realized net carry. Secondly, acquiring Oaktree Brookfield paid surprisingly little for its carry.
The situation is gradually changing. Here are the numbers for realized net carry for 2017-2021: $74, $188, $396, $348, $715. The growth in recent years represents contributions from carry-rich Oaktree since 2019, an increase in carry-eligible AUM within Brookfield, and exits from early Brookfield flagship funds.
Here is how BAM justifies using net target carry for valuation purposes (from its Q4 Supplementary):
For planning purposes, we use current carry eligible capital multiplied by target fund returns and our average carried interest rate to determine annualized carried interest, and then subtract associated direct costs to arrive at a 70% margin for Brookfield, and 50% margin for Oaktree, which is net target carried interest.
It takes many years to deliver and realize carry and its value can fluctuate since nobody knows returns that funds will generate at any point in time. So, net target carry is a measure of future earnings that is complex, unreliable, remote, and hypothetical. Nevertheless, BAM suggests using 10 multiple to value it.
Some conservative insurers are valued at about 10 multiple of their very real PAST earnings. I am challenged to accept the same multiple for remote, fluctuating, and hypothetical earnings and have never seen BAM substantiate the figure.
From my old analysis, I figured out Brookfield paid about 3 multiple for Oaktree's net target carry. Apollo mentioned 5 multiple to value carry in its Investor Presentation (Transcript, p. 59). 3-5 multiple for net target carry seems more sensible.
Here is how BAM quantifies its current net target carry (Supplemental Q4):
Target carried interest on capital currently invested is $2.8 billion per annum, and $1.3 billion on capital not yet invested. Total target carried interest is $3.4 billion at our share, or $2.2 billion net of costs.
Are we supposed to use net target carry for only invested capital or for both invested and uninvested? And how about net target carry for capital not only uninvested but also uncollected? I do not know and the whole concept seems rather shaky. But let us use the $1.5-2B range as an estimate for net target carry a share. At 3-5 multiple, it produces $4.5-10B in value.
Please note that the lower number ($4.5B) is supported by the accrued net carry in our table ($4.7B). The latter is something more palpable than targeted net carry but will shrink when discounting to present value. At the rate of $715 in realized carry for 2021, it will take about 4700/715 ~ 6-7 years to collect. Maybe less if realizations keep growing. Summing up, I would conservatively use ~$5B to value carry.
Spinoff or not?
To value BAM as SOTP, I would use, say, 20 multiple for operating FFO plus $5B for carry. This is equal to ~$77B or ~$49 per share and is not dependent on whether Manager is spun off or not. I am quite optimistic about BAM shares in the longer term, will be holding my position but not add at the current levels. Accordingly, I do not see much value in the spinoff, am not familiar with its details yet, and am not 100% sure that BAM will implement it.
But this is just my personal opinion. Many SA authors are accepting BAM's plan value as the stock's intrinsic value. If you share this position and think that BAM is undervalued, you have to buy the shares aggressively right now and wait until BAM convinces investors of its plan value through the spinoff or otherwise.
Conclusion
I do not want the tone of this post to mislead. BAM is my significant position and I admire its management. But from decade-old observations, I know that BAM is as brilliant in PR as in investing and never misses a chance to promote its stock in various, often sophisticated, ways. BAM's management is motivated to promote its stock and I do not see anything negative here. But investors are not obliged to always follow company's presentations.