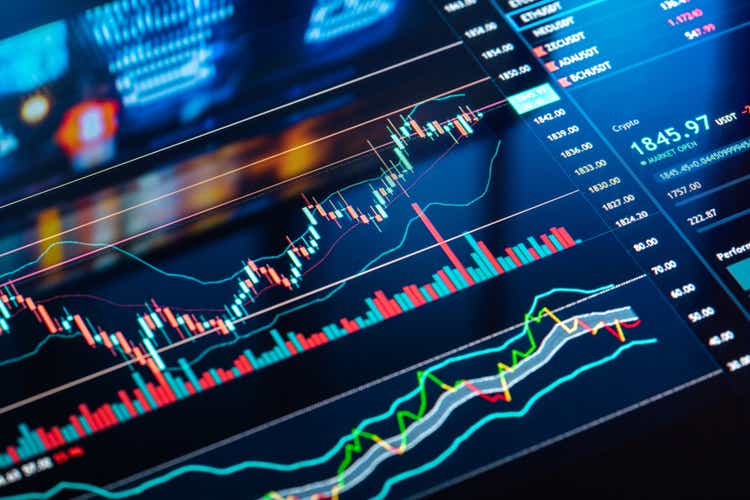 This article was first released to Systematic Income subscribers and free trials on Feb. 13.
Welcome to another installment of our Preferreds Market Weekly Review where we discuss preferreds and baby bond market activity from both the bottom-up, highlighting individual news and events, as well as top-down, providing an overview of the broader market. We also try to add some historical context as well as relevant themes that look to be driving markets or that investors ought to be mindful of. This update covers the period through the second week of February.
Be sure to check out our other weekly updates covering the BDC as well as the CEF markets for perspectives across the broader income space.
Market Action
It was another down week for preferreds with the average sector off around 1%. This was despite longer-term Treasury yields holding steady on the week though shorter-term yields rose on the back of an inflation surprise print.
Year-to-date the preferreds sector is off around 4% with the higher-quality sectors like Banks and Insurance underperforming (due to a lower-coupon / longer-duration profile) while a few idiosyncratic names in the Telecom sector i.e. COMSP and the BDC sector i.e. PSEC.PA are driving underperformance there.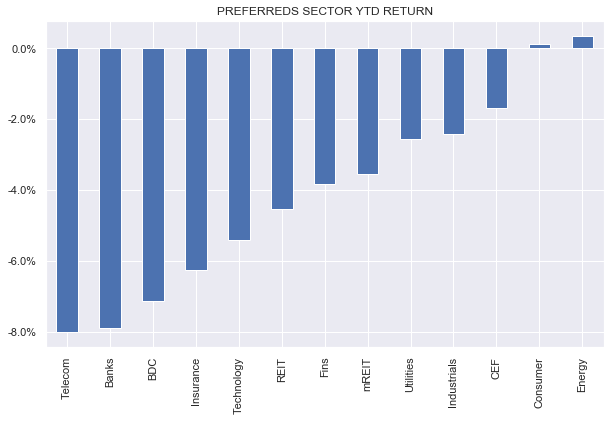 Weakness in February has already exceeded that of January with February set to be the worst month since March of 2020. Three of the last 4 four months are the worst performers since then.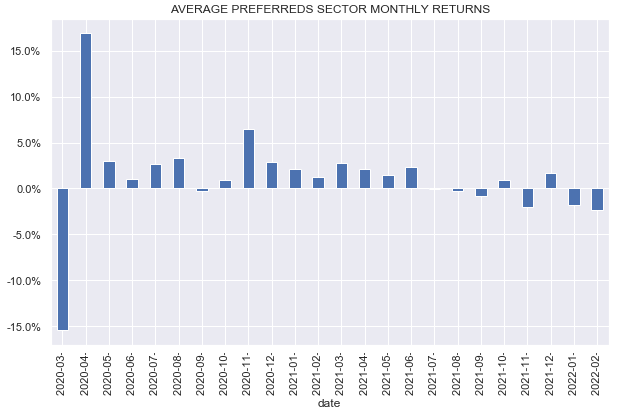 The upside of this weakness is that the median yield-to-worst has risen close to 5.5% from around 3.5% in the middle of 2021. This rise in yield is well above the action in Treasury yields for any maturity and is supportive of the preferreds market as many investment-grade securities are now trading at yields north of 5% or more than 3% above the yield of 10Y Treasuries.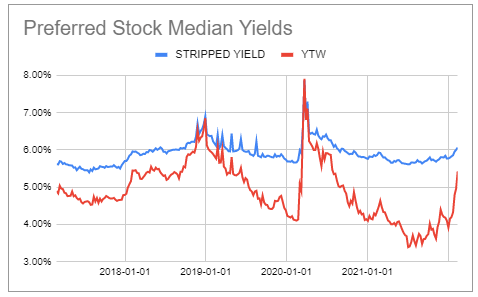 Market Themes
In the previous weekly we discussed how low-coupon preferreds have underperformed during the recent rise in interest rates due to their longer-duration profile. This week we talk about another key variable that investors ought to keep an eye on which is coupon structure, specifically, fixed-rate vs. fix/float coupons.
Fix/float preferreds are those that feature a change in their coupon from a fixed-rate to a floating-rate, such as Libor (a proxy for 3-Month bank unsecured rates) or CMT (Constant Maturity Treasury which is typically the 5Y Treasury yield, reset every 5 years).
The recent bear flattening of the yield curve where short-term rates have risen faster than longer-term rates remains a key theme in the income space, and particularly, for preferred stocks. Since the start of the year 2Y and 10Y Treasury yields have risen 0.77% and 0.40% respectively.
This fast rise in short-term rates has favored fix/float stocks over fixed-rate stocks as the following year-to-date performance trajectory of the Banks sector shows.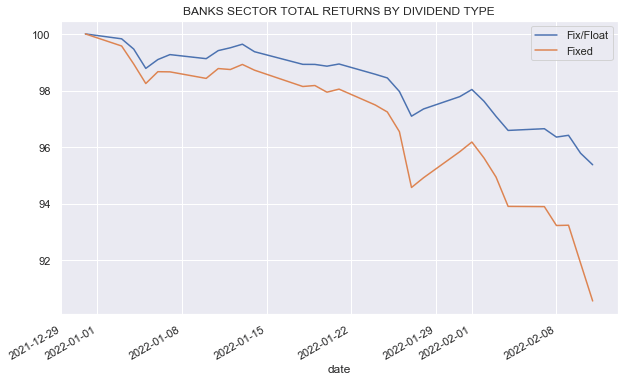 If we break down performance across one issuer to control for credit quality we get the same result. The J and K Goldman Sachs series are Libor fix/float while the other 3 series are fixed-rate (they are technically, floating-rate but have such as high fixed-rate floor and low spread over Libor that they are basically fixed-rate).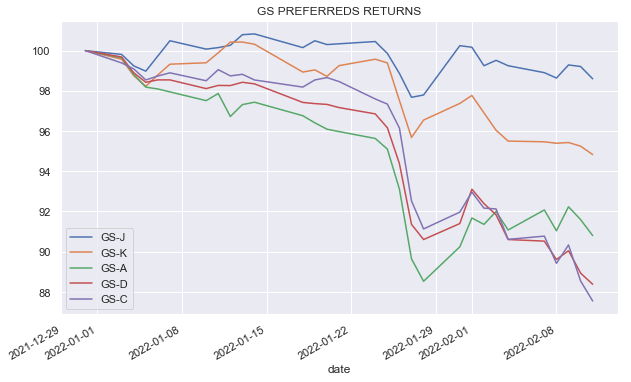 The key takeaway here is that not only do investors have to track the obvious stuff like credit quality, they also should keep an eye out for coupon level and coupon structure - two key drivers of interest rate sensitivity. Phrased another way, relative performance across the preferreds market is driven by both yield level (which drives differential performance across coupon levels) and well as the shape of the yield curve (which drives differential performance across coupon structure i.e. fixed vs fix/float series).
A final takeaway is to beware the old saw that "fix/float preferreds have a lower duration". This may be correct when rates are rising but is precisely incorrect when rates are falling. This is because when short-term rates are falling, coupons of fix/float securities are more likely to reset to lower levels which will lengthen their duration exposure. And, perhaps, more intuitively, it makes these series unappealing as investors will tend to flock to securities that do not face a coupon step down on the first call date.
Market Commentary
On the service we discussed a comment we occasionally hear with respect to the Prospect Capital Corp 5.35% Series A (PSEC.PA) stock which has not done well since its IPO, to say the least, trading at $19.92 clean price.
The comment we hear is that the stock simply shouldn't have been issued at 5.35% and its below-market coupon explains its subsequent fall. That view ignores history - PSEC.PA was issued when the BDC debt sector was trading at a sub-2% yield so a preferred with a yield pickup of around 3.5% from a BDC that (despite the fact that many investors hate it) has delivered some of the strongest total NAV returns in the last 5 years and carries one of the lowest leverage levels in the sector (this is offset somewhat by the embedded leverage of its CLO equity holdings).
The chart below shows the timing of the PSEC.PA IPO and where the BDC debt sector was trading in yield-to-worst terms. Had the BDC debt sector traded at yields of 4-5% then the argument that the 5.35% PSEC.PA coupon was too low could hold water but it was trading below 2% at the time.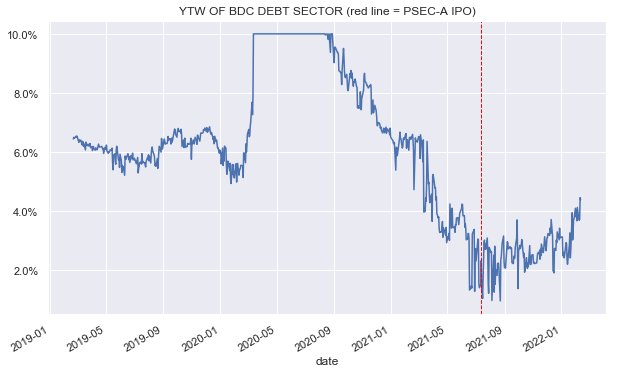 Secondly, PSEC had a baby bond outstanding (PBC) at the time of the IPO which was trading at a yield-to-worst of below 2% as well. A yield pick-up of 3.5% in the preferred with very high coverage and low leverage is attractive regardless of the backseat driving commentary we occasionally hear.
Based on Q4 numbers and $500m of preferreds issuance (based on the recent press release) the equity / prefs coverage is 8.4x which is very high as these things go, particularly given 1) the secured loan focus of PSEC (its REIT and CLO equity allocations are higher-volatility and more cyclical but they are at smaller allocations in the portfolio) and 2) the low leverage of PSEC which means there is comparatively little debt ahead of the preferreds.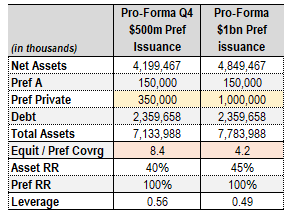 Given all of this the preferreds are still made whole (i.e. recover 100%) if the company's assets lose 60% of their value (over the GFC its assets lost about a third of that number). At the worst case (when the private preferred issuance moves up to $1bn) assets can lose 55% of their value and the preferreds will still be whole.
Obviously, the move lower in PSEC.PA is unpleasant but it does highlight the occasional tendency on the part of investors to 1) moan about low yields and few opportunities and 2) then moan about falling prices despite the fact that lower prices represent more attractive yields. Conviction does help short-circuit this unhelpful investment style but that can be easier said than done.
It's worth taking a quick look at Q4 PSEC results to see if there is anything fundamental wrong with the company. NII rose to $0.219 from $0.209 and the NAV increased by close to 5% - the highest in the BDC sector of the companies having reported so far. Non-accruals ticked lower as did PIK income. Leverage rose slightly to just 0.51x - the lowest in the sector. This highlights that there is nothing obviously wrong with the fundamentals i.e. the moves in PSEC.PA are technical and likely linked to a rotation from the public to the private preferred. The yield differential between the two has been growing and the rotation will start to make a lot less sense despite the attractive but misleading optics of keeping the price of the private preferred anchored at "par".
mREIT Two Harbors Investment Corp (TWO) reported results - book value fell 8%, again driven by the widening in agency spreads. Equity / preferreds coverage remained roughly the same at 3.8x as the company issued common shares in Q4. Leverage ticked lower to 4.7x from 6.1x. The TWO 8.125% Series A is attractive in our view (TWO.PA) due to its high coupon and Fix/Float profile with a high spread over Libor all of which translates into a lower interest rate sensitivity. The stock is also trading at the highest YTW among the 3 series of 7.97% (Reset Yield at 7.51% based on Libor forwards) and has a long first call date in 2027 which provides a measure of call protection.
With the bank sector underperforming high-quality sector stocks are beginning to look attractive with many trading 3.5% above the yield of the 10Y Treasury. We like the Huntington Bancshares 5.7% Series I (HBANM), trading at a 5.73% yield, Regions Financial 5.7% Fix/Float (RF.PC) at a 5.36% yield with a very long call date in 2029 and the non-callable Wells-Fargo (WFC.PL) at a 5.61% yield.