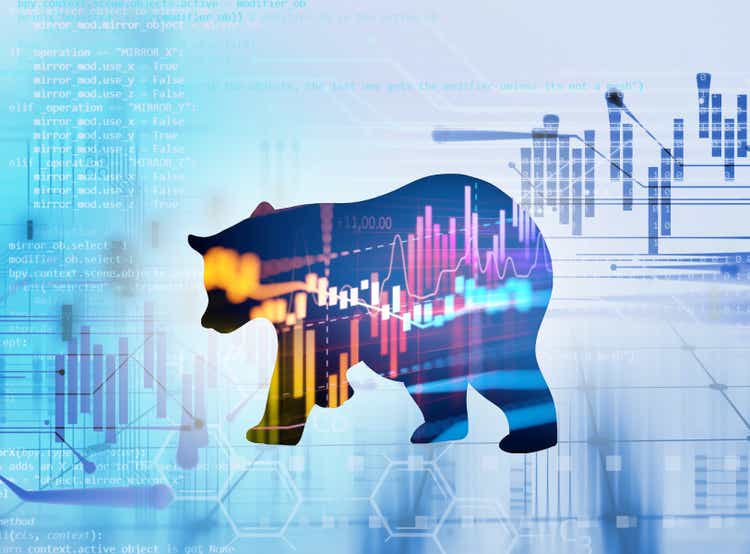 The ARK Innovation ETF (ARKK) has plunged more than 56% from its February 2021 highs in what can be described as "reversion to the mean performance of QQQ ETF" in the same period since inception of the former ETF. This reversion to the mean is shown in the chart below.
The blue line shows the performance of ARKK, the gray line the performance of QQQ and the black straight line is the linear regression of the latter. ARKK plunged towards the black line after losing more than 56%.
Case 1: ARKK ETF plunge was due to speculative stock picking.
This is the argument heard frequently and probably it makes more sense. In a Seeking Alpha article on December 3, 2021, I argued the following:
My own limited analysis shows that trying to pick tech stocks eventually leads to an absorbing barrier. We know this occurred a few times in the past and particularly during the dot com crash but risks are now even more elevated...
Many of the holdings of ARKK benefited during the pandemic but as conditions normalized there was reversion to some mean, as also shown in the above chart. Year-to-date, ARKK has more than double the loss of QQQ, -28% for the former versus -13.2% for the latter.
Case 2: ARKK plunge is a leading indicator of price action in tech market.
Although this has low probability, ARKK price action could be a leading indicator. This argument is loosely supported by the fact that before bear markets start the riskiest stocks get hit first before there is a broader market correction.
In case ARKK is a leading indicator, then NASDAQ-100 could also undergo mean-reversion. This low probability event is shown in the chart below.
The black line is the linear regression and currently ends at about 6,900. Reversion to mean would equate to about 58% drop in the index from all-time highs of November 2011 but it will also be a return to 2018 highs.
Someone could argue a reversion to 2018 highs will not be the end of the world.
In my opinion, Case 2 is an extreme event with small but finite probability. Charts and patterns can never forecast extreme events of this kind. However, these possibilities can assist in developing a strategy to deal with risks via diversification and/or tail risk hedging.
As far as long-term trend, one can only be bullish about technology stocks in USA markets. As long as there is innovation and venture capital available to finance it, in the long-term technology stocks will gain. But in the short to medium term, there may be pain, uncle point and even total loss for those unprepared to deal with the risk.