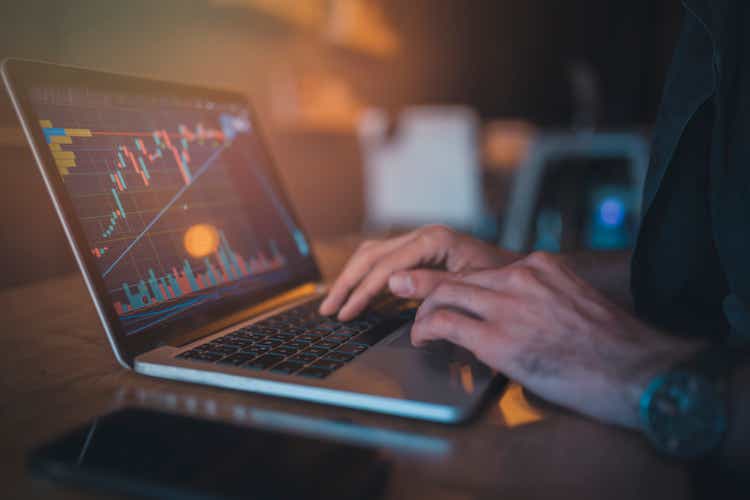 Written by Nick Ackerman, co-produced by Stanford Chemist
Virtus AllianzGI Convertible & Income Fund II (NYSE:NCZ) is quite similar to its sister fund; Virtus AllianzGI Convertible & Income Fund (NCV). I have looked at NCV in the past. More recently, a reader had asked my thoughts on NCZ, and it felt like an appropriate time to do an update altogether. These funds are so similar that what is applicable for one is often the case and relevant for the other too. This could make them a potentially great swap partner. If one held NCV at this time, switching to NCZ could make sense.
To highlight this, here is the total share price and total NAV returns for the last 10 years between the funds.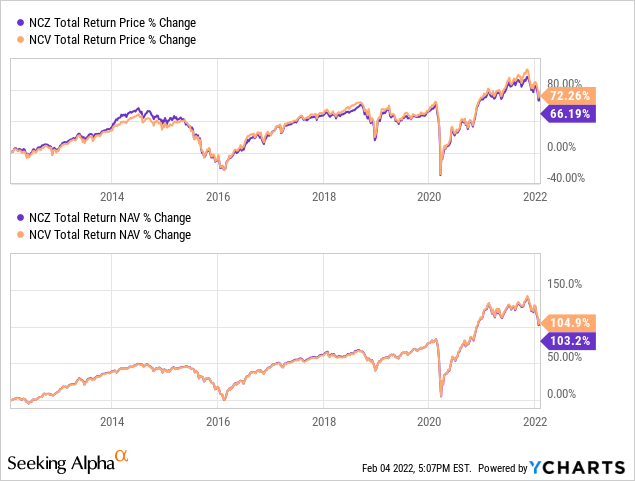 In my previous NCV article, I noted some underperformance and distribution sustainability concerns. As the market is off to a rocky start in 2022, that would put the distribution sustainability even more in focus for these funds.
As far as market underperformance relative to some of their peers, that is a backward-looking metric. What is more important is looking forward. Unfortunately, while it had seemed that NCZ and NCV were picking up steam to gain on some of the Calamos funds last year, that reversed.
So while I don't believe these funds are the most attractive in the convertible space. The higher yields could still be tempting while they are paying them. NCZ and NCV's discounts have diverged a bit, with NCZ's discount becoming more attractive. At an over 6.5% discount, things are definitely more interesting here.
The Basics
1-Year Z-score: -0.05
Discount: 7.90%
Distribution Yield: 10.16%
Expense Ratio: 1.35%
Leverage: 41.81%
Managed Assets: $649.41 million
Structure: Perpetual
NCZ's investment objective is to "seek total return through ac combination of capital appreciation and high current income." They certainly have the high-income part right as the fund pays investors a nearly 10% distribution yield.
To achieve this, the fund will "invest in a diversified portfolio of domestic convertible securities and high-yield bond rated below investment grade." From there, they also include the parameter that they will "invest at least 50% of its portfolio in convertibles but determines its allocation based on changes in equity prices, changes in interest rates, and other economic and market factors. For the convertible portion, Allianz Global Investors seeks to capture the upside potential of equities with potentially less volatility than a pure stock investment."
As investors might know, convertible bonds carry features of both equities and bonds. They usually follow the prices of the underlying common stock of the issuing company. At the same time, there is a floor that the bond is expected to pay back at least par if the conversion doesn't take place. Typically, they will also pay a fixed-rate dividend to investors until redemption or conversion. Due to the conversion feature, companies can often pay less in yield for the chance of upside due to conversion. Throughout 2020 and 2021, some companies could issue convertible stocks with 0% yields.
The fund is a fair size at nearly $650 million in total managed assets. However, to get to that level of managed assets, the fund is highly leveraged at 41.81%. This is through a series of preferred shares. They have auction rate preferred shares and a Series A Cumulative Preferred share offering. While CEFs in this space can carry quite a bit of leverage, this is on the high side even for the space.
These auction rate preferred shares are incredibly cheap in terms of leverage at this time. As of August 31st, 2021, the highest was the Series C at a 0.14% rate. The lowest was the Series D at 0.10%. These account for borrowings of $162.53 million for the fund.
The Series A Cumulative Preferred shares come with a heftier 5.5% dividend rate but are fixed. That means that when rates begin to rise this year, it isn't going to add to costs for NCZ in terms of interest expenses. After September 11th, 2023, this becomes callable at any time. They last had an outstanding value of $109 million.
Expense Ratio
In the expense department, there is a bit of an odd situation with NCZ that I wanted to point out.
The fund's expense ratio comes to 1.35%. When including the interest expenses, it comes to 1.48%. That being said, that doesn't include the preferred dividends as an expense. They don't utilize any borrowings at this time. In this case, I'm not sure why there is a difference here. My initial thought was due to a commitment fee. However, in the notes from their annual report, NCZ isn't listed as having a commitment fee because they have no commitment.
Prior to June 14, 2021, the maximum capital commitment amounts under the respective SSB Facilities were $125,000, $71,000, $34,000 and $0, respectively, for AllianzGI Artificial Intelligence & Technology Opportunities Fund, AllianzGI Convertible & Income 2024 Target Term Fund, AllianzGI Convertible & Income Fund and AllianzGI Convertible & Income Fund II. Interest on amounts drawn under each SSB Facility was charged at a daily rate equal to the U.S. 3-month LIBOR rate plus 0.55%, with a commitment fee of 0.15% payable on the maximum capital commitment amount less the amount drawn in any month when the amount drawn was less than 85% of the commitment amount on any day.
After June 14th, 2021, they entered into a new arrangement with The Bank of New York Mellon. However, once again, NCZ's maximum capital commitment is $0 - so a commitment fee shouldn't be applicable here either. At least, according to what would seem to make sense.
At August 31, 2021, the maximum capital commitment amounts under the MMLA were $75,000, $71,000, $34,000 and $0, respectively, for AllianzGI Artificial Intelligence & Technology Opportunities Fund, AllianzGI Convertible & Income 2024 Target Term Fund, AllianzGI Convertible & Income Fund and AllianzGI Convertible & Income Fund II. Interest on amounts drawn under each MMLA is charged at a daily rate and a commitment fee is paid on the undrawn amounts as agreed to in the MMLA.
1.35% to 1.48% isn't a massive difference in the grand scheme of things. I can't explain why there would be a difference at all, though - especially since the preferred dividends aren't listed as an expense of the fund. Instead, those are listed below in the "Statements of Changes in Net Assets," which isn't uncommon for a CEF.
Performance - Lagging Peers
The two funds that come to mind with quite a similar mix to NCZ and NCV are Calamos Convertible Opportunities & Income Fund (CHI) and Calamos Convertible & High Income Fund (CHY). That is unfortunate for these funds because these are two strong performing funds historically. NCV's performance in our previous article was starting to keep up with CHI in 2021.
However, before the end of the year, that had changed, and CHI started to pull away. Below is 2021 performance, comparing total share price and total NAV returns.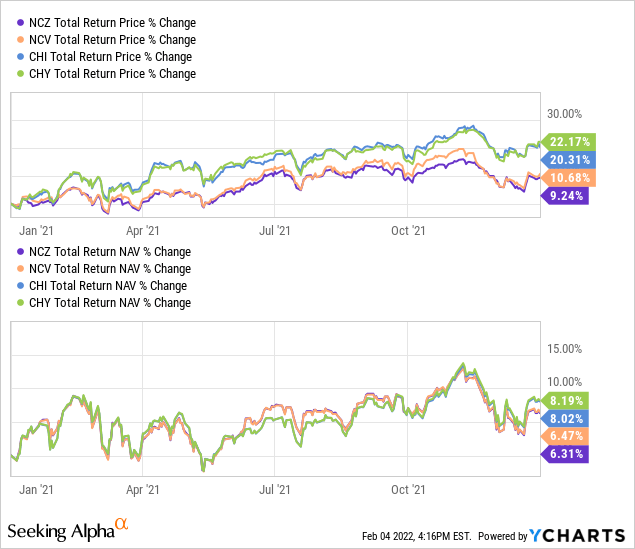 What is interesting to note is that the Calamos twins carry a bit more exposure to tech stocks. That's the area of the market that was hurt the worst - yet, we saw NCZ/NCV as the ones to head lower.
We have been off to a rocky start in 2022 as the broader indexes are headed for correction territory before bouncing. It is also only a very short snapshot of time to gauge the funds. However, we again see that CHI and CY are pulling away a bit from the NCZ/NCV pair. Not a good sign when long-term and short-term the track record has been the same.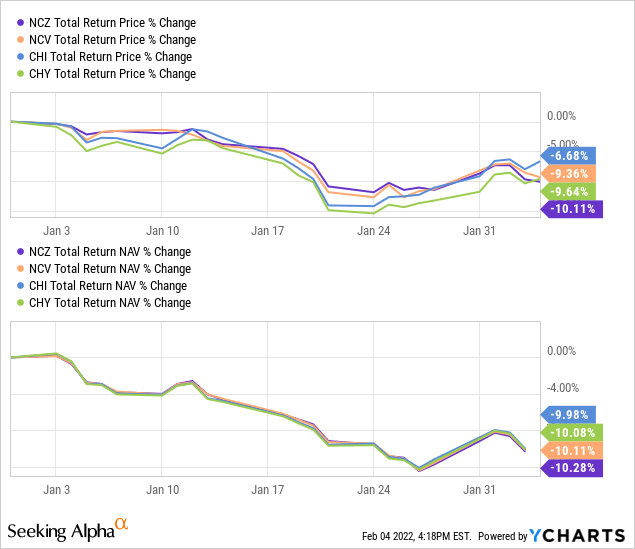 That being said, we also saw in 2021 that the share price underperformed the NAV performance for NCZ. What that has created was a larger discount for the fund. NCZ is presenting the deepest discount relative to its peers. That could mean going forward, NCZ has a better chance to perform stronger on a total share price return basis - even if the NAV continues to slip by a small degree. Although all of the funds have dropped recently due to greater market volatility.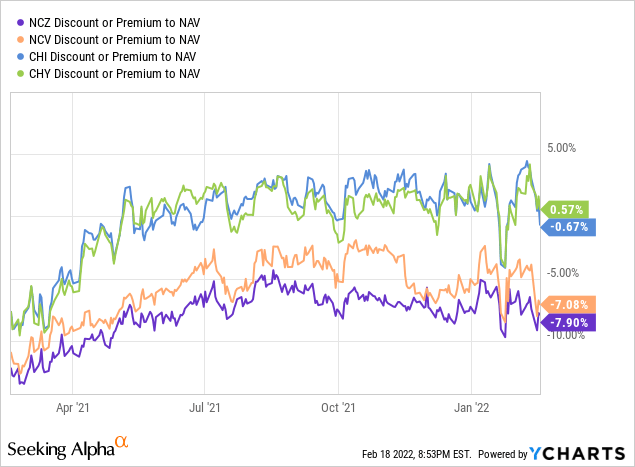 Historically speaking, the fund has also frequently traded at a premium. One of the reasons for that could be due to its typically higher distribution yields. Which, I have my own warnings that I'll discuss below. But if history is any gauge, it would seem that investors might start pushing this fund back up. Either that or investors are worried about a distribution cut just as I am.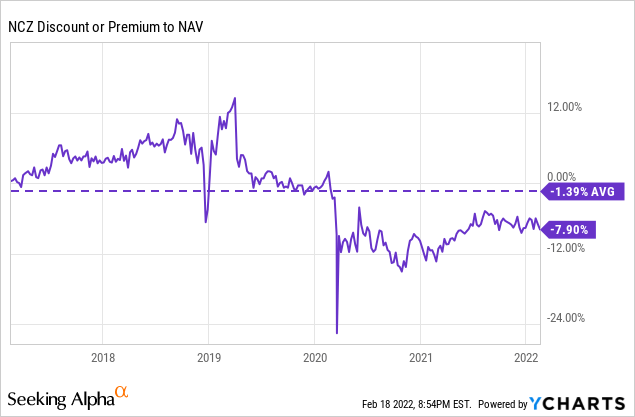 Distribution - Attractive But Sustainability In Question
The fund's distribution yield currently comes to 9.85%, with a NAV rate of 9.18%. I have to admit, anything over 8 to 9% starts to throw up some yellow flags.
Below we can see the fund cut several times over the last 10 years. This was often as yields began to spike. While we aren't quite at the same spike we were then, we can see perhaps the beginning of a said yield spike. Still, it isn't near the ~12% level it was previously, which could mean they are still comfortable paying out the current amount.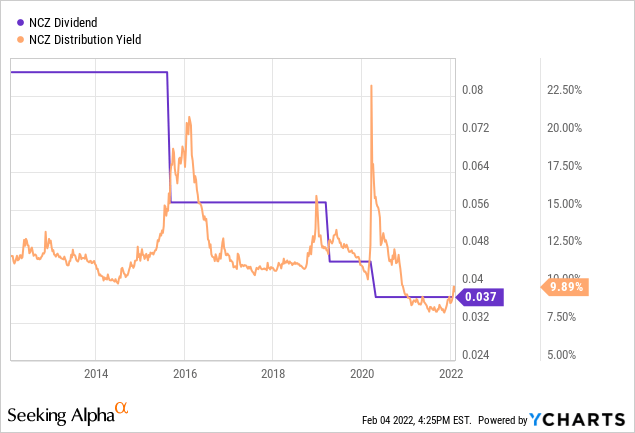 This is starting to happen because the fund did not cover its distribution in 2021. This can be measured by simply looking at the NAV level of the fund over the course of the year. Now, admittedly, the NAV didn't fall too far. So it wouldn't be cause for alarm yet. I'll add CHI NAV performance for context in the chart below. Overall, the returns in the convertible space took a breather in 2021.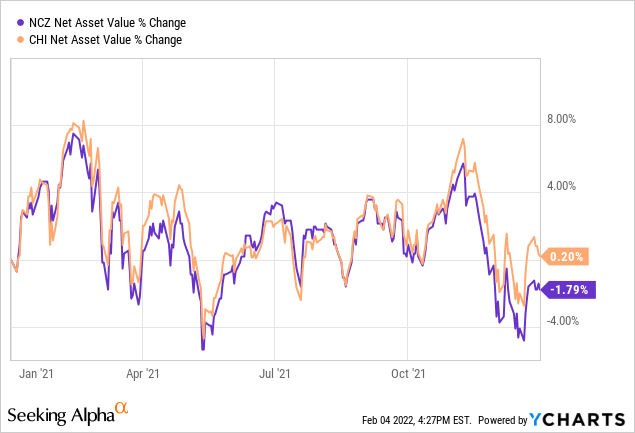 When looking at the fund's distribution coverage, we see that it will rely significantly on capital gains. Yet, if this year continues along with how it has started, that means more pressure on the fund. Since the fund's yield is already inching up and relatively higher than peers, it could signal less cushion in the payout. That is just something to continue to watch as new reports become available.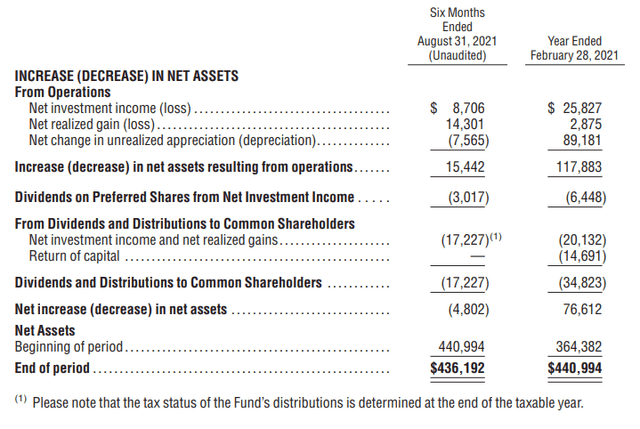 After the dividends are paid to preferred shareholders, the net investment income coverage for the common shares is 33%.
NCZ's Portfolio
NCZ and NCV's portfolios are so similar to CHI and CHY because they both focus the largest exposure on convertible bonds. They then also incorporate high-yield bonds in their portfolios too.

What sets them apart a bit is the tech exposure that I touched on above. NCZ carries a bit smaller allocation to tech than the Calamos funds do. However, it is still the largest exposure of the fund.
CHY, by comparison, holds 23.4% in information tech, 20.5% in consumer discretionary and 15% in healthcare, to name the top few sector weightings.

I'd say that one of the most notable differences between the funds is that Tesla (TSLA) hasn't been pegged as the largest holding for a while now. For the Calamos funds, it has been the most prominent holding by a significant degree relative to the rest of their portfolio for quite some time. At least since October 2020.

TSLA makes an appearance in NCZ's portfolio. In fact, it was the 10th largest according to their September 30th, 2021, monthly holdings list. It is the fact that it was only 1.10% of the fund that it didn't add anything too significantly to gains.

I don't believe that TSLA was the sole defining reason NCZ and NCV have underperformed, but it is at least one piece of the puzzle. So, it seems it comes down to whether one believes TSLA can continue to add significant gains going forward. If one believes they can, it would seem that the Calamos funds would still be a better place to put capital to work. If one considers that TSLA is overvalued - which it is by most metrics - and could decline, then the NCZ/NCV pair provides a reasonably compelling option.
Conclusion
NCZ and NCV were starting to keep up with their closest competitors in 2021. However, there was a reversal towards the end of the year. It wasn't an overwhelming difference but added one more year to where Calamos has outperformed. One would have to go back to 2016. That was the last time the total NAV return of NCZ exceeded CHY. CHY put up an 8.80% total NAV return, and NCZ had a sizeable outperformance of 23.12%. However, that was coming from a 16.39% decrease in the previous year - a year where CHY declined 6.91%.
Looking at historical performance doesn't necessarily translate into future performance. As we touched on, TSLA is seemingly one of the larger contributors to why this divergence has been happening.
Still, it doesn't bode well for investors when the funds are seemingly overpaying their current distributions, either. To be fair, Calamos has cut several times in the past too. CHY cut in 2008 and 2018, for example.
Where NCZ makes the most sense is on valuation. Going forward, the fund could put up even just a slight underperformance relative to the Calamos funds. That would translate to a potential discount contraction that could lead to an outperformance on a share price basis.
Of course, for an investor who is more concerned with a higher yield now than they are with performance, NCZ also has the Calamos funds beat there. Due to valuation differences, someone invested in NCV at this time could swap to NCZ for a better deal. Overall, I remain rather cautious on these AllianzGI funds but not outright bearish as they could still hold a place in the right income investor's portfolio.