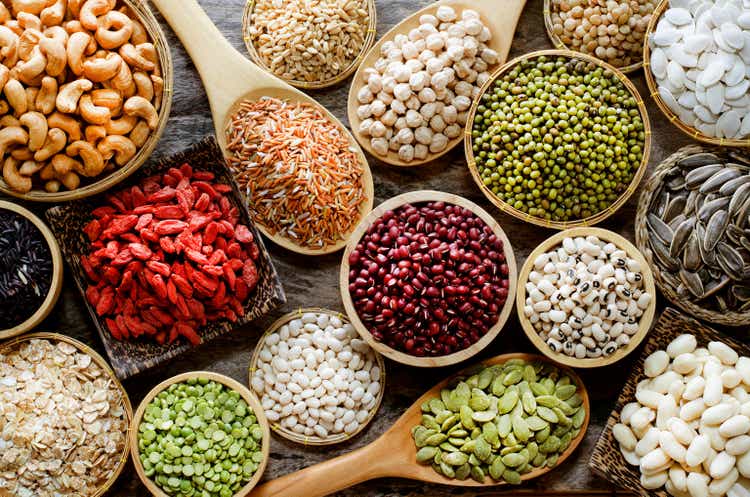 Thesis: Temporary Inflation, Long-Term Growth
Starch and sweetener ingredients maker Ingredion (NYSE:INGR) took a hit after reporting fourth quarter 2021 earnings results. There are at least two reasons for this stock price drop:
There was

a huge difference between GAAP EPS and adjusted EPS because of a $5.01 per share non-cash impairment charge that made GAAP earnings look extraordinarily low in 2021.

Inflationary input costs rose even more than the market assumed they would, and the market knew there would be some inflationary pressures.
The good news is that INGR has demonstrated its ability to raise prices to offset these input cost increases, and the company has exposure to some fast-growing areas of the market such as alternative (zero calory) sweeteners and plant-based proteins. This should ensure that INGR not only survives the current inflationary bout while continuing to grow but also thrives in the post-COVID-inflation environment.
For the full year of 2021, INGR delivered adjusted EPS of $6.67, representing 7% growth over 2020's adjusted EPS of $6.23. The final non-GAAP EPS print for 2021 came in a few pennies higher than the midpoint of guidance of $6.65.
Management expects another 7-9% reported and adjusted EPS growth in 2022, and INGR targets 6-9% adjusted EPS growth for the foreseeable future.
Valued at 13.3x earnings and offering an almost 3% dividend yield, INGR looks like an attractive value play for exposure to the alternative sweeteners and plant-based protein trends.
Ingredion 2021 Overview
When I last wrote about INGR in August 2021 (see "Ingredion: A Low-Risk, High Upside Play For The Post-Pandemic Economy"), I highlighted the company's exposure to fast-growing specialty ingredients like alternative sweeteners (ex. PureCircle stevia) and plant-based proteins (pea and chickpea protein).
Essentially, INGR's slow or no-growth legacy segment of starches and caloric sweeteners (mainly high fructose corn syrup) provides the steady cash flow to invest in the (currently) lower-margin specialties segment. However, as key initial capital expenditures are completed, these specialty products should become increasingly profitable.
In 2021, with inflation naturally capturing the headlines, it can be easy to overlook the fact that INGR had a great year last year.
Net sales rose 15%
Specialty ingredient sales grew 17%
Operating income increased 4%
The reason operating income grew only 4% while revenue rose 15% is because of soaring cost of sales, which rose nearly as much as revenue.
While INGR enjoys some measure of pricing power (even in a highly competitive landscape), the company was not able to raise prices fast enough to keep up with rising costs. Hence gross margins declined from 21.3% in 2020 to 19.3% in 2021.
About 29% of net sales growth came from volume growth (selling more units), while 68% came from price hikes and changes in the mix of products sold.
The shift from legacy ingredients to specialty ingredients continues, as high fructose corn syrup declined as a percentage of net sales from 12% in 2020 to 10% in 2021.
Finally, specialty products like plant-based proteins and alternative sweeteners now make up 33% of net sales.
Dealing With Rising Input Costs
In 2021 and especially the second half of the year, INGR has suffered from soaring input costs, primarily high corn prices, a shortage of peas due to a drought, and unprecedented disruptions in the transportation sector.
These high input costs were concentrated in the back half of the year, as INGR's gross profit margin in Q2 2021 had actually risen slightly year-over-year.
Here are the related comments that President & CEO Jim Zallie made on the Q4 2021 conference call (emphasis mine):
The global supply chain constraints we discussed during our last earnings call, which were driven by reduced ocean container availability, rail congestion, truck driver shortages, and the continuing impacts of the pandemic intensified in the fourth quarter with the emergence of the Omicron COVID variant.

As a result, we experienced higher-than-expected supply chain costs in the quarter as we prioritized service and switched from lower cost to higher cost modes of transport as necessary to meet customer commitments. We foresee these exceptional circumstances we experienced in the fourth quarter steadily improving throughout the first quarter of this year. Additionally, the contracted pricing actions that took effect at the beginning of 2022 will address the most recent increase in input cost inflation that we experienced in the fourth quarter.
To put numbers on Zallie's comments about transportation cost increases in the fourth quarter, INGR's gross margin decline by nearly 6.5 percentage points, from 22.1% in Q4 2020 to 16.5% in Q4 2021.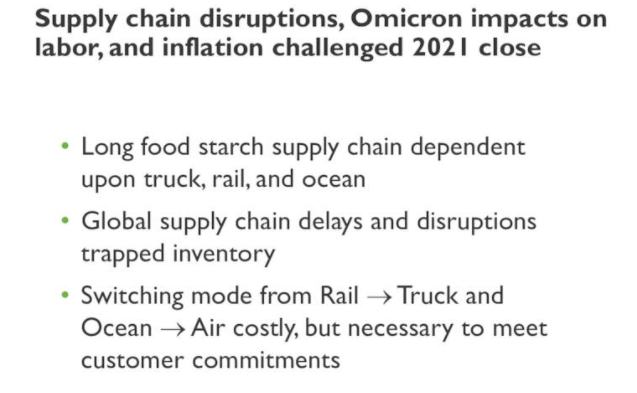 However, notice Zallie's outlook that the supply chain disruptions experienced most strongly in Q4 2021 should ease over the course of the first three months of 2022. Later in the conference call, CFO James Gray commented that they expect margins to begin rising in the second half of 2022. Hopefully this means that INGR's previous gross margin in the low-20% territory will be regained in 2023 and 2024.
Simply noting the fact that these cost increases came largely because of a temporary switch to higher cost modes of transportation (truck and air versus rail and ocean) gives some confidence that margins should be restored in fairly short order. Eventually, normal operations of rail and ocean shipping will return. It's just a matter of time.
And when supply chain operations normalize, INGR's price increases should stick while input costs decline back toward their pre-COVID levels.
Also, notice the very good news that price hikes taking effect at the beginning of this year should largely offset the cost increases that came in the final months of 2021. This is a big deal given the fact that INGR operates in a highly competitive environment with very little "moat."
As an aside, anecdotes like this one give the impression that as overall consumer inflation cools in the coming years, food inflation may be one of the last holdouts.
Plant-Based Protein Growth Runway
As I wrote in "5 Dividend Stocks To Play The Growth In Plant-Based Foods," INGR is one of my favorite ways to gain exposure to the rise of plant-based proteins. A large number of veggie burgers and vegan protein powders use pea protein because of the amino acid profile and texture. INGR is one of the largest manufacturers of pea protein.
What's more, INGR recently made a significant equity investment in Israeli chickpea protein producer, InnovoPro. This should allow INGR to offer another type of plant-based protein to producers of dairy alternatives, plant-based meats, and egg replacers.
Here's Zallie's comments on the plant-based protein part of the business:
Despite the ups and downs in plant-based food demand during the pandemic, the plant based protein category overall continues to grow double digits and this growth is expected to continue well into the future. Our existing customer pipeline remains robust across many food categories such as alternative dairy, alternative meat, protein fortified bakery, snacks and supplements.
In 2021, in the midst of a very tough environment for both supplies and labor, operating income in the plant-based segment remained negative, but this largely pertains to heavy investments in a new plant in Nebraska that should stabilize this year.
Here's Zallie on the near-future outlook for this segment:
Going forward, we remain optimistic in the long-term growth prospects for this exciting product category and expect year-over-year operating losses to decrease by approximately $10 million in 2022 and we expect to reach breakeven by late 2023. We are actively managing yellow pea costs and are confident we secure our yellow pea requirements for 2022.
Which brand of veggie burger or vegan protein powder will win the war for consumer dollars? Who knows. But it's likely that INGR will be a supplier for whichever one it is.
Bottom Line
Hopefully, the worst of the supply chain and labor shortage issues have passed for INGR. This sets the company up well for 2022. Indeed, the midpoint of non-GAAP EPS for 2022 is 7.2% higher than 2021's number.
As previously stated, if INGR's input costs remain flat or decline while its product prices increase, 2022 might end up being even more profitable than management assumes.
In any case, INGR looks strongly positioned right now for whatever comes this year.