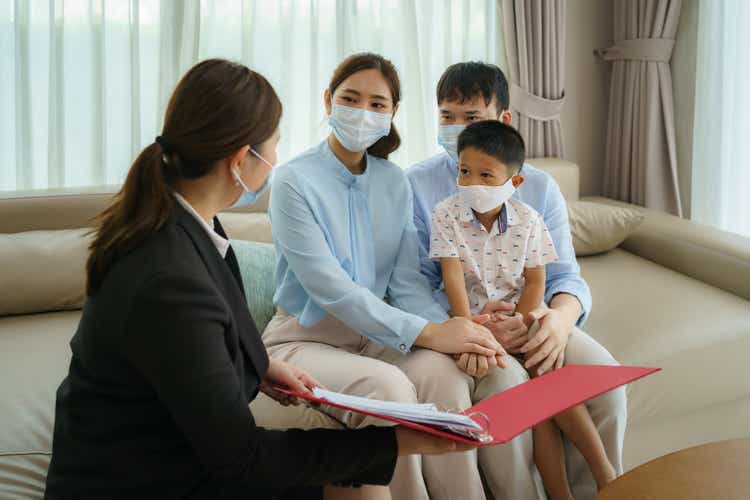 GoHealth, Inc. (NASDAQ:GOCO) was a poor call on my part, as I didn't fully appreciate the competitive landscape and the lack of profitability in the industry. The entire sell-side had issued buy ratings and certain buy-side analysts touted the enormous market opportunity. Health insurance brokers certainly have a sizable total addressable market, but the spending required to attract customers is high. Over the past year, GoHealth, SelectQuote, Inc. (SLQT), and eHealth, Inc. (EHTH) have all exhibited eyewatering share price declines: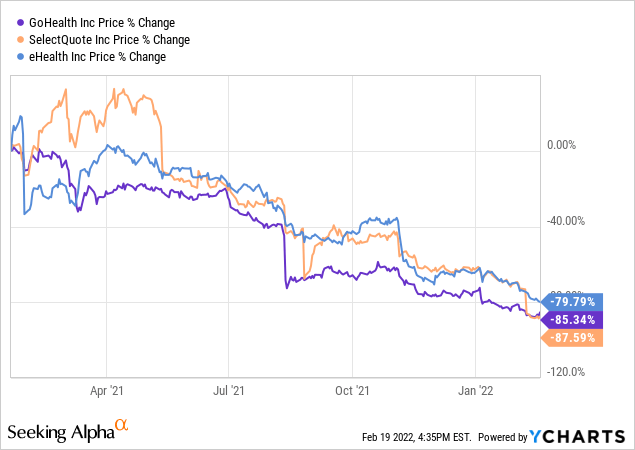 I think this collapse serves as an important learning experience that investors need to be very skeptical of companies thinking they can quickly outpace their costs. Executive management teams will pitch a compelling narrative, but recognizing when it can be executed to the degree they claim is another story. I frequently find companies that do not meet such filters and place them into the "pass" pile. Health insurance brokerage is clearly a growth industry, especially with GoHealth still delivering decent top-line results and outpacing both SelectQuote and eHealth.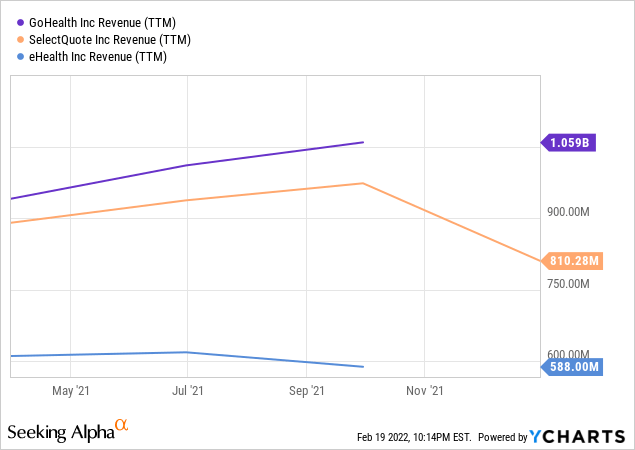 But the linchpin was that management teams across the industry, not just GoHealth, were touting exceptional LTV/CAC ratios.
How can that be? Not everyone can have above-average customer value structures. To my credit, I did previously highlight this potential problem:
Of course, some degree of faith in management is required here when looking at the LTV/CAC because there's always some degree of error that can occur, which of course has implications for long-term profitability. That said, management and the Street remain optimistic, albeit some still appear to be confused about the growth trajectory and opportunity set.
Moving these industry peers to the side for a moment, the trouble is that GoHealth, even at $1 billion in annual revenue, hasn't scaled to operating breakeven profitability.
The Cost Structure
Q3 2021 earnings were pitiful with a GAAP EPS of -$0.18, which missed the consensus figure of -$0.11, and that translated to a net loss of $20.2 million as well as a YTD 9-month loss of $34.3 million. In other words, losses accelerated heading into Q3.
If we compare Q3 2021 to Q3 2020, we can see that when putting together commissions and enterprise net revenues, and then taking out the three primary costs to obtain those revenues (also known as their customer acquisition costs, "CAC"), i.e. cost of revenue, marketing and advertising, and customer care and enrollment (i.e. mainly training sales agents), we can call this adjusted gross profit. On a year-over-year basis, Q3 2020 adjusted gross profit was $21.8 million versus $10.8 million in Q3 2021. This trend tells us that the cost of customer acquisition is rising, at least today. With the labor market and wages still being white-hot, we can expect that customer care and enrollment expenses will remain elevated in the near term. GoHealth will need to retain its employees to remain competitive.
With that, Q3 2021 operating losses improved marginally coming in at $48.6 million versus the Q3 2020 operating loss of $57.2 million, i.e. only an $8.6 million loss reduction despite that consolidated revenues grew by $48.4 million (30% year-over-year), and as technology costs were cut by $27.9 million. For those wondering about the significant reduction in G&A, that was heavily attributed to share-based compensation rolling off.
At this point, GoHealth does have some room left to cut costs with technology and G&A expenses totaling $35.9 million per quarter. Those costs have been elevated due to investment, but perhaps management will be looking to see if there's any additional fat to cut. If another $10-20 million was removed, agents delivered incremental productivity gains, and if intangible amortization costs of $23.5 million are backed out, then GoHealth goes from operating losses of $48.6 million closer to breakeven profitability.
In the first nine months of 2021, EPS has totaled -$0.14 and analysts are forecasting $0.76 for Q4 2021. My expectation is that GOCO will miss given the company missed severely in Q4 2020 ($0.12 versus $0.46 expected) and also given that its cost structure hasn't improved much. Looking into 2022, analysts expect that EPS will be $1.11. At this point, I think investors would be satisfied if annual EPS reached $0.50.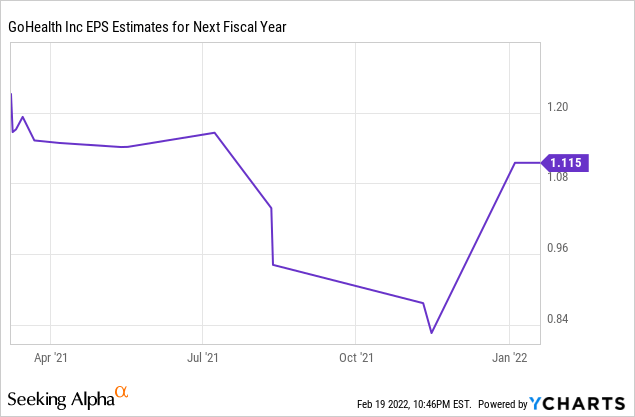 Other Issues
The other concern, however, is that the company's CFO abruptly resigned, after being in the position for only eight weeks. That's unusual, and it could be related to the company's balance sheet coming under serious pressure.
In Q4 2021, the next quarter, it's possible the company could end up having to impair its goodwill given the shoddy performance. Goodwill and intangibles were $1 billion and impairment charges could crush its book value: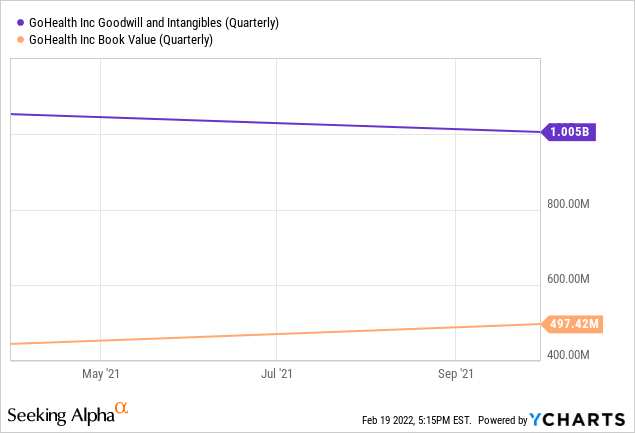 As GoHealth has been losing money, its balance sheet has also taken a beating after issuing incremental debt. Putting on figure to that, its net debt has increased from about $215 million last year to $358 million.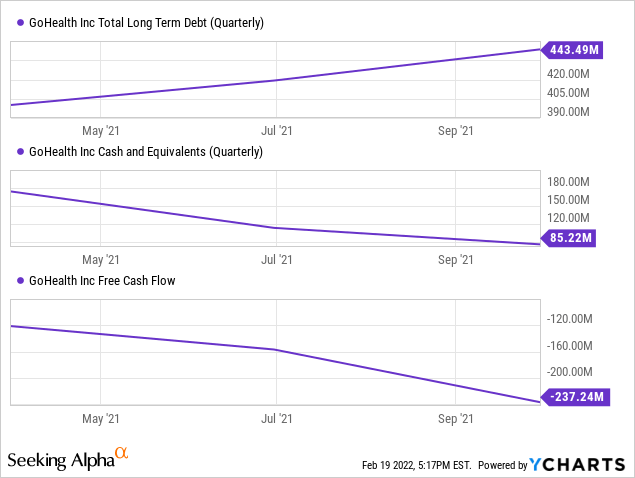 The company obtained an amendment on its debt and was able to reduce its effective interest rate slightly, but this growing debt balance is increasingly concerning. Once again, this year will be the time that management needs to prove not only to its shareholders but its creditors that it can run the business profitably, even on an EBITDA basis that stops the cash hemorrhage.
BofA analyst, Michael Cherny, stated it plainly: "observe a competitive market that can limit profit upside and the path to breakeven in cash flow."
One Hope Left
There is one silver lining, however. Among the three health insurance brokers, GoHealth demonstrated the most insider buying activity by far. Since GOCO's stock price has crashed below $5, both the Chief Executive Officer and Chief Strategy Officer have picked up $6.5 million worth of shares in the open market. These share purchases were primarily executed at an average price of $4.68 and $3.66 in the second half of 2021. I've seen cases where insiders will buy stock in an effort to improve investor sentiment and to signal alignment with investors, but it can also indicate confidence in a turnaround. The most important distinguishing factor is the dollar value and having multiple executives do it, i.e. are they putting real money on the table? That would appear to be the case here, so that's one sliver of hope for investors still holding on to their shares.
Bottom Line
GoHealth's investor sentiment has been crushed, along with the rest of the health insurance broker industry, as reaching profitability doesn't appear attainable. The onus is entirely on GoHealth management to prove that they can deliver much better bottom-line results. Growth is now secondary and probably much less relevant today. Unfortunately, GoHealth has evolved into a wait-and-see story. What do you think? Let me know in the comments section below. As always, thank you for reading.