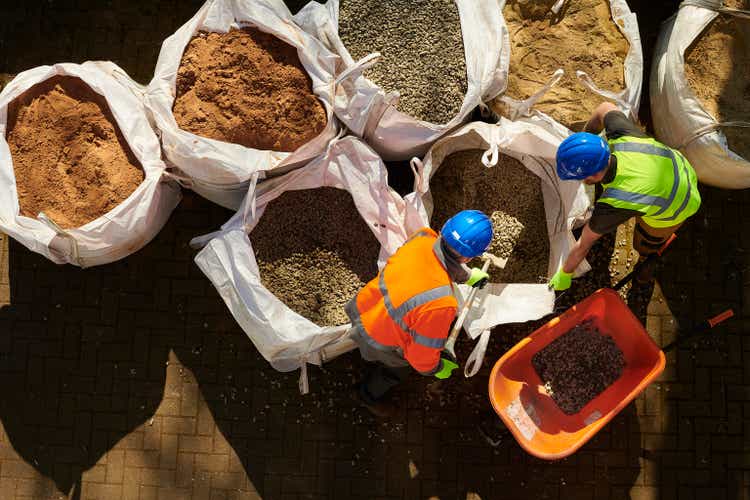 Every so often you find a company that is fundamentally solid but is trading at a level that doesn't quite make sense. One such firm that I have written about previously is a company called Martin Marietta Materials (NYSE:MLM). Despite seeing the company's share price drop recently and despite solid guidance for the company's 2022 fiscal year, shares of the business still look rather lofty. Because of this, investors should tread cautiously moving forward.
Fundamentals remain solid
Back in November of 2021, I wrote my first article about Martin Marietta Materials. At that time, I called the company a solid firm, highlighting the sound fundamental condition of the enterprise. Not only that, I also applauded management's ability to grow revenue over an extended window of time even though net profits have been a bit lumpy. Overall, cash flow for the company has also been trending higher, which is a definite bonus for any long-term investor. Although I was fond of the fundamental condition of the business, I did mention at that time that shares were trading at a high price. Because of that, I rated the company a 'hold', believing that the negative associated with the high multiple balanced out with the attractive fundamental condition of the business. Since the publication of the article, shares have not performed particularly well. Investors in the company would have generated a loss of 9.2%. Although this is bad, it's not much different than the 7.5% decline experienced by the S&P 500 over the same window of time.
With such a decline in share price, one might think that the fundamental condition of the business has deteriorated. But the picture is a bit more complicated than that. In the final quarter of the company's 2021 fiscal year, for instance, sales actually came in at an impressive $1.50 billion. That represents an increase of 26.8% over the $1.18 billion the company reported one year earlier. As a result of that strong quarter, total sales for the 2021 fiscal year came in at $5.41 billion. That is 14.5% above the $4.73 billion the company reported for 2020. Not only that, management also has high expectations for the 2022 fiscal year. Total revenue should be around $5.88 billion, implying a year-over-year growth rate of 8.6%. Some of this growth should be attributed to the $2.3 billion acquisition of Lehigh West Region that management closed late last year.
This is not to say that everything was good though. Net profits in the final quarter of the year came in at $156.3 million. That's down from the $183 million generated one year earlier. Operating cash flow dropped slightly, falling from $366.1 million to $357.4 million. The only metric that was stronger from a profitability perspective was EBITDA. This came in at $393.7 million, representing a year-over-year increase of 17.5%. As a result of these figures, the company ended 2021 in a fairly robust way. Total operating cash flow for the year was $1.14 billion, up from $1.05 billion in 2020. And EBITDA was $1.53 billion, up from the $1.39 billion reported for 2020. The only metric that worsened year over year was net income. It came in at $702 million, registering a slight decrease compared to the $721 million reported one year earlier.
Now, when it comes to the 2022 fiscal year, management does have some expectations that we should cover. At the midpoint, net income should be around $860 million. If that comes to fruition, it will represent a 22.5% improvement over what the company achieved in 2021. In addition to this, EBITDA is expected to be around $1.75 billion. That would be 14.5% above what the company achieved last year. Management provided no guidance when it came to operating cash flow. But My estimate for that is around $1.05 billion, representing a slight decrease of 8.2% compared to what the company achieved last year.
Taking this data, we can effectively price the company as it stands today. Using the figures from 2021, shares are trading at a multiple on a price-to-earnings basis of 34.2. The price to operating cash flow multiple is considerably lower, coming in at 21.1. And the EV to EBITDA multiple is 19. Given the guidance that we have for the 2022 fiscal year, we can also price the company on a forward basis. This takes the company from looking rather expensive to looking closer to fair value but probably still rather lofty. The price to earnings multiple for the firm would be 27.9. The price to operating cash flow multiple would actually be higher than if we used the 2021 figures, coming in at 23. And the EV to EBITDA multiple for the firm would be 16.6.
To put the pricing of Martin Marietta Materials into perspective, I decided to compare it to five similar firms. On a price-to-earnings basis, these companies ranged from a low of 14.5 to a high of 29.2. Using our 2021 figures, this would still make Martin Marietta Materials the most expensive of the group. I also priced the companies based on the price to operating cash flow approach, resulting in a range of 8.6 to 22.1. In this case, four of the five companies were cheaper than our prospect. And lastly, I priced the companies using the EV to EBITDA multiple, giving me a range of 8.3 to 17.4. Once again, our prospect was the most expensive company in the bunch.
| | | | |
| --- | --- | --- | --- |
| Company | Price / Earnings | Price / Operating Cash Flow | EV / EBITDA |
| Martin Marietta Materials | 34.2 | 21.1 | 19.0 |
| Summit Materials (SUM) | 29.2 | 10.4 | 10.4 |
| CRH plc (CRH) | 27.7 | 8.6 | 10.2 |
| Eagle Materials (EXP) | 15.8 | 10.9 | 10.2 |
| Forterra, Inc. (FRTA) | 14.5 | 14.1 | 8.3 |
| James Hardie Industries (JHX) | 29.0 | 22.1 | 17.4 |
Takeaway
Fundamentally speaking, Martin Marietta Materials makes for a solid company. Although there are always risks that the market could soften and push profits and cash flows lower as revenue declines, the long-term trajectory of the company is likely positive. In all, I would say that this is a fairly high-quality operation. But quality does not always translate to attractiveness from an investment perspective. And the fact of the matter is that shares today look rather lofty. On a forward basis, they look slightly more appealing. But even then, I would make the case that they are probably not much better off than being fairly valued. And even then, they might be slightly on the lofty side. This is true not only on an absolute basis, but also relative to the company's peers.