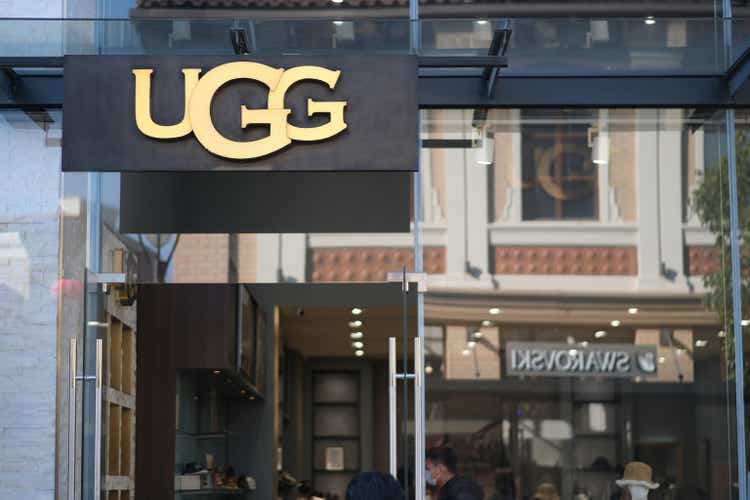 There are not very many sizable companies on the market today that focus on the manufacture and sale of footwear and related products. But of the companies that do exist on the market, one of the more interesting ones is Deckers Outdoor Corporation (NYSE:DECK). In recent years, management has done well to grow the brand at a nice clip. Profits and cash flows have generally risen over time, even if the path to higher numbers has been volatile from year to year. At present, shares of the company do not look particularly cheap. But they definitely don't look pricey either. For such a quality brand that has demonstrated a continued ability to grow, shares are either fairly valued or slightly undervalued. And for investors who are focused on the long haul, this could be a good opportunity to consider buying into at this time.
The footwear niche
Deckers Outdoor is a major producer of footwear, apparel, and other accessories that are used for everyday casual lifestyle use and for what it calls high-performance activities. As of this writing, the business has five key brands in its portfolio. Undoubtedly the most famous is the UGG brand. However, the company also has four others. These are HOKA, Teva, Sanuk, and Koolaburra. Brands such as UGG and HOKA focus on premium markets, with the former dedicated more to the casual market, while the latter is positioned to cater to the athletic space for runners and other athletes. The Teva brand is marketed to outdoor adventure seekers globally. Meanwhile, Sanuk focuses more on the Southern California surf culture that has developed over the decades. Finally, Koolaburra is set up as a casual footwear fashion line that is based on cheap skin and other plush materials - they make the brand a perfect complement to the company's hallmark UGG offering.
A lot of Deckers Outdoor's activities are dedicated to selling its products wholesale to various retailers and distributors. This includes both domestically and abroad. However, the company also has a burgeoning DTC (Direct-to-Consumer) side to its business. This particular portion of the enterprise sales to customers across several countries, while the company's retail stores are also positioned globally. According to the data provided, the DTC portion of the enterprise is the largest of the company's segments, accounting during the 2021 fiscal year for 41.9% of the company's overall revenue. The next largest piece of the business was the UGG brand wholesale segment, which accounted for 34.2% of overall revenue in 2021. Next in line, we had HOKA at 15.9%. The other brands for the company each comprise 5% of revenue or less. One really important note is that these brands have changed significantly over time for the business. For instance, while the UGG brand wholesale category has remained fairly consistent, both Teva and Sanuk have reported consistent revenue declines. The largest decline came from Sanuk, which reported a drop in sales of 61.9% from the 2019 fiscal year through the 2021 fiscal year. The real growth for the business, meanwhile, has been under the HOKA brand wholesale category. Sales here have increased by an impressive 119% over the same window of time.

During the past five years, the overall financial performance of Deckers Outdoor has been impressive. Revenue for the company increased from $1.79 billion in 2017 to $2.55 billion in 2021. That growth has continued so far through the 2022 fiscal year. In the first nine months of that year, sales for the business came in at $2.41 billion. That is 21.7% higher than the $1.98 billion reported one year earlier. Despite being in the middle of massive supply chain issues, the business has done well to grow its top line in response to strong demand. For the full 2022 fiscal year, management expects sales to be between $3.03 billion and $3.06 billion. At the midpoint, this would imply a year-over-year increase of 19.6%.
When it comes to profitability, the picture has generally been positive for the company. In fact, between 2017 and 2021, net profits grew stronger each year compared to the year prior. Net income of $5.7 million in 2017 turned into profits of $382.6 million in 2021. Of course, there are other profitability metrics for us to pay attention to. Operating cash flow is an excellent example. Although this has been a bit lumpier, the overall trend has also been positive, with the metric climbing from $199.3 million in 2017 to $596.2 million in 2021. More consistent than this has been EBITDA. According to management, this has increased from $213.4 million in 2017 to $585.8 million in 2021.

Data so far for the 2022 fiscal year is also looking up for the most part. Net income in the first nine months came in at $383.1 million. That compares favorably to the $349.1 million reported in the first nine months of the 2021 fiscal year. Operating cash flow did decline, falling from $522.3 million to $227.4 million. But if we adjust for changes in working capital, it would have risen slightly from $410.1 million to $534.9 million. Meanwhile, EBITDA for the company has expanded from $526.8 million to $527.2 million. For the full 2022 fiscal year, management has provided some detailed guidance. Earnings per share of between $14.50 and $15.15 implies, at the midpoint, net profits of $403.9 million for the year. Meanwhile, annualizing the company's other profitability figures would give us operating cash flow of $632.3 million and EBITDA of around $586.2 million.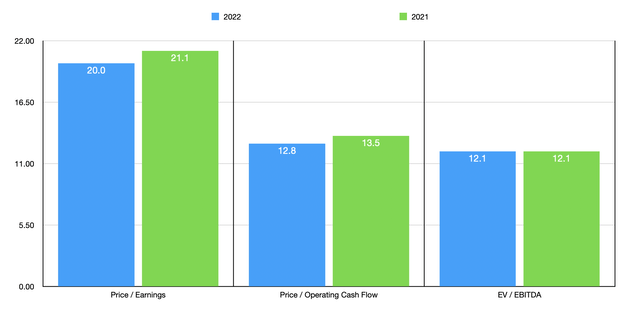 Using this data, we can effectively price the company. On a price-to-earnings basis, Deckers Outdoor is trading at a multiple of 21.1. This drops to 20 if we rely on the 2022 estimates instead. The price to operating cash flow multiple is considerably lower, coming in at 13.5. That stacks up against the 12.8 we get if we rely on the 2022 data. And in both cases, the EV to EBITDA multiple for the business should be 12.1. To put this pricing in perspective, I decided to compare the company to five similar firms. On a price-to-earnings basis, these companies range from a low of 7 to a high of 37.4. In this case, three of the five companies were cheaper than our prospect. The price to operating cash flow approach yields a range of 8.9 to 32.3. And the EV to EBITDA approach results in a range of 7.3 to 28. In both cases, only two of the five companies were cheaper than our prospect.
| | | | |
| --- | --- | --- | --- |
| Company | Price / Earnings | Price / Operating Cash Flow | EV / EBITDA |
| Deckers Outdoor Corporation | 21.1 | 13.5 | 12.1 |
| Skechers USA (SKX) | 10.1 | 12.9 | 10.4 |
| Nike (NKE) | 37.4 | 32.3 | 28.0 |
| Steven Madden (SHOO) | 23.1 | 24.4 | 15.6 |
| Crocs (CROX) | 7.0 | 8.9 | 7.3 |
| Rocky Brands (RCKY) | 16.8 | 15.7 | 12.9 |
Takeaway
At this moment, Deckers Outdoor strikes me as a quality operator in a tough but lucrative market. The business has shares that seem to be trading at levels that are more or less fairly valued relative to the competition. But on the whole, they might be slightly cheaper than that. Add in future growth prospects as the company has demonstrated and consider the lucrative share buyback program the company has, with $130.7 million in buybacks completed in the third quarter of the company's 2021 fiscal year loan, leaving $544 million in outstanding capacity, and it should make for a solid opportunity for long-term, value-oriented, and patient investors.