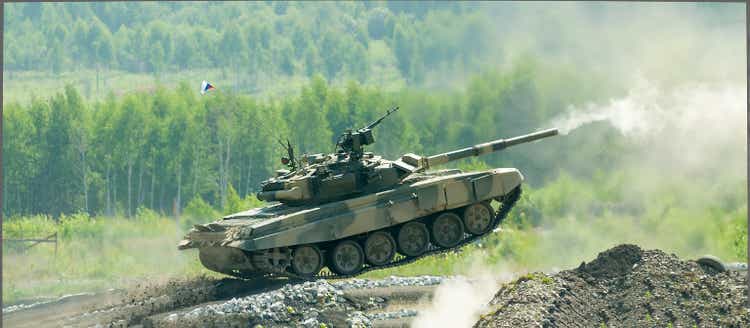 Once again, I'm sticking my neck out to call the market
Why do I do this knowing that at some point I will be terribly wrong and look foolish? No one does this. That's precisely why I do it. I'm exposing my thought process and putting it down on the proverbial paper to make it a concrete base where I can compare what actually happens. So if reality doesn't match, I can change course in trading that much quicker and forestall losses. More optimistically, if the market goes my way, I'm already implementing my tactics without having to cogitate any further. This will put higher odds in creating alpha for my portfolio.
My last piece was titled "Fade the Fed, and Putin"
Clearly trading last week has shown that the market has already discounted 2%-plus on the 10-year. As far as Putin, I still say that this is not a sustainable negative for the market. Let me explain, forgive my explication of geopolitics this is not going to make anyone money, but we need to lance the boil and expose it to some sunshine so we see can see the situation clearly. First of all, Ukraine means very little to the global economy as they produce only wheat and other agricultural products. Right now Russia is effectively running a blockade of Ukraine from its ports in the Black Sea already, so no ag. Anyone really notice? Also, Ukraine is not a great exporter of machinery, electronics, or vehicles, neither is Russia for that matter. Historically using military power to change the borders of countries in Europe is significant, but Russia annexing Crimea already happened eight years ago and there was little impact on world trade. The harshest the embargo gets against Russia will hurt European economies that much more.
In reality, if we ban Russia from SWIFT, sever relations with Russian banks, and ban any imports of technology this will only drive Russia into the arms of China. This was Nixon's nightmare and was the prime motive of opening relations with China in the first place. Offering China a way to grow its economy by embracing capitalism seemed like a masterstroke at the time. I don't want to relitigate that mess. What I'm trying to say is that there could be some very bad unintended consequences in slamming Russia completely. So what do the nations of Europe, the ones that count, want to do? Germany and Italy seem to want to let Putin chop off a piece of Ukraine and look the other way. Frankly, the ones that care the most are the eastern states like Latvia and Poland, which want to go hard against Russia. They claim to know the Russian mind and what conceding territory to Russia will do. I agree, imagine a river full of crocodiles, being forded every year by tens of thousands of wildebeests. The crocs, carefully wait for a wildebeest to come their way and chomp some lunch. What do the wildebeests do? They keep moving, if they aren't attacked who cares, except next year they may become breakfast, in any case, they just keep moving across the river. Now imagine if all 100,000 wildebeest charge into that water and stomp the crocodiles to chum. Maybe the crocodiles that remain will look for more cooperative prey and the wildebeests can go on unmolested forever. The fear of the eastern states is that they may start getting harassed by Russia next. This will blow over either way and not affect our economy or the stock market in any real way.
What does this mean to traders? I believe our market is getting bored with the whole mess.
The indexes have already fallen too much to discount just the Ukraine affair. It also was confronted by the Omicron pandemic, which is now in the rear-view mirror. Inflation and the Fed are discounted in the market already. Market participants and commentators have fallen all over themselves in calling for ever higher rate raises this year. Paired with this exercise, the commentators also protest that the Fed is behind the curve and inflation is with us permanently. The resulting conclusion is that the Fed in an effort to correct its errant ways will raise precipitously to crash us into a recession. If not that, then the Fed will not react harshly enough and put us into the morass of stagflation. In these scenarios, the Fed cannot win and we are doomed. This is not a sustainable notion and there will be a point where the positive alternative is mooted. With the Nasdaq down 10% and many household names down even 70%, the market has already discounted the worst and will be open to the best. I think Powell raises by .25% and perhaps doesn't become a dove again, but also gives no quarter to the notion that the Fed is behind the curve. I also expect further moderation to logistics and supply chain issues. Even the slightest progress will take hold of the market and we take off into a very nice rally. I plan on adding back to my prime positions, so I dearly hope that the market opens in the red tomorrow.
At the time of this writing, the futures are down hard for the US indexes
So why am I talking so bullishly? Like I said above, all of this negativity that we have been dealing with are either in the rear-view mirror or completely (I believe overly) discounted. I believe the low of the week will be tomorrow morning, barring any new geopolitical news like China moving on Taiwan. I intend to buy in the red and then trim my most expensive shares to continue to lower my cost basis, and either maintain my overall value or continue to take two steps forward and 1.5 steps back. Maybe this week will be three steps forward. I know what you are thinking, "Sure if you don't have a real-life, so you can sit there and actively trade, keeping your portfolio going, but I can't do that." I consult based on the message of the market and I write about it, so if I were less tied to the market, I would devise a schedule that can be done at a cadence that anyone might be able to manage. Perhaps by being at a remove, I could even be more effective.
Imagine a downhill skier who is comfortable tackling the moguls
Less practiced skiers will go over the bump and try to turn at the bottom, and it would take them all day. A practiced skier will leap from one mogul top to the next, and perhaps execute a quick turn at the peak to stay in control. I am not sure this is the perfect analogy but I always wanted to be that mogul skier. OK, seriously, if I could only check on the market twice a day, I'd check somewhere between 10:30ish and 11 a.m. I find that the market is often lower at that point than at the open. If the market is falling hard I would enter a bunch of buys at a small number of shares at 5% below where the stock is currently trading. If the stocks have been rallying, do the opposite by putting in sell orders starting 2% to 5% above the current price, a few shares at a time, and put in multiples spaced by 5 points. If you could check in a second time, I would peek into it from 2 p.m. to 3 p.m. and adjust if necessary. If I didn't capture any shares, it means the market didn't move enough and that's OK. I can reset my traps for another day. I would consider myself successful if I would lower my average share price while freeing up some cash and maintaining my overall portfolio value. When the rally is more consistent, I expect ample alpha to be harvested. I would consider myself very successful if I can grow my value using these many bumps to create alpha by reinvesting the freed cash into my prime positions. Let me be clear, I'm operating on the notion that we are finding a bottom. I say this despite the futures plummeting right now. I believe that my tech names are at great levels. If the market continues to retreat on Wednesday I will halt my allocation until I get a better handle.
Now let me review my trades
I'm using the term prime positions right now. The reason is that I'm trying to focus on my best positions. If I start a new position I would have to sell my less-than-prime positions and also take away whatever cash I have to build a new position. So what are my "primes" – Upstart (UPST), Intuit (INTU), Adobe (ADBE), Advanced Micro (AMD), Twilio (TWLO), Meta (FB) and DocuSign (DOCU). I am going to re-add Paypal (PYPL) at this point. I abandoned PYPL in the aftermath of the earnings report and I got rid of the majority shares in the aftermarket. Much of it at about 240. Now that PYPL has been de-risked down to around 100, I feel that there's good alpha to be had. I have a few other names that are in a holding pattern because I feel I have enough of it for now. Like Sentinel One (S) and GXO Logistics (GXO). The rest are expendable, and if I have a great idea they will be jettisoned.
What has caught my eye?
There are two names that I find very interesting. OK... 3. They are:
Hubspot (HUBS) because everyone assumes that Salesforce.com (CRM) is the last man standing. Yet, I'm seeing a large ecosystem being built around HUBS, these are SaaS services that plug into it. To put a finer point on it, they wouldn't have that unless they were growing rapidly.
Bill.com (BILL) even though I kinda missed the bottom, so I will go in very tentatively and hope it retests that lower level. Why the interest? Well, they have gotten into the invoice finance business where they charge interest on the funds they advance. I think this is super business. I believe this service is AI-driven and with the long tail of underbanked microbusinesses, they will get a lot of invoices to finance. They can sit back and observe the number and quality of the invoices and their algorithm makes the offer. So while I think the share price is not so great right now, they are on my watch-list to buy at the next big selloff.
Best for last
Microsoft (MSFT) but only if I can get it below 290 and as it stands right now there's a good chance for that. There is no doubt MSFT is a Prime stock, it's a household name, it's a steady grower, and it has fallen enough to let me be comfortable.
Besides MSFT, I'm not buying any of these right away. Shopify (SHOP) has not fallen near enough to even think about. SHOP is still selling off so I'm thinking it will come into my range in the next few weeks. I recognize it's already oversold, and I'm sorry if you are holding it and hearing that I believe it is going lower. The good news is, I think it has great upside once this hysteria about profits calms down. SHOP has experienced added selling pressure because they want to expand their logistics and that takes a huge investment. What SHOP is doing is going after Amazon (AMZN). Many small businesses rely completely on AMZN for fulfillment. SHOP wants to fully compete with it by offering fulfillment too. I think this is a smart move.
The other end of the barbell is my oil names and I was supposed to pair them with the financials
I'm still concentrating on the oil names and I have not yet gotten to the financials. There's such volatility here that I think I will be able to buy the oils at lower prices and sell when WTI approaches 100 again. Right now there's a lot of chatter that Biden will make a deal with Iran. That could drop oil 5 bucks. I still think oil stocks progress mightily even with WTI in the low 90s and high 80s. Here are the names I'm building positions in - Apache (APA), Coterra (CTRA), Denbury (DEN), Devin Energy (DVN), EOG Resources (EOG), EQT (EQT), and Earthstone (ESTE). As long as oil is moving the way it is, I feel comfortable trading oils. Once the market settles, I will build my financial position with a priority in regional banks. Meanwhile, PYPL and UPST will have to be my financials.
In Summary
Let's be frank, Ukraine is not all that important to our economy. If Germany can't be bothered to push back on the Russians why should we? I think the market has had its fill with it. I'm mindful of the fact that the futures are down 1.5% and more. I'm disregarding the futures and saying that the market has fully accounted for all the bad news in Ukraine, and what the Fed will do. I'm hoping the futures stay negative so I can restart my position in (PYPL) and begin my Microsoft (MSFT) position. I want to add back to my UPST shares since I sold a bunch at 155, if I can get shares at the low 130s or less that would be awesome. I want to add to TWLO and INTU as well. I'm not going to use all my cash in case the selling continues into Wednesday. I believe that we are at a bottom, not the bottom. Volatility is a likely feature of 2022 and you need to either adapt or take up golf or even pay more attention to the kids.
Please note: You should not take the above text as investment advice. I am not a broker, a registered investment advisor, or a certified money manager and I cannot give financial advice. What I am doing is chronicling my thought process, and I hope you gain from it. Always do your own research and understand what you are buying, what your risk is, and be sure before you make a purchase. Also, only trade what you can afford to lose.