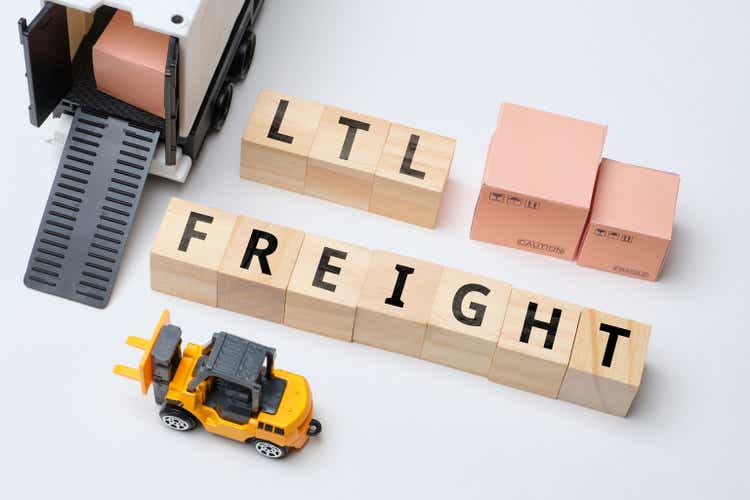 Introduction
It's a while ago since I wrote my most recent article covering one of America's largest less-than-truckload ("LTL") carriers. In general, I like to avoid industries that I believe are highly competitive due to low entry barriers for new competition. Yet, in this situation, I believe that a fragmented industry is actually a chance for Old Dominion Freight Line, Inc. (NASDAQ:ODFL). The company is expanding its market share at a rapid pace as it benefits from a trucker shortage and the fact that it has an edge over (smaller) competitors as it's an increasingly efficient trucking company with rapidly rising EBITDA and free cash flow. Unfortunately (for people on the sidelines), investors and traders pushed the company's stock to more than $350 last year as the bull case became somewhat obvious (the trucking shortages part). Now, the stock is down 20%, which means it's time to assess the situation again as I really want to own this stock in my dividend growth portfolio.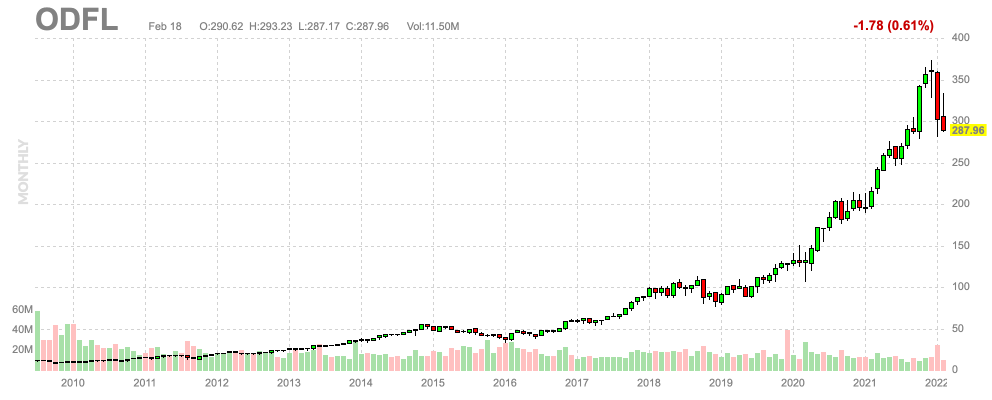 ODFL Isn't Just A Trucking Company
The pandemic has changed the world. It had a lasting impact on a lot of industries and caused others to search for ways to quickly adapt to rapid changes. E-commerce is one of them. It's the most obvious example as people who avoid public spaces - either voluntary or through the force of lockdowns - use online alternatives. As a result, e-commerce sales accounted for more than 15% of total retail sales during the peak of the pandemic. It's now coming down to the longer-term uptrend as the somewhat outdated graph below shows.
The graph below shows the "shipments" part of the New York Fed manufacturing survey. The 2020 crash in shipment demand was quickly erased in mid-2020, followed by a surge to multi-year highs in mid-2021.
During the pandemic, a lot of older drivers retired causing supply chains to break. The busiest US ports saw massive congestion and railroads saw a drop in intermodal transportation due to a decline in available truckers.
Yet, LTL was in a better place. In general, LTL is more favored over truckload ("TL") as schedules are often more flexible and routes are shorter. It allows LTL trucking companies easier access to employment.
This and other reasons that I will cover in this article caused ODFL to start an almost unprecedented rally in its stock price as it rose from $100 in mid-2019 to more than $350 in 2021.
Now, the stock is coming down as it is currently 21% below its all-time high. That's one of the worst sell-offs of the past 10 years.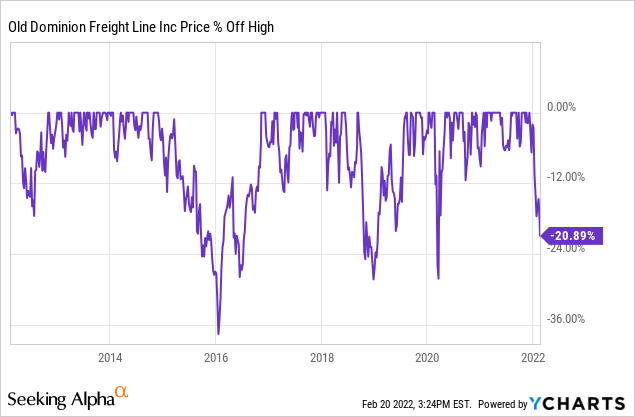 Yet, and this is important, the company's success after the pandemic is by no means just luck of being in the right place at the right time. It did help, but the growth story continues, despite a temporary (relative vs total sales) decline in e-commerce sales. Last year, the company did $1.7 billion in EBITDA. That's expected to grow to $2.0 billion in 2022, followed by a surge to $2.2 billion in 2023.
What makes ODFL unique is its ability to gain market share in a highly fragmented and extremely competitive market. There are not a lot of stocks that can do this. One other company that comes to mind is Lithia Motors (LAD), which gains market share in the car dealership industry through acquisitions and technology.
In the case of ODFL, it services 48 states through 251 service centers with more than 23 thousand employees, 10 thousand tractors, and close to 40 thousand trailers.
Yet, size isn't what sets the company apart. Since the early 2000s, the company has boosted spending in technology and capabilities that enhance its ability to set itself aside. In 2020, 99% of all services were on-time. That's up from 94% in 2002. The cargo claim ratio has declined from 1.5% to 0.1% during this period. Hence, the company has won the MASTIO Quality Award 12 years in a row.
It's also interesting that the company is outperforming its peers in terms of its service footprint. Since 2011, the number of service centers has increased by 13% allowing for 50% more shipments per day. The only company with similar shipments growth is FedEx Freight (FDX), which is larger and has similar capabilities to expand in a fractured market.
This has resulted in market share gains across the board. In 2010, the company had a market share of 5-7% in most of its operating regions. This has grown to more than 11% in every region. Moreover, in 2002, the company generated 2.9% of sales of the largest 25 LTL carriers. In 2020, this number had grown to 10.3%.
On February 2, the company revealed its 4Q21 earnings, which, once again, have proven the company's capabilities to deliver strong results. ODFL did $1.41 billion in sales. Up 31.8% compared to the prior year and $30 higher than expected. GAAP EPS came in at $2.41, which is $0.14 higher than expected.
Management commented:
"We do not expect any near-term changes in our customer demand trends and believe our service and capacity advantages will continue to support our ability to win additional market share throughout 2022."
While the company boosted revenues by 31.8%, it was able to report $372 million in operating income. That's up 46.5% and the result of a new low in the operating ratio. The operating ratio fell from 76.3% in 4Q20 to 73.6% in 4Q21. Please bear in mind that the operating ratio shows how much it costs as a % of sales to run the business. The lower, the better.
The graph below shows the company's operating margin. It's basically 100% minus the operating ratio. In 2012, the company had a 12% operating margin. Now it's 27% despite raging inflation which is impacting wages (roughly 47% of operating expenses) and investments in new trucks and trailers.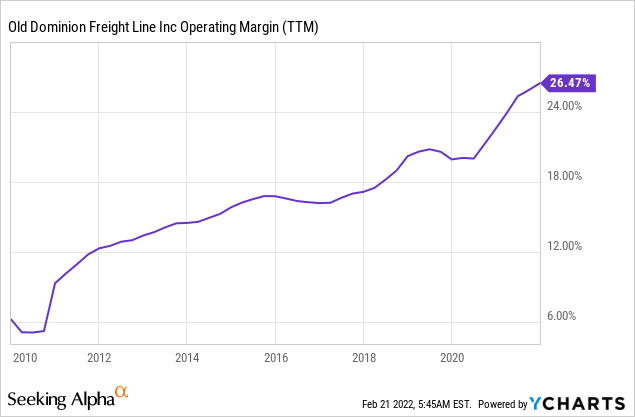 During 4Q21, the company shipped 14.3% more tonnage per day. Revenue per hundredweight rose by 16.1%, which includes fuel surcharges, and allowed the company to deal with input inflation.
And what is very important to me, the company was able to hire enough employees. Despite a challenging market, it has access to drivers and expects this to continue:
The OD family of employees grew by 20% in 2021, which including added adding over 1700 drivers and a challenging labor market. We expect that 2022 will be another big recruiting year for OD. While the labor market remains challenging, we are confident in our ability to add to our team due to our outstanding company culture.
Management also used the opportunity to boost its dividend by 50% to $0.30. Unfortunately, this means the yield is still 0.40%.
The company has made that decision because free cash flow is very strong. Be aware that free cash flow is net income adjusted for non-cash items minus capital expenditures. Capital expenditures include new trucks.
Last week, the Wall Street Journal reported that trucking companies were increasingly faced with more expensive CapEx spending - making it harder to grow the business:
Old Dominion Freight Line Inc., one of the country's largest less-than-truckload carriers, which allow multiple shippers to share space on the same truck, said it plans to raise capital expenditures by 50% in 2022 from last year to $825 million. That includes $485 million to buy tractors and trailers, up 79% from last year.

"We would frankly like to spend more, but we have been limited by several suppliers that are facing manufacturing challenges," Greg Gantt, chief executive of the Thomasville, N.C.-based trucker, said during the company's Feb. 2 earnings conference call. ODFL's net profit rose 54% last year to $1.03 billion and the company ended 2021 with $462.6 million in cash on its balance sheet.
Yet, despite these challenges, free cash flow is expected to grow to $708 million this year, followed by a surge to $936 million in 2023.
In 2017, the company's free cash flow was roughly 19% of EBITDA. Now, it's consistently above 40% and growing.
To give you an idea of how much $936 million in (expected) FCF is, it's roughly 2.8% of its current market cap ($936M/$33.1B). Given that the company's dividend yield is 0.4% after hiking 50%, there is a ton of room to hike the dividend. Especially because the company's balance sheet is very healthy.
How healthy? Well, the company has $100 million in long-term debt. Yet, thanks to its cash position, there is no net debt. In fact, the company has a net cash position of $632 million (meaning net debt is negative - more cash than debt). This is expected to grow to $1.6 billion by 2023 because free cash flow is much higher than dividends paid and because free cash flow already includes capital investments.
To reiterate, the company is expanding its market share, ramping up hiring, and dealing with higher CapEx costs, yet it has no net debt and a rapidly rising net cash position.
Unfortunately, so much good news has pushed up the valuation as I already mentioned.
Valuation
Using a $33.1 billion market cap, $1.6 billion in expected net cash, and $2.1 billion in expected 2023 EBITDA, we get an enterprise value of $31.5 billion and an EBITDA multiple of 15x. Again, that's based on 2023 expectations, so we're pricing in growth.
15x is a much better valuation thanks to the company's share price decline, yet it's still well-above pre-pandemic levels and we're using 2023 net cash and EBITDA estimates. So, that's still a bit too pricy for my taste. The implied free cash flow yield of 2.8% is one of the highest in recent history, which is caused by the company's ability to ramp up free cash flow thanks to more efficient operations.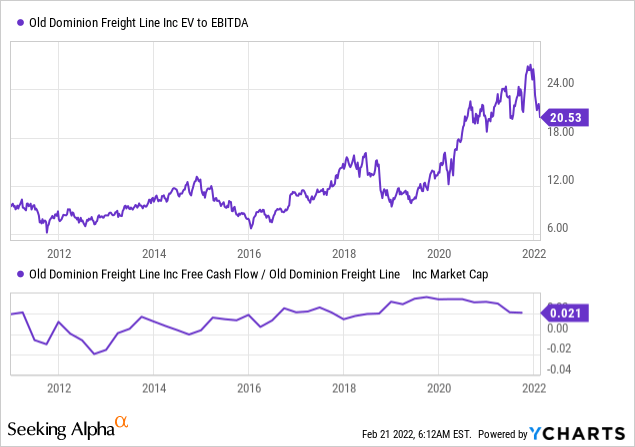 However, if history is any indication, we can expect the valuation to improve. As the graph below shows, ODFL's stock price performance is highly correlated to the Empire State Manufacturing Index (New York Fed). That's because, despite all of its qualities, ODFL is dependent on economic growth. Lower growth expectations hurt its stock.
Takeaway
I have roughly 17% of my money in transportation stocks. All investments are railroad stocks. I made that decision based on a number of factors, which included high entry barriers and somewhat subdued completion. The trucking industry is different. Competition is fierce, and in some cases, it's harder to deal with input inflation and labor shortages.
Yet, I want to buy ODFL. The company is a very efficient LTL trucking company with a proven track record and the ability to gain market share and continue rapid EBITDA and free cash flow growth.
The company has reported outperforming capital gains for well over a decade and I do not expect that to end.
I am looking to add the stock to my dividend growth portfolio. Not because of its dividend yield - it's 0.4% and it will remain low even when it rises at its current pace for a few years - but because I expect outperforming capital gains on a long-term basis.
Unfortunately, the valuation is still lofty after the 20% drop. I expect the valuation to improve as the stock adapts to lower economic expectations. While it's very hard to predict a good entry price, I hope to add the stock at a price close to $250. That would imply close to 10% more downside. The stock may drop further. If that happens, I will average down.
Another risk is that the stock rebounds now and doesn't make it to $250. That's a risk I'm willing to take.
(Dis)agree? Let me know in the comments!