What Is A Black Swan Event?
Black swan events are rare and unpredictable events that have severe consequences as a result of the event. A black swan event can lead to major losses in the markets and harm in the economy.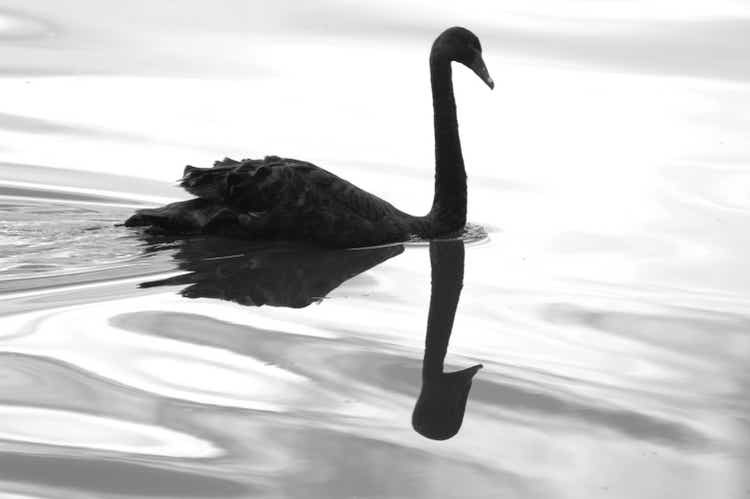 Black Swan Meaning
The meaning of a black swan event has a historical origin. It was widely thought that only white swans existed. It wasn't until 1697 when a Dutch explorer found black swans in Australia that the assumption changed. The event was unexpected and profoundly changed zoology theories.
More recently, the term has been attributed to certain stock market events. In 2007, a mathematician and former trader named Nassim Nicholas Taleb used the term as the title of his book to describe rare and profoundly impactful events that happened in society. He explained that not only were the events unpredictable and rare, but that people had simplistic explanations about the events after the fact – as if the events were predictable.
Stock Market Black Swan Theory
A black swan event in the stock market has three characteristics:
The financial event is mostly unpredictable.

The financial event has a widespread impact.

Investors rationalize the event in what is called hindsight bias which makes it seem as if the event was predictable.
The black swan event is usually seen as an event that negatively impacts the stock market, catching investors off guard.
Because investors use hindsight to examine what happened in previous black swan events, they look for a black swan pattern to help predict future events. However, by definition, a black swan event is hard to predict.
This unpredictability leads to what is called the black swan paradox. The black swan paradox says that investors cannot rule out theories just because they haven't seen them before. This is why investors need to factor in all possible outcomes.
Effect of a Black Swan Event
Asset prices are most often negatively affected by a black swan event. Because black swan events can't be predicted, investors must simply assume that they will occur. Because of the assumption that a catastrophic event can and will occur, investors should allocate their portfolios to prepare for the worst of scenarios.
Traditionally, investors who are exposed to a black swan event in the market will likely see account values plummet. The market may see a lot of panic selling, driving prices down even further.
Tip: Diversification is one strategy that can help limit the exposure of investments to a black swan event.
Black Swan Event Examples
Investors can look at previous events to learn from black swan events. Some common examples include the dotcom bubble and the housing market crash.
2001 Dotcom Bubble
The 2001 dotcom bubble is a classic example of a black swan event. The internet was still new in 2001, with few online commercial applications being used. Yet technology companies were investing heavily into growth, and the stock prices of these companies became inflated. Eventually, companies started defaulting and prices dropped. Many companies shut down in rapid succession, leading to stock prices dropping further. Investors were hit hard as the economy entered into a recession.
2008 Housing Market Crash
Prior to 2008, lenient standards for home mortgages led to housing market inflation, eventually leading to bubble-level prices as subprime mortgage issuance increased. Banks and large funds capitalized on the market, creating mortgage-backed securities which, in turn, made banks make riskier loans. Eventually, the housing market collapsed, leading more homeowners to default on their mortgages, causing even more catastrophic harm to the market. The whole financial institution nearly collapsed.
Predicting Black Swan Events
By definition, black swan events are unpredictable. This means that investors will have a hard time looking for the next black swan event to happen. Investors can follow "experts" and listen for theories that talk about potential outlier events that could have catastrophic consequences but history has proven that financial "experts" aren't able to predict anything with much certainty.
Black Swan Investing Strategies & Risk Management
Taleb's book outlines strategies to prepare for black swan events. One major area of focus is risk management. Taleb discusses what's called a barbell strategy. This strategy keeps the majority of an investor's assets in ultra-safe vehicles and moves a small percentage into speculative investments. The risky part of the portfolio shouldn't exceed 10% of the whole portfolio.
The idea is that most of the money is protected during a market panic, and the high-risk ventures have the opportunity to soar.
Another strategy that an investor can take to mitigate the effects of a black swan event is to diversify. Typically, when one area of the market does well, other areas tend to underperform. By having a diversified portfolio, investors can take advantage of the growth in various market conditions.
Tip: The barbell strategy avoids putting money in moderate-risk investments. It is primarily a risk-averse portfolio with only a small amount of speculation.
Bottom Line
Luckily, black swan events are rare. However, when they happen, they lead to catastrophic declines in market prices. Investors should expect the worst as a possibility and plan their portfolios accordingly.
FAQs
A black swan index is an index specifically designed to make investments that protect capital in black swan events. An example of a black swan index is the S-Network BlackSwan Index.

A black swan in crypto is a rare event that would lead to a catastrophic crash of cryptocurrency values. It is possible that a black swan event in crypto happens due to the regulatory risk of digital exchanges.

Gray swan events are potentially significant events that can be predicted, but the possibility of an occurrence is very low. Gray swan examples include climate change, population booms, and increased national debt.
This article was written by
Kimberlee brings professional experience to her writing. She started as a FINRA Series 7 broker and later transitioned her career into owning an insurance agency and preparing taxes.
Analyst's Disclosure: I/we have no stock, option or similar derivative position in any of the companies mentioned, and no plans to initiate any such positions within the next 72 hours. I wrote this article myself, and it expresses my own opinions. I am not receiving compensation for it. I have no business relationship with any company whose stock is mentioned in this article.
Seeking Alpha's Disclosure: Past performance is no guarantee of future results. No recommendation or advice is being given as to whether any investment is suitable for a particular investor. Any views or opinions expressed above may not reflect those of Seeking Alpha as a whole. Seeking Alpha is not a licensed securities dealer, broker or US investment adviser or investment bank. Our analysts are third party authors that include both professional investors and individual investors who may not be licensed or certified by any institute or regulatory body.