Contango: Definition & Causes
Contango is a condition that occurs in commodities and futures markets where the price of a given good is lower today than the price in the future.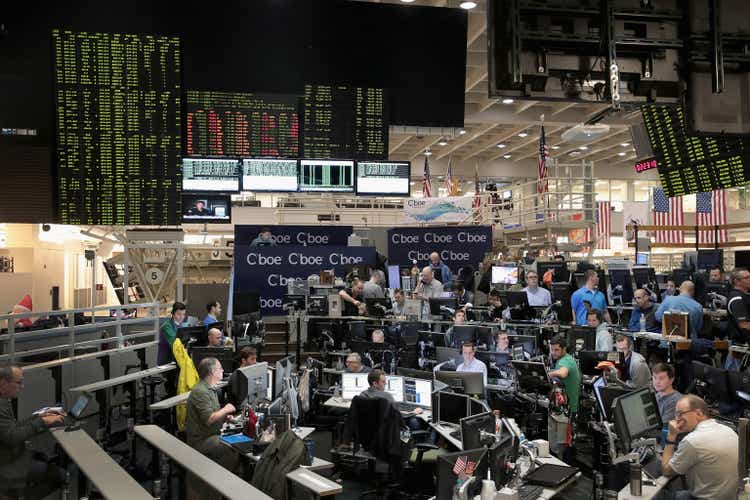 What Is Contango?
Contango and backwardation are terms to refer to the shape of the futures curve for a given commodity or financial asset. Examples would include gold, oil, agricultural products, bitcoin, and volatility on the S&P 500. All of these have various prices at different dates, and thus there's a curve of prices between today and future contracts. In contango, prices are lower today than in the future. Backwardation is the opposite state.
Contango Market Curve
Here is a hypothetical example of what an oil market could look like during a state of contango:
In this example, the spot price of oil is just $24, however, one year into the future, it is $45, and three years out, it is $52. This sort of market condition could occur if oil was heavily oversupplied at the present day but market participants were expecting more balanced supply and demand conditions in the future.
Contango vs. Backwardation
The market is said to be in a state of contango when traders are willing to pay less for a commodity today than they are at a later date. For example, it may cost $1800 to buy an ounce of gold today. If the futures prices show a rising slope with a price of, say, $2000 to buy an ounce of gold five years from now in the futures market, that would be contango. The opposite of this, backwardation, is when prices are higher today than in the future.
Contango In The Oil Market
Historically, two markets make headlines for going into contango. Volatility is one, which will be discussed below. Another is crude oil.
Oil is a unique market since it is crucial to major industries including transportation, energy, chemicals, agriculture, and many more. In addition, there's very little of it in storage globally compared to the amount the world uses on an annual basis. Unlike, say, silver or platinum, it's easy to end up with way too much – or too little – oil virtually overnight.
The Covid-19 crisis was a perfect example of that. Demand for oil suddenly dried up as folks stopped driving to work, flying on airplanes, or otherwise using petroleum products. However, it takes a long time to shut in oil production, meaning that supply was relatively fixed whereas demand was non-existent. This resulted in a massive glut of oil, with nearly all the world's storage filling up and there being nowhere to put more oil in the short-term.
As a result, the price of spot oil briefly fell below $0 per barrel. This may seem crazy, but it was actually logical. With no place to store oil, it was actually a burden on the supply chain to produce an additional barrel of oil at that precise moment. Traders were smart enough to realize that Covid wouldn't last forever, however. The futures curve went into steep contango, with oil for future years remaining above $40 per barrel even as the spot price of oil was at or around $0 in that crisis moment.
This sort of shocking short-term market outcome can happen in other commodity markets as well. However, it tends to be most pronounced in markets with highly variable demand and a lack of all that much storage infrastructure; these are markets such as oil and natural gas.
Causes of Contango
Weather: Certain weather conditions could cause an abundance of a crop to show up at a certain time. A bountiful harvest could make the value of a perishable commodity sink since, at the end of the day, humans don't tend to eat many more calories even if the price of doing so drops a lot.
Rising uncertainty in the future: This one primarily applies to volatility futures. Volatility is measured by the VIX index, which is a calculation of expected price changes in the S&P 500. When the market tumbles, the VIX index tends to spike higher; conversely, when stocks rally, the VIX often goes down. Most of the time, the VIX futures curve will be in contango. After all, if the market is stable today, there's a good chance it will be stable tomorrow. But, in three or six months, it's less predictable. Investors generally pay more to hedge against more distant volatility as opposed to tomorrow's volatility. Indeed, on the rare occasions that the VIX curve exits contango and enters backwardation, it's often a sign that the market is close to making a bottom.
Inflation: In a highly inflationary environment, traders may expect that it will cost more to produce goods in the future than it does today. In this setting, a contango environment may develop to reflect the overall rising price level in the economy.
Tip: Unlike many commodities, volatility is typically in a state of contango. When it's not, the equity market is often moving sharply to the downside.
The Impact of Contango to Investment Funds
Contango can have a major impact on commodity and volatility funds. Many funds are structured to buy short-term futures contracts of a given commodity. When that futures contract expires, the fund rolls it into the next month, selling, for example, its June contracts to purchase July contracts of the same commodity. In the event that the price is at $0 for a given month, as oil was in 2020, this could potentially destroy a fund as it would have no capital with which to buy the next month's futures. Some oil funds were restructured following that incident to attempt to lower risk of a blow-up event in the future.
Long volatility funds also tend to suffer from contango drag. On average, historically, the price of next month's volatility is generally around 5-10% above the current month's volatility futures price. This means that, every month, the volatility fund will lose something like 5-10% of its assets simply from having to roll its futures contracts over. This largely explains the very poor long-term performance of volatility products such as the iPath S&P 500 VIX Short-Term Futures ETN (VXX).
Tip: The VIX index is mean-reverting. However, many traders buy VIX ETFs and end up losing money, not realizing that they can lose money from contango even if and when VIX itself goes back up.
Benefitting From Contango
Shorting ETFs hit by contango: It can be highly profitable to short ETFs that lose value from contango. Though, this can be risky if and when contango reverts back to backwardation.
Buy cheap consumer goods: For example, after oil crashed in 2020, there was a window to get unbelievably cheap prices of things such as airplane tickets thanks to the out-of-whack commodity market.
Market timing: For VIX in particular, some technical analysts use its flips from contango to backwardation as a market timing signal.
Pair trades: Sophisticated investors can buy one futures contract of a commodity and short sell a different contract of that same commodity to attempt to arbitrage the difference in prices between the two dates.
Pitfalls of Contango
Performance Drift: ETFs that own a particular commodity will often deviate significantly in returns from what investors expect. This can happen when funds own commodity futures rather than the actual product itself.
Contango Drag: As described above, funds that have to roll their futures frequently in a state of contango will underperform the commodity that they're tracking due to this constant erosion of the fund's capital.
Complexity: Contango and backwardation add a level of uncertainty to an investment as compared to more straightforward products. Some investors may decide to avoid commodities with contango, especially if the curve often flips from contango to backwardation and back again.
Contango Example
Let's suppose that another global economic shock hits, and the demand for oil suddenly dries up. It takes awhile for oil producers to curtail production, so the market ends up dramatically oversupplied. Oil goes into steep contango with spot oil selling for $40 per barrel while oil for next year is selling at $70 per barrel.
A shrewd refining company, noticing the opportunity, decides to stock up on oil now to lock in its low price. It buys as much oil at current prices as it can store in its tanks, filling them to the brim. Over the ensuing months, the economy regains its footing and the spot price of oil starts to rally back up to the long-term price of $70 per barrel. The refining company, by contrast, gets to keep running through its inventory of $40 oil, locking in fat profit margins for the year.
Bottom Line
Contango and backwardation are vital concepts for anyone wishing to trade commodity futures directly, or invest in exchange-traded funds based on these underlying commodity futures. By understanding these concepts and knowing what impact they will have on commodity investments, it should help investors stay on the right side of the market.
This article was written by
Ian worked for Kerrisdale, a New York activist hedge fund, for three years, before moving to Latin America to pursue entrepreneurial opportunities there. His Ian's Insider Corner service provides live chat, model portfolios, full access and updates to his "IMF" portfolio, along with a weekly newsletter which expands on these topics.
Analyst's Disclosure: I/we have no stock, option or similar derivative position in any of the companies mentioned, and no plans to initiate any such positions within the next 72 hours. I wrote this article myself, and it expresses my own opinions. I am not receiving compensation for it. I have no business relationship with any company whose stock is mentioned in this article.
Seeking Alpha's Disclosure: Past performance is no guarantee of future results. No recommendation or advice is being given as to whether any investment is suitable for a particular investor. Any views or opinions expressed above may not reflect those of Seeking Alpha as a whole. Seeking Alpha is not a licensed securities dealer, broker or US investment adviser or investment bank. Our analysts are third party authors that include both professional investors and individual investors who may not be licensed or certified by any institute or regulatory body.