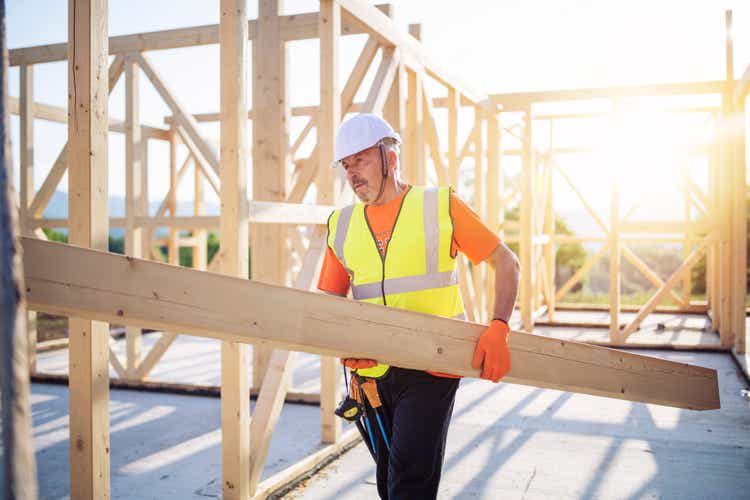 Louisiana Pacific Corporation (NYSE:LPX) is about to report earnings, and that put the company back on my radar. The stock rose about 55% since I published my latest bullish article. But shares are only up another 3% since I walked away from the stock, so I'm confident that I squeezed most of the juice from this lime.
It seems that the shares have hit some resistance since I walked away, which is always gratifying to see. At the same time, though, it might be interesting to buy back in if the shares now represent compelling value. After all, the business has had a spectacular run in 2021. I'll determine whether or not now's a good time to buy by looking at the financial history here, and by looking at the stock as a thing distinct from the underlying business. There's also some insider activity that requires commentary, and I'll finish this article by recommending a short put trade for those who want to go long here.
I understand that reading my stuff can be arduous. In addition to some top notch content, it's a mixture of terrible jokes and thinly veiled excuses to brag. I totally get that people may not want to read through the entirety of an article. For that reason, I present this, the "thesis statement" paragraph where I present the summary of my thinking. If you read beyond this paragraph, any trauma you experience is on you. So I think Louisiana Pacific has had a great 2021, and I expect earnings will be spectacular when they release them today. The problem is the valuation. I think insiders offer us a clue to what price we should pay. Hint: it's not the current price. Thankfully the options market allows us to generate some income today and/or be obliged to buy this great, but cyclical, business near the same price as insiders. I'll go through the specifics of the trade I'm recommending below, but I'm sure other short puts would also be profitable.
Financial Snapshot
There's no other way to write it that I can think of. Louisiana Pacific's financial performance in 2021 has been eye wateringly spectacular in my view. Over the first nine months of 2021, the company boosted sales by about 85% from the prior year, and about 101% relative to the first nine months of 2019. Additionally, net income and EPS were up by 391%, and 446% relative to 2020. The EPS figures were up much more than net income, obviously, because management spent about $987 million to retire about 24.4 million shares at an average price of ~$40.50. Additionally, the capital structure improved dramatically, as the company's cash hoard is now worth about 175% of long term debt. There's nothing to complain about in these financial statements, and for that reason I'd be happy to own the shares at the right price.

The Stock
The recent stock price movements are interesting to me, as they may reveal something about what's most important, and they may represent a market that's forecasting a slowdown. Allow me to elaborate on this thought, dear reader. In order to do so, I'll need to refer to the previous two missives that I published on this name.
Just over a year ago, I published a bullish article on Louisiana Pacific. I was impressed that revenue had grown by about 21% from the previous period and net income swung from a loss to about $500 million. I was also impressed by the fact that the shares were trading at a price to free cash flow of about 15. The stock was priced at $44.85 when I published the article.
Fast forward eight months and I walked away from the stock. I did this in spite of a spectacular half year, where revenue was over 100% higher than the first six months of either of the previous two years. Net income was up even more than both 2020 and 2019 by 1178%, and 1850%, respectively. I threw an absolute hissy fit because the price to sales ratio reached a rate of ~1.8 times, and price to book was up to 4.5 times. This is what caused me to walk away. The stock was priced at $67.50 when I walked away. The shares closed at $69.13 last Friday.
So, to recap, most of the gains happened either prior to or coincident with the massive uptick in business. The company posted great results and the shares barely budged. This drives home for me the importance of buying shares at reasonable prices. We're not rewarded for investing in companies that have great results. We're rewarded for investing in companies whose great results aren't anticipated by the market. This is a game about expectations, and it's a bad time to invest when expectations get too rosy.
Stepping down off my soapbox, it's time to try to determine whether the shares are priced "too optimistically" into earnings. In this context, "too optimistically" is synonymous with "expensive." If you're a regular reader, you may remember that I measure the cheapness, or not, of a stock in a few ways, ranging from the simple to the more complex. On the simple side, I look at the ratio of price to some measure of economic value, like sales, earnings, book value, and the like.
As I pointed out above, I walked away from this business about four months ago because price to book and price to sales were sitting near multi year highs.
Price to book is still sitting near multi year highs, though price to sales has come down from its highs. It remains elevated by historical standards, though.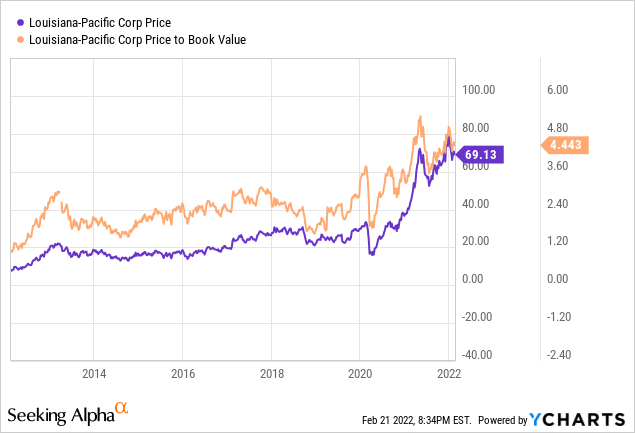 Source: YCharts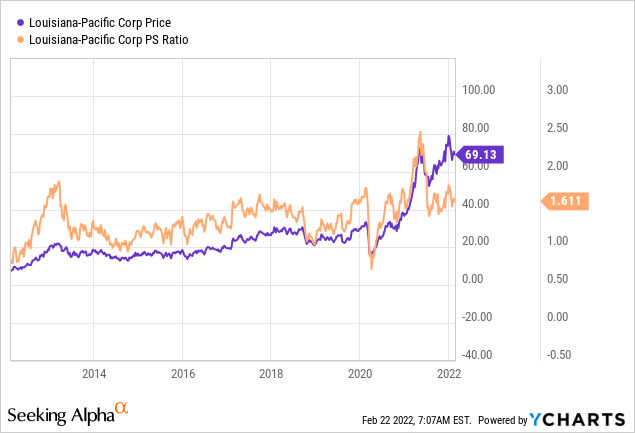 Source: YCharts
In addition to simple ratios, I want to try to understand what the market is currently "assuming" about the future of this company. In order to do this, I turn to the work of Professor Stephen Penman and his great book "Accounting for Value." In this book, Penman walks investors through how they can apply the magic of high school algebra to a standard finance formula in order to work out what the market is "thinking" about a given company's future growth. This involves isolating the "g" (growth) variable in a fairly standard finance formula. Applying this approach to Louisiana Pacific at the moment suggests the market is assuming that this company will grow at a CAGR of about 7% over the long term. This is a very optimistic forecast in my view. Further, this optimism seems to be at odds with the views of Wall Street analysts, a group not known for their cautious pessimism. When a community as perennially optimistic as Wall Street analysts acknowledge that this is a cyclical company whose earnings will mean revert, I think the rest of us would be wise to pay attention.
Insider Activity
If you're a regular, you may have read my abuse of a famous quotation from "Animal Farm", namely "all investors are created equal, but some are more equal than others." The fact of the matter is that individuals who work at a given company are, by definition, more informed about what's going on with the company than some Wall Street analyst. When these people do something, I think the rest of us would be wise to take notice.
With that in mind, I'd like to point out that between August 6th and November 17th of last year, three insiders (Alan Haughie, Stephen Macadam, and William Southern) purchased 19,670 shares at a weighted average price of ~$59.
In my view, when people who know a given business better than most of us ever will put their own capital to work, we should strongly consider following their lead. That said, we should try to follow their lead by purchasing near the price that they purchased at. Shares are currently priced about 14.5% higher than the average price paid by the insiders above.
Options As Alternative
So, I'm not willing to buy the shares at current prices, but I think insiders make a compelling case about buying at $59 per share. This presents a choice. I can wait for shares to drop to a more reasonable level. This approach has the disadvantage that it's really boring. Alternatively, I can generate some income by selling some put options. These generate income now, while potentially obliging me to buy near the same price as insiders. I'll go for this approach, as I consider it to be a "win-win" trade. If the shares remain above the strike price, I'll pocket the premium and move on. If the shares are "put" to me, I'll be buying at a much lower price than the current level. I'll also take some comfort in knowing that I've bought at the same level as people who know this business best.
In terms of specifics, I'm recommending the January 2023 LPX puts with a strike of $57.5. These are currently bid at $3.90, which I consider to be a very reasonable premium at this strike price. I think this is a win because the premium represents a 6.7% yield on capital tied up, which is not terrible for 11 months of work. The strike price is also about 17% below the current market price, which is also attractive. If the shares are "put" to me, I'll be obliged to buy at a net price of $53.60. At that price, the dividend yield rises to 1.6%.
I hope you're excited by the prospect of a "win-win" trade, because we now come to the part of the article where I get to rapidly deflate any positive feelings you might have by writing about risk. The reality is that every investment comes with risk, and short puts are no exception. We do our best to navigate the world by exchanging one pair of risk-reward trade-offs for another. For example, holding cash presents the risk of erosion of purchasing power via inflation and the reward of preserving capital at times of extreme volatility. The risks of share ownership should be obvious to readers on this forum.
I think the risks of put options are very similar to those associated with a long stock position. If the shares drop in price, the stockholder loses money, and the short put writer may be obliged to buy the stock. Thus, both long stock and short put investors typically want to see higher stock prices.
Puts are distinct from stocks in that some put writers don't want to actually buy the stock - they simply want to collect premia. Such investors care more about maximizing their income and will be less discriminating about which stock they sell puts on. These people don't want to own the underlying security. I like my sleep far too much to play short puts in this way. I'm only willing to sell puts on companies I'm willing to buy at prices I'm willing to pay. For that reason, being exercised isn't the hardship for me that it might be for many other put writers. My advice is that if you are considering this strategy yourself, you would be wise to only ever write puts on companies you'd be happy to own.
In my view, put writers take on risk, but they take on less risk (sometimes significantly less risk) than stock buyers in a critical way. Short put writers generate income simply for taking on the obligation to buy a business that they like at a price that they find attractive. This circumstance is objectively better than simply taking the prevailing market price. This is why I consider the risks of selling puts on a given day to be far lower than the risks associated with simply buying the stock on that day.
I'll conclude this rather drawn out and ponderous discussion of risks by looking again at the specifics of the trade I'm recommending. If Louisiana Pacific shares remain above $57.5 over the next eleven months, I'll simply pocket the premium and move on. That premium is very generous at the moment. If the shares fall in price, I'll be obliged to buy, but will do so at a net price very similar to what insiders paid. Both outcomes are very acceptable in my view, so I consider this trade to be the definition of "risk reducing." If you've decided that it's strange of me to conclude a discussion about risk by writing about the risk-reducing potential of put options, welcome to the club.
Conclusion
I think Louisiana Pacific is obviously a fine business, and I'd be happy to own it at the right price. The problem is that we're nowhere near the "right" price at the moment. The company is about to release earnings, and I expect they'll be spectacularly good. For that reason, I'm comfortable selling the puts described in this article. My level of comfort is elevated somewhat by the fact that my strike price is similar to insider buy prices. If you're comfortable with selling puts, I'd recommend the trade above or similar. If you're not, I'd recommend you wait for the inevitable downturn to buy at a more attractive price.
Editorial Note: Louisiana Pacific reported earnings before the open this morning and while this article was in the editing process. The company beat its EPS estimate and its revenue estimate.