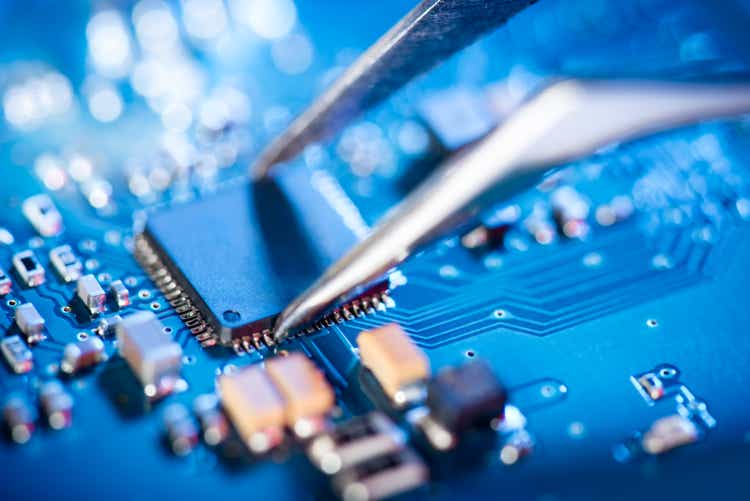 Taitron Components (NASDAQ:TAIT) is boring, stable, and cheap enough to buy. The company's operating business generates consistent free cash flow and the balance sheet is loaded with cash, undervalued real estate, and no debt. At the time of this writing, TAIT is trading at a market cap of $20mm; I think a private buyer would pay at least $30mm for the company. Tangible upside and meaningful downside protection make TAIT an appealing investment.
TAIT's Operating Business is Boring and Stable
TAIT is a redistributor and supplier of semiconductor and electrical components. The company has over 10,000 different items in stock that are sourced from over 100 different suppliers. TAIT also does custom development work to meet specific customer needs; management is looking to significantly grow this portion of the business. I've pulled a few item images out of TAIT's product catalog to give readers a sense of the components they sell:
TAIT's primary value-add to customers is a quick turnaround time to fill orders paired with the ability to provide a wide array of products. Historically, TAIT has billed itself as a "superstore," a one-stop shop for any and all component needs. Rather than needing to coordinate purchasing from a variety of smaller suppliers, customers can go to TAIT for all of the components they need. TAIT's push into custom development of components gives the company additional flexibility to meet customer-specific needs. TAIT maintains offices in both China and Taiwan that focus on these value-added engineering products. These offices provide support for inventory sourcing, purchases, and the coordination of the manufacture of TAIT's value-added products.
TAIT's revenue is lumpy year-over-year and doesn't have a long-term trend. The company brings in between $5mm and $9mm per year, posts gross margins of 40-50%, and generally earns or loses about $1mm per year in net income. TAIT's free cash flow is much more consistent; the company generated positive free cash flow nine out of the last ten years and has averaged $1.8mm annually over the last four years.
The primary gap between net income and cash flow comes from inventory write-downs. TAIT acknowledges that their parts and components rapidly decline in value over time as they become obsolete. TAIT accounts for this with heavy inventory reserve costs. When TAIT purchases new inventory, they allocate a percentage of the purchase price as an inventory reserve cost which is accounted for in the "cost of product sold" line item. If the company purchases a component for $100 that they intend to resell, they will assign that component an inventory value less than $100 on the balance sheet right away. These expenses are real and tangible and lower the company's gross margins, but they are non-cash in nature and don't negatively affect the company's cash flow relative to net income.
TAIT's Balance Sheet is in Great Shape
TAIT has a great balance sheet. The company carries no long-term debt, has plenty of cash on hand, and is understating the value of PP&E. TAIT's cash balance was $6mm as of October 2021, with an additional $1.2mm in short-term investments. The cash balance has been building up over the last few years as free cash flow increased and capital expenditures remained low. TAIT has been paying a steady dividend since 2016; the current yield is ~5%. I have no concerns about TAIT's liquidity and I would expect their dividend payments to continue in the future. I don't have a clear sense of what management's capital allocation plan is (they don't hold conference calls or create investor presentations), but holding too much cash isn't a bad problem to have.
I am more intrigued by the real estate on TAIT's balance sheet than I am about their cash and dividend policy. The company owns a 50,000 square foot facility in Valencia, CA. The building serves as the company's HQ and primary distribution center. TAIT also owns office space in China and Taiwan to support their operations in those countries. Across all geographic locations, TAIT's property assets are only valued at $3.2mm on the balance sheet. I don't have a great sense of how to value foreign real estate, but the Valencia facility is clearly being undervalued. I pulled up a list of comparable buildings for sale in the area (source), and commercial real estate is going for about $300/square foot on average. Using $300/square foot, the Valencia building is worth $15mm, more than five times its book value. Using my estimated value of the Valencia facility, TAIT's book value would jump to $26mm. $26mm is a 30% premium to the company's market cap.
I Think A Private Buyer Would Pay $30mm for TAIT
Putting together the pieces above, we have an operating business generating about $1.8mm in annual free cash flow, $7mm in cash and short-term investments, and at least $12mm in hidden real estate value. I think a private buyer would need to pay at least ten times free cash flow for the operating business, and throwing in the cash value and the additional real estate value brings the total price tag to $37mm. It is important to note that TAIT has benefited from carrying over net operating losses to reduce its tax burden; if federal and state taxes were fully applied, TAIT's annualized free cash flow would be closer to $1.2mm. The private-buyer price drops to $31mm in that scenario, but $31mm is still a 50% premium to TAIT's market cap.
Risks and Concerns
TAIT faces both competition and customer concentration risks. TAIT is a tiny player in a very large industry; they compete against much larger companies with better economies of scale and any major business deal exposes them to concentration risk. Per the company's 10-K, 59% of TAIT's sales come from just two customers, with their largest customer accounting for 45% of total revenue (source). Customer concentration isn't a new development, and TAIT's relationships with their customers appear to be healthy, but it is admittedly a major risk to have so much revenue concentrated in just a few customers.
TAIT's size also has the usual risks associated with micro and nano cap companies. Trade volume is low, and as such volatility can be high. Less than $100 thousand worth of shares are traded daily on average, and the low volume can lead to price spikes and drops if there is a motivated buyer or seller.
Conclusion
TAIT has a lot to offer investors. The company doesn't have flashy products and isn't growing revenue at a steady pace, but the business is stable and consistently generates free cash flow. I think a private buyer would need to pay at least $30mm to acquire the company; that is my price target for TAIT. If increased competition compresses margins or a major customer is lost, TAIT's asset base provides an ample margin of safety to investors. TAIT trades at nearly a 30% discount to its true asset value. Management clearly believes in the company as well; insiders own just over 50% of the company's shares. I haven't started a position in TAIT yet, but I could easily see myself owning shares in the near future.