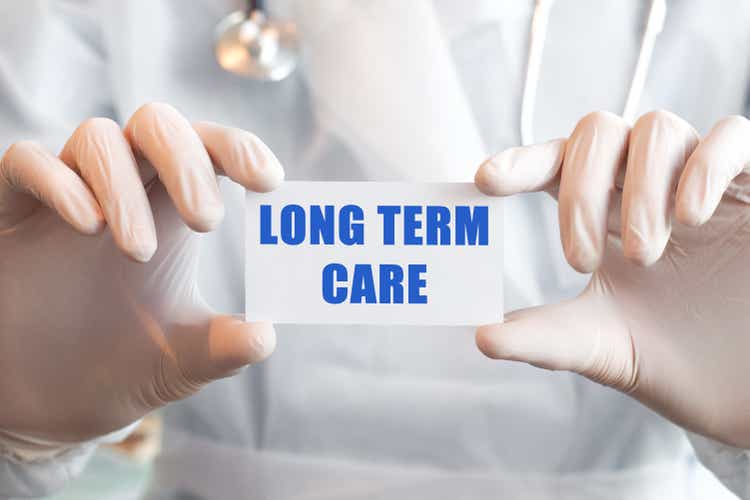 It feels good when things pan out exactly as one expects. The opposite though can be instructive as well. With LTC Properties, Inc. (NYSE:LTC), we were expecting a slightly more somber tone from management as they reported their Q4-2021 results. Our position on this REIT was crystal clear. When we last covered it, we wrote,
Based on all the information we have, we are now moving up the risk of a dividend cut by LTC on our proprietary Kenny Loggins Scale. This rating signifies a 90% probability of dividend cut in the next 12 months in our view. At the same time, we are maintaining a neutral rating on the stock as LTC is trading close to tangible NAV and would make an accretive acquisition for some other REITs trading at large premiums.
Source: Senior Housing Distress Will Likely Force A Dividend Cut
Of course, only 4 months have passed since then, so we still have time to be right on this. But the conference call from Q4-2021 certainly did not suggest that the cut was imminent. Were we missing something?
Q4-2021
The NAREIT funds available for distribution (FFO) came in at 56 cents a share, a significant drop from what we saw in Q4-2020.
We saw a similar, albeit slightly less intense, drop in funds available for distribution or FAD. The 56 cents of FFO should put investors on high alert directly as it is already under the 57 cent dividend run-rate. There is though, a lot more to this story.
Tenant Distress Continues
LTC's tenants are in a continued state of distress, and EBITDAR and EBITARM coverages deteriorated once again. Keep in mind that these are rolling four quarter numbers and reported with a one-quarter lag.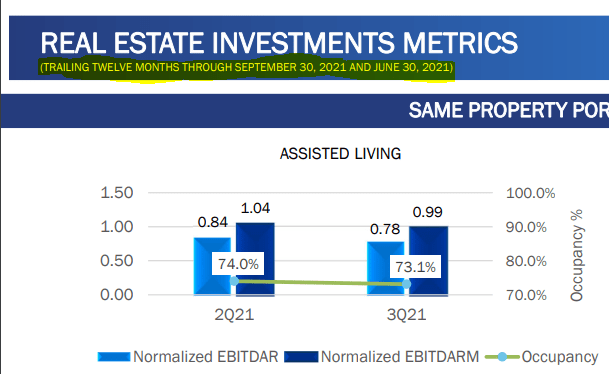 In other words, we have not remotely come close to seeing what this looks like in real-time basis for Q1-2022. Even these numbers have been bolstered by some large payments from the government.
ALF metrics include Coronavirus Stimulus Funds ("CSF") as allocated/reported by operators. Excluding CSF, the 3Q21 normalized EBITDAR and EBITDARM coverages were 0.60 and 0.80, respectively, and 0.65 and 0.85, respectively, for 2Q21.
Source: LTC Presentation
Our bet here is that on a real-time basis excluding CSF, we are looking at close to 0.5X coverage. Now the exact amount is rather irrelevant. What is relevant is that some tenants will require a rent cut at some point in 2022. Some others are likely to fold as if you are at 0.6X EBITDAR coverage, as in cannot cover 60% of rent after excluding every other equally vital expense, things are quite bad.
Rent Collection
Rent collection remained on similar trends that we saw during rest of 2021.
Keep in mind that unless LTC writes off this rent that is not collected, it is booked as revenue. LTC's increase in interest receivable subtracted another $6.77 million from cash flow in 2021.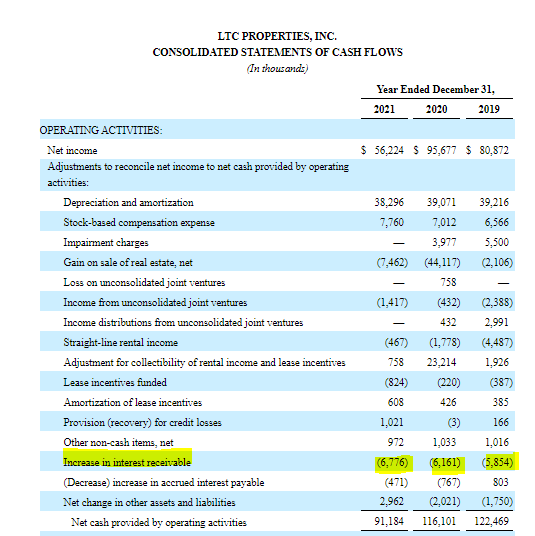 Based on current tenant health, we think the probability of a write-off is extremely high.
Debt Levels
LTC's debt to adjusted EBITDA moved up to 6.0X.
This was 5.8X in the last quarter and averaged 4.5X in 2019 and 2020. 6.0X debt to adjusted EBITDA is at least 2 turns higher than what a senior housing/skilled nursing landlord should sustain. Our rationale here is that the underlying tenant base is very weak. Healthcare Realty Trust Incorporated (HR) and Physicians Realty Trust (DOC), which dominate the medical office space, run leverage ratios below this. Their tenant base in a log scale higher in credit quality, and the average tenant rent coverage is close to 7X in this space. If those two dread running leverage at 6.0X, it stands to reason that LTC should be far lower.
Verdict
Management has a more optimistic outlook than we do.
With our solid balance sheet, we have ample liquidity to quickly act on opportunities, and we are doing just that. We maintained our $0.19 per share monthly dividend during the quarter with a payout to shareholders of $22.4 million. Our FAD payout ratio decreased from the third quarter to 93% in the fourth quarter and was 94% for the year. Based on our fourth quarter investment activity and assumed rent payments from the former Senior Care and Senior Lifestyle portfolios, we anticipate that our FAD payout ratio will continue to decline during 2022 and approach our target of 80% by the end of 2022 or the beginning of 2023.
Source: LTC Q4-2021 Transcript
Investors can see obviously which areas we disagree with, but we will add one more touch here. Operating cash flow barely covered the dividend in 2021. If we subtract out the stock-based compensation (yes, we know it is non-cash), then the operating cash flow falls short by about 6%. Things are about as tight as they get, and the tenants are in a very high level of distress. We don't see things improving, and we are reiterating our rating on our proprietary Kenny Loggins Scale.
This rating signifies a 90% probability of dividend cut in the next 12 months in our view. We still rate LTC as a hold as we view the chance of being acquired as modestly high.
Please note that this is not financial advice. It may seem like it, sound like it, but surprisingly, it is not. Investors are expected to do their own due diligence and consult with a professional who knows their objectives and constraints.