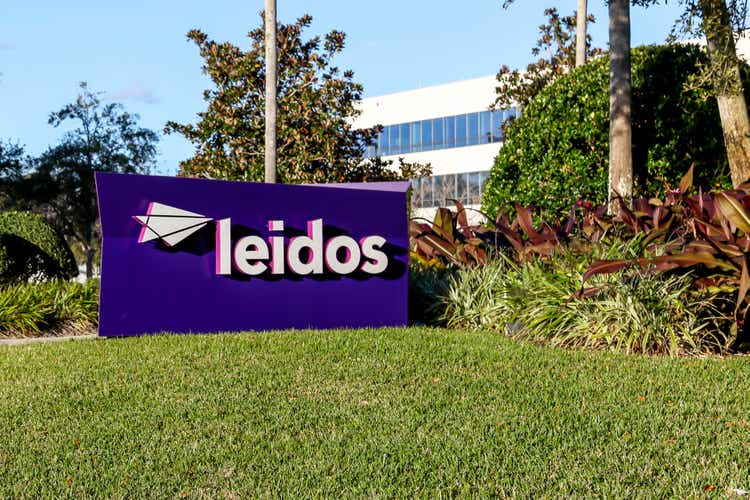 Some of the most interesting companies can be those that are focused on providing technology, engineering, and science services to various other customers. These businesses are largely based on the expertise of those who work there. And, as they built up their reputations, they become regular suppliers of their services. One firm that has performed exceptionally well in this space in recent years has been Leidos Holdings (NYSE:LDOS). Revenue growth at the company has been consistent for at least the past five years and, if management is right about the 2022 fiscal year, that trend will continue for the foreseeable future. On top of this, shares of the business look to be attractively priced, both on an absolute basis and relative to the competition. All things considered, this should make the enterprise an attractive opportunity for long-term investors who want a company that offers stability and growth.
A diverse play on the science economy
Today, Leidos operates as a company that specializes in providing various technology and services for customers in all sorts of markets. These include the defense industry, intelligence, civil, and even health markets. Though the company is diverse in this respect, it would be a mistake to think that it doesn't have a main focal point. As of the end of its 2021 fiscal year, for instance, the company boasted that 87% of its revenue comes from contracts with the US government. This appears to largely fall under the Defense Solutions segment the company operates. Through this segment, the company provides advanced services and solutions that help defense customers with things like digital transformation, communications, intelligence, and more using a variety of software, analytics, mission support, logistics services, weapons systems, and even technology is dedicated to human space exploration. The company's portfolio of offerings covers systems and solutions for air, land, sea, space, and even cyberspace. This particular segment, during the company's 2021 fiscal year, accounted for 58% of the company's overall revenue in 2021.
Another key part to the company is the Civil segment that it operates. Through this segment, the company provides a variety of offerings such as transportation solutions, security detection and automation technologies, and digital transformation technologies and services. In this latter category would be things such as IT solutions used in cloud computing, data center, and network modernization activities, helpdesk operations, and more. This particular segment accounted for 23% of the company's overall revenue in 2021. And the final segment we have to pay attention to is the Health segment. Through this, the company provides health information management services that helped their customers to operate various health-related infrastructure. It also provides managed health services, digital transformation solutions, and research and development activities centered around the life sciences space. This includes providing biopharmaceutical development and manufacturing, nanotechnology characterization, and clinical trials management actions. However, this particular segment is the smallest for the business, accounting for just 29% of overall revenue in 2021.
In the past several years, management has done exceptionally well to grow the company's top line. Revenue has increased each year over at least the past five years, climbing from $10.17 billion in 2017 to $13.74 billion in 2021. What's more, management has high hopes for the 2022 fiscal year. They anticipate sales of between $13.9 billion and $14.3 billion. At the midpoint, this would imply $14.1 billion. If that comes to fruition, it would translate to a year-over-year increase of 2.6%.
As revenue has risen, so too has profitability. Between 2017 and 2021, net income at the business expanded, climbing from $366 million to $753 million. With earnings per share expected to be between $6.10 and $6.50 for the 2021 fiscal year, that should translate to net profits, at the midpoint, of $885.2 million. So that means that as revenue is rising, the profits of the business are not being sacrificed for it. Of course, there are other profitability metrics that we should pay attention to. Operating cash flow is one great example. Between 2017 and 2020, this metric increased from $526 million to $1.33 billion. But then, in 2021, it took a step back, dropping to $1.03 billion. If, however, you adjust for changes in working capital, it would have actually risen from $1.03 billion in 2020 to $1.12 billion in 2021. Meanwhile, EBITDA for the company has grown nicely. It increased from $1.06 billion in 2017 to $1.51 billion last year. When it comes to guidance for the 2022 fiscal year, management has said that operating cash flow should be around $1 billion or more. And EBITDA should be around $1.47 billion. This does represent a slight decline relative to the 2021 fiscal year. But the drop is not so great that I would urge investors to be worried.
Using this data, we can attempt to price the business. Utilizing the 2021 data, this company is trading at a price-to-earnings multiple of 17.4. This drops to 14.8 if we rely on the 2022 figures. The price to operating cash flow multiple, meanwhile, should actually worsen, climbing from 11.6 to 13.1. And the EV to EBITDA multiple for the company should increase modestly from 11.5 to 11.9. As part of my analysis, I also decided to compare Leidos to five similar firms. On a price-to-earnings basis, these companies ranged from a low of 17.4 to a high of 52.7. In this case, our prospect was tied as being the cheapest of the group. I then decided to use the price to operating cash flow approach, giving me a range of 15.5 to 24.8. And using the EV to EBITDA approach, the range was 14.5 to 29.1. In both of these cases, Leidos was the cheapest of the group.
| | | | |
| --- | --- | --- | --- |
| Company | Price / Earnings | Price / Operating Cash Flow | EV / EBITDA |
| Leidos Holdings | 17.4 | 11.6 | 11.5 |
| Clarivate Plc (CLVT) | N/A | 22.3 | 29.1 |
| Jacobs Engineering (J) | 52.7 | 16.7 | 20.1 |
| Booz Allen Hamilton Holding Corp (BAH) | 17.4 | 24.8 | 14.5 |
| Dun & Bradstreet Holdings (DNB) | N/A | 15.5 | 14.8 |
| TransUnion (TRU) | 40.1 | 21.2 | 19.1 |
Takeaway
At this moment in time, I do believe that Leidos has all the makings of an excellent company. The consistency in revenue and profit growth, as well as in cash flow growth, is highly encouraging. Shares of the business are not incredibly cheap. But they definitely do tilt in the direction of the cheap side. This is especially true when you factor in its valuation relative to some similar firms. All things considered, I would say that Leidos could make for a great prospect for investors who want an affordable company that offers stability.