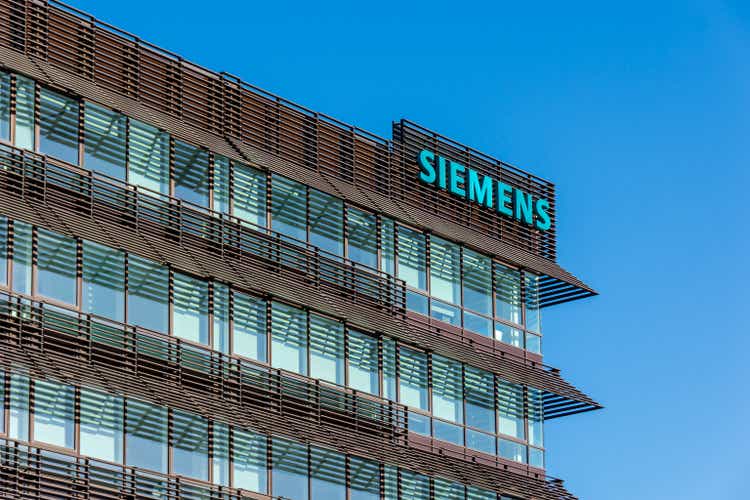 German industrial giant Siemens (OTCPK:SIEGY) reported strong numbers for its most recent quarter (Q1 2022, ended December 2021) with orders up 42% and revenues up 17% YoY to EUR 16.5 billion from EUR 14.1 billion the same period a year earlier, beating analyst forecasts of EUR 15.95 billion. At EUR 93 billion, Siemens' order backlog was at its highest ever and would take "several quarters to process" according to Siemens boss Roland Busch. Industrial business profits rose 12% YoY during the quarter to EUR 2.46 billion, while net profits surged 20% YoY to EUR 1.8 billion. Much of Siemens' stellar performance was driven by a recovery in economic activity after the pandemic slowdown and customer stockpiling in response to supply chain bottlenecks and inflation expectations.
As inventory levels build and supply chain disruptions ease, these short-term tailwinds may gradually subside.
Longer-term, however, there exist a number of opportunities that all of Siemens' major business segments are well-positioned to benefit from.
Digital Industries (which offers a broad portfolio of products and services covering factory automation systems and software) is poised to capitalize on key digitization trends in the industrial space notably Industry 4.0, Industrial IoT, predictive maintenance, etc. In Q1 2022, Siemens saw robust order growth in this business segment across regions and businesses, and with the company estimating about 60% of global manufacturing sites have yet to be automated, there is ample opportunity for long-term growth.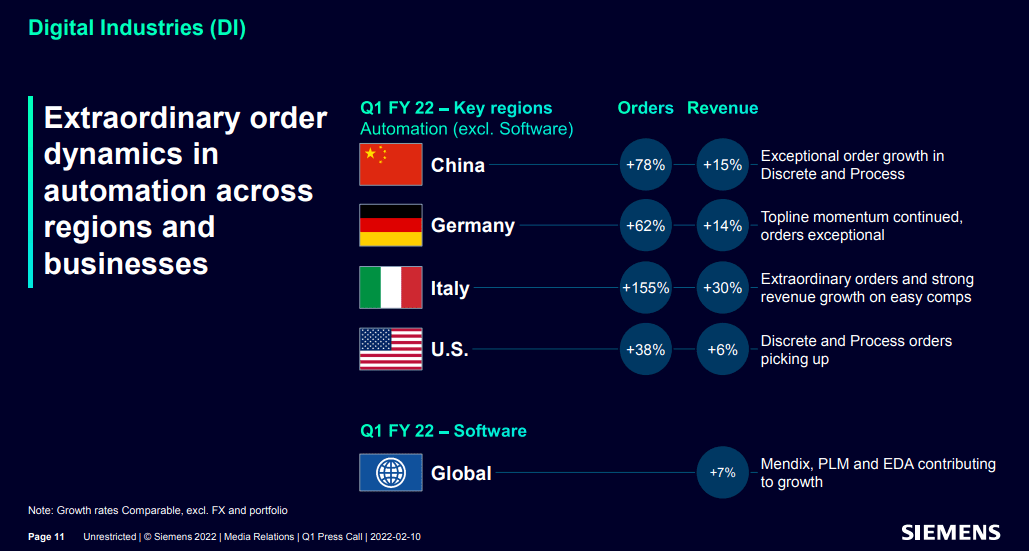 Smart Infrastructure (which provides products and services to support power distribution in industry, buildings, and infrastructure facilities such as smart grid solutions, energy management software and solutions, and data center solutions; and products and services to develop sustainable infrastructure and support the transition to renewable energy such as electric vehicle charging infrastructure) is poised to capitalize on a growing shift towards sustainability as well as an expected multi-year infrastructure investment spending upcycle in many countries and regions worldwide.
Faced with slowing economic growth, China is once again turning to infrastructure spending to stimulate the economy starting in 2022. Less than two weeks in 2022, China announced or started major infrastructure projects with a total investment of more than CNY 3 trillion (USD 471 billion) compared with CNY 1.2 trillion the same period last year according to data released by provincial governments. Spending is expected to shift to "New Infrastructure" which includes 5G, data centers, electric vehicle (EV) charging stations, and ultra-high voltage (UHV) power transmission.
India is on the cusp of a multi-year capex spending boom with the country's 2022-2023 budget proposing 35.4% increase in annual infrastructure investment from INR 5.5 trillion in the current year (which ends in March) to INR 7.5 trillion for 2022-2023.

The hike in public investment spending is expected to trigger private investment as well, ultimately boosting orders for industrial companies such as Siemens.
The EU this month unveiled a EUR 150 billion investment plan for Africa, with billions earmarked for infrastructure projects. The plan is the first regional plan under the EU's mammoth EUR 300 billion Global Gateway Initiative which seeks to invest in public and private infrastructure schemes around the world by 2027. Targeted areas for investment include renewable energy, and cloud and data infrastructures.
In America, Congress passed and President Biden signed the Infrastructure Investment and Jobs Act in November 2021, a bipartisan bill which allocated USD 550 billion for infrastructure investment. Provisions include investments for a national network of EV chargers, power infrastructure, and clean energy transmission.
Much of those countries' capital spending will also be funneled into the transport sector such as highways and railways which should drive Siemens' Mobility division (which offers products and services for passenger and freight transport such as rolling stock, rail automation solutions, and intermodal solutions such as fleet management solutions) as well. China's infrastructure spending is expected to include high-speed rail and inner-city rail systems while India's Gati Shakti National Master Plan expects seven engines - which include roads, railways, waterways, airports, ports, mass transport, and logistics infrastructure - to propel India's economic growth. The EU's Global Gateway Initiative will finance projects across all modes of transport (including rail, ports, and airports) and America's Bipartisan Infrastructure Law positions rail as to play a "central role" in America's transportation and economic future, with USD 66 billion in additional rail funding allocated for the purpose (marking the largest investment in passenger rail since the creation of Amtrak).
Siemens' healthcare subsidiary - Siemens Healthineers (which offers diagnostic and therapeutic products and services) is set to benefit from an aging population and a growing incidence of lifestyle diseases.
Ongoing transformation efforts showing results
Over the past few years, Siemens has been shifting its business mix, and thereby evolving from a low-margin, capital-intensive business to a higher margin, less capital-intensive business. Siemens' former Gas & Power division was spun off as Siemens Energy in September 2020 due to low profit margins. Siemens continues to hold a minority stake in Siemens Energy but the company intends to reduce this stake further.
Last month, Siemens announced the sale of its international road traffic business - Yunex Traffic - to Atlantia S.p.A for EUR 950 million (enterprise value).
This month, Siemens said it was selling its mail and parcels division of its logistics business to German technology group Körber AG for EUR 1.15 billion, and its 50% JV stake in the Valeo Siemens e-Automotive joint venture, as part of the company's move from low-margin equipment and towards higher margin software. The two deals will lift Siemens' net income by EUR 1.1 billion to EUR 1.3 billion this year. With further exits expected this year, the company is targeting a EUR 1.5 billion lift to net income this year from divestments.
Meanwhile, Siemens has made a slew of software-related acquisitions to bolster its software offerings and capabilities. Acquisitions made last year include French startup Wattsense (a hardware and software company offering an innovative plug-and-play IoT management system for small- and medium-sized buildings), Supplyframe (design-to-source platform for the global electronics value chain), US digital twin software company EcoDomus, FORAN software (marine design software), Dutch product lifecycle management and manufacturing operations management software company TimeSeries, and Dutch rail software provider Sqills.
On the product front, Siemens' portfolio realigning efforts are paying off based on vendor assessments from independent consultancy firms, a number of whom rank Siemens in the upper ranks of the industrial software space. Forrester named Siemens as a "leader" in the Industrial Internet-of-Things software platforms Q3 2021 report. Gartner named Siemens as a "visionary" in Gartner's Magic Quadrant for Industrial IoT platforms while IDC named Siemens as a "leader" as well in its "IDC MarketScape: Worldwide Industrial IoT Platforms and Applications in Manufacturing 2021 Vendor Assessment".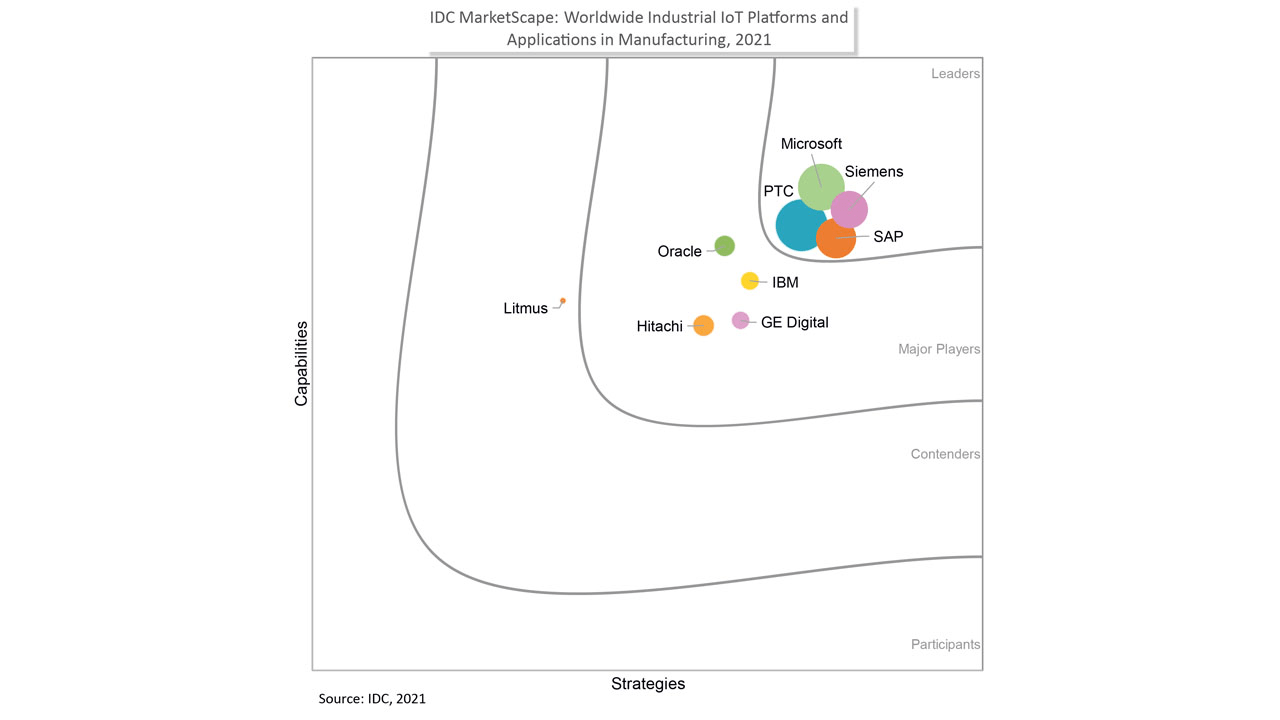 Financially, Siemens' business restructuring efforts are also showing results with Siemens seeing markedly improving operating cash flows over the past few years. Better cash generation from operations gives Siemens greater financial flexibility to support its ongoing business restructuring efforts and maintain its market strength through investments in R&D and acquisitions, while continuing to reward shareholders with dividends and share buybacks. In June last year, Siemens announced a new share buyback program - its first share buyback since 2015. The buyback, with a volume of up to EUR three billion, started in November 2021. As of February 2022, EUR 145 million worth of shares has been bought under the program. Along with the share buyback announcement, Siemens committed to a progressive dividend policy. The company's most recent dividend of EUR 4.00 per share for fiscal 2021, is 50 cents higher than the prior fiscal year.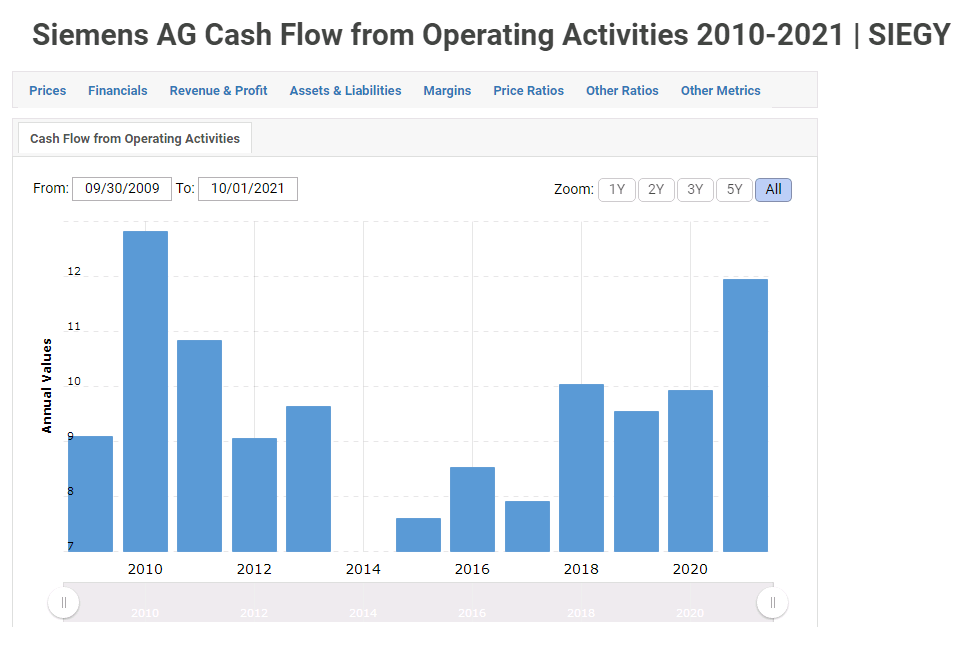 On the profitability front, all of Siemens' core business segments have EBITA margins in the double digits, with the exception of Mobility, which has largely hovered in the high-single-digits.
| | | | | |
| --- | --- | --- | --- | --- |
| | FY 2019 | FY 2020 | FY 2021 | Q1 2022 |
| Digital Industries | | | | |
| Smart Infrastructure | | | | |
| Mobility | | | | |
Siemens appears to be working on boosting profitability in this segment too; Siemens unloaded Yunex Traffic this year and while it is not clear what margin impact the sale of may have, it does however help Siemens increase its focus on rail (generally accepted as the most sustainable mode of transport - aligning with Siemens' sustainability business focus) and free up resources to improve competitiveness. Rail has tremendous potential for growth worldwide, however, Siemens does not have market leader CRRC's (OTCPK:CRCCY) cost advantage, nor does it have second-placed Alstom's (OTCPK:ALSMY) advantage of global rail manufacturing facilities (Siemens' rail operations are largely concentrated in the U.S. and Germany). Siemens's differentiation strategy to counter this appears to be its focus on building its software capabilities for intermodal and connected travel to complement its hardware offerings. Not only does this strategy have the potential to boost margins - given relatively higher margins typical of most software businesses - but Siemens is also addressing a largely untapped market; intermodal passenger mobility - connecting public transport such as rail with different transport options, particularly for the first and last mile - is seen as key to encouraging rail travel and although this problem has been long recognized, there is much work to do to create a more seamless end-to-end travel experience for passengers. Last year, Siemens acquired Dutch rail software provider Sqills and French intermodal software company Padam Mobility. The acquisitions expanded Siemens' intermodal software portfolio which includes acquisitions made in previous years including Hannover-based public transportation management software company HaCon, ticketing software company eos.uptrade, and transit fare collection and ticketing software company Bytemark.
Risks
Tightening monetary policy may dampen economic activity and investment spending.
Summary
Siemens got off to a strong start in Q1 2022 with the company reporting analyst-beating net profits of EUR 1.8 billion in Q1 2022, a noteworthy performance considering soaring raw material prices and supply chain disruptions. This was largely driven by short-term tailwinds notably customer stockpiling and resumption of economic activity after a pandemic-induced slowdown. Longer-term, all Siemens' core business segments are positioned to capitalize on long-term opportunities which should drive top line growth.
Business portfolio realignment efforts are showing results; on the product front, Siemens has been ranked in market-leading positions in the industrial IoT space by independent analysts, while on the financial front, Siemens is demonstrating markedly improved operating cash flows. This bodes well for the company's ability to support its ongoing business transformation efforts while enabling the company to reward shareholders with a new share buyback program along with a commitment to a progressive dividend policy.